(Advertisement)
Tube City Community Media Inc. is seeking freelance writers to help cover city council, news and feature stories in McKeesport, Duquesne, White Oak and the neighboring communities. High school and college students seeking work experience are encouraged to apply; we are willing to work with students who need credit toward class assignments. Please send cover letter, resume, two writing samples and the name of a reference (an employer, supervisor, teacher, etc. -- not a relative) to tubecitytiger@gmail.com. (4-11-2023 to 4-30-2023)
To place your ad, email tubecitytiger@gmail.com.
Ads start at $1 per day, minimum seven days.
By Jason Togyer
The Tube City Almanac
April 15, 2020
Posted in: McKeesport and Region News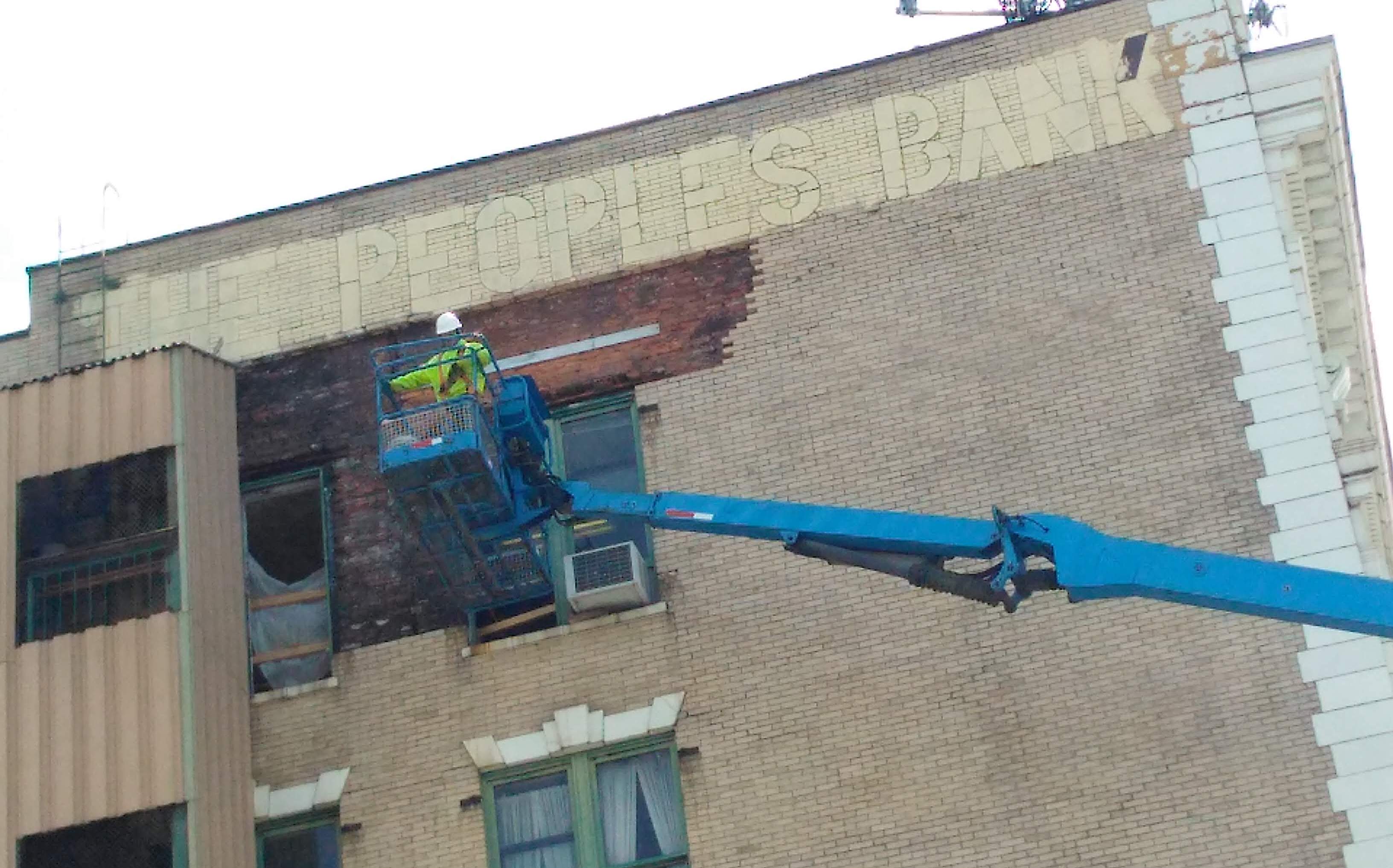 A worker from Arch Masonry & Restoration of Lawrenceville maneuvers a crane platform into position at the People's Building, Downtown. (Tube City Almanac photo)
---
Repairs are underway at the People's Building, Downtown, after a section of brick near the eighth floor began to crack and peel away from the structure.
Although most construction work in Pennsylvania has been ordered shut down by Gov. Tom Wolf due to the coronavirus pandemic, emergency repairs are allowed to continue — and building owner Jonathan Stark said the brick repairs qualify.
"Any time you do a repair of that scope and size, at that height, it is dangerous, and we were concerned that it might fall onto Lysle Boulevard," he said.
The work is being performed by Arch Masonry & Restoration of Pittsburgh's Lawrenceville neighborhood. The section being repaired is above the building's annex at the corner of Lysle and Walnut streets.
A masonry panel on the annex fell off in November 2019 and the sidewalk is currently covered in scaffolding.
Stark said there were fears that the loose brick might also fall into the street and cause an accident or injury.
If the pandemic shut down has a bright spot, it's that traffic on Lysle is extremely light — on Wednesday morning, during what would usually be rush hour, only one or two cars were visible. The lack of cars and trucks is making it easier and safer to move the crane into place, Stark said.
The decorative brick on the former bank building's exterior is attached to the underlying stone and steel structure by metal supports, he said. A metal vent pipe embedded into the wall on the eighth floor has begun to rust and as it rusted, it swelled, Stark said.
That caused the bricks to begin cracking and separating from the wall, Stark said. The metal angles that hold the bricks into place also are rusting and must be replaced, he said.
A roof leak that went undetected and unrepaired for years likely allowed water to penetrate the wall, he said.
The original rusty supports are being replaced with stainless steel pins that extend through the wall, Stark said.
"It's a very technical job," Stark said. "As you start to remove brick from below, you become immediately concerned that you may lose brick from above."
Unfortunately, the coronavirus pandemic has halted progress on the interior of the building, Stark said. The People's Building has been largely empty since being sold in 2002 to a California company that then defaulted on the loan it used to purchase the structure.
Until March 23, when state officials ordered all non-essential businesses in Allegheny County to shut down to stop the spread of novel coronavirus, construction crews were working inside the People's Building to repair windows, replaster and repaint vacant offices, and replace lighting and heating systems.
The timetable for continuing work inside the building depends on when local and state health officials determine that it's safe for non-emergency repairs to resume, Stark said.
Although the Pennsylvania State Senate voted 29-21 Wednesday to approve legislation that would allow many businesses to reopen, a spokesperson for the governor's office told reporters that Wolf expected to veto the bill, which passed the General Assembly by 107-95 vote on Tuesday.
Dr. Rachel Levine, state health secretary, said in a letter that the bill would hamper the state's response to the pandemic and "would lead to more Pennsylvanians infected with COVID-19.″
The bill passed more or less on strict party lines, with most Republicans in favor of it, and all of the Democrats opposed. Wolf is a Democrat.
---
Jason Togyer is editor of The Tube City Almanac and volunteer executive director of Tube City Community Media Inc. He may be reached at jtogyer@gmail.com.
Originally published April 15, 2020.
In other news:
"Oursler 'Blown Away' …" || "Advocates Call for Re…"