(Advertisement)
Tube City Community Media Inc. is seeking freelance writers to help cover city council, news and feature stories in McKeesport, Duquesne, White Oak and the neighboring communities. High school and college students seeking work experience are encouraged to apply; we are willing to work with students who need credit toward class assignments. Please send cover letter, resume, two writing samples and the name of a reference (an employer, supervisor, teacher, etc. -- not a relative) to tubecitytiger@gmail.com. (4-11-2023 to 4-30-2023)
To place your ad, email tubecitytiger@gmail.com.
Ads start at $1 per day, minimum seven days.
State rep: 'Unprecedented times' call for 'unprecedented legislation'
By Emily Pidgeon
The Tube City Almanac
April 17, 2020
Posted in: McKeesport and Region News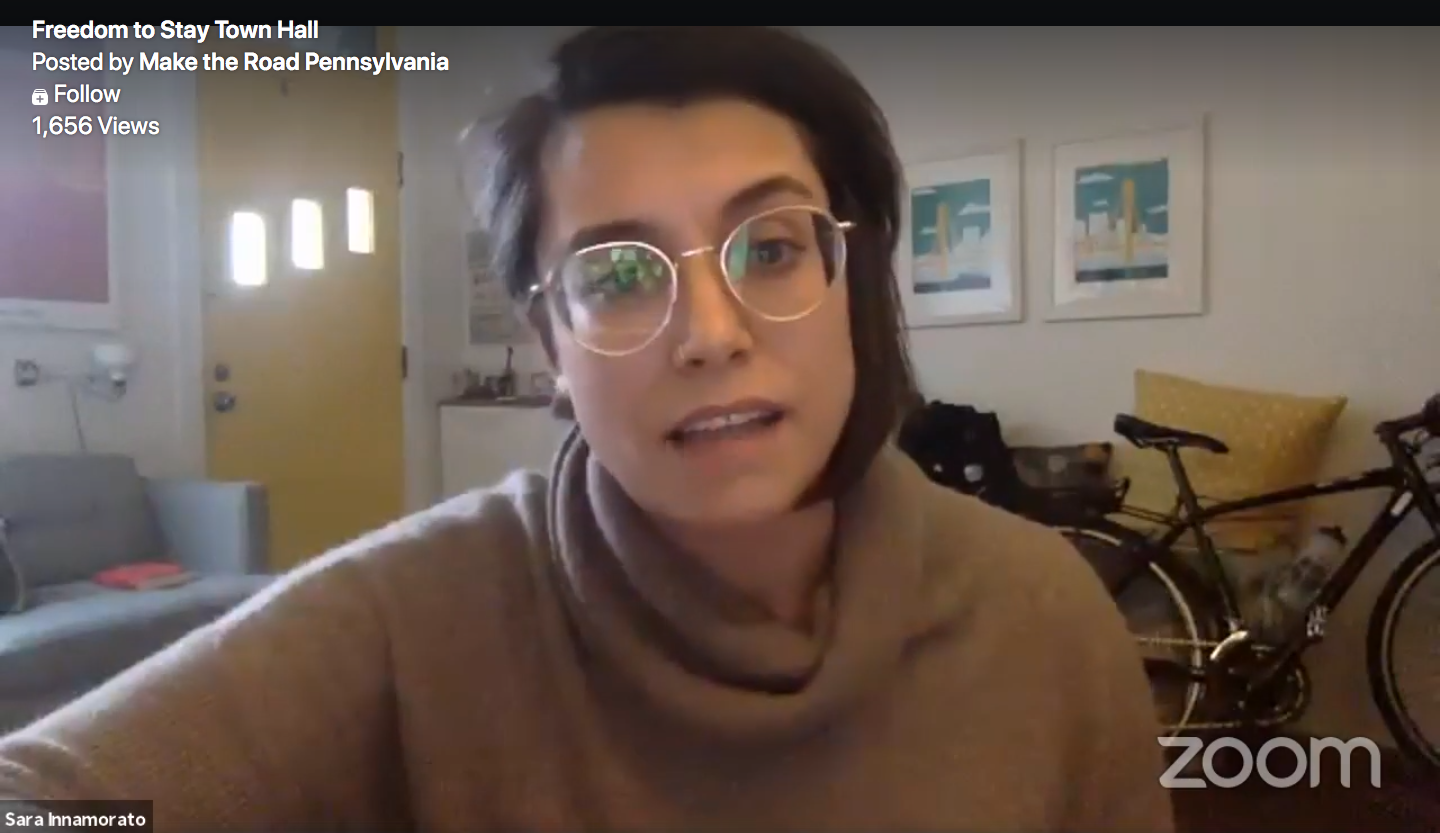 State Rep. Sara Innamorato speaks during an online town hall Wednesday. (Screenshot via Zoom/Facebook)
---
More than 1 million Pennsylvanians have applied for unemployment benefits since Gov. Tom Wolf implemented his stay-at-home order on March 23, and many of those filers also rent or mortgage their homes.
As the COVID-19 pandemic continues to grip the world, the order has been extended through April 30, and renters and homeowners remain unsure of the future.
During the "Freedom to Stay" virtual town hall meeting held Wednesday night, members of local and statewide community action groups called on state representatives, senators and local officials to introduce legislation cancelling rent and mortgage payments for residents.
"We're in unprecedented times, so we need unprecedented legislation," said state Rep. Sara Innamorato, Democrat from Pittsburgh's Lawrenceville neighborhood.
The town hall was organized by members and leaders of the groups CASA, Make the Road PA and One Pennsylvania.
State and local officials from the Pittsburgh, Philadelphia, Allentown and Reading areas participated, along with members of the media and Sam Robinson, Wolf's deputy chief of staff.
Residents were invited to share stories and ask lawmakers to introduce legislation addressing the problems of renters and homeowners, including moratoriums on evictions for failure to pay rent or mortgages during the pandemic.
State Rep. Summer Lee, Democrat from Braddock, was among the participants. Along with Innamorato, she pledged to co-sponsor bills to protect Pennsylvania renters and homeowners who have lost their jobs and income.
"We are in need of short term and long term relief," said Lee, who also supports legislation to allow residents to temporarily suspend car payments during the pandemic, as well as a moratorium on car and truck repossessions.
While the Pennsylvania Supreme Court recently ordered a moratorium on evictions through April 30, renters and homeowners who participated in Wednesday's call said they continue to be intimidated by landlords and banks demanding payment.
Alicia, who did not give her last name, said she was recently forced to leave her shared apartment in Philadelphia due to pressure and intimidation from her landlord.
"It was made very clear that the priority has and would continue to be that the rent is paid, and not the health or well-being of us as individuals," she said.

Advocates asked Robinson to tell the governor to support legislation allowing people who have lost their jobs to stop making rent and mortgage payments.
Robinson said he could not make that commitment, but that state officials are listening to concerns. "We're hearing your stories," he said. "You are being heard."
The governor's office, through the Department of Banking and Securities, is working directly with state-regulated banks to pursue loan forbearance for customers, Robinson said.
Robinson also said emergency grants were coming very soon to assist local governments with financial shortfalls in public housing and other areas related to the pandemic and business closures.
Organizers of the town hall did not say what they think should happen to the cancelled payments — if they should be forgiven altogether or added to the ends of loans and rental contracts.
Not everyone on the call was on board with the proposal to allow residents to temporarily suspend rent and mortgage payments.
State Sen. Vincent Hughes, Democrat of Philadelphia, urged fellow elected officials to err on the side of caution.
Late rent payments were an issue for public housing agencies in Philadelphia even before the COVID-19 outbreak, he said. "We simply cannot press pause on payments," Hughes said.
He and other state officials participating in the call said they would need to see any proposed legislation before committing to it.
Video of the town hall and additional information is available on the Make the Road Pennsylvania Facebook page.
---
Emily Pidgeon is a freelance writer from McKeesport. She may be reached at emily.pidgeon87@gmail.com.
Originally published April 17, 2020.
In other news:
"Brick Repairs Underwa…" || "Davis: Swifter Action…"