(Advertisement)
Tube City Community Media Inc. is seeking freelance writers to help cover city council, news and feature stories in McKeesport, Duquesne, White Oak and the neighboring communities. High school and college students seeking work experience are encouraged to apply; we are willing to work with students who need credit toward class assignments. Please send cover letter, resume, two writing samples and the name of a reference (an employer, supervisor, teacher, etc. -- not a relative) to tubecitytiger@gmail.com. (4-11-2023 to 4-30-2023)
To place your ad, email tubecitytiger@gmail.com.
Ads start at $1 per day, minimum seven days.
Says that delays have held up benefits for gig workers, independent contractors
By Jason Togyer
The Tube City Almanac
April 17, 2020
Posted in: McKeesport and Region News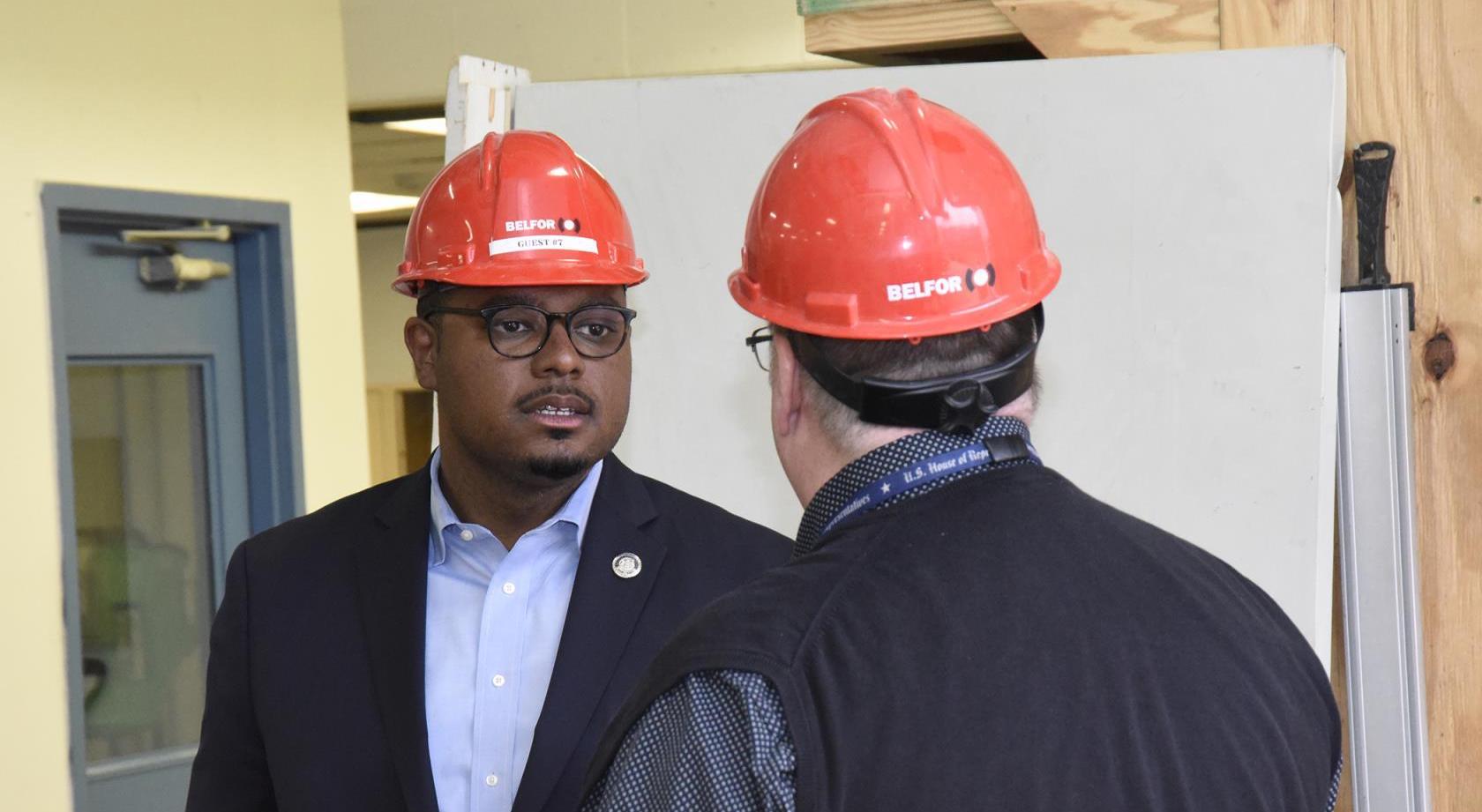 State Rep. Austin Davis, shown during a March 11 tour of Steel Center for Career and Technical Education in Jefferson Hills, said Pennsylvania's rollout of unemployment benefits for independent contractors "has been mired in red tape." (Submitted photo courtesy of state Rep. Austin Davis)
---
A state representative from the Mon Valley said Friday that Pennsylvania is moving too slowly to address delays and problems that are keeping some workers from collecting unemployment benefits during the coronavirus pandemic.
"Our working families are suffering — they are struggling — because they are not getting access to the unemployment compensation benefits to which they're entitled," said state Rep. Austin Davis, Democrat of McKeesport.
"The problem has been compounded for self-employed, independent contractors and gig workers, who are still waiting for directions on where to file," Davis said.
---
On Friday, the state Department of Labor & Industry said it would "soon" begin accepting applications from those self-employed workers for the federal Pandemic Unemployment Assistance Program, which will provide unemployment benefits for people who otherwise would not qualify.
But while the department urged those workers to begin preparing the documentation they will need in order to claim those benefits — including pay stubs, invoices and bank deposit slips — it offered no timetable for when Pennsylvanians will begin receiving PUA benefits.
Davis said the state's system for processing unemployment claims "has been mired in red tape."
---
An estimated 1.5 million Pennsylvanians have lost their jobs due to mandatory closures of non-essential businesses as health officials have tried to stop the spread of novel coronavirus.
A report released Friday by L&I set the official unemployment rate in Pennsylvania for March at 6.0 percent, up 1.3 percent from February — but a department spokeswoman acknowledged that the figures reflect data collected between March 8 and 14.
Widespread business and school closures didn't begin for most state residents until later in the month.
---
"This data barely reflects what is coming," said Chris Briem, a regional economist at the University of Pittsburgh who focuses on demographic forecasting and industry analysis in Western Pennsylvania, in a thread on Twitter.
"The state's comprehensive shutdown order only came March 23, so more than a full week after the reference week for this data," Briem said. "Hold on tight."

On April 8, Davis wrote to Jerry Oleksiak, state secretary of Labor and Industry, saying that workers needed additional information about the PUA program, which is part of the federal stimulus package approved by the U.S. Congresson March 26.
PUA is supposed to provide up to 39 weeks of benefits to people not eligible for regular unemployment compensation, including the self-employed, independent contractors and employees of some religious organizations.
Oleksiak has still not given an adequate response to the letter, Davis said Friday.
---
"I asked the labor secretary what the department needs from the legislature to streamline this process and get results and the answer is 'nothing,'" Davis said. "That's not an acceptable answer. We all stand ready to help, but we can't do that without more guidance and information from the agency."
On Friday, L&I announced that its new Pandemic Unemployment Assistance website will be launched "soon" and that workers who are eligible for benefits should "begin gathering the information they will need to file an accurate claim and receive benefits quickly."
However, no timeframe was given for when the website will be live and applications will be accepted.
---
A spokeswoman for the department said unemployed workers who may be eligible for PUA benefits include people who are self-employed; independent contractors; "gig" workers; people without sufficient work history to qualify for regular unemployment compensation; and people who have exhausted regular unemployment benefits.

PUA benefits will not be more than the state's maximum weekly benefit of $572, the department said.
To obtain benefits, workers will need to have documentation of their recent income. Acceptable documentation may include copies of recent paychecks, bank receipts showing deposits, 1099 forms, billing notices sent to customers, statements from recent customers, current business licenses and building leases, an L&I spokeswoman said.
Individuals collecting PUA benefits also will be eligible for the extra $600 per week from the federal Pandemic Unemployment Compensation program.
The additional payments will be effective from the week ending April 4, 2020 through the week ending July 25, 2020; backdated and paid in one lump sum; and automatic, the spokeswoman said.
---
Jason Togyer is editor of The Tube City Almanac and volunteer executive director of Tube City Community Media Inc. He may be reached at jtogyer@gmail.com.
Originally published April 17, 2020.
In other news:
"Advocates Call for Re…" || "Kane Director Says 'B…"