But changes are likely to some events — including International Village
By Jason Togyer
The Tube City Almanac
May 04, 2020
Posted in: McKeesport and Region News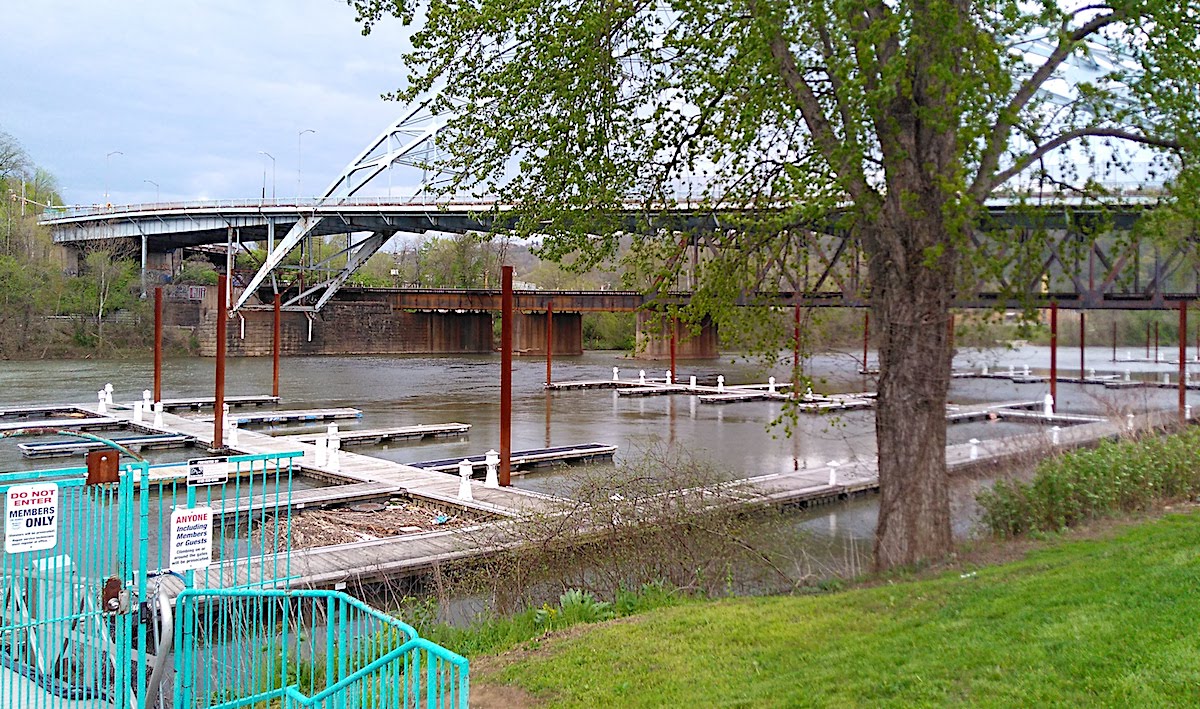 The docks are in and McKees Point Marina is welcoming boaters again, but with social-distancing restrictions in place. (Tube City Almanac photo)
---
In a small sign of normality returning amidst the coronavirus pandemic, the McKees Point Marina opened for the season on May 1.
"We're ready to go — we're excited for another boating season, for the boaters especially," McKeesport Mayor Michael Cherepko said. "We're just hoping everyone can enjoy their boating season."
But the mayor cautioned there will likely be changes to other city activities, including the summer concert series and McKeesport's premier annual event, the three-day International Village ethnic food and music festival, which is set to celebrate its 60th anniversary.
Along with golf courses, privately operated campgrounds and guided fishing trips, marinas were among the outdoor facilities that Pennsylvania officials last week said could resume operations.
---
"Pennsylvanians have remained resilient throughout this COVID-19 crisis, and as we successfully continue to flatten the curve to protect our physical health, it is critical that we also focus on our physical and mental health during these extraordinary times," Gov. Tom Wolf said at a news conference.
"As the weather warms and daylight lengthens, enjoying time outdoors is an important way to manage stress," Wolf said, adding that reopening facilities such as marinas "will help to rebuild our economy and strengthen our mental health."
Cherepko said McKeesport's marina is typically operational by mid-April, but opening day was delayed due to the governor's mandatory stay-at-home order, imposed on Allegheny County on March 23 and extended to the rest of the state one week later.
The delay isn't too bad, Cherepko said, considering that April's chilly, rainy weather meant that many boaters wouldn't have their boats in the water yet anyway.
---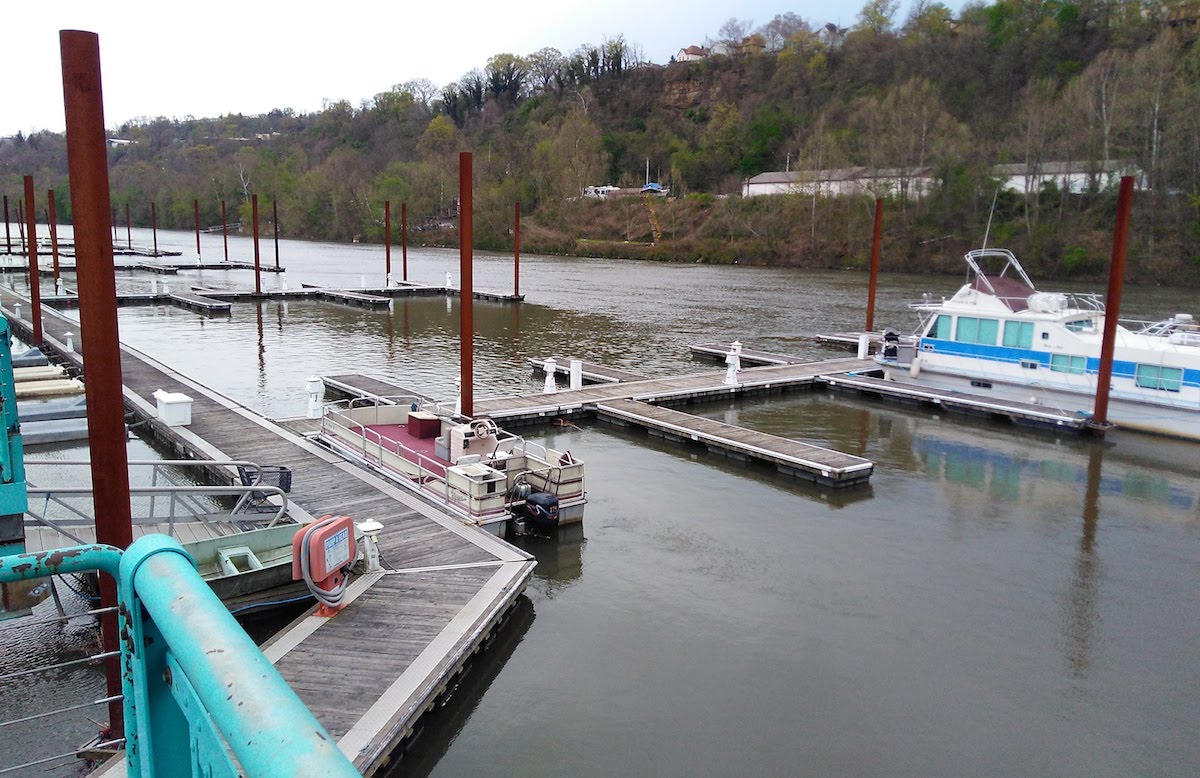 Boats are returning to McKees Point Marina. (Tube City Almanac photo)
---
Since opening in 1998, the approximately 200-slip McKees Point Marina has become an important tourist attraction for the city. Approximately 80 percent "or more" of the boaters come to McKeesport from out of town, Cherepko said.
The mayor said marina manager Dan Carr will be providing each boater with a form asking them to follow recommendations and guidelines from the Centers for Disease Control and Prevention, and signs also will be posted with lists of best practices.
---
In 2019, the nearby Gergely Riverfront Park also hosted live music for the first time in several years. But plans for those concerts — and other city events — are temporarily up-in-the-air due to the pandemic.
During a briefing last week, Allegheny County Executive Rich Fitzgerald said the county expects that "an awful lot of events" will have to be cancelled this summer.
The Pittsburgh Marathon, which was supposed to have been held on Sunday, and the Three Rivers Arts Festival, scheduled for June 5 to 14, have already been cancelled.
"I think some of these larger-scale events, which we all love in this region, are going to be put off this year," Fitzgerald said last week. "We love the festivals and coming together, and really enjoying the communities that we have ... but I can't imagine that we're going to have any kind of gatherings in which large amounts of folks are going to be together in close proximity."
---
However, Fitzgerald said, as medical testing ramps up, and the county's contact-tracing of coronavirus infections continues, some large-scale events may go forward.
"I think it remains to be seen," he said. "Stay tuned. Things could possibly change."
McKeesport is still tentatively planning to hold the summer concert series, presented by the Lions Club, at Renziehausen Park, beginning in June, but Cherepko said the city is taking a "wait-and-see" approach, depending on updated guidelines from county, state and federal health officials.
"If it's something that we can do safely, we will," he said.
The same applies to International Village, which attracts thousands every August to Stephen Barry Field for ethnic food, music, dancing and craft vendors. Much of the food is sold by non-profit groups, including churches, who use the event as a fundraiser.
"Chances are, without a miracle heading into July, we are not going to have a typical International Village," Cherepko said. "We are going to do whatever in our power to make sure it does take place, because we realize there are so many churches and organizations that depend on it."
---
Dr. Debra Bogen, director of the Allegheny County Health Department, said during a briefing last week that officials know that residents are tired of staying home and want to get back to work and school.
"Many in our community have lost their jobs, they've lost the ability to visit and celebrate with friends and family," she said. "Like many others, my family missed the opportunity to celebrate our daughter's graduation from Pitt (last) weekend."
Now is not the time to become complacent, Bogen said. The state's guideline for reopening more businesses and activities in Allegheny County requires no more than 50 new cases per 100,000 population over a 14-day period.
With approximately 1.3 million residents, Allegheny County will need to have fewer than 650 new cases over a 14-day period.
---
"We are definitely looking good from a data standpoint," Bogen said. "I would love to see us get zero cases. Unfortunately, I don't think that's a realistic goal right now, and as we start opening up, I expect our cases will increase."
Residents will need to continue wearing masks when in public spaces, she said, and will need to stay home when they're sick.
McKeesport officials will try to have definitive answers about International Village for all participants by early July, Cherepko said.
If the event is scaled down or even cancelled, he said, he knows many current and former residents will be disappointed. Unfortunately, Cherepko said, it would be "just like so many other disappointments to come, resulting from COVID-19."
---
Jason Togyer is editor of The Tube City Almanac and volunteer executive director of Tube City Community Media Inc. He may be reached at jtogyer@gmail.com.
Originally published May 04, 2020.
In other news:
"Two Teens Wounded in …" || "MASD Expects Property…"