When spring show was canceled, work moved online
By Bonnijean Cooney Adams
The Tube City Almanac
May 05, 2020
Posted in: Entertainment

Serra Catholic High School was less than two weeks away from opening night of the musical "Mary Poppins" when schools were shut down March 13 to combat spread of the coronavirus.
"When they first announced the two-week closure, I tried to take a positive approach and thought it would be a good break for everyone," director Jesse Bush said. "It would give us extra time to build props and costumes. I had hoped we would perform the show possibly sometime in May."
Initially, students continued to rehearse online, he said, and choreographer Cassie Fedor created videos of all the dance routines so they could practice at home.
---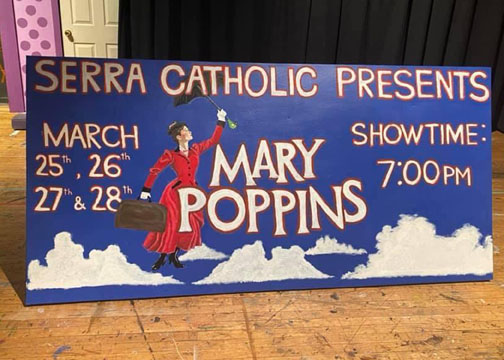 Serra Catholic students were looking forward to presenting "Mary Poppins" at the end of March. (All photos courtesy Jesse Bush)
---
Although Serra usually stages the musical in April, this year "Mary Poppins" was scheduled about a month early, Bush said, so rehearsals began in November.
"For most of the school year, I have felt this pressure to learn the show as fast as possible," he said.
With school closures extended and the traditional musical canceled, the director decided he wanted to create something to showcase all the students' hard work to their friends and family.
The result: "Anything Can Happen — Serra Catholic Virtual Musical!", available on youtube.com at https://youtu.be/s3JfgWjEFEg.
"They were devastated when we received word it was canceled," Bush said. "The students put so much time and effort into it. That's why I wanted to create something to showcase them.
"Originally it was just going to be a song, but later I thought it would be nice to recognize our senior cast," Bush said of the video that took approximately a month to put together.
"Once I figured everything out, it was just putting in the time. I did everything myself. I enjoyed putting it together," he said.
---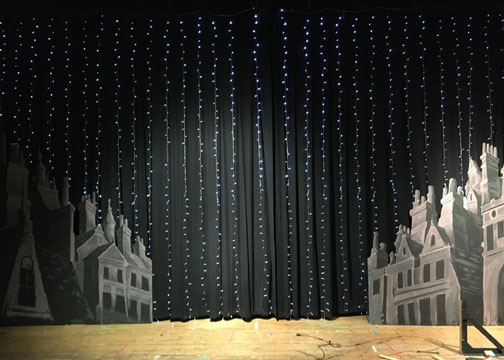 Set construction was well under way to reflect the rooftops of London for Serra Catholic's "Mary Poppins."
---
"Anything Can Happen" is the name of one of the songs in the musical's second act.
Bush said he picked the song not only because it included the entire cast, but its lyrics are very appropriate during such a challenging time in all of their lives.
In part, the song suggests anything can happen if you let it, even when things are difficult.
"We watched the video together on a group stream," the director said. "They loved it."
"It was pretty heartbreaking to hear the show was canceled," said Logan Kearns, who was cast as Bert. "This was my first major lead role and I unfortunately was not able to perform. It stung, hard. I really wanted to put on a show for everyone. If I could, I would love to perform this show, even if it was over the summer."
---

The 11 graduating seniors are featured in "Anything Can Happen—Serra Catholic Virtual Musical" on youtube.com.
---
Ryan Gedman, cast as George Banks, echoed the disappointment.
"When you get a lead role, you spend so much time practicing and perfecting everything," Gedman said. "Musical kind of takes over your life, in a good way, so that's why it was very upsetting to hear we wouldn't be performing live. I spent so many nights running lines, trying to memorize them, and now I won't even be saying them onstage in front of an audience.
"Spending most of my days inside due to the ongoing crisis in the world has shown me how much I love the musical and how much I miss it," he said.
"Through everything else getting canceled, we were all still holding hope to be able to perform 'Mary Poppins,' " said Katie Crossen. "We were devastated when we found out we wouldn't be able to do the show, although we understood why."
---
Lindsay Schanck said being able to do the virtual musical helped after she found out the live show was canceled. She was cast as Michael Banks, one of the children.
"I am thankful to have another year ahead of me, but feel bad for the seniors, and I was very sad not to be able to perform with them again," she said.
Serafina Szarmach, set to play Jane Banks, said although she was disappointed for herself, she felt "really bad for the seniors and other lead roles. I was trying to stay positive and hope it wouldn't get canceled, but rather rescheduled."
She said she appreciates all the hard work by the director, choreographer Fedor, art director Tyler Gedman, vocal coach Laurie Richards, Mitch Bush on set construction, and her fellow students.
---
In addition to the usual dialog, music, and dancing, cast members had to learn to deliver their lines and sing with British accents. Some said they found it very challenging, while others had prior experience or found it fairly easy to pick up.
"We all learned how to speak in a British accent together, and watched a few videos to get the basics down." Szarmach said. The director also helped a lot explaining the difference between upper and lower class ways of speaking, she said.
Szarmach and Schanck said they faced additional challenges in their roles as children.
"I did not have a lot of trouble with speaking in a British accent, but rather trying to sound like a child," Szarmach said. "Being Jane Banks, I had to talk and sing in a more high-pitched, child voice, and this wasn't a super easy task. You never know what kind of musical we will do next year, so maybe the British accent will be useful."
Schanck said the hardest part for her was trying to sound like a little boy.
"Despite the challenge, I watched tons of YouTube videos and 'Mary Poppins' the movie, and ended up sounding like Michael Banks. I would walk around the house talking in my British accent. I even tried to get my family to do it. I had such a great experience that I hope to get to use that skill again in another show."
---
Ryan Gedman described learning the British accent as "the most difficult part that accompanied my role. My friends really helped me a lot, and I watched many videos online. After having musical practices most days of the week, the accent started to get better from repetition and practice, but it certainly wasn't perfect. I sometimes speak with the accent for fun now when I am with my friends."
Lauren Karp, cast as the mother Winifred Banks, said the British accent actually came relatively easily to her after watching videos in rehearsal.
"I had also been practicing it for the audition, so I felt pretty confident about it," Karp said. "I could see myself using this skill if I were to perform in another musical, but sometimes it's fun just to speak with a British accent."
Senior Anna Osinski as Mrs. Brill said she learned the accent previously through an acting class. She said she was "rusty from not using the accent for a couple of years, but I think I will be able to use that skill again since I'm going to be in a drama club at my college."
---
Bonnijean Cooney Adams is a contributing writer. She can be reached at adamsclick@aol.com.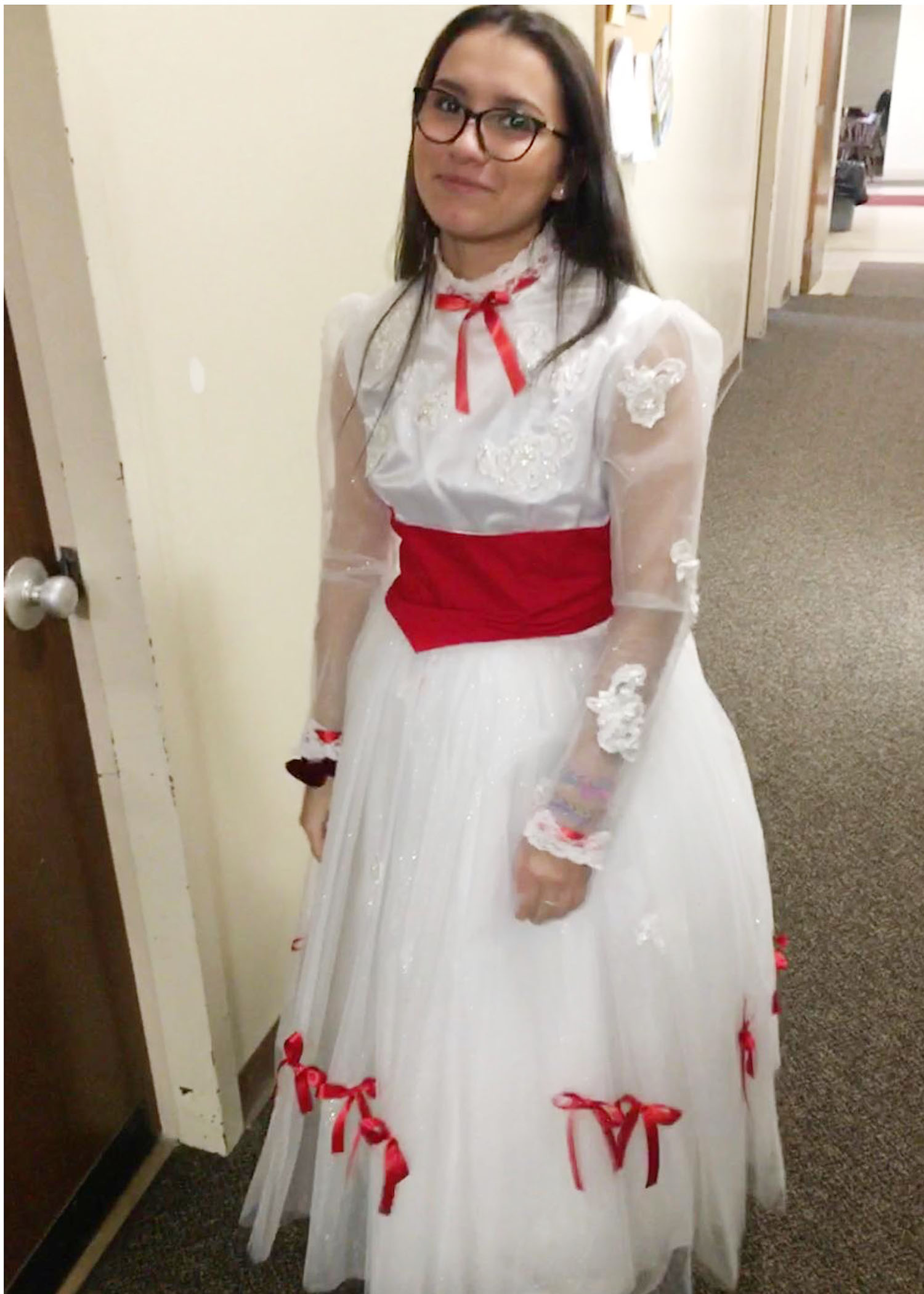 Victoria Koslosky as Mary Poppins tried on her costume during a fitting session.
---
CAST, in what would have been the order of appearance:
Logan Kearns as Bert, Ryan Gedman as George Banks, Lauren Karp as Winifred Banks, Serafina Szarmach as Jane Banks, Lindsay Schanck as Michael Banks, Abby Bernick as Katie Nanna, Luke Edmundson as Policeman/Park Keeper, Karley Irwin as Miss Lark, Ben Chirdon as Admiral Boom, Anna Osinski as Mrs. Brill, TJ Betzner as Robertson Ay, and Victoria Koslosky as Mary Poppins.
Luc Normandy as Neleus, Katie Crossen as Queen Victoria, TJ Betzner as Bank Chairman, Nina Fassinger as Miss Smythe, Luc Normandy as Von Hussler, Luke Edmundson as Northbrook, Sammie Schulz as Bird Woman, Anna Iovino as Mrs. Corry, Mia Bacco as Fannie, Aubree Arelt as Annie/Valentine, Emily Gault as Teddy Bear, Mia Bacco as Doll, Abriel DiLonardo as Miss Andrew, and Michael Estocin as Poseidon/Messenger.
ENSEMBLE (Park Strollers, Customers, Kite Flyers, Chimney Sweeps)
Aubrey Arelt, Mia Bacco, Abby Bernick, Joel Blake, Ben Chirdon, Katie Crossen, Luke Edmundson, Michael Estocin, Nina Fassinger, Anneliese Fenwick, Emily Gault, Jordan Graham, Gabby Hrinda, Karley Irwin, Mary Elizabeth Malandra, Maigen McGinty, Luc Normandy, Kyera O'Brien, Joseph Pawlowski, Sammie Schulz, and Cassie Ward.
STAGE CREW
Stage manager: Genevieve Gralewski; Sound Board: Jordan Premozic, Selena Kunsman, and Paige Rock; Light Board: Kelsey Kovalsky and Olivia Joscak; Spotlights: Maya Poziviak and Gabrielle Mejalli; Hair and Make-Up: Natalie Makovics, Emily Schulz, Lotus Dechellis, and Genevieve Gralewski; Run Crew: Joe Crossen, Josh DeLia, Gabrielle Liberatore, Andrew Massari, Jackie Moon, Amanda Pope, Harrison Potts, Hailey Reitter, McKenna Stevick, Sianna Sullivan, Rebecca Sullivan, Trey Wilson, Kaylie Wilder, and Lida Wos.
Set Artists: Mary Jane Butler, Carmela Capasso, Nathan Estocin, Maria Fedor, Maria Garcia-Casab, Hope Lyons, Caitlyn O'Neil, Zoe Pedos-Diclemente, Elena Peiffer, Jenna Revak, and Anna Spudic.
PRODUCTION STAFF
Director: Jesse Bush; Choreographer: Cassie Fedor; Vocal Coach: Laurie Richards; Business Manager: Katie Sasala; Art Director: Tyler Gedman; Set Construction: Mitch Bush and Ed Kearns; Costumes: Alex Malandra; Sound/Lighting: Red Baughman.
MUSICIANS
Celeste Simpson, flute; Katie Greggerson, clarinet/bass clarinet; Paul Lawrence, trumpet; Nieko Disso, trumpet; Tom DeCarlo, percussion; Laurie Richards, piano; Bob Patterson, bass; Jesse Bush, conductor.
Originally published May 05, 2020.
In other news:
"Effort By W.O. Family…" || "Rainbow Kitchen Still…"