(Advertisement)
Tube City Community Media Inc. is seeking freelance writers to help cover city council, news and feature stories in McKeesport, Duquesne, White Oak and the neighboring communities. High school and college students seeking work experience are encouraged to apply; we are willing to work with students who need credit toward class assignments. Please send cover letter, resume, two writing samples and the name of a reference (an employer, supervisor, teacher, etc. -- not a relative) to tubecitytiger@gmail.com. (4-11-2023 to 4-30-2023)
To place your ad, email tubecitytiger@gmail.com.
Ads start at $1 per day, minimum seven days.
Brewster-Filotei, McKeesport council VP, died Tuesday at 46
By Jennifer Sopko
The Tube City Almanac
May 13, 2020
Posted in: McKeesport and Region News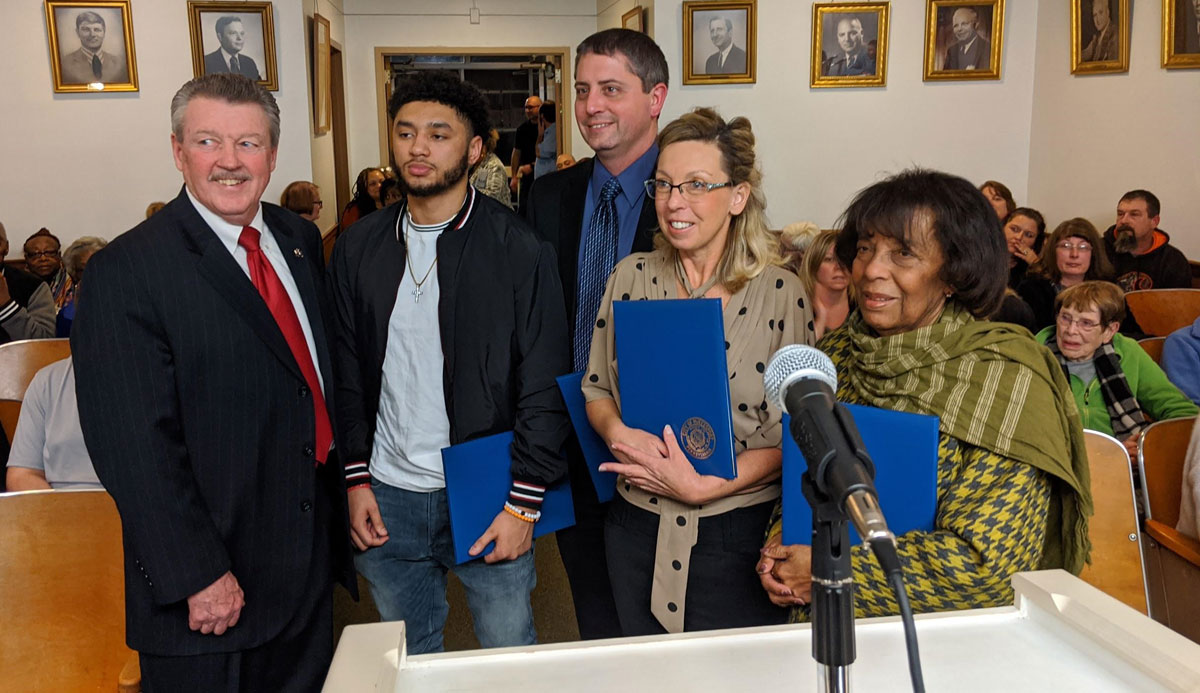 McKeesport City Council Vice President Jamie Brewster-Filotei, fourth from left, was one of five local residents honored with "Living the Message" awards at the Feb. 5 council meeting. (Nick Zurawsky photo for Tube City Almanac)
---
---
Jamie Brewster-Filotei, McKeesport City Council vice president and longtime fourth-grade teacher at Francis McClure Elementary School, died May 12 after a nearly three-year battle with non-small cell lung carcinoma. She was 46.

McKeesport Mayor Michael Cherepko announced Brewster-Filotei's passing Tuesday evening on his office's Facebook page.

"Jamie was a dedicated civic leader, a dynamic educator, and a loving wife, mother, daughter and sister," Cherepko's office said. "She played many roles in our community and in the hearts of those she loved, and for that, we will miss her dearly. The impact she had on the City of McKeesport will never be forgotten."
Hundreds of sympathy messages and fond remembrances of Brewster-Filotei and her influence upon local students and the community were posted on social media following the news.
"She really loved our McKeesport. Jamie and her husband took my son to his first NBA basketball game and always opened her door to our boys," said Sharice Harper, whose son Curtis Harper III, and Brewster-Filotei's son T.J., played high school football together. "I will never forget her."
Angela Holsing, who worked with Brewster-Filotei first as an instructional assistant and later as a substitute teacher at Francis McClure, remembered her as a wonderful person always willing to help whenever needed.
"I became a substitute teacher and worked at the afterschool program at McClure in 2016-2018 and one of those years — I believe it was either 2017 or 2018 — we shared a room," Holsing said.
"She would teach during the day then I would use her room after school," she said. "I saw her every day, four days a week, because I had to be there before the students were dismissed. She was always staying to make sure I had everything I needed to help the students with their homework that she gave them. I remember that was the year she found out she was sick."
Brewster-Filotei was diagnosed with non-small cell lung cancer in 2017, but the disease did not hinder the lifelong McKeesport resident from continuing the public service she devoted herself to in her hometown.
A 1991 McKeesport Area High School honors graduate, Brewster-Filotei earned bachelor's and master's degrees in education from Mansfield University of Pennsylvania. After returning to McKeesport in 1997, she began a 24-year career as a fourth-grade elementary school teacher for the McKeesport Area School District.
She attended Mansfield University on a basketball scholarship and remained involved with the sport, working as part-time college basketball coach before helping coach the 7th and 8th grade and high school girls' basketball teams in the McKeesport school district.
Brewster-Filotei won two terms on McKeesport City Council and was appointed vice president. Her vocations as educator and elected official followed in the footsteps of her father, State Sen. Jim Brewster, a former McKeesport mayor and council member.
"Jamie is a lifelong McKeesporter who dedicated every aspect of her life to our community," Cherepko said Wednesday. "We can think of she and her husband, Kenny, raising their own family in the community that molded them. We can look back on Jamie working with generations of McKeesport Area students to guarantee they had access to a first-class education. We can reflect on her long history of volunteer work or her time on City Council.
"No matter what area of her life we examine, we see a woman who loved the City of McKeesport and its residents. I'm proud to have served with Jamie and to call her a friend," the mayor said.
Brewster-Filotei also served as McKeesport City Council representative on the McKeesport Trail Commission, managed the McKeesport Military Banner Program in partnership with the Burt Foster American Legion Post 361 of McKeesport, and received the Mon River Fleet Women of Achievement Award in 2018.
In February, Brewster-Filotei was honored by the City of McKeesport as a community member who exemplified "Love" in the McKeesport Message of "Respect, Dignity, Hope and Love." Filotei was co-recipient of the "Living the Message" award with McKeesport Area School Director Mindy Sturgess for spearheading a holiday toy and clothing drive for families in need within the district's elementary and middle schools.
Brewster-Filotei is survived by husband Ken Filotei, son T.J., daughter Nina, parents Jim and Linda Brewster, sisters Jodi (Curtis) Adams and Jill (Jeff) Lape, grandmother Doris Bailey, in-laws, and several nieces and nephews.
The family has suggested memorial contributions be made to the UPMC Hillman Cancer Center at 5115 Centre Ave., Pittsburgh, PA 15232 or the Make-A-Wish Foundation at Make-A-Wish America Gift Processing, 1702 East Highland Ave., Suite 400, Phoenix, AZ 85016.
Due to COVID-19 regulations, there will be no public viewing. Funeral arrangements are private and are in charge of Willig Funeral Home & Crematory. A funeral will be held Friday with interment to follow in Mt. Vernon Cemetery, Elizabeth Twp.
---
Jennifer Sopko is a freelance writer and author of two books on Pennsylvania history, and serves as secretary of Tube City Community Media Inc. She may be reached via her website.
Originally published May 13, 2020.
In other news:
"Police Thank Public W…" || "Duquesne Seeking Publ…"