McKeesport, county officers join effort to support families
By Jason Togyer
The Tube City Almanac
May 11, 2020
Posted in: McKeesport and Region News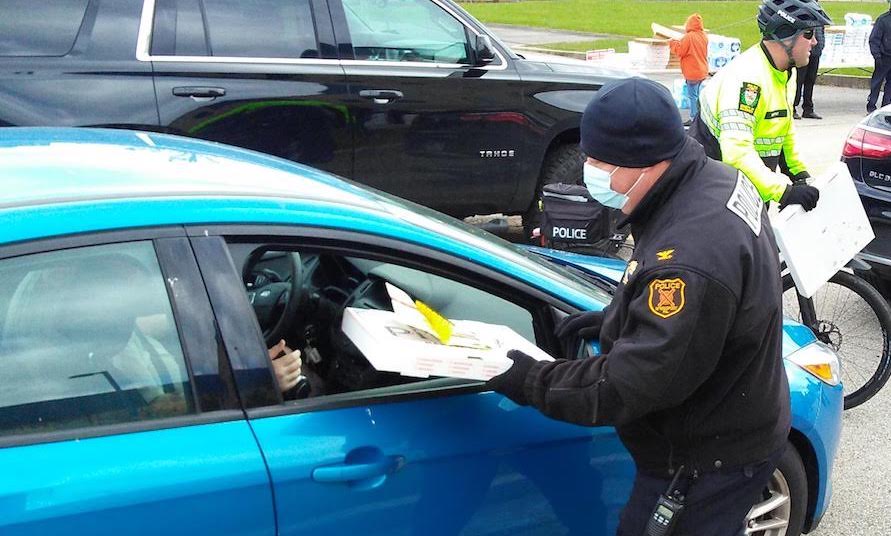 (Tube City Almanac photos)
---
Nearly 800 families in McKeesport received a free hot meal on Saturday afternoon with the help of city and Allegheny County police.
About 40 volunteers, including uniformed McKeesport and county police officers and their family members, employees of state Sen. Jim Brewster's office, and Mayor Michael Cherepko and city hall employees, handed out pizzas and bottles of water along Industry Drive in the RIDC Industrial Park and at the Harrison Village and Crawford Village housing complexes.
Volunteers also were delivering pizzas to shut-ins and people unable to drive, McKeesport police Chief Adam Alfer said.
Officers were planning to distribute 775 pizzas, with any leftovers donated to local food pantries.
Allegheny County police Sgt. Jason Binder said the effort was designed to recognize the public's support of first-responders during the coronavirus pandemic, and to acknowledge that many Mon-Yough residents are out of work and stuck at home during the crisis.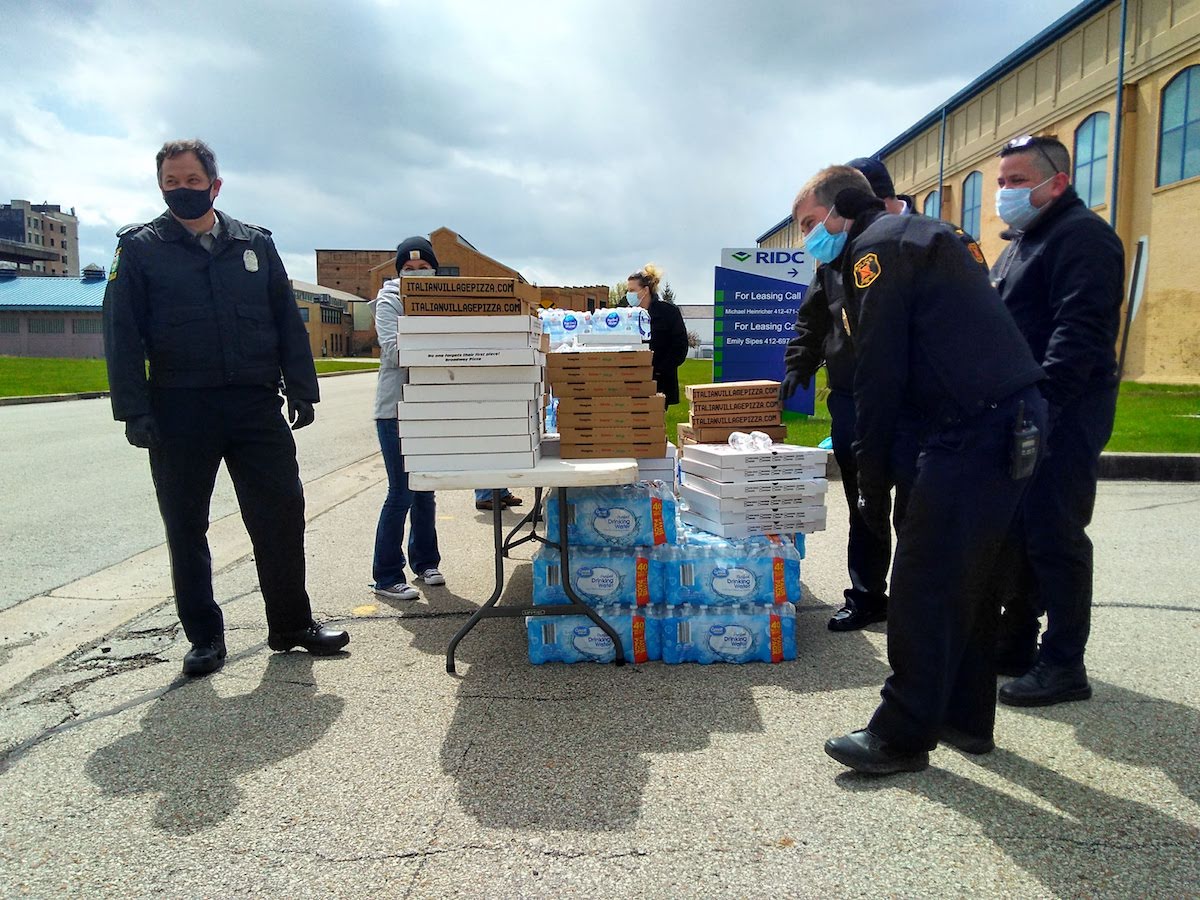 The decision was made to provide pizzas because a large pie can treat a family of four, he said, and for an elderly resident living alone, it can provide leftovers for several days.
"About three or four weeks ago we did something similar in Wilmerding that was very successful," Binder said. "We served about 340 pizzas to people from Wilmerding and the surrounding area. With the success of that, we wanted to move to other areas in the county, and we have a great partnership with the McKeesport police."
Money to purchase the pizzas from local shops was donated by Brewster, Cherepko, Teamsters Local Union 205, Family Dollar on Versailles Avenue, Pure Penn, Walmart, Penney Eye Care on Route 48, Allegheny County District Attorney Stephen Zappala Jr. and the Allegheny County Police Association union.
Participating restaurants included Pizza Burgh, Italian Village Pizza, Domino's Pizza, Pizza & Gyro Express, Pasquale's, Mama Pepino's and Broadway Pizza.
"Without the donations and the cooperation of the different pizza shops, we wouldn't have been able to make this possible," Alfer said. "We just wanted the public to know we understand what they're going through, and to try to help them out for a little while."
Binder said Allegheny County police are planning to hold similar events in more communities in the weeks ahead.
"With a lot of people out there struggling, we're going to try to move around and help as many people as we can," he said.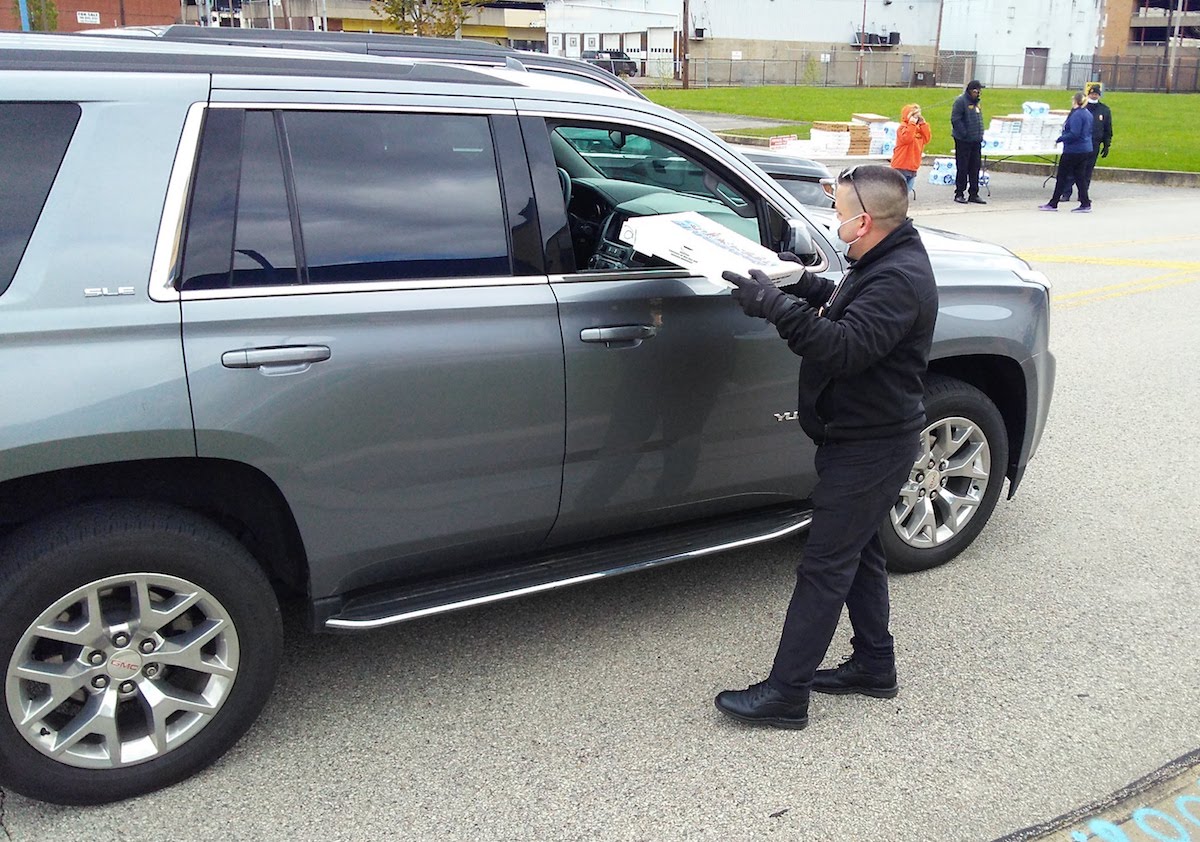 ---
Jason Togyer is editor of The Tube City Almanac and volunteer executive director of Tube City Community Media Inc. He may be reached at jtogyer@gmail.com.
Originally published May 11, 2020.
In other news:
"Mobile Dance Party Ro…" || "Councilor, Teacher Re…"