Nearly 87,000 ballots already received in county
By Staff Reports
The Tube City Almanac
May 28, 2020
Posted in: Politics & Elections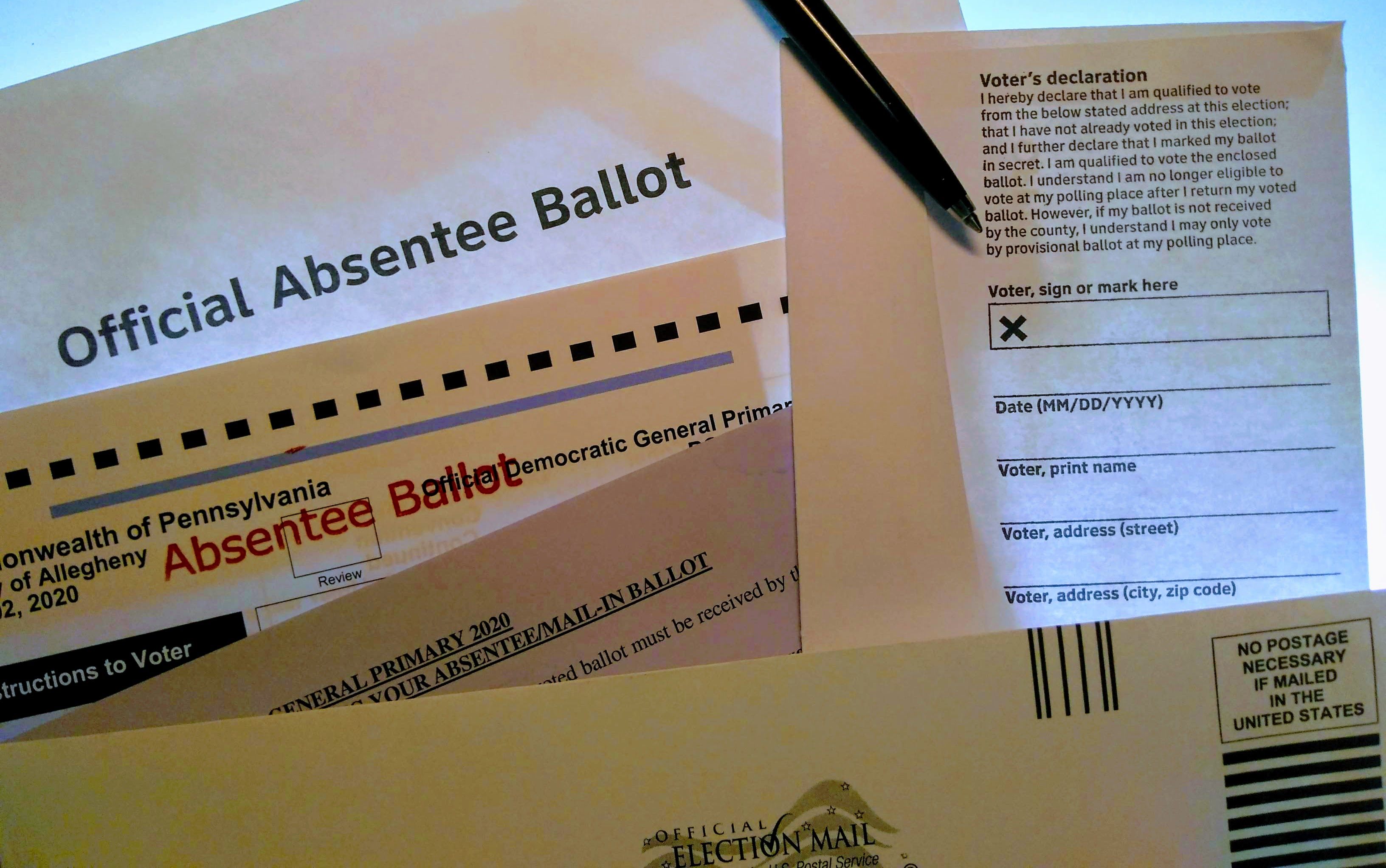 (Tube City Almanac photo)
---
---
Nearly 87,000 voters in Allegheny County have already returned their absentee ballots in advance of the June 2 primary election, a spokeswoman said this week.
Tuesday was the last day for voters to request a mail-in ballot for the primary, where voters in the Republican and Democratic parties will be selecting their nominees for President, representatives in the U.S. House of Representatives and the Pennsylvania General Assembly, and in many districts, the Pennsylvania Senate.
State and county officials have been encouraging voters to cast absentee ballots when possible because of the COVID-19 pandemic.
A lack of available volunteers to work at the polls on June 2 has caused Allegheny County to consolidate voting locations, and most municipalities, including those in the Mon-Yough area, will have only one polling location open next Tuesday.
County spokeswoman Amie Downs said 277,185 applications for absentee or mail-in ballots had been received as of Tuesday afternoon and 86,715 ballots had already been returned.
There are 775,201 registered voters in Allegheny County.
Downs said registered voters who are voting by absentee ballot should return them as soon as possible to ensure they're received at the Elections Division in the County Office Building, 542 Forbes Ave., downtown Pittsburgh, no later than 8 p.m. Tuesday (June 2).
Ballots may be mailed for free in the included envelope, or handed in person to a clerk in the lobby of the County Office Building. Clerks will be available to receive ballots from 10 a.m. to 5 p.m. Saturday and Sunday, 5 to 8 p.m. Monday and 7 a.m. to 8 p.m. Tuesday, Downs said.
Voters may only drop off their own ballots. Multiple ballots will not be accepted from anyone, Downs said.
Ballots may not be taken to polling places on Election Day, she said.
Voters who applied for an absentee ballot may not vote in person on Tuesday, except by a so-called provisional ballot, Downs said.
Provisional ballots will be available for any voter who did not receive their absentee ballot, or who is concerned that their absentee ballot will not be received at the Elections Division in Pittsburgh in time to be counted.
Eligible voters who have not applied for an absentee ballot may vote at their designated polling places for the primary election between 7 a.m. and 8 p.m. Tuesday.
All municipalities in the Mon-Yough area will have only one polling location. In McKeesport, all voters will use the Public Safety Building, 201 Lysle Blvd.
Notices will be posted at old polling locations on June 2 to redirect voters to the new locations.
Poll workers will be asking voters to adhere to physical distancing guidelines by remaining six feet apart from other voters in line, Downs said. Tape will be placed on the floors to reflect those distances.
Voters are asked to wear face coverings and to keep them in place, covering their nose and mouth, while in the polling place, she said. Anyone who comes to the polling place without one will be offered a mask, Downs said.
Because Pennsylvania is a closed primary state, only voters registered as Democrats or Republicans may vote in Tuesday's primary, Downs said.
For more information, visit the county elections website.
With a few exceptions, Westmoreland County voters will vote Tuesday at their usual polling locations. For more information, visit the Westmoreland elections website or call (724) 830-3150.
Originally published May 28, 2020.
In other news:
"Heritage Center Plans…" || "Holtzman Defends $71.…"