First-generation Americans find sense of community in McKeesport
By Richard Finch Jr.
The Tube City Almanac
June 06, 2020
Posted in: McKeesport and Region News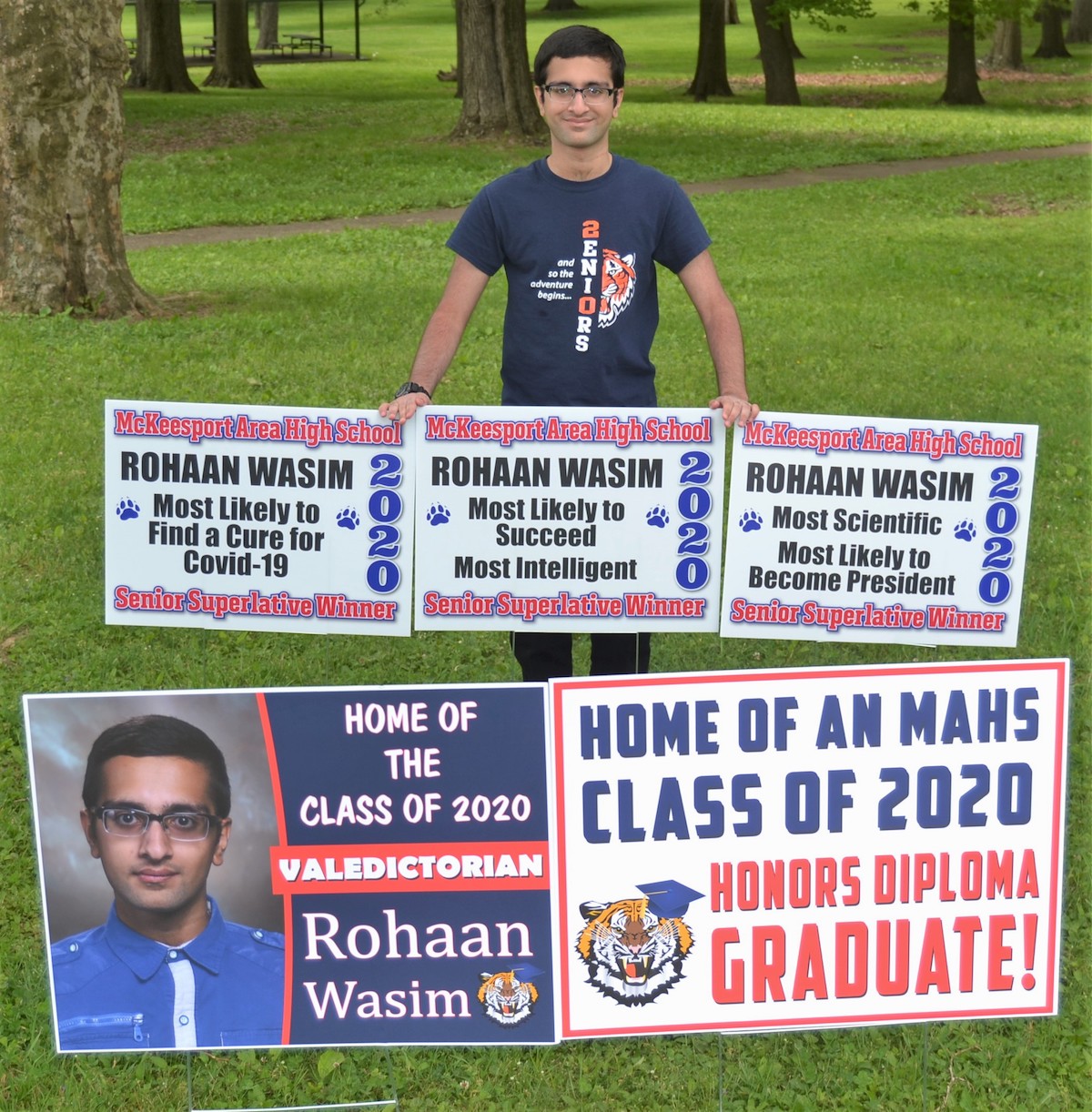 Rohaan Wasim, this year's valedictorian, poses with some of the accolades he's been given by his classmates. (Richard Finch Jr. photo for Tube City Almanac)
---
Hamida Wasim says she raised her three sons to be "obedient, hard-working, sensible and focused."
"I like my boys to be well educated and do well in their lives," she says. "They know what they want in life and how to get it."
It must be working. All three sons have succeeded academically at McKeesport Area High School. In 2018, her son Zohais was named salutatorian and son Ashar graduated with honors.
This year, her youngest son, Rohaan Wasim, was named valedictorian for the class of 2020. He plans to attend the University of Pittsburgh's School of Computing & Information Sciences in the fall.
---
The Wasims moved to McKeesport nearly 10 years ago. They emigrated to the United States in 2008, living first in Minnesota, then Michigan, before arriving in McKeesport the following year.
"I like the sense of community in McKeesport," Hamida Wasim says.

Rohaan Wasim says he focused on getting the best grades possible while a student at McKeesport Area High School, to "improve my chances of earning scholarships and getting accepted into" a university.
The expense of a college education is not lost on him. "College is very expensive," he said. "Any scholarship I can receive will help."
---
Rohaan Wasim, a district student since third grade, claimed an impressive number of scholarships and awards, all while achieving a 4.167 grade point average.
In addition to receiving an honors diploma and the AP Scholar Award, he was recognized with a Certificate of Merit for qualifying as a National Merit Finalist, a Certificate of Merit from PHEAA for Outstanding Performance Among Pennsylvanians on the SAT, and The Challenge Program Award for Academic Excellence sponsored by Riverside Care Center.
High School Principal Dale McCall calls Wasim "very humble" despite his academic success. "Rohaan is a tremendous young man with a very bright future ahead of him, one of the hardest working students I have come across in all my years in education," McCall says. "He has a great passion for knowledge and a love of learning."
---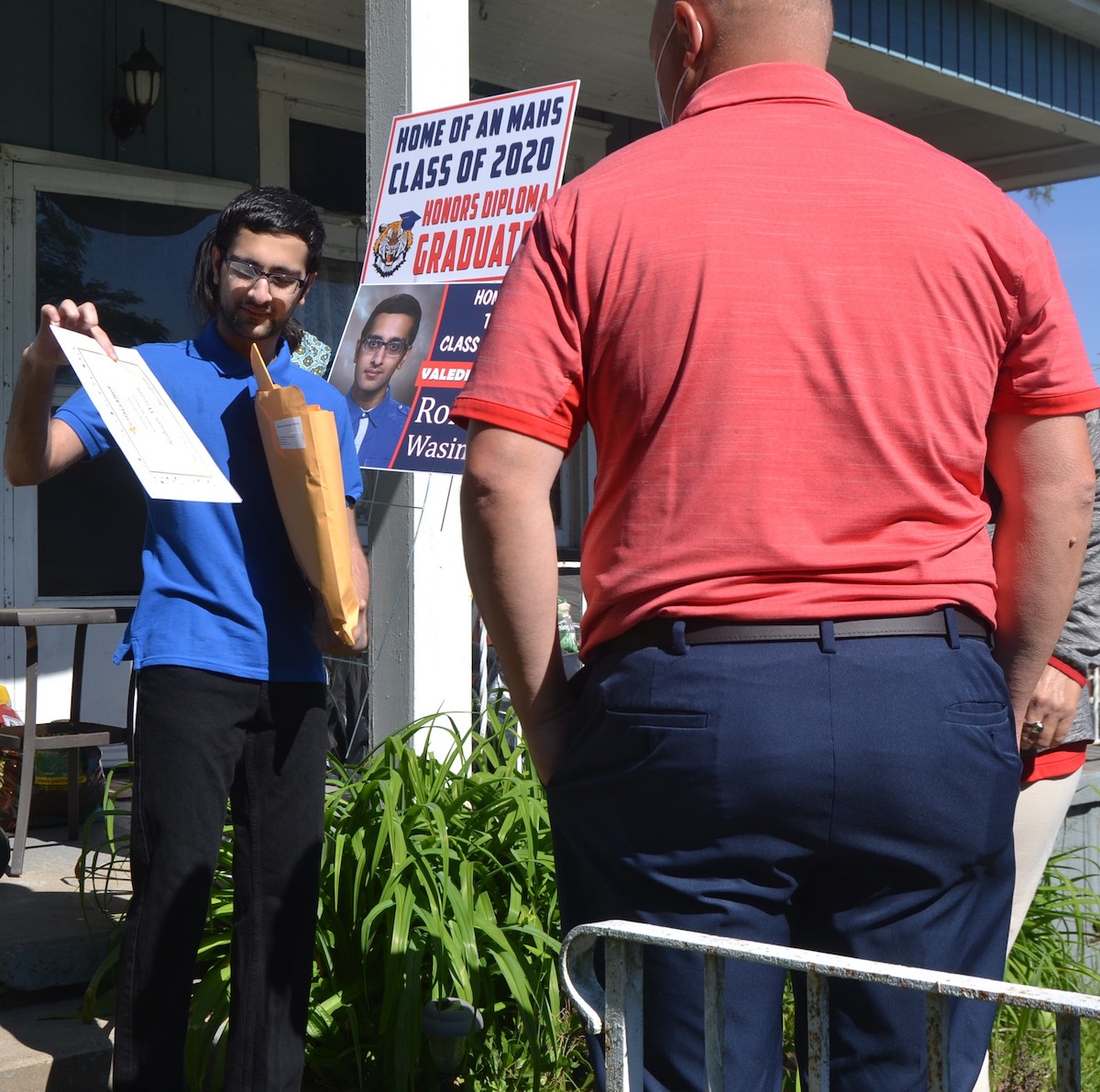 Principal Dale McCall delivers Wasim's graduation cap and gown. (Richard Finch Jr. photo for Tube City Almanac)
---
Hamida Wasim said she is grateful to the staff and counselors who were "very helpful," especially math teacher Myleen Kiska. "She went out of the way to prepare Rohaan through Collegian High School," she said. CHS is an academic program offered by the University of Pittsburgh to high school students.
When schools were closed in early March due to the COVID-19 pandemic, Kiska began offering Wasim one-on-one calculus lessons on Zoom. "She got the ball rolling early," Rohaan Wasim said. "We had one-on-one Zoom meetings every other day during the week. It helped a lot in preparing me for tests."
Wasim, who received outstanding student awards in AP chemistry, environmental science and calculus 1, credits Diane Metz, his AP language and composition teacher with going out of her way to help him and other AP exam takers with after school tutoring, calling her enthusiasm "contagious."
At the same time, Metz says Wasim pushed her to become a better teacher.
"I knew when he came into class each day, he was going to ask numerous thought-provoking questions that I needed to be ready for," she says. "There is not a doubt in my mind that he will continue to have great success after graduating from McKeesport Area High School."
---
Wasim qualified for the prestigious National Merit Scholarship by receiving a 1480 on his PSAT and was ranked in the 99th percentile of test takers in the country. Competition for the scholarship is intense, according to a NMSC press release, as more than 1.5 million juniors in approximately 21,000 high schools compete for the scholarship.

"When I became a semifinalist, I needed recommendation letters and the cooperation of my guidance counselors and principals and basically the whole school and I got that in spades," he said.
Wasim says guidance counselor Nicole Mallory helped with the arduous application process. "She was willing to help with transcripts, recommendation letters, anything I needed," Wasim says. "She made sure the application got turned in correctly, she wanted to see me get the scholarship, to see me succeed."
But Mallory says Wasim was "prepared and eager to succeed, always aware of what needed to be done and efficiently completed tasks."

His 10th grade English teacher, Bonnie Butler, also was very encouraging, Wasim says. "My brothers and I really focused on education, getting good grades and so she was always there for us and helped me out with recommendation letters," he says.
Butler calls Wasim "an ideal student," and is grateful he stepped into her classroom four years ago. "As a student, Rohaan Wasim displays curiosity and interest in his world, shows diligence to achieve success, and sets priorities and high standards for his future," she says.

Butler says Wasim "amazes" classmates with his depth of knowledge about current events and class assignments, "They realize that Rohaan puts in the time and dedication to learning."
---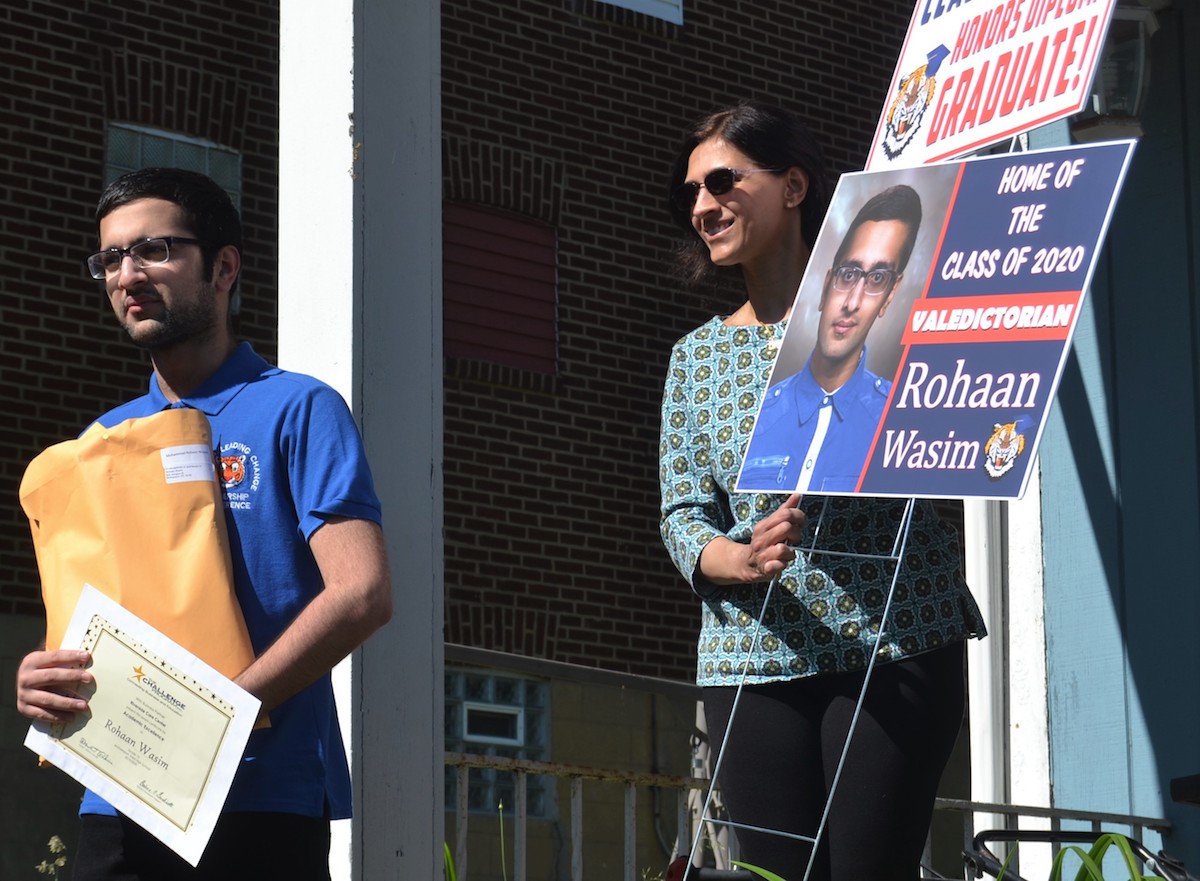 Rohaan Wasim with his mother, Hamida. The family emigrated to the United States in 2008. (Richard Finch Jr. photo for Tube City Almanac)
---
A traditional commencement ceremony is scheduled for June 30, however, district officials confirmed "an alternative graduation ceremony is also in the planning process." Although Allegheny County has now entered the "green phase" of pandemic restrictions, social distancing is still required and gatherings of more than 250 people are still prohibited.
If an in-person ceremony can't be held, Wasim, along with the student body president and class salutatorian, will pre-record their speeches.
Wasim says the efforts of the MASD staff and administration to make seniors' graduation memorable is "heartwarming."
While participating in College Confidential, an online forum for parents and students to share their experiences about the college application process, including the process of applying for merit scholarships, Wasim says he and his mother were surprised to learn that more affluent school districts did not offer the same "focus" he received from teachers and staff at MAHS.
---
"You would think, in those districts, the counselors would offer students better direction and engagement," he says. "A lot of parents were saying how their guidance counselors were just ignoring students who were merit semifinalists."
But at the same time, Wasim says he became more aware of some of the hardships faced by other students in the district when he heard them discuss their personal struggles while working on their senior projects. "A lot of things go on behind the scenes," he says.
If students aren't able to walk across the stage to receive their diplomas, Wasim says he will "miss the excitement" he witnessed attending his brother's graduation ceremony.
"It's a shame, everyone lines up, gives speeches, it's a once in a lifetime experience, saying goodbye to all your friends, that moment," Wasim says.
He has no regrets about his time at McKeesport Area High School. "Differences in school districts can be exaggerated," Wasim says. "The teachers at MASD are very capable. If a student wants to learn, they have the resources. The teachers will help students to engage in learning and provide a quality education."
---
Richard Finch Jr. is a freelance writer who covers McKeesport Area School District, White Oak and a variety of other topics for Tube City Almanac. He may be reached at finchr43@gmail.com.
Originally published June 06, 2020.
In other news:
"New City Councilwoman…" || "City Seeks Funds for …"