By Jason Togyer
The Tube City Almanac
June 05, 2020
Posted in: McKeesport and Region News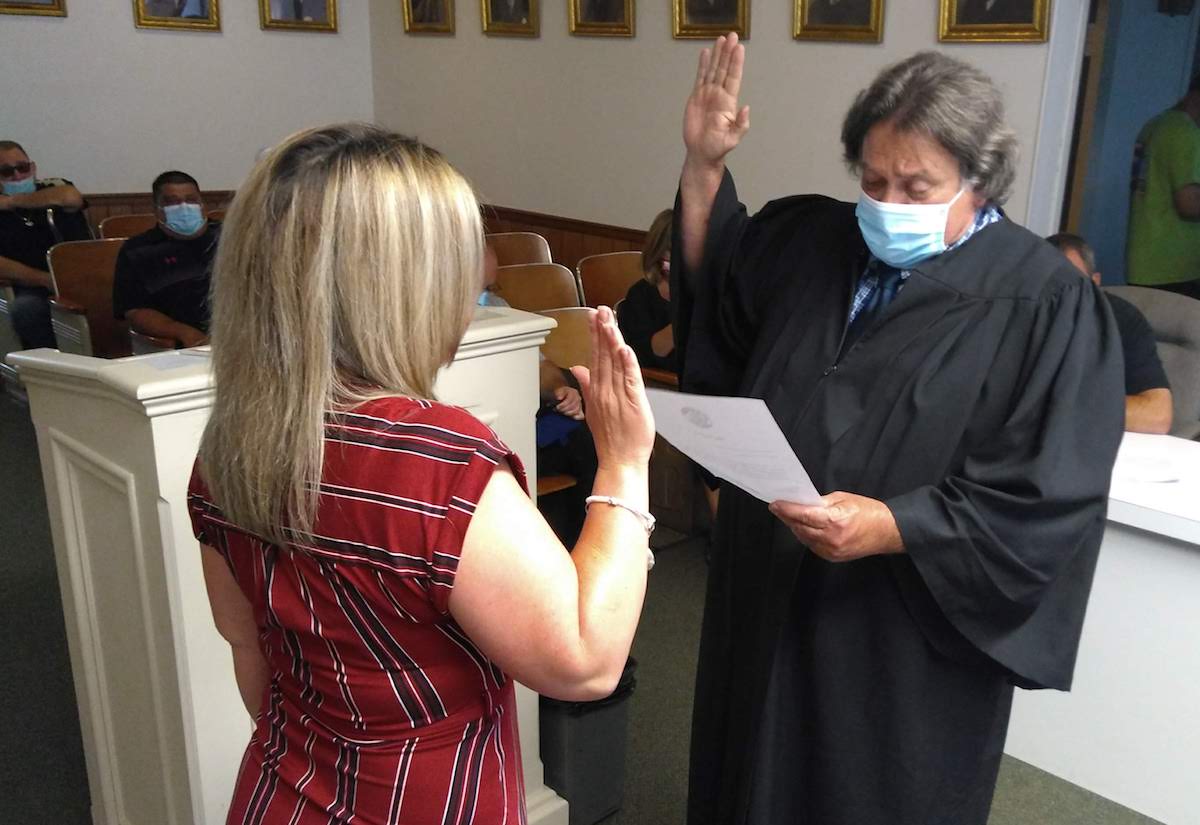 Jill Lape takes the oath of office Wednesday night from Magisterial District Judge Eugene Riazzi. (Tube City Almanac photo)
---
A McKeesport Area School District teacher has been appointed to fill a vacant seat on city council formerly held by her late sister.
At Wednesday's council meeting, Jill Lape was nominated by Councilman Keith Soles and approved by a 5-0 vote of council to complete the term of her sister, Councilwoman Jamie Brewster-Filotei, who died May 12 after battling cancer for nearly three years.
Brewster-Filotei was elected in November 2017 to a four-year term that ends Jan. 1, 2022.
Following the vote, Lape took the oath of office from Magisterial District Judge Eugene Riazzi and took her seat with council.
Due to the COVID-19 pandemic, social distancing requirements were in place in council chambers and all participants were asked to wear face masks.
Before the meeting, council observed a minute of silence in memory of Brewster-Filotei, who also served as city council vice-president. Afterward, the nameplate from her council desk was presented to her husband, Kenneth.
Also in attendance were Brewster-Filotei's parents, state Sen. Jim Brewster and his wife, Linda.
Like her sister, Brewster-Filotei had been a teacher in McKeesport Area School District.
"As a teacher and a councilmember, we lost someone who gave her heart and soul trying to make McKeesport a better place to live," McKeesport Mayor Michael Cherepko said. "Jamie bled red and blue. I would like to think that I love this city as much as anyone, but I have to think she may have loved the city even more than me."
Lape is a fitting representative on council, the mayor said. "She also has a tremendous amount of pride in the school district and the city," Cherepko said. "I have the opportunity to serve with her on the McKeesport Community Fund board and there is no question that Jill will be a tremendous asset to this city as well."
Councilwoman LuEthel Nesbit was elected vice-president of council by a 6-0 vote. Councilman Tim Brown, who works at McKeesport Area High School, was absent so that he could attend Wednesday night's senior graduation parade on Eden Park Boulevard, city officials said.
---
Jason Togyer is editor of The Tube City Almanac and volunteer executive director of Tube City Community Media Inc. He may be reached at jtogyer@gmail.com.
Originally published June 05, 2020.
In other news:
"Heritage Center Prepa…" || "Valedictorian Has 'Co…"