• Sharp increase in disease countywide since restrictions eased
• Seven deaths in McKeesport so far
By Jason Togyer
The Tube City Almanac
June 27, 2020
Posted in: McKeesport and Region News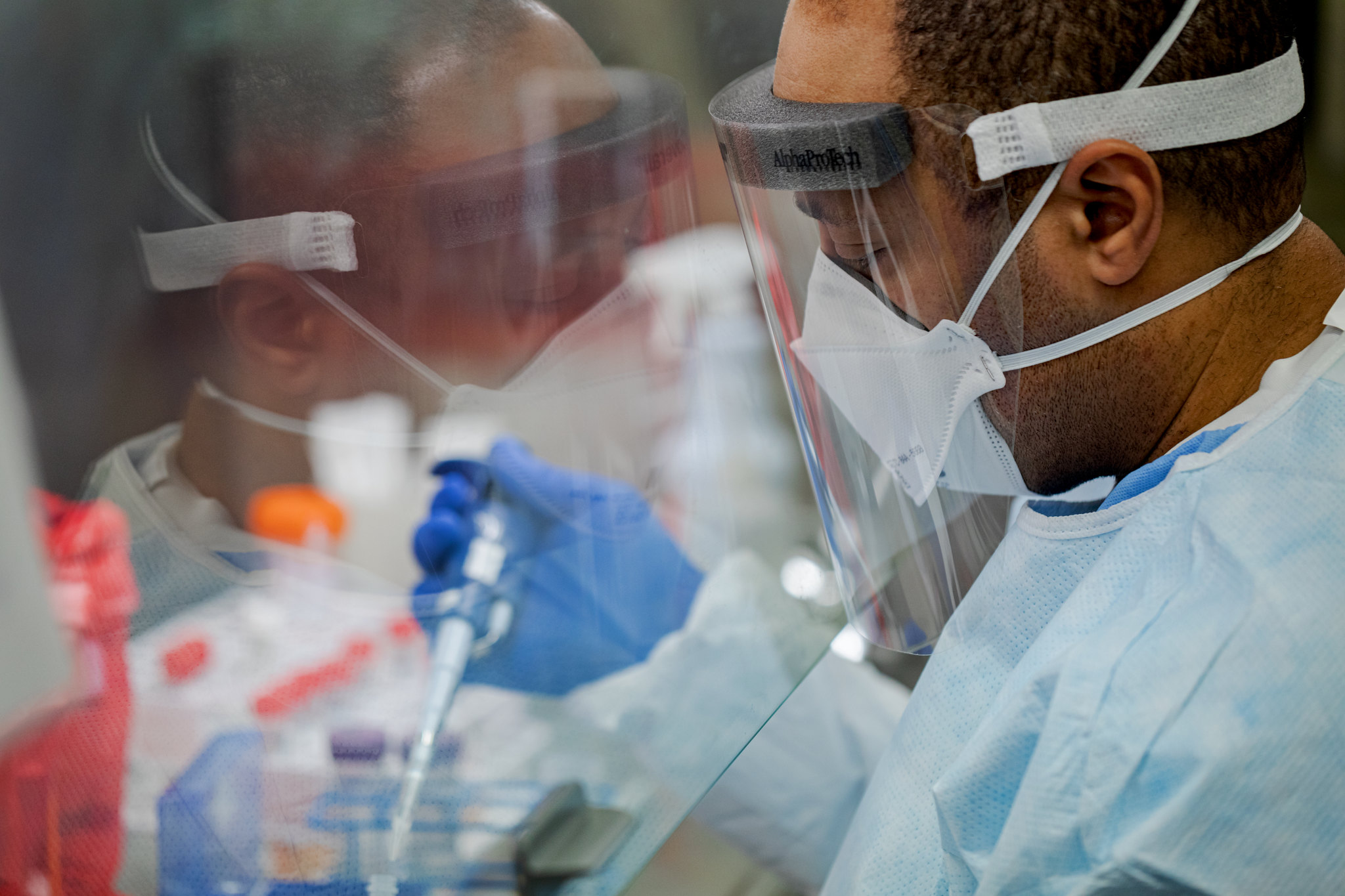 Kerry Pollard, a microbiologist for the Pennsylvania Department of Health, extracts a sample of SARS-CoV2, the coronavirus that causes COVID-19, inside a state-operated lab in Exton, Chester County. (Photo courtesy Pennsylvania Department of Health)
---
Seven cases of COVID-19 have been confirmed at UPMC McKeesport hospital, a spokeswoman said Saturday, but it's unclear if the cases are related or coincidental.
The report comes as officials are warning of a sharp increase in the number of cases of COVID-19 across Allegheny County — many among younger people who recently traveled or who had been visiting bars and restaurants.
Countywide, there were 90 new cases reported Saturday — the biggest single-day jump since the health department began tracking COVID-19 in March.
In a prepared statement, UPMC spokeswoman Sarah Katz said four cases have been identified among patients at UPMC McKeesport and three among employees. The departments where the employees work were not released.
Employees are quarantining at home
The patients who tested positive for COVID-19 have been moved to UPMC McKeesport hospital's special negative pressure unit, the statement said.
The employees are quarantining at home, as are any staff who had direct exposure to those employees or the patients who tested positive.
UPMC McKeesport has not determined if the cases are "related or coincidental," but they have been reported to the county health department, the statement said.
"We are performing thorough contact tracing and have tested all patients in close proximity to the positive cases," the UPMC statement said.
Hospital remains open as usual
UPMC McKeesport remains open and is operating normally, Katz said.
"With the safety of our patients, staff and visitors as our top priority, UPMC McKeesport continues to follow stringent cleaning and disinfecting procedures to ensure a safe environment," the health system said in its statement. "We encourage the community to remain vigilant and follow public health guidance, including wearing masks, physical distancing and washing hands."
The new cases at UPMC McKeesport come as an increase in COVID-19 cases are being reported across the county, state and nation.
After months of severe restrictions imposed by state officials due to the pandemic, Allegheny County and other counties moved to the so-called "green phase" of restrictions on June 5.
Bank links restaurant spending to COVID-19 increases
Restaurants and bars, which for three months were forced to close their dining rooms, were allowed to resume operations at reduced capacity, and hair salons, barber shops and other businesses that had been closed as "non-essential" were allowed to reopen.
SARS-CoV2, the coronavirus that causes COVID-19, has an incubation period of up to 14 days, health experts have said. That means it can take up to two weeks after a person is exposed to the virus before they start showing symptoms.
On Friday, the bank JP Morgan Chase & Co. released results of a study conducted in cooperation with scientists from Johns Hopkins University.
The study concluded that in states that have re-opened and relaxed their pandemic restrictions, increases in restaurant spending were followed by increases in COVID-19 cases about three weeks later.
County: New cases 'overwhelmingly among younger people'
Allegheny County spokeswoman Amie Downs said Friday that new cases reported over the past week were "overwhelmingly among younger people who were traveling, visiting bars and restaurants, and out in the community."
About two-thirds of the new cases were among people ages 19 to 49, and the median age was 31, Downs said. The youngest confirmed case was in a 4-month-old baby and the oldest confirmed patient was 97.
Despite contact tracing, neither the county health department nor the people who were infected are able to determine exactly where or when patients contracted the SARS-CoV2 coronavirus, Downs said.
"They don't know if they were exposed before a vacation, while on vacation, or after returning home," she said. "They don't know if they were exposed at a bar or restaurant, or if they were exposed before or after going out."
Some local cases traced to Southern U.S.
Some of the cases were traced to states such as South Carolina, Texas, Tennessee and Florida, Downs said.
None of those states imposed travel restrictions as severe as those in Pennsylvania, Ohio and New Jersey, and all of those states are reporting severe COVID-19 outbreaks — Florida alone reported 9,000 new cases on Friday.
"Places in Florida such as Miami, Tampa and Naples came up multiple times during case investigations," Downs said. "New cases also told the Health Department they had recently been to bars and restaurants all around the county. Some of the new cases include staff at local bars and restaurants. Of the 15 different bars and restaurants new cases reported recently visiting or working at, five facilities were reported multiple times."
---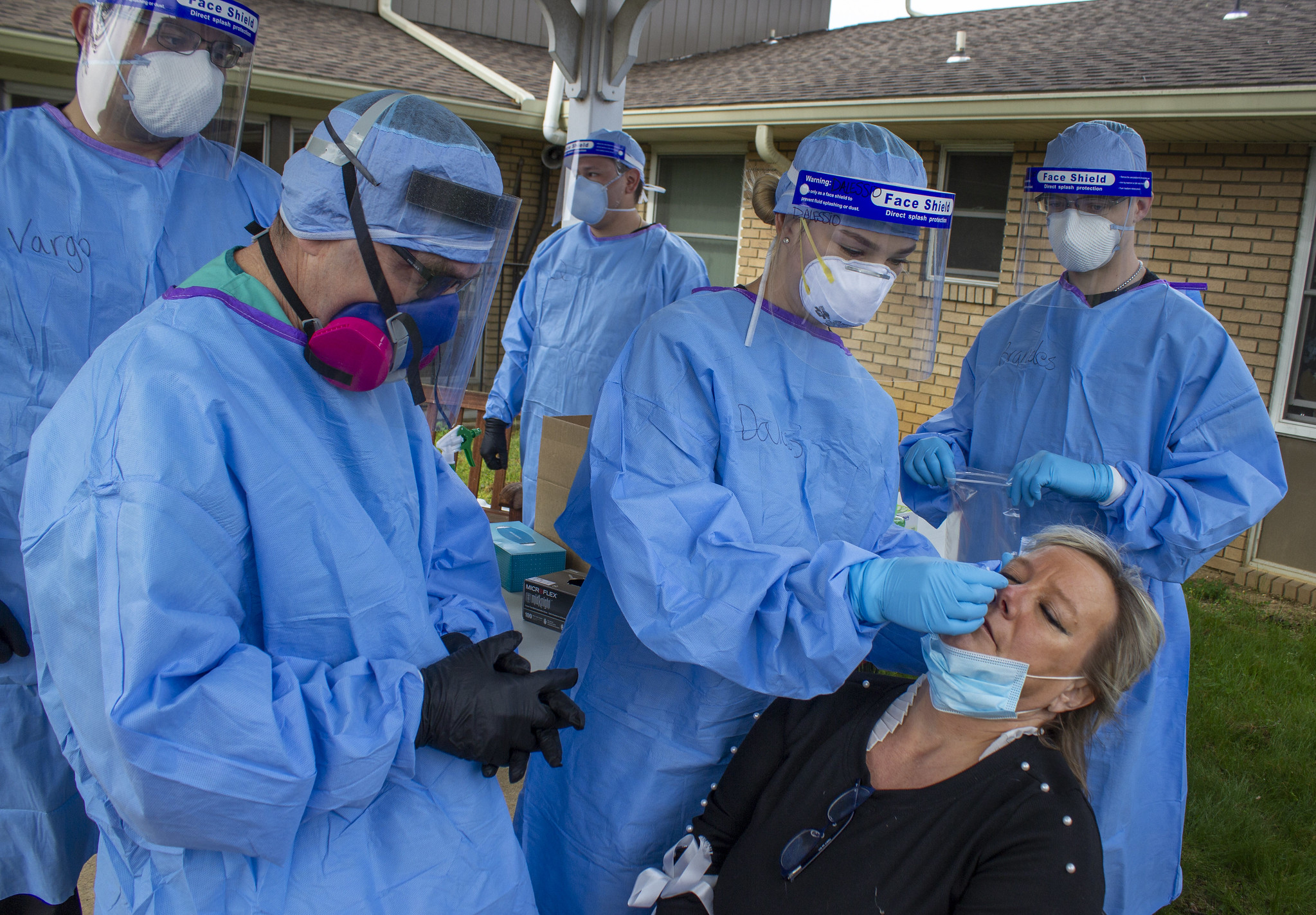 Air Force Col. Scott Coradi, at left, commander of the Air National Guard's 111th Medical Group, trains Pennsylvania guard members on proper procedures for administering a COVID-19 test. (U.S. Air National Guard photo by Master Sgt. George Roach)
---
50 cases in McKeesport, 21 in Duquesne
Locally, there have been 50 cases of COVID-19 reported in McKeesport and seven deaths, according to county health department data.
Although only about 4 percent of all county residents have been tested, about 6 percent of the city's 19,731 residents have been tested, the health department said.
Nursing homes across the country have been hard-hit by COVID-19. At McKeesport's Kane Community Living Center, the county-owned skilled nursing facility on Ninth Avenue, 292 residents have either been tested or re-tested, according to data released by Kane, and one resident has tested positive.
The county said 330 tests have been done on employees at Kane McKeesport and one person has tested positive. That person has since recovered.
Most area communities now reporting cases
White Oak has had five cases of COVID-19 and no deaths, North Versailles Twp. has had 17 cases and two deaths, Duquesne has had 21 cases and one death, and West Mifflin has had 42 cases and one death, county data indicates.
Port Vue and Liberty, which until recently had not reported any cases of COVID-19, have had three and four cases each, respectively, according to county data.
Black residents continue to suffer a disproportionate number of cases of COVID-19 in Allegheny County. Although about 14 percent of Allegheny County residents are Black, they make up 24 percent of the cases.
There have been 186 deaths countywide.
County recommends residents wear masks, avoid crowds
The health department continues to recommend that all persons wear face masks when in public, even in places where masks aren't required, Downs said.
Residents should avoid crowded locations and close contact with other people, she said, and should continue to wash their hands and use hand sanitizer frequently, especially after being in public places, and before and after eating or drinking.
Allegheny County residents who are considering travel to areas that have recently had a high number of cases of COVID-19 should consider rescheduling, changing or postponing their plans, Downs said.
People who have returned from locations that are reporting a high number of cases of COVID-19 should quarantine themselves for 14 days, if possible, she said.
Anyone who thinks they have been exposed to COVID-19 should be tested, Downs said. Possible points of exposure include beaches, boardwalks, bars, restaurants, airplanes, trains, hotels and buses, she said.
Five sites in the Mon Valley are offering free tests for COVID-19, including McKeesport Family Health Center, 627 Lysle Blvd.; Braddock Family Health Center, 404 Braddock Ave.; Hazelwood Family Health Center, 4918 Second Ave.; and Steel Valley Family Health Center, 1800 West St., Homestead.
---
Jason Togyer is editor of The Tube City Almanac and volunteer executive director of Tube City Community Media Inc. He may be reached at jtogyer@gmail.com.
Originally published June 27, 2020.
In other news:
"Police Allege Driver …" || "International Village…"