Three-day festival won't happen for first time in 61-year history
By Jason Togyer
The Tube City Almanac
June 27, 2020
Posted in: McKeesport and Region News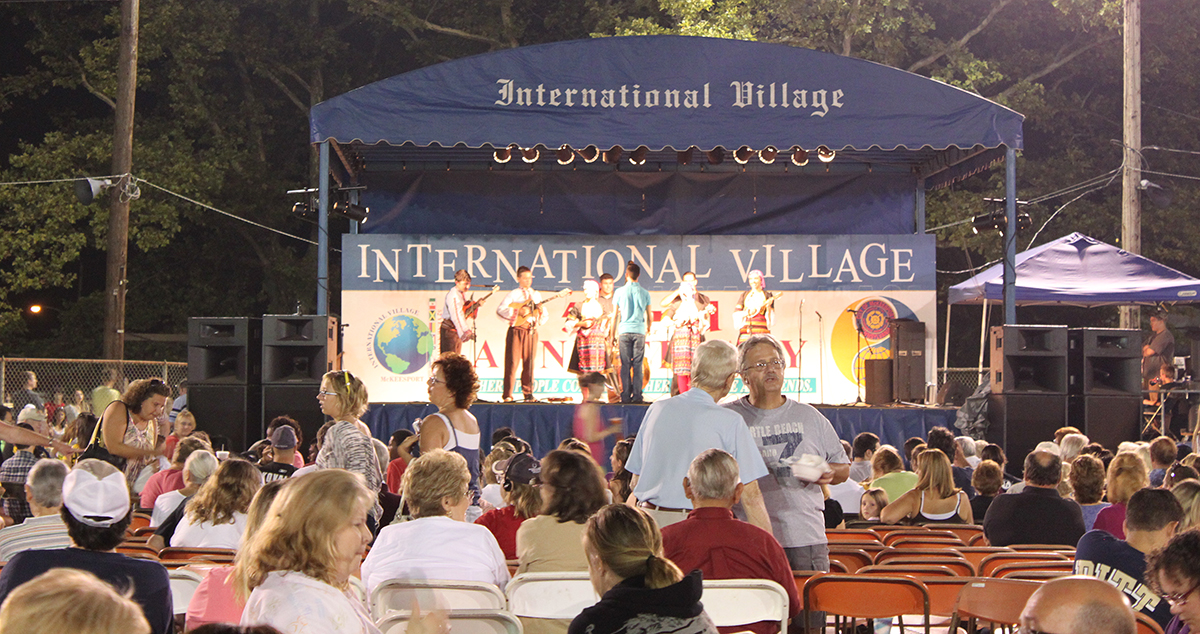 (Denise L. Ritter photo for Tube City Almanac)
---
International Village — McKeesport's signature summer event and one of the largest ethnic festivals in Western Pennsylvania — has been canceled due to the COVID-19 pandemic.
The city had been hoping to operate a scaled-down version of the three-day event in Renziehausen Park — offering takeout food only, with no seating and no live entertainment — but Mayor Michael Cherepko said Saturday that vendors surveyed by the village committee were reluctant to participate.
"The vast majority of them weren't interested in having the village this year in any way, shape or form," Cherepko said. "They're concerned about COVID-19 and concerned about having volunteers at their booths."
It's the first time in International Village's 61-year history that the event has been canceled.
---
International Village started as a small ethnic food festival in 1960 on Market Street, Downtown. It has since grown into a major event that each August encompasses Stephen Barry Field and the Jakomas Pavilion in Renzie, attracting thousands of visitors for food, crafts and dancing.
Many of the booths are operated by churches or other volunteer organizations who use their International Village food sales as a fundraiser. At the 2019 International Village, 19 nationalities or ethnicities were represented.
Dan Carr, event coordinator, said Saturday he called most of the organizations who had booths in 2019, and due to the pandemic, only one church was interested in participating this year.
"How do you have International Village unless you have everyone in?" Carr said. "One of the big aspects of the village is the social aspect. Who wants to just have takeout? It wouldn't be the same."
---
In addition, he said, participating churches often begin baking and cooking ethnic foods for the village months in advance.
"Most of the churches aren't even meeting as a whole church" for services, Carr said. "They haven't been able to prepare anything."
Many current and former McKeesport residents plan vacations around International Village, and some people travel back to the Mon Valley from out-of-state to participate in the festival.
Carr said organizers explored every possible option before they decided to cancel.
"We have to look at this realistically," he said. "You can't wait until the last minute."
---
Michael "Mikey Dee" Dorich, who serves as International Village's entertainment coordinator as well as master of ceremonies for two nights, said even a scaled-down event would be difficult in light of health regulations that restrict public gatherings to fewer than 250 people, and which recommend at least six feet of separation between persons.
Trying to maintain "social distancing" standards in Stephen Barry Field would be "a logistical nightmare," he said.
"I just couldn't see it happening," Dorich said Saturday. "There have been so many cancellations of so many festivals. Slovenefest is cancelled, Croatian Day at Kennywood has been cancelled, all of these things are gone."
The main stage entertainment at International Village usually includes ethnic dance troupes and performers from across Western Pennsylvania.
---
"None of the organizations I know of are rehearsing" due to the coronavirus pandemic, said Dorich, who also leads his own polka band. "There are a handful of working musicians like myself who are trying to go out and do certain things, but tamburitza groups aren't rehearsing right now."
Cherepko said the city wanted to keep the option of a smaller International Village available for churches who depend on the revenue each year to support their operations.
"That was the one big reason — it is one of their largest fundraisers," he said. "But a lot of our churches are very concerned right now about this pandemic. People are not even gathered for church right now."
---
"We were going to do everything in our power to do something, but if you don't have vendors, you don't have a village," Cherepko said.
The mayor said he understands the disappointment that many residents — past and current — will feel about International Village's cancellation.
"Hopefully, absolutely, next year will be bigger and better," Cherepko said. "People will have a year off. It gives us a year to try to do something special."
---
Jason Togyer is editor of The Tube City Almanac and volunteer executive director of Tube City Community Media Inc. He may be reached at jtogyer@gmail.com.
Originally published June 27, 2020.
In other news:
"Hospital Confirms Sev…" || "As COVID-19 Cases Set…"