Some facilities require masks, social distancing, others have limited hours
By Jason A. Mignanelli
The Tube City Almanac
June 30, 2020
Posted in: McKeesport and Region News

UPDATE: Kennywood announced July 2 that they would not open on July 11 due to the increasing number of COVID-19 cases in Allegheny County. "Our top priority at Kennywood and Sandcastle is the health and safety of our guests and team members, and the community at large," the park announced.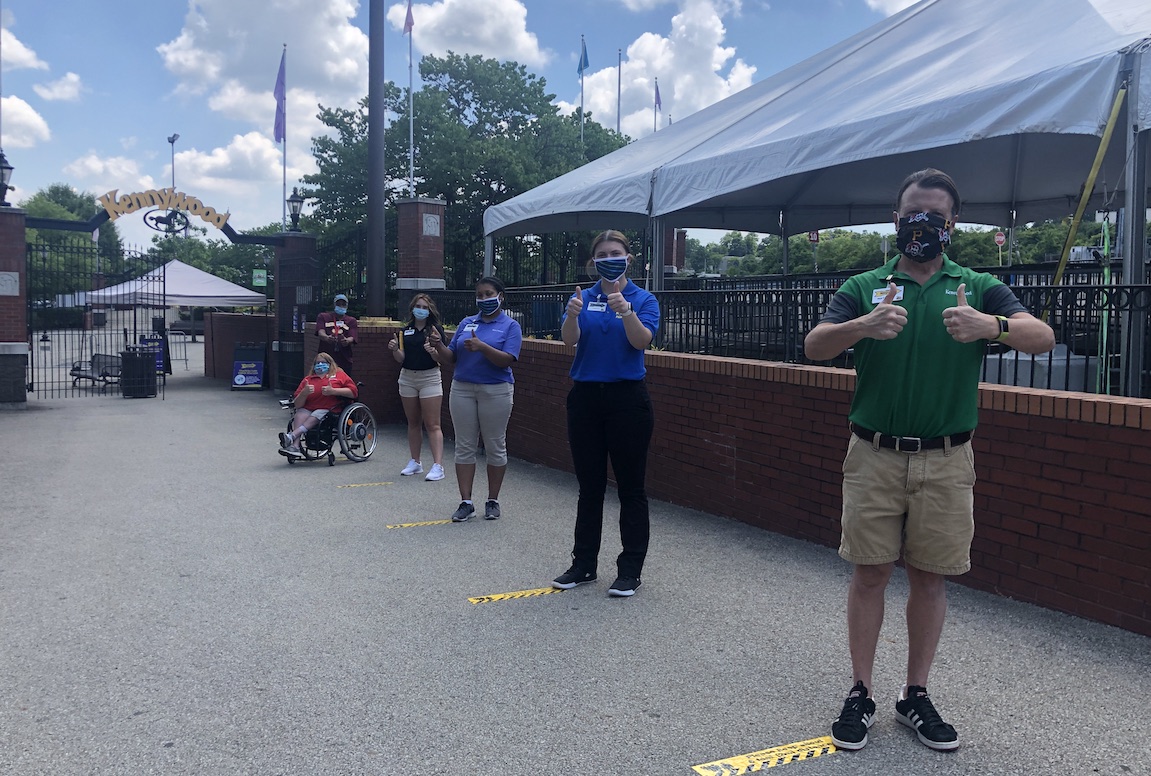 Kennywood employees standing six feet apart demonstrate social distancing. Guests will need to make a reservation to visit the park, which opens July 11. Masks also will be required for most patrons age 3 and older, except on water rides. (Submitted photo courtesy Kennywood)
---
Just in time for the start of summer — and the arrival of hot and sunny weather in Western Pennsylvania — local attractions are welcoming visitors after many were closed, or delayed their opening days, due to the COVID-19 pandemic.
Kennywood Park in West Mifflin, which usually welcomes guests in early May, will open to the public beginning on July 11 — but at the 121-year-old amusement park and elsewhere, things will look and be quite different this year.
For one thing, advance registration will be required, said Nick Paradise, director of public relations at Kennywood. Guests who want to visit Kennywood must RSVP at the park's website, kennywood.com. The park also suggests having alternate dates in mind, in case the preferred date is already booked to capacity.
Kennywood at half-capacity
"We will be required to keep the park at half-capacity at all times," he said. The park does not reveal its actual total capacity to the public, Paradise said.
Every guest will be required to wear a mask at all times, with a few exceptions, Paradise said. Children under age 3 are not required to wear masks and anyone aboard a water ride will be able to remove their masks, he said.
"Water safety dictates that guests should not wear a mask while on a water ride because it could create other safety complications," Paradise said.
Additionally, it will be OK to remove masks while eating, and some "mask-free" locations may be placed around the park, he said.
County parks open, but pools closed
Allegheny County parks, including White Oak Park and Round Hill Park in Elizabeth Twp., have remained open throughout the COVID-19 pandemic, although social-distancing rules are in place and shelters are restricted to 50 percent capacity.
However, Allegheny County's four pools — including the wave pool at South Park and Boyce Park in Plum and Monroeville — remain closed due to a lack of lifeguards, the county said.
McKeesport's 258-acre Renziehausen Park is also open, though with social-distancing requirements in place.
White Oak Bowl opened on June 22 and is open Sunday, Monday and Tuesday from 12 noon to 6 p.m. All guests must wear a mask to enter, employees there said.
Golf courses open
Butler's Golf Course in Elizabeth Twp. has been open since Western Pennsylvania moved into the "yellow" stage of the COVID-19 alert system, according to employees.
For those golfers who prefer to stay off of the 18-hole golf courses and enjoy a more easy going experience, Elizabeth Twp.'s Family Funscapes miniature golf course, 7350 Hutchinson Road, is open 12 noon to 9 p.m. every day except Tuesday.
"We do not require masks because we are primarily an outdoor facility," said George Knight, Family Funscapes manager. "However, we do clean the clubs and balls daily and after every use.
"Additionally, we keep a close eye on where groups are located throughout the course and if need be, we will move a group to start at a different hole just to keep safe distancing," Knight said.
---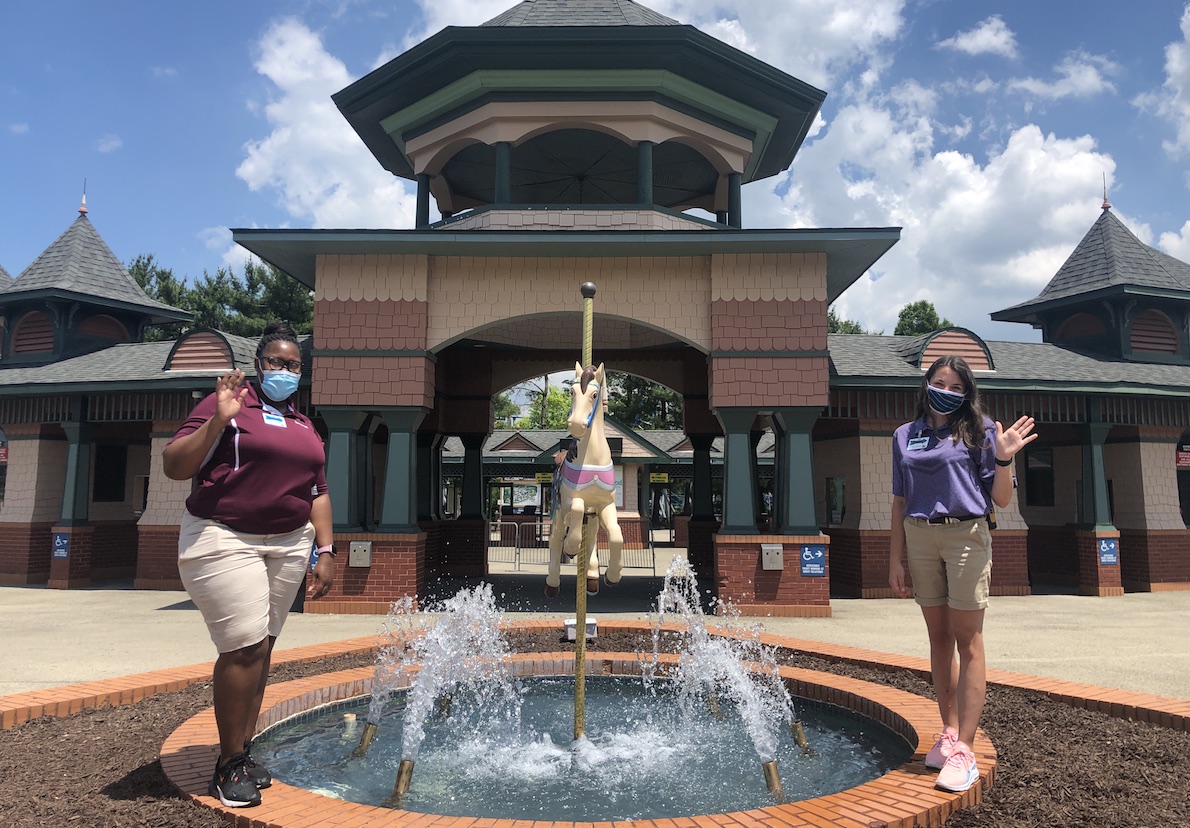 (Submitted photo courtesy Kennywood)
---
Good news, bad news at Kennywood
At Kennywood, although most of the park's most popular rides will be open, the SkyCoaster and Noah's Ark, along with the 4-D theater and Thomas Town, will be closed. "It's just too difficult to regulate social distancing on these rides and it's hard to keep them cleaned regularly," said Paradise.
In addition, the brand-new Steelers Experience will not be welcoming guests in 2020.
"Unfortunately, we will not be opening the Steelers Experience this year," Paradise said. Besides the delayed opening day, he said, "it is also just too difficult to manage social distancing" inside the multi-level, indoor experience.
However, to show appreciation for season pass holders, Kennywood will include the 2021 season with any purchase of a 2020 pass, Paradise said.
---
Jason A. Mignanelli is a freelance writer from Pittsburgh's North Hills and a student at Duquesne University. He may be reached at mignanellij@duq.edu.
Originally published June 30, 2020.
In other news:
"July 4 Fireworks Stil…" || "Kennywood Delays Reop…"