Residents asked to avoid Renzie and watch from homes or cars
By Jason Togyer
The Tube City Almanac
June 29, 2020
Posted in: McKeesport and Region News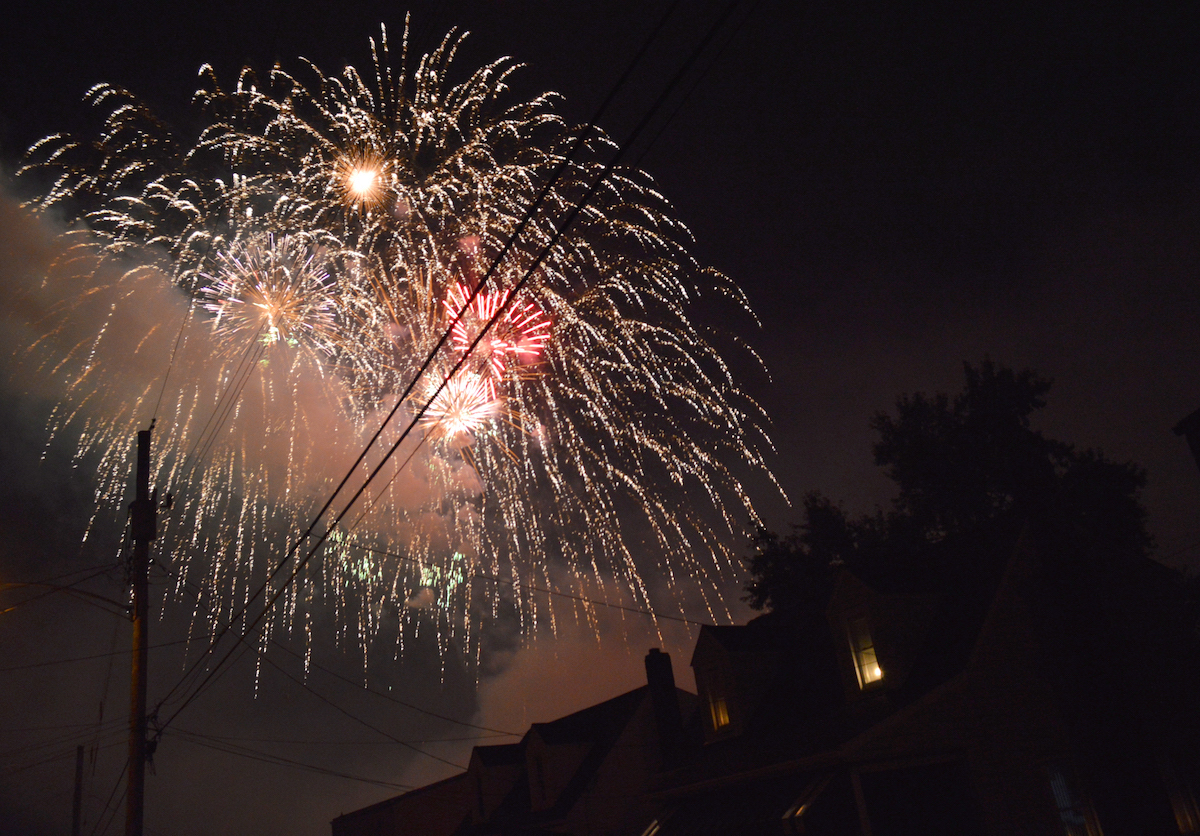 Fireworks illuminate Gordon Street in McKeesport on July 4, 2019. (Vickie Babyak photo for Tube City Almanac)
---
Although other communities have scrapped their Independence Day fireworks due to the COVID-19 pandemic, the show will go on in McKeesport.
However, there will be no city-sponsored activities on the ground in Renziehausen Park, and officials are suggesting people view the fireworks from the safety of their own homes or backyards.
If necessary, Mayor Michael Cherepko said, residents can drive to Renzie but park and stay in their cars.
Because the display can be safely viewed from a distance, Cherepko said, the city "decided all along that we were not going to cancel fireworks."
---
Although Pittsburgh canceled its July 4 celebrations, other communities are — like McKeesport — holding socially distanced fireworks displays for Independence Day.
Westmoreland County, for instance, is holding a "drive-in" fireworks display, "Here Comes the Boom," at 10 p.m. Saturday night at the county fairgrounds near Route 981 in Unity Twp.
A spokesperson said families are being asked to stay in or near their vehicles and to follow social distancing recommendations.
Washington County will hold a drive-in fireworks display at Consol Energy Park, off Interstate 70 in North Franklin Twp. The parking lot opens at 5 p.m. Saturday and tickets cost $20 per car.
---
Last week, McKeesport announced that it was canceling this year's Intenational Village, the city's three-day ethnic food and music festival held each August in Renzie. The decision came after members of the organizing committee polled vendors and found out that few, if any, wanted to participate.
Although the Independence Day fireworks will be held as planned, unlike past years, there will be no amenities, such as food trucks or children's games, and no entertainment at the Lions Club bandshell.
---
If people do come to Renzie to view the fireworks, they are required to observe social distancing rules, Cherepko said.
The display is expected to begin between 9:40 and 10 p.m., he said.
Area residents who have reserved pavilions in Renzie are being advised to follow safety guidelines from the U.S. Centers for Disease Control and Prevention, and Cherepko said signs outlining those rules are posted in the picnic shelters.
---
City officials still haven't decided if there will be any free concerts at Renzie's bandshell this summer.
"If we get an announcement that we're OK to go ahead, we could open that back up," said Dan Carr, who books the concerts for the McKeesport Lions Club. "We're basing all of our decisions right now on" state guidance from Gov.. Tom Wolf.
Like other people, Carr said he's been watching the increasing number of COVID-19 cases in Allegheny County with concern.
---
"We all knew there was going to be a little bit of a surge when things opened back up," he said. "Hopefully, it's not as (large) as it was at first."
Officially, the summer concerts — usually held on Sunday nights — are only "on hold," Cherepko said.
But with the increasing number of cases reported throughout the area and around the country over the past week, he said, "we want to do the right thing."
---
Jason Togyer is editor of The Tube City Almanac and volunteer executive director of Tube City Community Media Inc. He may be reached at jtogyer@gmail.com.
Originally published June 29, 2020.
In other news:
"Construction Projects…" || "Kennywood, Other Attr…"