Developer sees synergy with nearby People's Bank building
By Emily Pidgeon
The Tube City Almanac
July 24, 2020
Posted in: McKeesport and Region News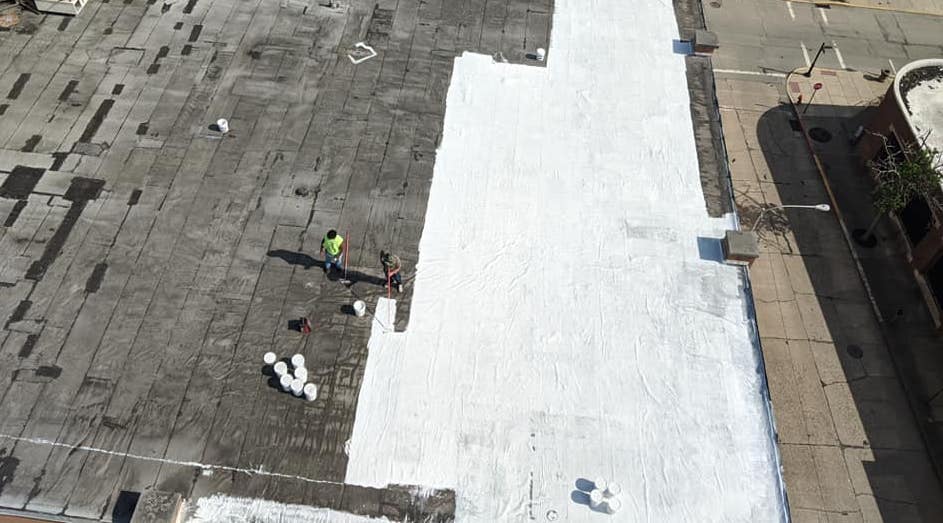 Workers seal the roof on the Executive Building, Downtown, in June. New owner Jonathan Stark says the building is structurally sound and is hoping to attract new tenants. (Submitted photo via Facebook)
---
McKeesport's Executive Building may not look like much these days, but with a little work and vision, new owner Jonathan Stark hopes to breathe some new life into the old building and bring commerce back to the Downtown area.
Right now, construction fence surrounds the main entrance of the building at 332 Fifth Ave. and adds to the feeling of abandonment. The Executive Building once housed Dollar Bank, a child-care facility, doctors' offices, hair and nail salons and many other businesses.
But by 2017, the last remaining tenants had left the building, and it was condemned in January 2018 after pillars of brick began falling off the exterior wall.
---
Getting the building ready for new tenants is going to take some work, Stark says.
"The city would like to see the sign repaired outside, of course, and they want to see a lot of the broken glass fixed as well," Stark says. He's already in talks with contractors about fixing the cracked and peeling veneer on columns throughout the building.
That's part of the city's request to Stark, which would remove the building from the condemnation list.
Despite its shabby appearance, Stark says that other than lacking basic maintenance for the past few years, the building is structurally sound and most spaces are essentially "turn key."
---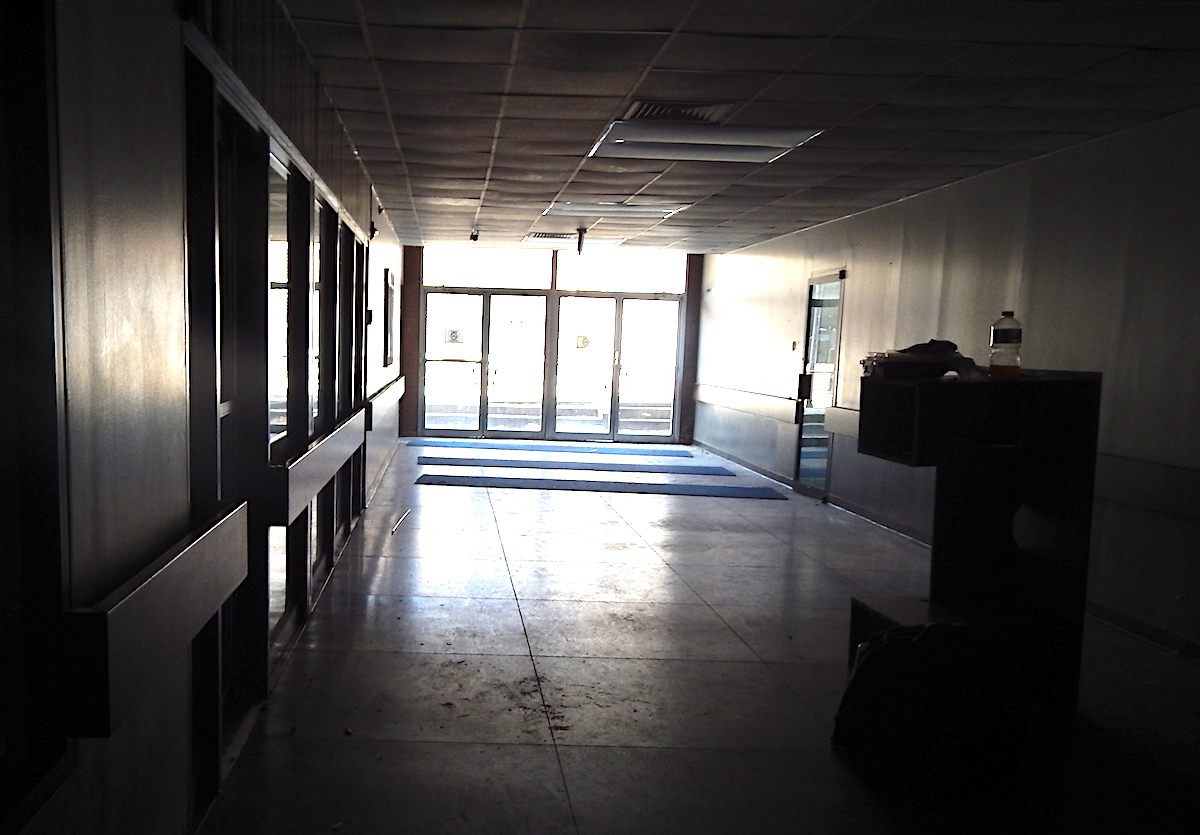 Entering through the fencing and main doors, remnants of previous tenants are clearly seen. Dollar Bank's name and logo are still emblazoned on a large glass partition, and the old child-care facility still has brightly colored walls and padded flooring. (Emily Pidgeon photo for Tube City Almanac)
---
The upper floors of the 1970s-vintage building need cosmetic updates, including carpeting, drywall and paint, but many spaces are ready to rent with very minimal work, he says.
According to Allegheny County tax records, the sale price of the building was $125,000. It is currently assessed at $665,250.
Stark owns Legion Arms on Market Street and several other buildings that are rented to residential and commercial tenants. Last year, he purchased the vacant People's Bank Building at the corner of Fifth Avenue and Walnut Street and began renovations.
---
"I am not independently wealthy, and this is a calculated risk for me," Stark says. "But we'll do what we can, not overspend in the present, and once things open back up, we can look into getting some spaces rented and then push to remodel more spaces until they're completed."
He admits that he wasn't eager to add the Executive Building to his workload.
"When we started working at the (People's Building), this was going to go to foreclosure again, and being sold at sheriff's sale for, I think, the third time, and we didn't want that to happen," Stark says.
"If anybody would potentially buy this place, they would be very serious about fixing it, and I don't want to be competing for space with the new owner," he says.
---
In addition, Stark views the Executive Building as an opportunity to make the People's Building more marketable by being able to offer two large commercial properties near one another in Downtown McKeesport.
"The whole plan of attack is to get the storefronts leased first," Stark says. "They were all, I think every single one of them, leased when the building was closed ... I think that retail would go well here. It was viable two years ago, so it should be now."
As for the upper offices, Stark says the building would be ideal for offices for county or state government or a large regional employer.
---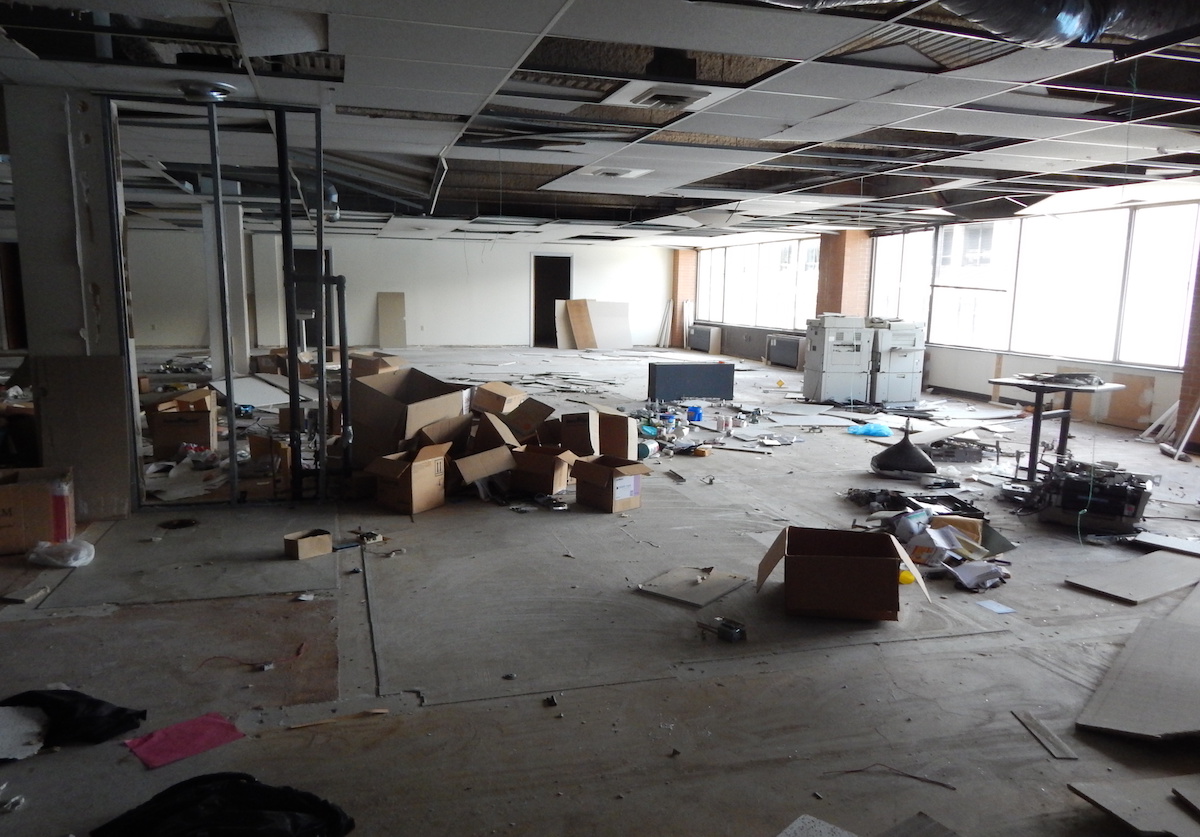 Some offices on the upper floors still have signs of former tenants. New owner Stark says much of the work that's needed is cosmetic — carpets, paint and drywall. (Emily Pidgeon photo for Tube City Almanac)
---
One level of uncertainty is the COVID-19 pandemic, which has caused many employers to close their offices and send employees to work from home.
But that could also benefit McKeesport, Stark says. Businesses that are downsizing their offices might be more willng to commit to a smaller community — and to a location like the Executive Building or People's Building — if the price is right, he says.
Both buildings are convenient to Lysle Boulevard and the Port Authority of Allegheny County's McKeesport Transportation Center.
With the pandemic putting most business expansion plans on hold, Stark says he has some time to get the building into shape and marketable.
"It's OK, it's not like we don't have work to do," Stark says. "We'll do the things that we can do, and then we'll start to look at this again next year and we'll see what makes sense."
---
Emily Pidgeon is a freelance writer from McKeesport. She may be reached at emily.pidgeon87@gmail.com.
Originally published July 24, 2020.
In other news:
"Teen Held in Robbery-…" || "Volunteers Needed for…"