By Kristen Keleschenyi
The Tube City Almanac
August 02, 2020
Posted in: North Versailles Twp. News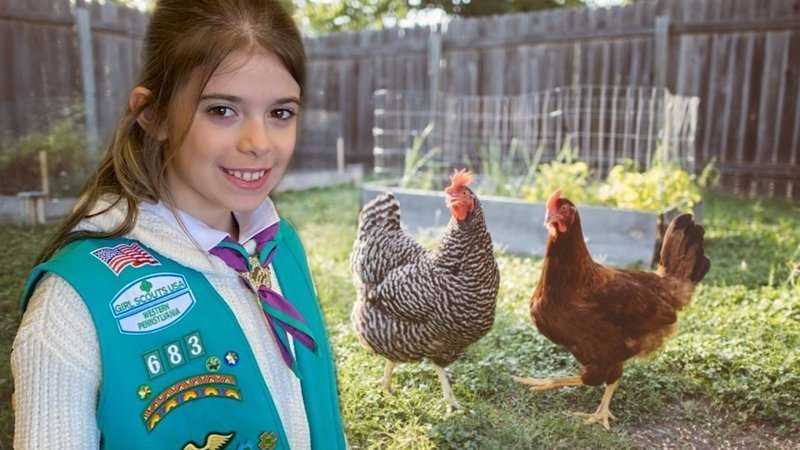 (Submitted photo)
---
Turning double digits is a milestone in a kid's life. Most children ease into a new decade maybe by playing with some of the presents they received and eating leftover cake.
But in June, two days after Adeline Naser turned 10, she was making a presentation to the North Versailles Twp. Commissioners. Her presentation was turned into a newly drafted ordinance to allow chickens in the township, which will be voted on in a few weeks.

Naser got the idea at the beginning of the COVID-19 stay-at-home order when eggs were in short supply. Her friend had chickens and was giving away eggs to her neighbors.
That's when the wheels started turning for Naser, a local Girl Scout who has set her sights on making a difference in her community and earning her bronze award, the highest honor for a junior scout.
"I kind of want chickens," Naser remembered thinking at the time. Her desire to help out her family and friends resulted in working with her mother, Becca McCracken, on a special bronze award project.
Naser came up with a petition that her mother posted on Change.org.
The petition listed the benefits of allowing chickens in the community: providing a healthier, organic source of eggs, giving people the ability to make their own food during times of food shortages, and teaching suburban kids about where food comes from.

The petition also listed some of the misconceptions about chickens — they are too loud and attract predators. Through her research, Naser learned hen noise is as loud as a normal conversation, around 50-60 decibels. (Roosters are much louder and are not included in the petition or ordinance.)
The predators that chickens could attract are already native to the township. Utilizing social media helped get the word out about Naser's idea during a time of social distancing.

"Normally, she would have gone door to door and maybe have gone to the grocery store but in this situation, we had to try to do everything online because we weren't going to try to interact with hundreds of people," McCracken said.

Within days of posting the petition, they had more than 300 signatures. It seemed like the idea had a lot of support in the township. They spoke with Code Enforcement Officer Merle "Bud" Pusey to get advice on how to go about formally presenting Naser's project.
That's when mother and daughter learned they didn't have a lot of time before the next meeting.

"We only had two weeks to prepare for the meeting but I didn't want to have to wait another month," said Naser.

Although she was nervous before her presentation, having a friend with her provided moral support. Naser was prepared for any questions from the commissioners, but luckily there weren't any. But she was surprised to quickly get support from an unexpected source.

"I think we are very lucky because one of our commissioners (Allen Wagner) recently had a brush with Lyme disease," McCracken said. "One of the things that chickens prevent are ticks. (Wagner) is in support of anything that reduces our tick population, it's one of the benefits of chickens, so I think his support was kind of infectious among the board."
At one point later in the meeting, while another topic was being discussed, Naser said someone in the crowd yelled, "Enough of this, can we get this girl some chickens?"

Being known as the "chicken girl" isn't a bad thing for this 10-year-old, who would one day like to trade that title in for Madame President, but for now, she's waiting to see if the chicken ordinance drafted by the township solicitor will be passed.
McCracken said whether or not the ordinance is adopted, Naser is on track to earn her bronze award. The experience surrounding local politics and how to introduce legislation has been educational for both of them, McCracken said.

And one thing is certain — if the ordinance does pass, one local family will be getting two to three chickens.

McCracken said her daughter "even measured everything" to make sure that their yard could legally accommodate a pen the required distance from neighboring properties.
"She said, 'I want to make sure if I get this passed that I qualify,'" McCracken said.
---
Kristen Keleschenyi is a freelance writer in North Versailles Twp. and one of the hosts of the Kristen & Amber Show on WMCK Internet Radio at 5 p.m. Saturdays, 9 p.m. Mondays and 4 p.m. Thursdays. She may be reached at kbishop25@hotmail.com.
Originally published August 02, 2020.
In other news:
"Historian Wants to Pr…" || "MAHS Tiger Band Selli…"