Despite lack of in-person competitions, students welcome chance to interact again
By Bonnijean Cooney Adams
The Tube City Almanac
August 06, 2020
Posted in: McKeesport and Region News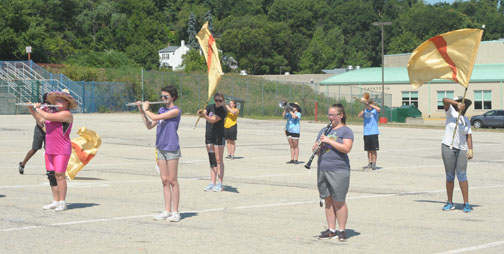 Musicians and colorguard from McKeesport Area High School rehearse the opening movement of "An Ancient Summoning." (Bonnijean Cooney Adams photo)
---
McKeesport Area High School Marching Band students are preparing for a 2020 show full of classic struggles between darkness and light in "An Ancient Summoning."
"We picked the theme to be vastly different than last year," band director Drew DeCarlo said.
While the 2019 theme depicted a day in a steel mill, a sneak peek revealed through the band's Facebook page revealed "an era before time."
Based on Igor Stravinsky's "The Rite of Spring," with additional original music by composer and arranger Randall D. Standridge, the show is divided into four movements, reflected in marching and interpretive motions.
The first is "The Summons," followed by "The Darkness," "The Light," and "The Conflict."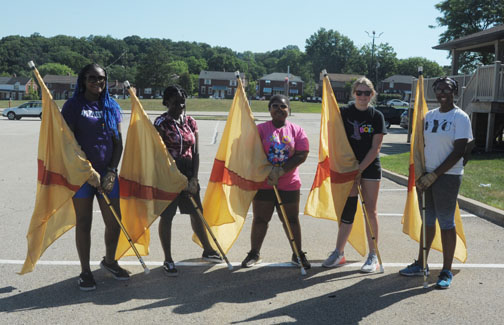 Taking a short break from practice during 90-degree temperatures the first week of band camp are colorguard members, from left, Taryn Vasquez, Daejea Moorefield, Tayler Cleveland, Elizabeth Swanger and Nya O'Neal. (Bonnijean Cooney Adams photo)
---
The traditional two-week concentrated band camp kicked off last week, with modifications and adaptations necessitated by the COVID-19 pandemic.
All adults wear face masks during practices, and students don masks whenever they go inside the buildings, such as on lunch breaks. Everyone is required to maintain social distancing.
Because of ongoing concerns with COVID-19, and statistics and conditions that change on a daily basis, in late July the Tournament of Bands circuit that McKeesport participates in, canceled all in-person competitions this season, along with the Pennsylvania Interscholastic Marching Band Association and the Bands of America National Circuit.
DeCarlo said he and the professional staff, TOB, and McKeesport Area School District, are committed to creating as many virtual opportunities as possible for performances for families and the community to see.
"While competition is a large part of the marching band experience, it is not the only part," the band director said. "First and foremost, marching band is educational. Students are also learning valuable skills like work ethic, being part of a team, time management, leadership and responsibility. These important skills can be taught through marching band, regardless of whether or not there are competitions."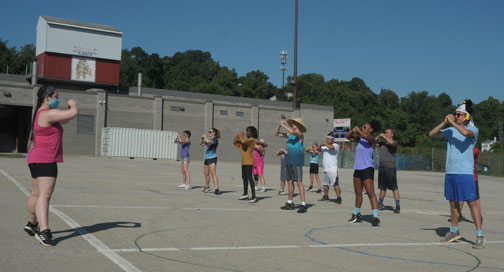 Colorguard staff member Naomi Fry instructs students on the body moves and footwork they'll be using to enhance their performance during "An Ancient Summoning," theme of the 2020 band show.
---
DeCarlo and some of the student leaders pointed out lasting friendships and socialization, plus physical benefits of exercise.
Ryan Raible, assistant band director and drill designer, said his goal remains to tell a story by combining the music and movements.
The show begins with a solo by Woodwind Captain Alexa Krznaric on bass clarinet, as she summons the rest of the band. There's also a figurative battle scene between the woodwinds and brass later in the performance, Raible said.
He kept the basic drill simple, allowing for embellishments such as the dance and body movements band members were taught by colorguard instructor Naomi Fry on opening days of camp.
Instructor Kevin Chaplan worked with colorguard in a separate rehearsal early in the day, before members intermingled with the musicians.
Colorguard Director Kelley Larson said although partnering moves are out for the squad because of required social distancing, that was not a problem in developing their portion of the show.
Drum Major Austin Doc McGrew said he enjoys the theme, and his experience as field conductor last year, plus competing with a drum and bugle corps, have given him a good idea on how to model himself and prepare for the marching band season – in-person or virtual.
"It's fun to play and to conduct," he said. Last season, he split his time conducting and playing mellophone.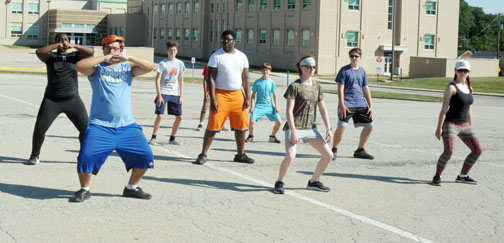 Plies, releves, tendus, and basic ballet positions are part of the preparation for the marching band season -- in addition to learning all the drills and music. (Bonnijean Cooney Adams photo)
---
While he'll be conducting full time this season, he learned all the fancy footwork with the rest of the band, including classical ballet. Seasoned performers and freshmen practiced bending their knees (plié) with feet turned out in first position, then rising on their toes in releve, among other movements.
McGrew said several band members also study dance, so that's been a big help.
"My main goal is working together on the show for the people," he said. "Competitions aren't everything."
Band leadership roles are in his family, he said, with his aunt and father serving the Tiger Band as drum majors in the '80s and '90s.
"I knew, since my freshman year, that I wanted this position," McGrew said.
Percussion Captain Melissa Malackany, who plays snare drum, said she thinks the music is relatively easy compared to other years. She said she also likes the mysterious theme.
"I think the fun of it is in performing," Malackany said, whether that will be in front of an audience of a few or many, or virtually.
DeCarlo said while details are evolving, TOB has proposed having the bands record their full shows, and judges will provide input and critiques.
Krznaric said Standridge has composed and arranged other shows for the Tigers, especially one when she was a fr
eshman, and last year's "A Day in the Mill."
Band camp has provided a sense of normalcy for some students, with a return to in-person interactions with classmates and friends for the first time since schools across Pennsylvania were shut down in March.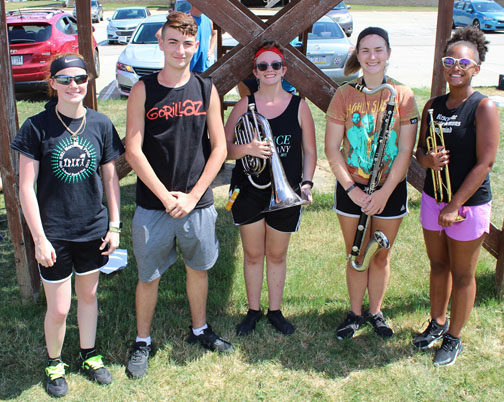 McKeesport Tiger Marching Band student leaders for 2020, from left, are Percussion Captain Melissa Malackany, Drum Major Austin Doc McGrew, Brass Captain Taylor Montalbano, Woodwind Captain Alexa Krznaric and Brass Captain Nya Green. (Submitted photo)
---
Brass section captains Nya Green and Taylor Montalbano have different approaches and perspectives.
Green said she feels more motivated being back with her peers.
"I want it to be as normal as possible, and having band again is really great," the senior said.
Montalbano said she was not engaged in playing for months, but loves being back in a school activity. Also a senior, she said she's glad to be back with a great group of friends.
Freshmen were not sure what to expect when experiencing band camp for the first time, with some saying it was more difficult than anticipated and others commenting – at least through the first two days in 90-degree heat – that it wasn't that bad.
Elizabeth Swanger said she's enjoying her time with colorguard, learning the movements and joining with the band.
Although she's a freshman flute player, Tina Wos said she had advice from her older brother, plus marching in some parades while in middle school, to help her prepare. The experience of playing and marching was more difficult than she anticipated, she said.
Freshman trumpet player Caleb Hatfield agreed that camp with marching and playing is harder than he thought it would be, while others said they expected to be doing more marching or walking.
Updated information on Tiger band activities can be found on the website mhstigerband.com, or on the group's Facebook page.

Bonnijean Cooney Adams is a freelance contributor. She can be reached at adamsclick@aol.com.
Originally published August 06, 2020.
In other news:
"Writer: COVID-19 Does…" || "McKeesport Schools Pl…"