Fun (and fundraising) continues with virtual races, some in-person events
By Dianne Ribecca
The Tube City Almanac
August 03, 2020
Posted in: Commentary-Editorial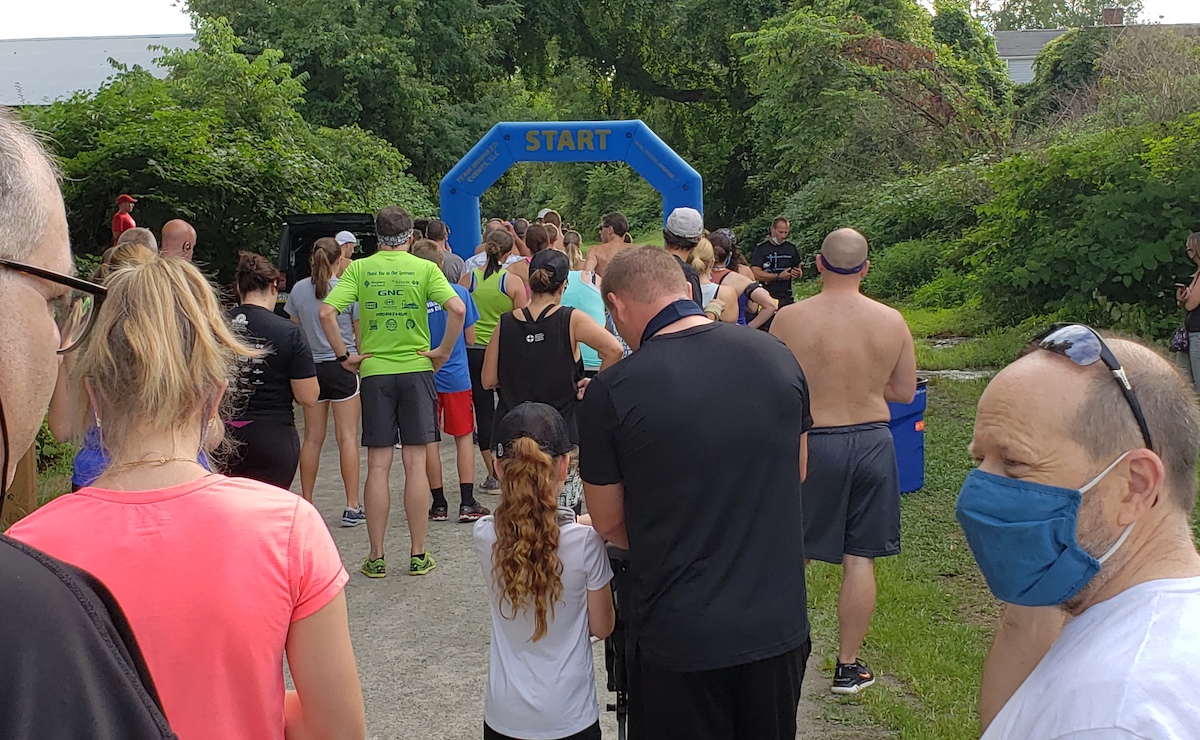 Clad in face masks, runners gathered under the Boston Bridge in Elizabeth Twp. on Sunday for a 5K run to raise funds for the Pet Adoption League of Westmoreland County. (Dianne Ribecca photo for Tube City Almanac)
---
My goal this year was to run one 5K race event a month for charity. These five-kilometer runs provide financial support and awareness to a selected non-profit organization.
I managed to do one in January, February and March — but then the world closed down. Families, businesses, municipalities and — of course — non-profit organizations have felt and continue to feel the pain.

On Sunday, despite the ever-changing world of coronavirus precautions, Team Brunazzi Events of Elizabeth Twp. was able to put on its Solar Vortex 5K/15K race with proceeds going to the Pet Adoption League, a no-kill animal rescue organization located in Yukon, Westmoreland County.
This event was held on the Greater Allegheny Passage in Boston, starting at the Boston Trail Access, heading toward Greenock, turning around and heading back.

This is a relatively flat 5K route, only nine feet of elevation gain, which probably contributed to my fastest 5K race time ever at 36:47. Another reason to celebrate is that I have recently moved into another race age group, moving from the 45-to-49 age group to 50 to 54.
(The cause for celebration isn't that I'm older, but that I finished first in my new age group.)

What was also a fascinating fact was out of the 61 people who ran the 5K, one came all the way from Kentucky and two were from West Virginia.
Some local people besides myself who ran the 5K were Kennedy and Amber Lawson, Paula, Gunnar and Gage Luna, Brian Dzurenda, Luc Normandy, and Alayna Lafontant, all from McKeesport; Heather Bittner from East McKeesport; and Mary Sedlak from White Oak. (Apparently, I was the only one representing North Versailles Twp.)

Of the 46 people who ran the 15K, local participants included Russell Luna from McKeesport, Aaron Elm and Jonathan Rajchel from White Oak, as well as runners from Kentucky, West Virginia and Ohio.

During the pandemic, while many charity runs have been either canceled or postponed, others have been converted into "virtual" races. In a virtual race, runners do the required distance on a course or treadmill of their choosing, and submit their time.
Virtual races can still bring in proceeds for selected non-profit organizations because racers sign up and pay their registration fees. Racers also can donate an additional amount on top of the registration fee while spreading awareness of the non-profit organization.
A perfect example is the annual Head for the Cure 5K race, held locally each August in White Oak Park. Head for the Cure races are held around the country and raise money for the Head for the Cure Foundation, which supports brain cancer research and programs for brain cancer patients and their families.
This year, the local Head for the Cure race will be held virtually via Facebook and YouTube beginning at 9 a.m. Aug. 15. During the event, participants can plan their own walk, run or other activity and then document the activity by taking a photo and sharing it on social media, tagging @headforthecure.
Donations also may be made at headforthecure.org.
The 20th annual Mon Valley HIV-AIDS awareness walk, which usually takes place on the streets of Downtown McKeesport, is also going virtual this year.
The event, scheduled for Oct. 3, will include a community gathering on Zoom at 9 a.m. with educational and informational sessions. Walkers will then be encouraged to walk in their own neighborhoods. To register, visit hscc-mvpc.org.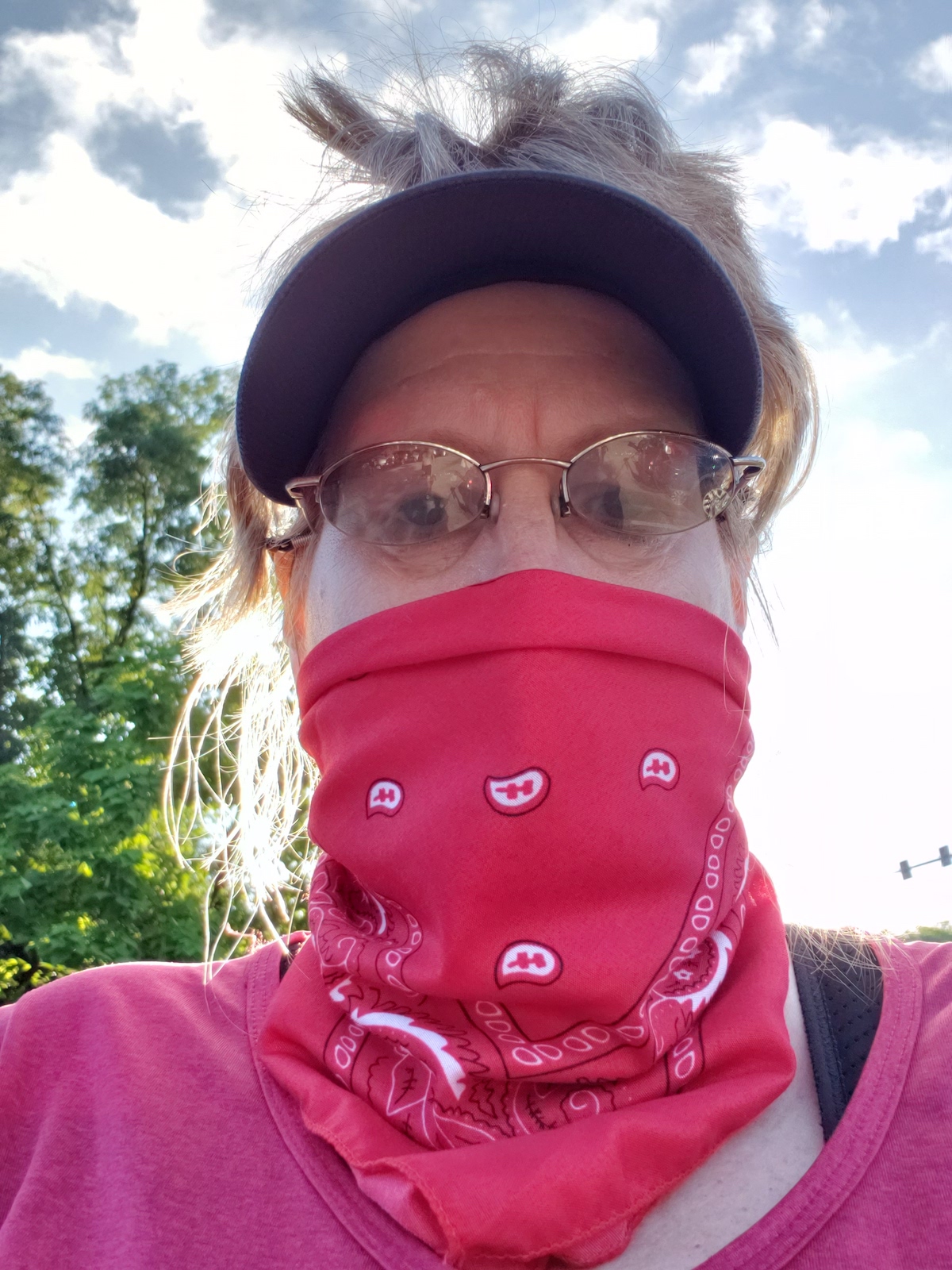 Above: The author shows off her bandanna/face mask. (Dianne Ribecca photo for Tube City Almanac)
---
Dianne Ribecca is the host of "Consumer Review Report," heard at 4 p.m. Sundays, 12 noon Tuesdays and 9 a.m. Thursdays on WMCK.FM Internet Radio, and also available as a podcast at www.wmck.fm/crr. Dianne also serves as a member of the board of directors of Tube City Community Media Inc.
Originally published August 03, 2020.
In other news:
"MAHS Tiger Band Selli…" || "MAHS Tiger Band Wraps…"