Former business owner, now counselor, speaks to MAHS varsity squad
By Jason Togyer
The Tube City Almanac
January 11, 2021
Posted in: McKeesport and Region News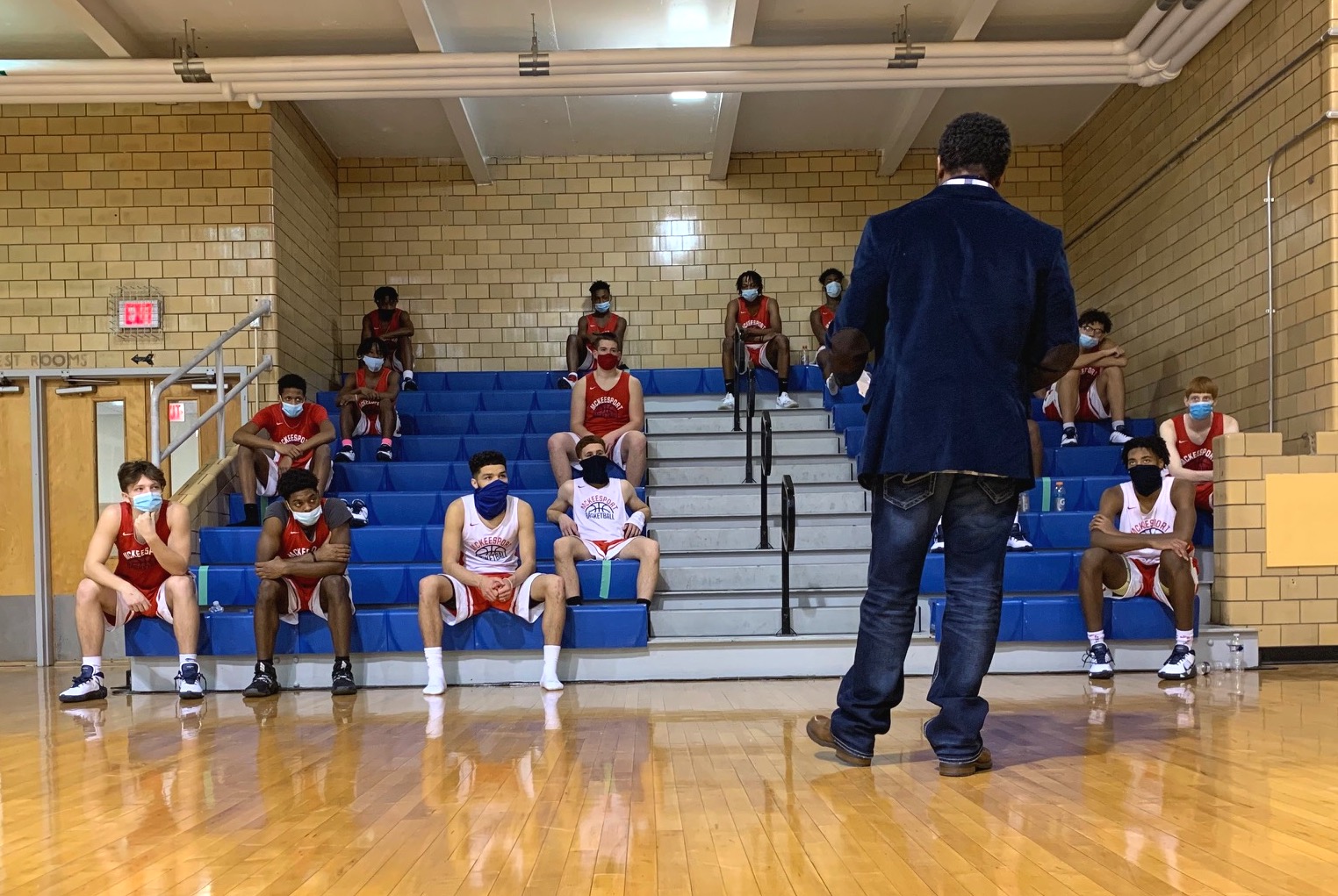 Corry Sanders speaks to members of the McKeesport Tigers men's varsity basketball team. The longtime barbershop owner now works for the Allegheny County District Attorney's Office and for Pittsburgh's Center for Victims. (Mike Manko photo, special to Tube City Almanac)
---
Corry Sanders went to the McKeesport Senior High School gymnasium last week with a simple message for the men's varsity basketball team.
"Mistakes are very, very costly nowadays," Sanders told about 20 members of the squad on Thursday night. "You might not be blessed with an opportunity to choose again.
"This is not a 'Call of Duty' game on Xbox, where you get a reset button," he said.
Sanders knows of what he speaks. For 20 years, he owned and operated the Kool Kutz barber shop, Downtown. But in 2016, an old mistake proved costly.
In 1993, the then 22-year-old Sanders pleaded no contest to two drug offenses. Although he was elected to McKeesport city council in 2015, Allegheny County District Attorney Stephen Zappala Jr. warned the city that Sanders was ineligible to hold public office under the state constitution, and he was not seated.
These days, Sanders works full-time for Zappala doing community outreach, and for the Pittsburgh-based Center for Victims as a diversity and inclusion community specialist. Pennsylvania Gov. Tom Wolf granted Sanders a full pardon in 2020.
Sanders was asked to speak to the team by varsity head coach Kevin Kovach, and by members of the team, some of whom grew up having Sanders cut their hair.
He said he tried to be as transparent as possible about his past.
"At the end, they were asking, 'how did I grow and learn from my mistakes — what was important and vital for me at the time,' so I gave them some real-life scenarios," Sanders said.
"I used the word 'choice' probably two-dozen times," he said. "The one phrase that I said that I think struck them was, 'We get one life to live, but we have so many choices to make throughout our life. The choice you make today might determine where you end up.'"
Sanders is also trying to instill those lessons in his own children, ages 14, 16 and 18. His oldest child, 24, has now graduated college.
"I tell them all the time, if you fall, it's not a failure," he said. "You've just got to get up, and do more, and do better."
---
Jason Togyer is editor of Tube City Almanac and volunteer executive director of Tube City Community Media Inc. He may be reached at jtogyer@gmail.com.
Originally published January 11, 2021.
In other news:
"Plant Will Grow Food,…" || "Court Fight Over, Bre…"