McKeesporter 'excited' to get back to work after federal court rejects challenge
By Jason Togyer
The Tube City Almanac
January 12, 2021
Posted in: Politics & Elections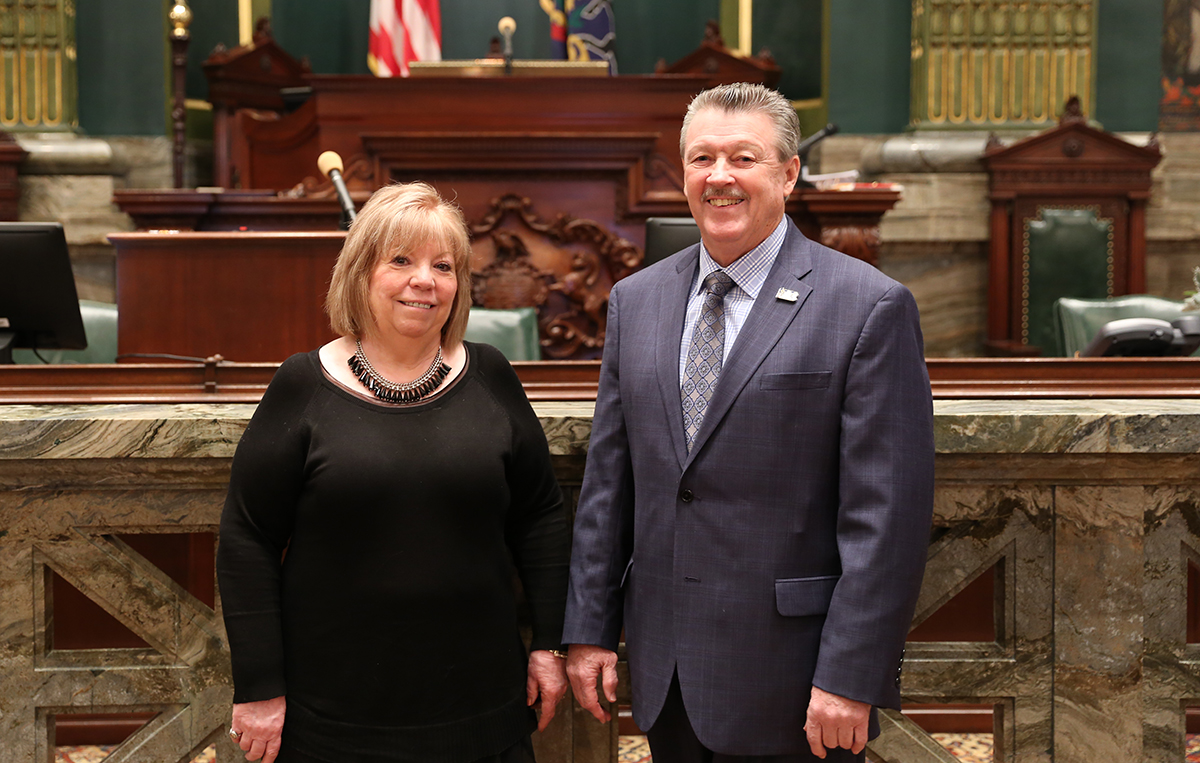 Linda Brewster and her husband, state Sen. Jim Brewster, at his 2017 swearing-in at the Pennsylvania State Capitol. Brewster is scheduled to take the oath Wednesday morning after a federal judge dismissed a challenge filed by his opponent, Nicole Ziccarelli of Lower Burrell. (Courtesy office of state Sen. Jim Brewster)
---
State Sen. Jim Brewster will be sworn in for his third full term representing the 45th District on Wednesday morning at 11 a.m.
The decision by Pennsylvania Republicans to seat Brewster came Tuesday afternoon, after a federal judge in Pittsburgh dismissed a lawsuit filed by Brewster's opponent that challenged the results of the Nov. 3 election.
Allegheny County Judge David Spurgeon of White Oak is scheduled to administer the oath to Brewster, Democrat from McKeesport.
"I just feel so relieved, for my family, my friends, my staff and for all of the people in the 45th District, no matter who they voted for," Brewster said Tuesday night, as he worked through some 300 messages from well-wishers congratulating him on his victory, as well as from news reporters from around the United States asking for comment.
---
Although the results of November's election were certified by both county and state officials, Brewster's opponent, Nicole Ziccarelli, Republican of Lower Burrell, challenged the election results first in Pennsylvania Supreme Court, and then in federal court in Pittsburgh.
Ziccarelli also filed a challenge with the Pennsylvania State Senate, arguing that Brewster should not be seated.
That move led to a nasty confrontation last week on the state senate floor that resulted in the Republican majority refusing to give the oath of office to Brewster, and the removal from the chambers of Lt. Gov. John Fetterman, the senate's presiding officer, by Republicans when Fetterman insisted on entertaining motions to seat Brewster.
The confrontation created headlines throughout the United States and as far away as Kenya.
Ziccarelli alleged that the Allegheny County Board of Elections and Pennsylvania Secretary of State Kathy Boockvar violated her constitutional rights by accepting and counting more than 300 mail-in ballots that were signed, but not dated by voters.
Those ballots gave a victory to Brewster by fewer than 100 votes out of more than 125,000 cast.
---
On Tuesday, U.S. District Judge J. Nicholas Ranjan dismissed Ziccarelli's complaint, calling her reasoning "clever" but incorrect.
Ranjan was appointed in 2017 by President Trump, a Republican.
The 45th District includes the Mon Valley, Monroeville, Plum and part of Westmoreland County.
Ziccarelli had argued that because Allegheny County accepted the undated ballots, but Westmoreland County rejected them, that Allegheny County and Boockvar violated her rights to equal protection and due process.
"The Court does not find that the facts of Ms. Ziccarelli's case present anything resembling the sort of conscience-shocking behavior that is required to show a due-process violation," Ranjan wrote in Tuesday's decision.
---
Ranjan ruled that both an Allegheny County judge and the Pennsylvania Supreme Court were correct in concluding that ballots that were signed, and received before the Election Day deadline, should be counted.
The state Supreme Court's decision was correct, and was based on existing Pennsylvania law as well as U.S. Supreme Court decisions, Ranjan wrote.
"There is no suggestion from either party that the voters who cast the challenged ballots here lacked the qualifications to vote, or that the ballots they cast were fraudulent," Ranjan wrote. "Nor is there any suggestion that that ballots in question were untimely."
"The challenged ballots are valid and may be properly counted," he wrote.
---
Through a spokesman, Ziccarelli declined interview requests on Tuesday, but issued a statement.
Ziccarelli said she disagrees with Ranjan's decision and accused state Supreme Court judges of changing the election laws "after the election."
However, Ziccarelli said, she wishes Brewster well and asks all residents of the district to "come together" and support the incumbent.
"We need him to fight for funding and economic development in our communities and we need our senator to start doing it now," Ziccarelli said. "For the best interests of all residents of the 45th, I will not further appeal this decision and will withdraw my contest filed with the Senate."
---
Among the Republicans who voted last week not to seat Brewster were two state senators who represent districts adjoining the 45th, state Sen. Camera Bartolotta of Carroll Twp., Washington County, and state Sen. Kim Ward of Hempfield Twp., Westmoreland County.
Ward, who is also the new state senate majority leader, issued a statement on Tuesday afternoon welcoming Brewster back to the assembly.
"Last week, we said we wanted to resolve this the right way, not the fast way," Ward said. "We have done that. I welcome Sen. Brewster back to the Senate and look forward to focusing on a legislative agenda that concentrates on helping our employers, schools and communities who have been negatively impacted by COVID-19 restrictions."
Ward also vowed to work with "both Republicans and Democrats" to "maximize confidence in our election processes."
---
Brewster, whose office staff has continued to perform its duties through the election dispute, said Tuesday night he doesn't want to dwell on Ziccarelli's challenge, or the decision by Republicans not to allow him to take the oath of office with other state senators.
"I must admit, I was little surprised at what happened," Brewster said. "Sen. Bartolotta and I have worked together on bills.
"But I'm going to move on," he said. "I'm excited to get sworn in ... I have elected officials in all 38 communities (in the district) who have supported me, and they've got projects they want to see done. We've got a quarter of a million people out there who are expecting representation."
---
Jason Togyer is editor of Tube City Almanac and volunteer executive director of Tube City Community Media Inc. He may be reached at jtogyer@gmail.com.
Originally published January 12, 2021.
In other news:
"Sanders to Team: 'Mis…" || "Downtown Park-Ride Lo…"