Upcoming events in city, Duquesne, Glassport
By Submitted Report
The Tube City Almanac
January 28, 2021
Posted in: Announcements, Duquesne News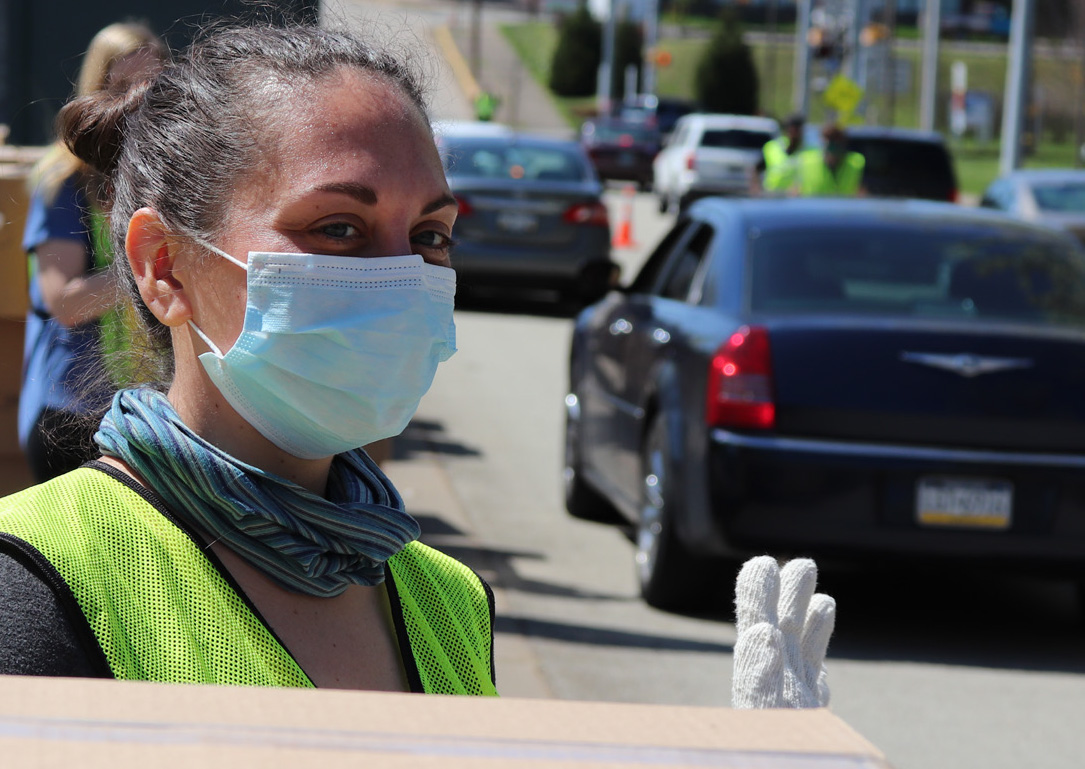 A volunteer helps direct traffic during a drive-up food distribution at Greater Pittsburgh Community Food Bank in Duquesne in 2020. (Submitted photo courtesy Greater Pittsburgh Community Food Bank.)
---
In light of the ongoing COVID-19 pandemic, Greater Pittsburgh Community Food Bank continues to offer drive-up food distributions in the city, Duquesne, Glassport and other communities.
A spokesperson said the drive-up distributions are designed to comply with federal, state and county COVID-19 mitigation regulations that limit crowd sizes and recommend social distancing.
The next drive-up distribution is from 3 to 5 p.m. Feb. 1 at the food bank's headquarters, 1 N. Linden St., Duquesne, followed by a distribution from 1 to 3 p.m. Feb. 11 at Queen of the Rosary Church, 530 Michigan Ave., Glassport, and 10 a.m. to 12 noon Feb. 20 at Founders Hall Middle School, 1960 Eden Park Blvd., McKeesport.
Additional distributions are planned 12 noon to 2 p.m. Feb. 15 and March 15 in Duquesne, 3 to 5 p.m. March 1 and March 29 in Duquesne, 1 to 3 p.m. March 11 in Glassport, and 10 a.m. to 12 noon March 20 at Founders Hall.
A food bank spokesperson said reservations are requested to make sure enough food is available, and must be made no later than 5 p.m. the day before each distribution. To make a reservation, call (412) 460-3663, ext. 655, or visit the food bank's website.
There is no required proof of eligibility and anyone is eligible for food. Each distribution includes a box of at least 40 pounds of food in one or more pre-packed boxes.

Individuals attending the distribution must stay in their vehicles at all times. Volunteers will not load food into vehicles until they are in park. Drivers should wear a mask covering their mouths and noses when interacting with food bank staff or volunteers.
Other communities also receiving drive-up food distributions at least once per month include Aliquippa, Beaver Falls, Butler, Johnstown, Tarentum, Washington and Wilkinsburg.
Originally published January 28, 2021.
In other news:
"Vaccinations for Seni…" || "W.N. Center Offers Ap…"