By Submitted Report
The Tube City Almanac
January 27, 2021
Posted in: Announcements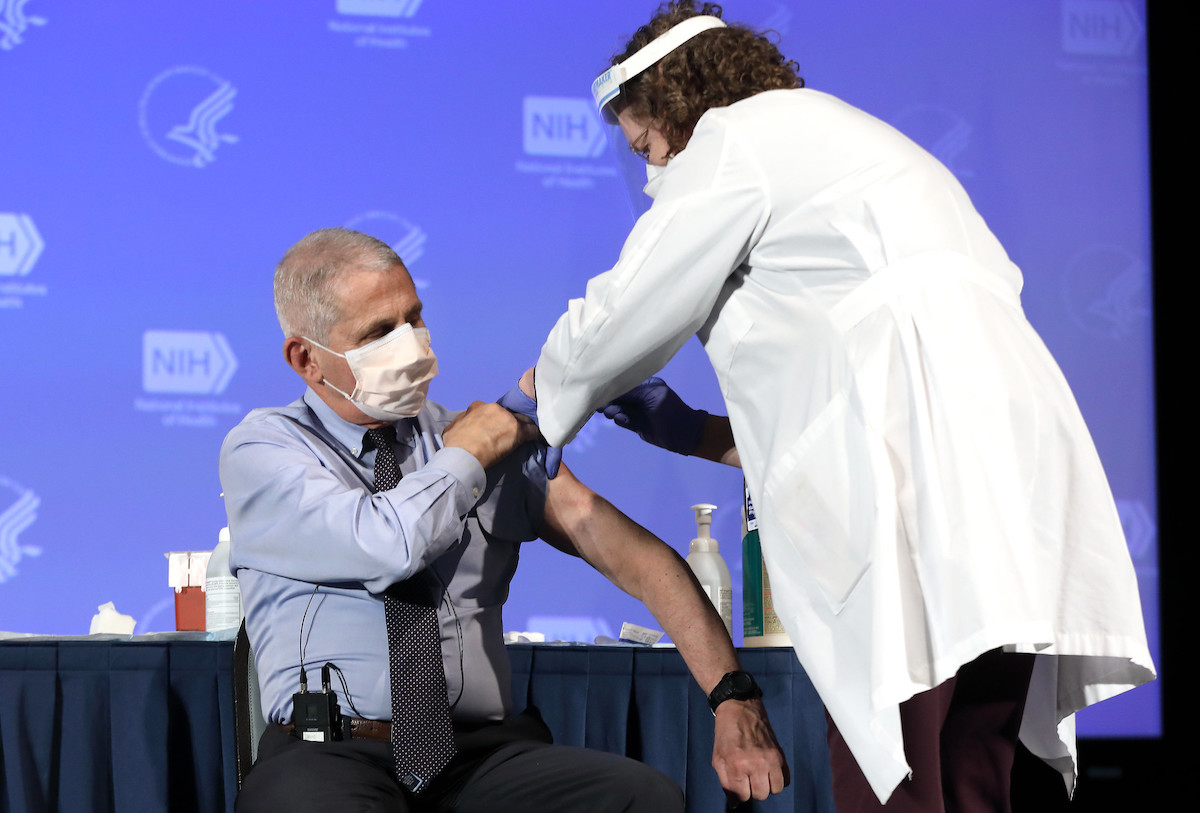 Dr. Anthony Fauci, director of the National Institute of Allergy and Infectious Diseases, receives the Moderna COVID-19 vaccine on Dec. 22, 2020. (File photo courtesy U.S. National Institutes of Health)
---
The Allegheny County Health Department has opened additional vaccination appointments for individuals 65 years of age and older, beginning Feb. 9 and continuing through Feb. 13.
A spokesman said the vaccination site, located at the DoubleTree Hotel near the Monroeville Mall, is in "great demand" and that appointments are required.
The health department also continues to vaccinate eligible healthcare workers and people who are returning for the second shot in the vaccination series.
Senior citizens 65 and older may register using the following links:
• Tuesday, Feb. 9 (8:30 a.m. to 7 p.m.)
• Wednesday, Feb. 10 (8:30 a.m. to 7 p.m.)
• Thursday, Feb. 11 (8:30 a.m. to 7 p.m.)
• Friday, Feb. 12 (8:30 a.m. to 7 p.m.)
• Saturday, Feb. 13 (8:30 a.m. to 5 p.m.)
Insurance is not required for the vaccine. The vaccine will be provided at no cost.
The links above connect users to the PrepMod scheduling system used by ACHD and the state Department of Health. If a vaccination slot is available for a given day, the link will redirect to a page titled "Sign Up for Vaccinations" with the date of the clinic.
After scheduling an appointment, users will receive a confirmation email to the address provided during registration.
If the user is redirected to the state's vaccine page and eligibility quiz, the appointments for the date selected are full and the user should try to schedule for another date, the health department spokesman said.
Individuals who received their first shot of the vaccine from the Health Department will be contacted directly with registration links to schedule the second shot in the series and should not use the public links, the spokesman said.
There are no walk-in appointments. Individuals without appointments will be turned away.
Anyone who is not able to provide verification of their age, who is under 65 or who is not an eligible healthcare worker, also will be turned away.
More information about the COVID-19 vaccines and Allegheny County's vaccination efforts is available at www.alleghenycounty.us/COVIDvaccine. To receive updates about Allegheny County's vaccination efforts, sign up for the COVID-19 Vaccine Information subscription in Allegheny Alerts at www.alleghenycounty.us/alerts.
Originally published January 27, 2021.
In other news:
"Monroeville Man Held …" || "Drive-Up Food Distrib…"