(Advertisement)
Tube City Community Media Inc. is seeking freelance writers to help cover city council, news and feature stories in McKeesport, Duquesne, White Oak and the neighboring communities. High school and college students seeking work experience are encouraged to apply; we are willing to work with students who need credit toward class assignments. Please send cover letter, resume, two writing samples and the name of a reference (an employer, supervisor, teacher, etc. -- not a relative) to tubecitytiger@gmail.com. (4-11-2023 to 4-30-2023)
To place your ad, email tubecitytiger@gmail.com.
Ads start at $1 per day, minimum seven days.
By Staff Reports
The Tube City Almanac
February 26, 2021
Posted in: Crime and Police News

Nick Janosek of C&D Towing & Recovery looks over the damage as crews prepare to remove a vehicle that crashed into a building in Dravosburg on Thursday. (Photo courtesy C&D Towing & Recovery)
---
A 52-year-old West Mifflin man was injured Thursday when his SUV went off of Richland Avenue and crashed into a storefront in Dravosburg.
Residents of the apartments above the building at the corner of Fourth Street and Richland have been evacuated until an engineer determines whether the structure is safe, officials said. That determination is expected some time next week.
The Salvation Army was at the scene Thursday helping the residents. Fourth Avenue is currently closed.
McKeesport police Capt. Chris Halaszynski said the driver, whose name has not been released, was northbound, heading up Dravosburg Hill just before 12 noon when the SUV left the road and went through the front of the building, winding up almost against the back wall.
The first-floor space had previously been a TV repair shop and a thrift store. Most recently, a consignment shop was using the storefront.
No pedestrians or bystanders were injured in the crash, Halaszynski said.
Dravosburg and McKeesport firefighters responded to the scene with McKeesport Ambulance Rescue Service. Halaszynski said it took approximately a half-hour to extricate the driver from the vehicle and that first responders worked carefully for fear that the structure was unsound.
The driver was taken to a Pittsburgh hospital by MARS ambulance, Halaszynski said.
Witnesses said the SUV appeared to be traveling at a high rate of speed before the crash and there were no skid marks at the scene that would indicate the driver was trying to stop, Halaszynski said.
There is evidence that the SUV jumped the curb and traveled on the sidewalk along Richland Avenue, striking a street sign and a nearby pole, he said. Photos on social media showed that a street sign was struck with enough force to land on the building's roof.
Police are still investigating the cause of the wreck and attempting to determine if the driver had a medical emergency that caused him to lose control, Halaszynski said.
Investigators are reviewing surveillance video from nearby cameras, he said.
Allegheny County property records indicate the building is owned by a McKeesport resident. Dravosburg officials said they are attempting to reach the owner.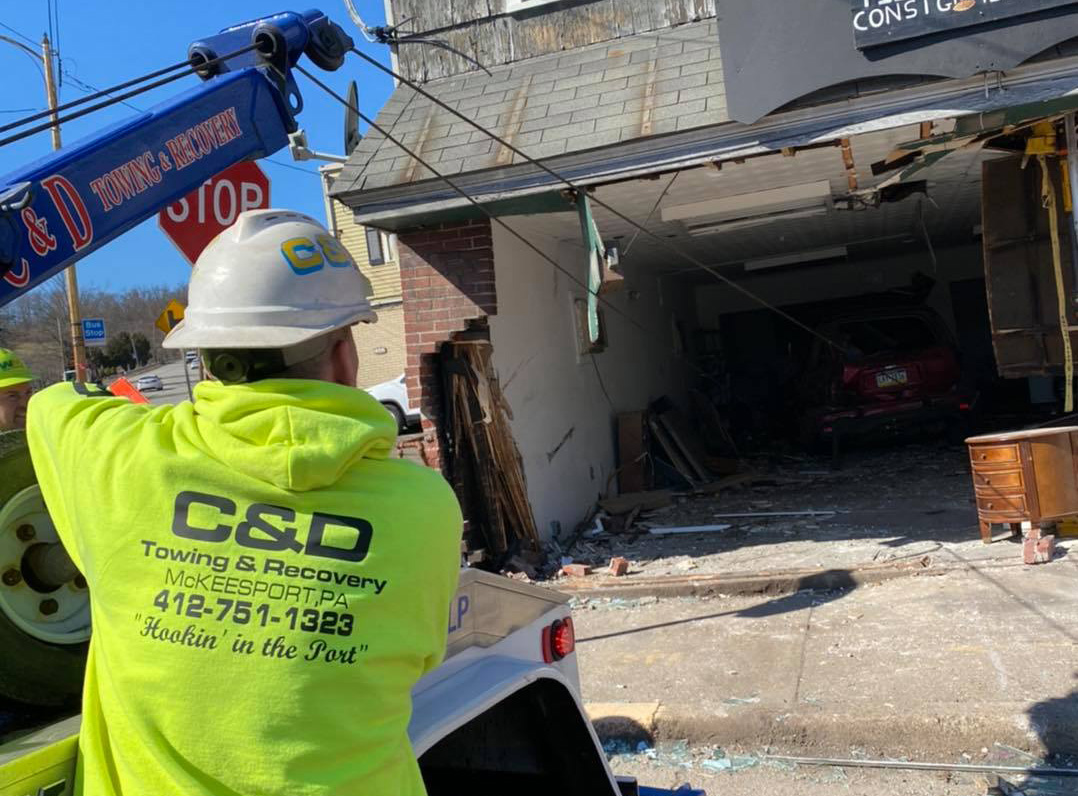 Todd DiBeradin of C&D Towing helps fellow employees Nick Janosek, Mark Shurtz and Dave Grosser pull a wrecked SUV from a building in Dravosburg on Thursday. (Photo courtesy C&D Towing & Recovery)
---
Originally published February 26, 2021.
In other news:
"Crowd Questions W.O. …" || "#BHM: Business Owner …"