(Advertisement)
Tube City Community Media Inc. is seeking freelance writers to help cover city council, news and feature stories in McKeesport, Duquesne, White Oak and the neighboring communities. High school and college students seeking work experience are encouraged to apply; we are willing to work with students who need credit toward class assignments. Please send cover letter, resume, two writing samples and the name of a reference (an employer, supervisor, teacher, etc. -- not a relative) to tubecitytiger@gmail.com. (4-11-2023 to 4-30-2023)
To place your ad, email tubecitytiger@gmail.com.
Ads start at $1 per day, minimum seven days.
By Vickie Babyak
The Tube City Almanac
February 28, 2021
Posted in: McKeesport and Region News

Editor's Note: During the final week of Black History Month 2021, Vickie Babyak is taking a look at some local community leaders and entrepreneurs.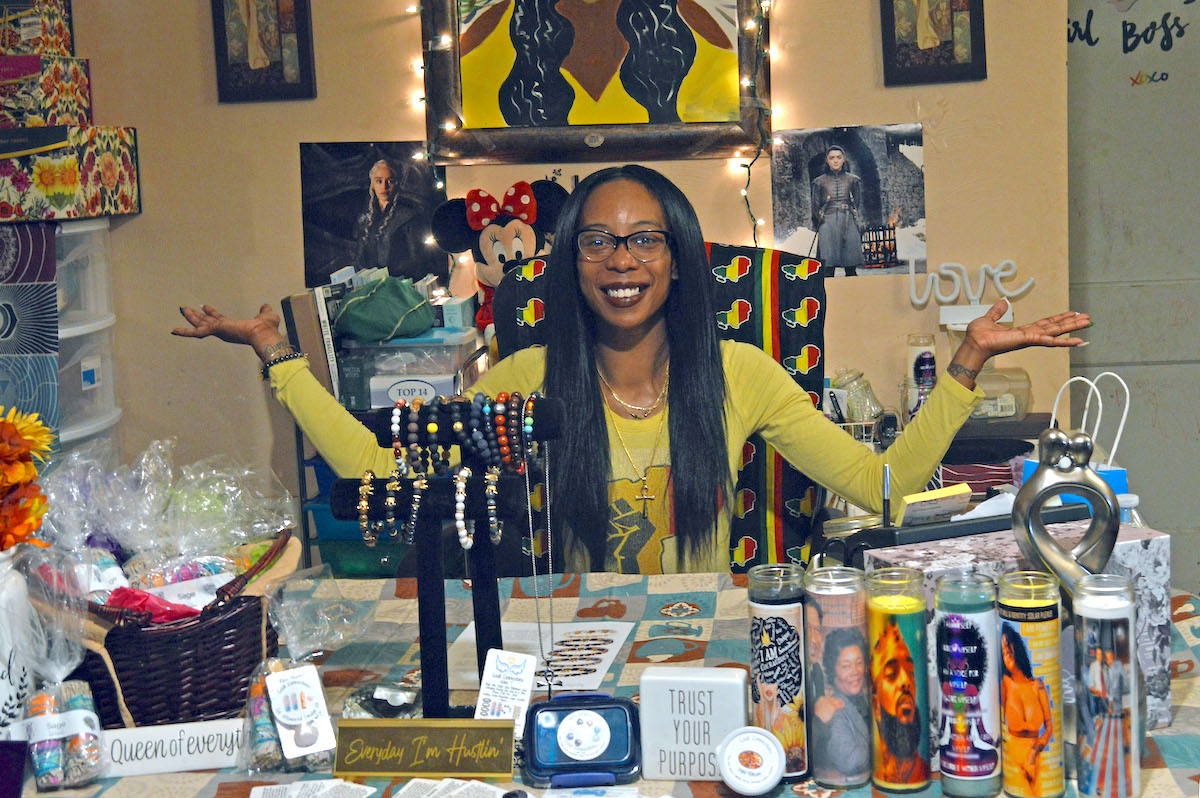 Kellee Turner, owner of Soulll Connections displays her holistic products at home. (Vickie Babyak photo for Tube City Almanac)

---
The word holistic was introduced in the 1970s. It gained popularity as a catchphrase for providing personalized treatment of a person's psyche and soul as well as body.

Kellee Turner is the owner of Soulll Connections and believes the world needs an enormous amount of healing. She uses a holistic approach to bring love and balance into people's lives. Her slogan is, "Help me, help you, balance you! Changing energy, one soul at a time."

During the COVID-19 quarantine, Turner realized she needed a change. She worked two jobs, had two school age children and a baby. Turner said her baby was the inspiration. She wrote down a list of goals and decided to start her business, which she called Soulll Connections.
Turner found that a holistic approach was beneficial for her and she wanted to share the positive vibes with others.

When asked how she manages such a hectic schedule, Turner said, "I find a way to make time for the things I love."

One of Turner's most popular products are Healing Crown Bracelets. These bracelets use stones with energy properties to subtly change the wearer's life and health. It's believed the stone crystals will absorb all the negative energy from the body.

"Some of my products are manufactured and some are handmade," Turner said. Her sage and palo santo sticks are purchased from Brazil. Indigenous peoples have burned sage for centuries to promote healing and wisdom. Palo santo sticks are burned to cleanse a space's energy, remove negativity, and promote good fortune.

Turner also handcrafts jewelry and makes candles. Her candles can be ordered scented or unscented at the customer's request. "My kids and I have a great time making candles together," said Turner. "My two year old thinks she's cooking and makes me laugh."

Soulll Connections offers smudging kits that contain two pieces of four-inch white sage, a palo santo stick and a crystal of choice. Instructions on when and how to use the kit are included. It's suggested to use the items whenever negative energy is felt by the customer.
For more information, call (412) 501-7483 or find SoulllConnections on Facebook or Instagram.
---
Vickie Babyak is a photographer and freelance writer from Dravosburg. She may be reached at vbabyak@yahoo.com.
Originally published February 28, 2021.
In other news:
"W.M. Man Hurt in Drav…" || "#BHM: Child Care Cent…"