To place your ad, email tubecitytiger@gmail.com. Ads start at $1 per day, minimum seven days.
By Kristen Keleschenyi
The Tube City Almanac
April 01, 2021
Posted in: Entertainment, North Versailles Twp. News

If you go...

"The Awesome '80s Prom"

Where: East Allegheny High School courtyard, 1150 Jacks Run Road, North Versailles Twp.

When: 8 p.m. April 15 and 16, 2 p.m. April 17

Tickets: Must be purchased in advance at easd.booktix.com. No tickets will be sold at the door.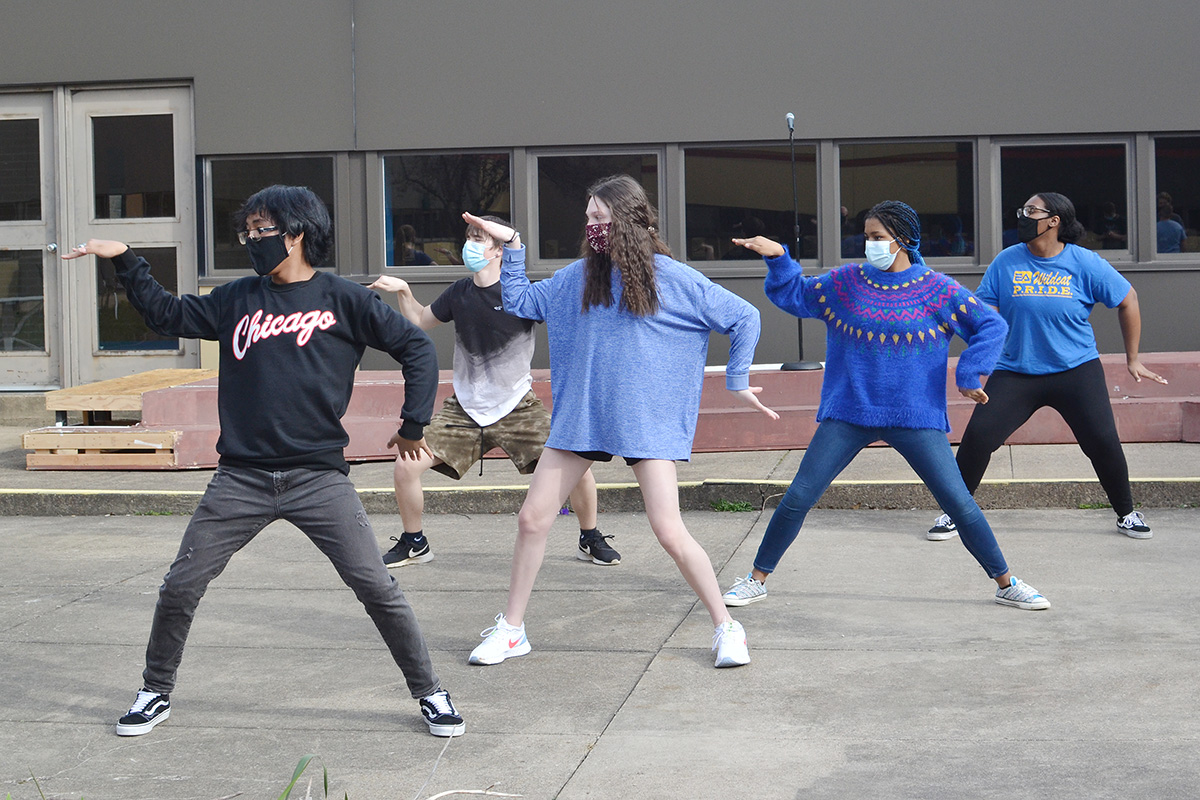 Nate Perez, Bryce Schmeltz, Kalei Getsy, Passion Paillett and Madison Rucker are "Walking Like An Egyptian" in "The Awesome '80s Prom." (Kristen Keleschenyi photo for Tube City Almanac)
---
Crimp that hair and grab some pink eyeshadow.
East Allegheny High School is going back to the '80s with its spring musical, "The Awesome '80s Prom." The show aims to give audiences the experience of living in a classic John Hughes style movie.

"Take some 'Ferris Bueller,' and some 'Breakfast Club,' some '16 Candles' and 'Pretty in Pink' with little bits of 'The Wedding Singer,' in a high school kind of way, and throw it all together. There are lots of stereotypical 80s characters. I think everybody is going to find something they recognize especially if you are familiar with that era," says director Amanda Rosco.

The audience are supposed to be guests at a prom. The storyline revolves around the nominees for prom king and prom queen and who is going to end up winning.
The audience will actually get to vote when they are at the show. "We will not know who wins," says Rosco. "It could be a different winner every single time. We are preparing multiple endings."
This year's musical is unlike any Rosco has done during her tenure at EA. The show is actually a play that has been tweaked to include singing and dancing. The story revolves around a 1989 senior prom that was originally set in New Jersey but has been adapted to the Pittsburgh area with plenty of topical references.
After the high school's spring musical was cancelled last year, due to the pandemic, lots of thought went into how to put on a show that is safe, cost effective, and could be streamed.

"For safety reasons we wanted to do something we could do outside. We figured that had the best chance of actually going up, the best chance of getting an audience," said Rosco.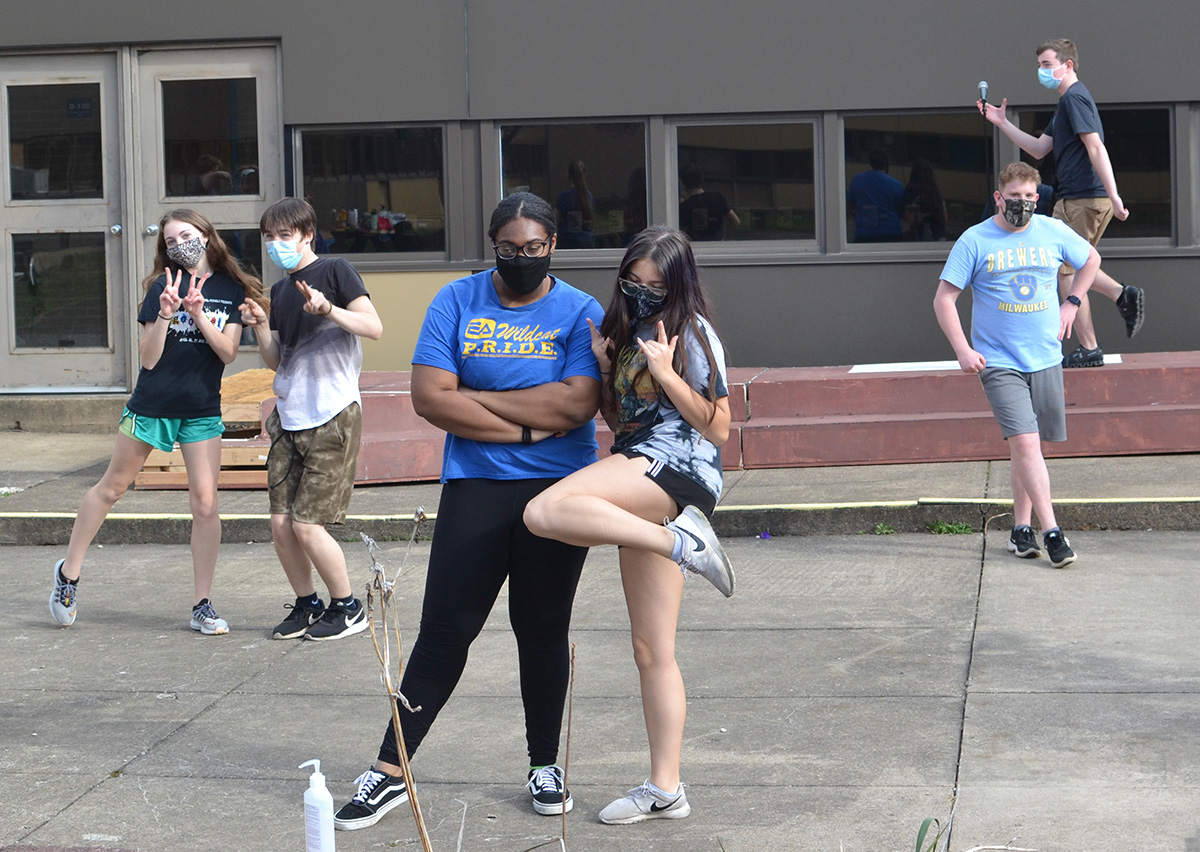 Nora Keleschenyi, Bryce Schmeltz, Madison Rucker, Marissa Jones, Joey Saccameno and Noah Schneider pose on the final note of a Poison hit from the '80s. (Kristen Keleschenyi photo for Tube City Almanac)
---
The outdoor court at the high school will be utilized for the four performances that will include limited socially distant seating. Along with in-person reserved tickets, there will also be the option to purchase a streaming ticket that will allow people to watch remotely in real time.
In case any performances have to be cancelled due to weather, a rain date has been set for April 18.

Putting together a performance during a pandemic has been a challenge for nearly 30 cast members who have had to do things a little bit differently than they are used to.
Senior Kaya Ruffolo, who plays "Holly Parker" and also serves as student producer, says things have gone better than expected.
"Everyone has their masks on all practice even when we do choreography and all kinds of dancing, and I'm sweating and I'm breathing heavy but it's just amazing how well everyone keeps up with it," she says.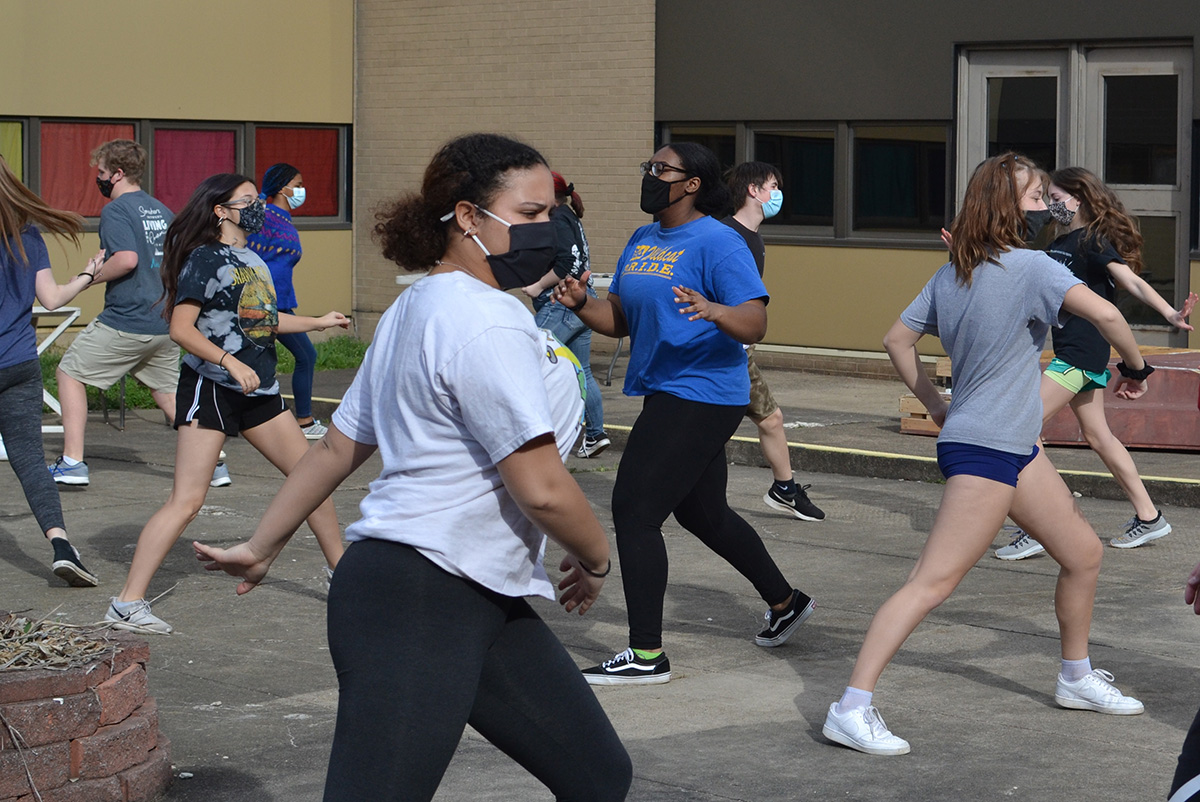 Baleigh Quinn and members of "The Awesome '80s Prom" cast dance to "Nothin' But a Good Time" by Poison at an outdoor rehearsal. (Kristen Keleschenyi photo for Tube City Almanac)
---
Senior Taylor Tempest (Heather No. 1), is happy to have this show as her final EA theater experience. Rehearsals have challenged her to grow as an actor and become more comfortable with improvisation, a very important aspect of this show. Coming back to the stage after a rough year has given her a feeling of accomplishment.

"Everyone has a part this year," Tempest says. "Everybody has something to be proud of. Even if you're in the ensemble you can still be proud of that, but you also have a name. Everybody in this show has a name. And I think that is awesome."

Tickets for the four live outdoor performances at 8 p.m. April 15 and 16 and 2 p.m. April 17 are available for purchase at easd.booktix.com. No tickets will be sold at the door.
---
Kristen Keleschenyi is a freelance writer in North Versailles Twp. and one of the hosts of the Kristen & Amber Show on WMCK Internet Radio at 5 p.m. Saturdays, 9 p.m. Mondays and 4 p.m. Thursdays. She may be reached at kbishop25@hotmail.com.
Originally published April 01, 2021.
In other news:
"MASD Plans for Return…" || "Centennial School Wil…"