To place your ad, email tubecitytiger@gmail.com. Ads start at $1 per day, minimum seven days.
New director expresses optimism about facility's future
By Sarah Turnbull
The Tube City Almanac
April 05, 2021
Posted in: White Oak News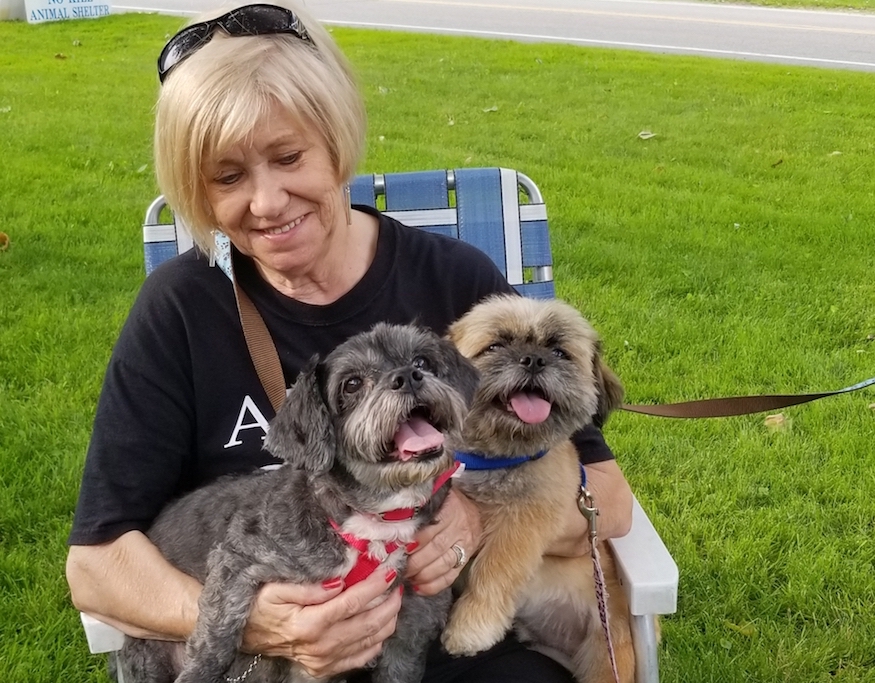 White Oak Mayor Ina Jean Marton enjoys the company of Luke and Chewie during a 2019 fundraiser for the White Oak Animal Safe Haven. Marton has retired as director of the shelter after 18 years. (Tube City Almanac file photo by Cami DiBattista)
---
After 18 years and 16,000 dogs and cats rescued, Ina Jean Marton has retired from her role as director of the White Oak Animal Safe Haven.
"I'd been planning it for six to eight months. After 18 years, I felt like it was time to enjoy my life," said Marton, who also serves as White Oak borough mayor.
Shelter vice president Laura Massie has taken over as director. She expressed optimism about the shelter's future.
"We're building a catio (cat exercise area) and renovating our office," she said. "We're also bringing in new volunteers and brainstorming ideas for fundraisers. I just want to do whatever I can to make the shelter successful — especially with kitten season coming up."
Marton agreed that cultivating support from the community is crucial to the shelter's success, and that the shelter is meant to help people as well as animals.
"My ultimate goals have always been to take care of animals and help people. Every time someone adopted a dog or cat, or gave up an animal, you cry with them. And I will continue to help the shelter in any way I can," Marton said.
Marton said she had been planning to retire from day-to-day duties at the WOASH for some time. She declined to comment on a feral cat ordinance, passed by borough council last year, which has become controversial and caused protests.
In the meantime, Marton plans to travel and spend time with her spouse and grandchildren.
What can residents expect under Massie's direction? "I'm excited for new beginnings," she said. "Renovations are moving forward with the catio, and we have community wellness clinics now. I hope we have continued support."
But one thing remains certain — the shelter is committed to helping animals and the wider community, Marton said.
Massie agreed.
"We wish Ina the best of luck. I'm looking forward to both the good and the tough parts. We will keep going strong."
For more information, www.whiteoakanimalsafehaven.com or call (412) 672-8901.
---
Sarah Turnbull is a freelance writer in Irwin. She can be reached at sarahturnbull323@gmail.com.
Originally published April 05, 2021.
In other news:
"Centennial School Wil…" || "NAMI to Meet April 8 …"