To place your ad, email tubecitytiger@gmail.com. Ads start at $1 per day, minimum seven days.
By Matt Germaine
The Tube City Almanac
April 20, 2021
Posted in: Duquesne News, McKeesport and Region News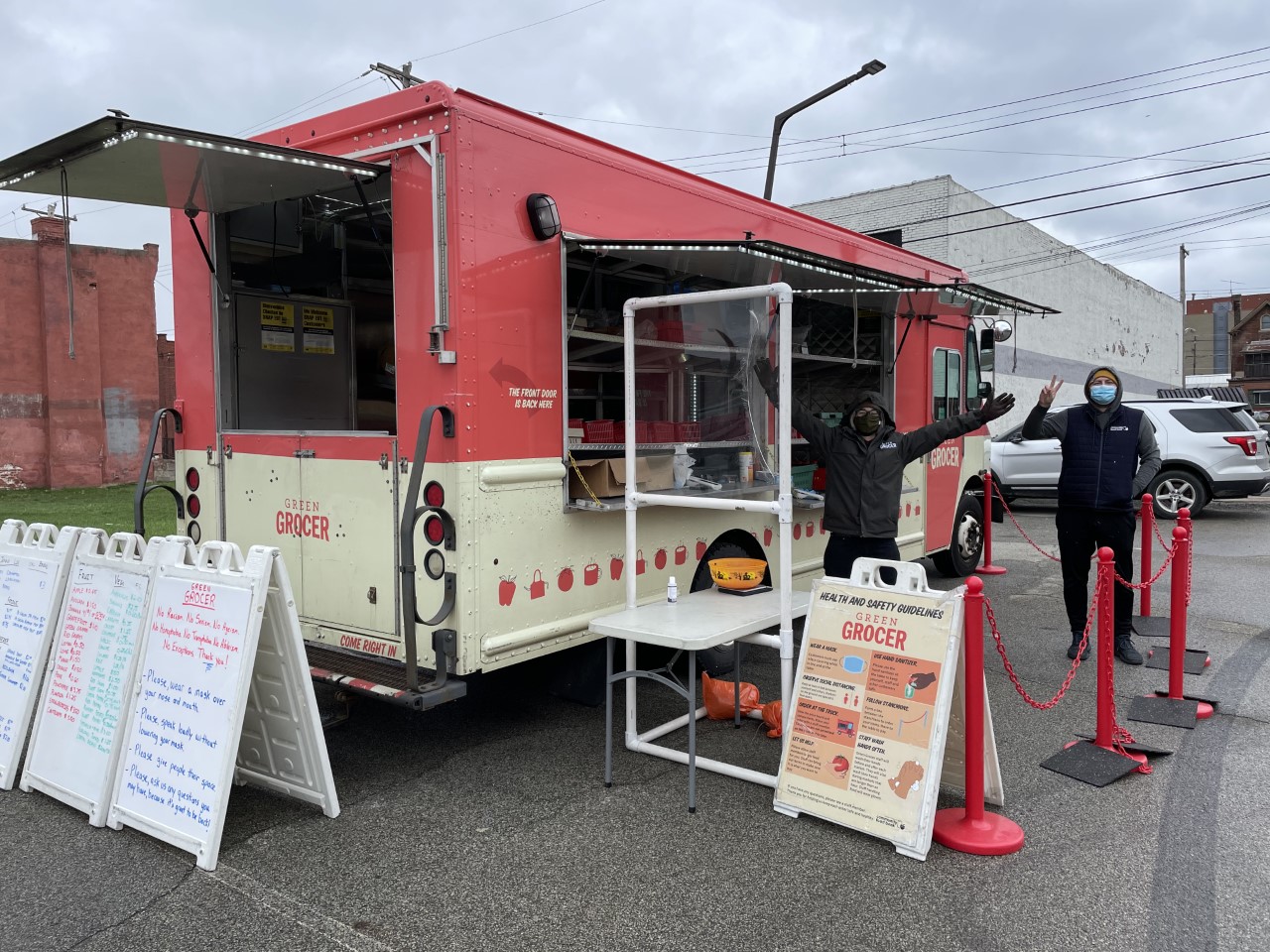 Two Green Grocer team members at a recent market stop. (Submitted photo courtesy of Greater Pittsburgh Community Food Bank)
---
The Greater Pittsburgh Community Food Bank's Green Grocer truck is back on the road and making regular visits to a handful of Mon Valley communities for the 2021 season.

Originally launched in 2015 with an itinerary of three stops, the food bank's popular mobile farmer's market has since expanded to include semi-monthly visits to 20 different neighborhoods within the Greater Pittsburgh area, including Glassport, Clairton, and Duquesne.

As a food access program, Green Grocer focuses on providing fresh and locally-sourced fruits and vegetables to communities in which healthy food providers are otherwise scarce, said Josh Anderegg, the food bank's Mobile Markets Supervisor.
"Right now we have some honeycrisp apples, broccoli, oranges, pears, cantaloupe, and asparagus," he said. "From June to November we have a wide selection of produce grown right here in the state of PA."

The bright red, custom-built truck often carries a small selection of dairy products as well, including milks, cheese, and margarine. Dry goods options include white rice, black beans, and pasta, along with pantry staples like peanut butter and canola oil.
Juice, eggs, and frozen meats can also be found on board, in addition to cinnamon Jenny Lee Swirl bread.

Green Grocer adheres to numerous precautions related to the COVID-19 pandemic, including plexiglass barriers, touchless ordering, and mask-wearing. "We require masks for our staff and customers," Anderegg said. "We really appreciate the community support in helping to keep our customers, staff, and neighbors healthy."

The market accepts cash, debit, credit, SNAP/EBT, Just Harvest tokens, Food Bucks, Food Bucks RX, S/FMNP Vouchers, and FMNP Bucks from the U.S. Department of Agriculture's Farmers Market Nutrition Program.
Currently, for every $2 visitors spend with SNAP/EBT, they will receive a $2 coupon that can be spent on fresh fruits and vegetables. For every $6 FMNP voucher spent, customers receive a $5 FMNP Buck they can spend on anything on the truck.

"Everyone is welcome at our markets," Anderegg said. "There are no income or address requirements. If you can get to our markets, we'll serve you."

For 2021, Green Grocer serves the Duquesne area on the second and fourth Friday of each month from 11 a.m. to noon at the Touching Families parking lot, located at the corner of Route 837 and Grant Ave. The Clairton area is served on the second and fourth Monday of each month from 1:30 to 2:30 p.m. at the Family Dollar parking lot at 533 Miller Ave.
The market is also present on the second and fourth Monday of each month from 3:30 to 4:30 p.m. at Glassport Honor Roll Park at 440 Monongahela Ave.

The market's full schedule of weather-dependent stops can be found on the food bank's website, pittsburghfoodbank.org/greengrocer. For more information, call (412) 745-6499 or email greengrocer@pittsburghfoodbank.org.
---
Matthew Germaine is a musician and freelance writer in Wilkinsburg. He has previously written for the Shepherd Higher Education Consortium on Poverty and WGDR/WGDH radio. This is his first article for Tube City Almanac. He may be reached at mgermaine93@gmail.com.
Originally published April 20, 2021.
In other news:
"Serra's 'Poppins' Mak…" || "Elizabeth Road in Dra…"