To place your ad, email tubecitytiger@gmail.com. Ads start at $1 per day, minimum seven days.
Students, faculty grateful for second chance to present spring musical
By Bonnijean Cooney Adams
The Tube City Almanac
April 20, 2021
Posted in: Entertainment, McKeesport and Region News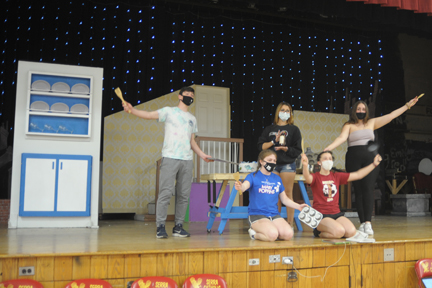 Rehearsing "A Spoonful of Sugar" are Vincent Brown as Robertson Ay, Victoria Koslosky as Mary Poppins, Serafina Szarmach and Lindsay Schanck as Jane and Michael Banks, and Abriel DiLonardo as Winifred Banks. (Bonnijean Cooney Adams photo for Tube City Almanac)
If you go/watch...

"Disney's Mary Poppins"

Where: Online at https://www.showtix4u.com/event-details/51437, and live shows with limited audiences, with masks and social distancing required, in the high school auditorium, 200 Hershey Drive.

When: In-person showtimes are 7 p.m. April 23; 1 and 7 p.m. April 24; and 2 p.m. April 25. Scheduled online streaming is 1 and 7 p.m. April 24 plus 2 and 7 p.m. April 25. Scheduled content streams only play at the specified event date and time, and cannot be viewed at any other time. Cost is $20 per stream per device, with an additional slight surcharge.

Tickets: Limited tickets are available through advance sales only at $5 for students and $8 for adults by calling the high school office at (412) 751-2020, or from cast members. No tickets will be sold at the door.
Returning senior Lindsay Schanck, who plays Michael Banks in Serra Catholic High School's spring musical "Mary Poppins," has a message for the director, echoed by other students as well.
"Thank you for just not giving up, Mr. (Jesse) Bush," she said. "We are all so close. We all work together, have fun together, and I got to meet people I would have never met if I didn't do the musical."
Victoria Koslosky also is a senior, and was set to perform the title role of Mary Poppins last year when schools were shut down because of the pandemic and the musical eventually was canceled.
She also thanked Bush for giving the show a second chance.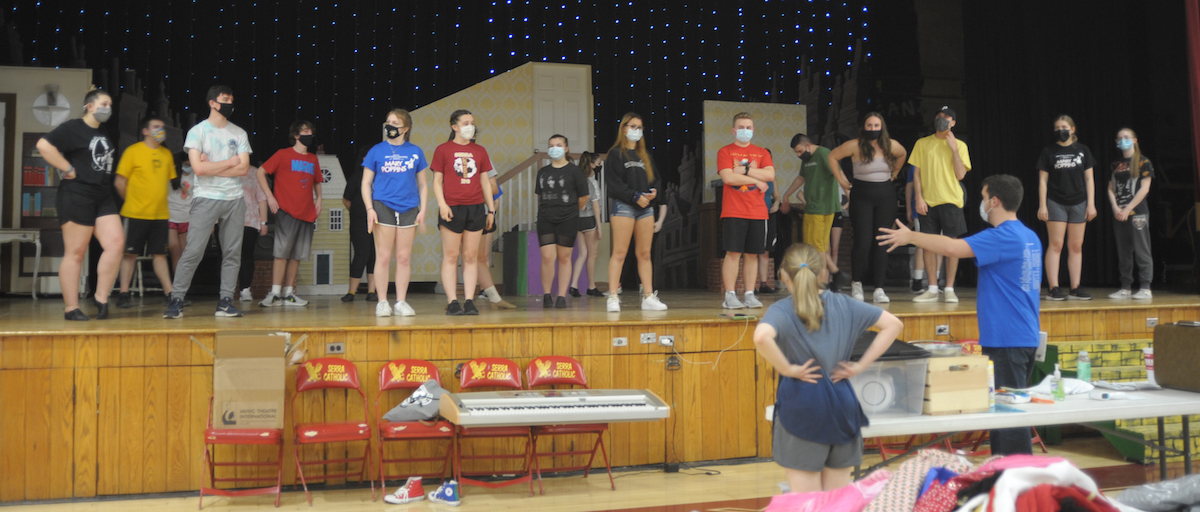 Cast of "Mary Poppins" gets input from choreographer Cassie Fedor and director Jesse Bush (with backs to camera) during rehearsal of one of seven dance numbers in the show. (Bonnijean Cooney Adams photo for Tube City Almanac)
---
"I feel a lot more prepared, and feel more excitement, a different kind of excitement," she said. "I think I still was a little bit worried at first (when rehearsals started) that the show might get canceled again. It was definitely hard to wait."
Schanck said she is sillier as Michael Banks this year.
"To be very honest, I'm way more into it," she said. "I'm really giving this role my all since it's my last musical here."
Director Jesse Bush said it was a difficult decision to stage "Mary Poppins" in 2021. "I didn't officially decide until December. There was a lot of doubt if we were going to be able to have a performance this year. How do we go about preparing a show in a pandemic with all of the safety precautions and would the students want to work on the same show again for another four months?"
The director said ultimately, it was a great decision to repeat the show, which opens to a combination of in-person performances and streaming on Friday, April 23, and continues through Sunday, April 25.
"A good bit of the roles were the same from last year but we did have to replace some of our 2020 seniors and switch around some other roles," Bush said.
---
In a note from the director in the program, Bush reflects on the "Mary Poppins" journey that's lasted more than a year.
"We were exactly two weeks away from opening night when our show was postponed and then eventually canceled," he wrote. "Our last rehearsal (if you can call it that) was an online Google Meet. Hearing the tears of the students over the computer was heartbreaking. All that hard work was gone."
Luckily they were able to reuse everything from last year, as far as the set, props, and costumes go, with some adjustments. "We even made improvements and additions to all of our sets and costumes," Bush said.
Choreographer Cassie Fedor said she had to adjust some of the dance numbers because of spacing and some role changes, but that returning students helped newcomers and freshman picked up the dance steps quickly.
Koslosky said she adjusted to a new Bert, with sophomore TJ Betzner taking over for Logan Kearns, who graduated. Betzner was in the cast in another role in 2020.
"We had a really tall Bert, and TJ and I are about the same height," she explained.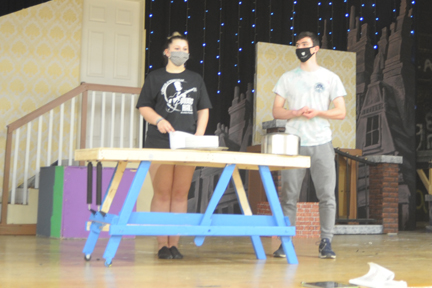 Senior Nina Fassinger as Mrs. Brill gives quite specific instructions to Vincent Brown as Robertson Ay in a scene from Serra Catholic's production of "Mary Poppins." (Bonnijean Cooney Adams photo for Tube City Almanac)
---
Koslosky and the other students all faced multiple challenges, including rehearsing with masks while still projecting their voices in speaking and singing roles.
"I figured out how to project in a different way," she said.
Bush said for the show, students will wear clear masks, and microphones will be attached right along the top for optimum projection and to minimize the sound of their own breathing.
Koslosky said one of her favorite scenes for her character is a "nanny face-off" between Mary Poppins and Miss Andrews, who was George Banks' nanny.
---
The musical is set in 1910 London, based on children's books by P.L. Travers, the 1964 Disney film, and the Broadway show. People familiar with the movie will see some differences in the musical plot.
"There are so many good songs," Koslosky said. "I have grown to love my character.
Betzner said he auditioned for Bert last year, and decided to try for the role again,
"I started by working on the accent," he said of his character, "then the physical mannerisms" associated with Bert. "I already knew a bit of a British accent. My dancing is my worst challenge."
---
Senior Nina Fassinger adapted to a new role as Mrs. Brill, which she specifically auditioned for this time around.
She said she's played roles in the past with bossy personalities, so thought it could be a good fit for her.
Fassinger said her favorite scene involving Mrs. Brill is in the kitchen just before "A Spoonful of Sugar," but with the ensemble it is "Step in Time."
Remaining members of the Banks family are a blend of returnees and someone new.
"I definitely improved on my British accent," senior Ryan Gedman said of returning to his role as the father George Banks. "I watched videos, and friends and Mr. Bush listened to me and made suggestions."
He said his favorite part for Mr. Banks is when he breaks a vase and sees gingerbread stars, leading to a conversion for his character.
---
Abriel DiLonardo said it was much harder to rehearse this year with all the restrictions, but she auditioned for mom Winifred Banks when there was an opening.
"We're lucky to be doing it," she said. "I like my song, 'Being Mrs. Banks.' It's cool to sing something with real emotion in it."
Senior Serafina Szarmach returns to round out the Banks family as daughter Jane. She said she really likes the number "Playing the Game."
"Obviously, Covid restrictions made some things more difficult this year, such as dancing and singing with a mask on," she said, "but I'm enjoying playing a bratty kid. It's fun to be happy all the time – we're kids! It's very different from the movie and very cool."
---
Bush said Serra's presentation of "Mary Poppins" will include a combination of live and streamed shows.
"There are four live, in-person shows with a limited audience, social distancing, and masks required for the audience," he said. "There are four times that a recording of the show will be streamed. We are making a recording of the last dress rehearsal and that recording will be streamed at specific times. This is called 'scheduled content.' Disney MTI (Music Theatre Intermational) shows are not permitted to be live streamed."
Bush said the streamed shows are at the exact same times as the live performances with one exception.
"There is no stream Friday night, but there is a stream Sunday evening. This is to allow us time to create and upload the video," he said.
Instead of printed tickets, access to the streamed performances and additional viewing guidance is available at https://www.showtix4u.com/event-details/51437.
---
"I am so proud of this group of students," the director said. "This is a very special group to me. The seniors this year were freshmen when I started working at Serra. The senior class has grown so much as musicians and people.
"This show would not be possible without these 'practically perfect' and resilient students," he added. It's hard enough to plan and produce a musical, let alone performing it in a worldwide pandemic.
"All of the students have stepped up to every challenge this year. I know the students have been so excited to have live performances. It's going to be a special show," Bush predicted.

Bonnijean Cooney Adams is a freelance writer. She can be reached at adamsclick@aol.com.
---
"Mary Poppins" Cast, Crew, and Production Staff: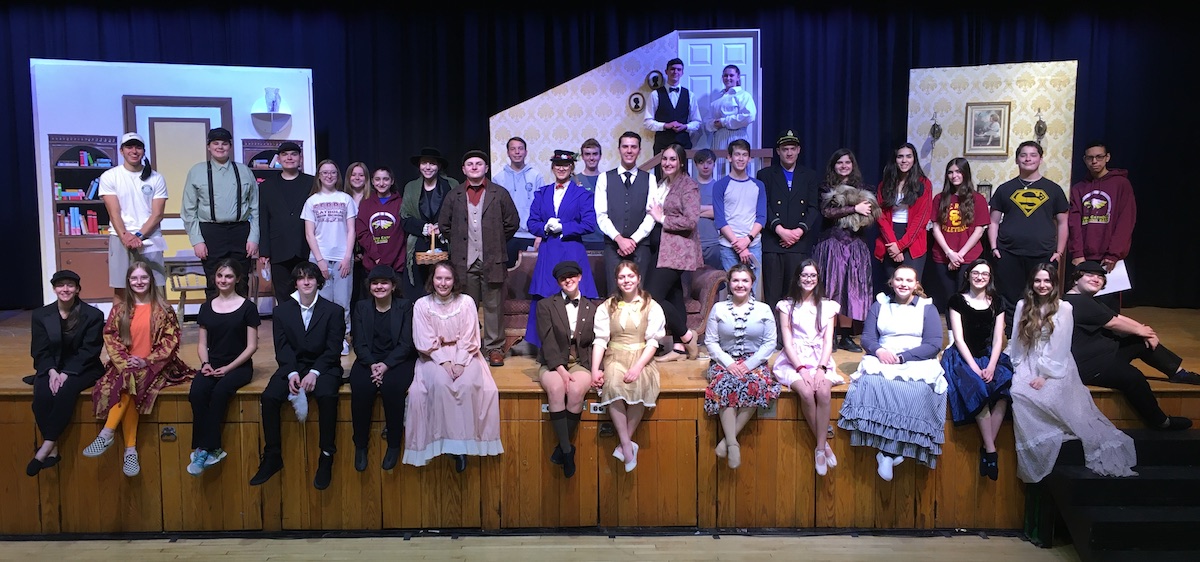 Cast and crew of Serra Catholic High School's production of "Mary Poppins" prepare for tech week and live and streamed shows. (Submitted photo courtesy Jesse Bush)
Cast, in order of appearance:
TJ Betzner as Bert, Ryan Gedman as George Banks, Abriel DiLonardo as Winifred Banks, Serafina Szarmach as Jane Banks, Lindsay Schanck as Michael Banks, Taylor Betzner as Katie Nanna, Luc Normandy as Policeman/Neleus/Von Hussler, Savino DiLonardo as Park Keeper/Northbrook, Abigail Bernick as Miss Lark, Michael Estocin as Admiral Boom/Poseidon, Nina Fassinger as Mrs. Brill, Vincent Brown as Robertson Ay, Victoria Koslosky as Mary Poppins, Mary Elizabeth Malandra as Queen Victoria, Joel Blake as Bank Chairman, Cassie Ward as Miss Smythe, Jordan Graham as Bird Woman, Emily Gault as Mrs. Corry/Teddy Bear, Sydney Korbanic as Fannie, Jennifer Novak as Annie, Aubree Arelt as Valentine/Miss Andrew, Katelyn Kostrub as Doll, and Francesca Aland as Messenger.

Ensemble (Park Strollers, Customers, Kite Flyers, Chimney Sweeps): Francesca Aland, Alivia Arelt, Aubree Arelt, Abigail Bernick, Joel Blake, Vincent Brown, Savino DiLonardo, Michael Estocin, Nina Fassinger, Brigid Fuller, Emily Gault, Jordan Graham, Sydney Korbanic, Katelyn Kostrub, Mary Elizabeth Malandra, Luc Normandy, Jennifer Novak, Joseph Pawlowski and Cassie Ward.

Stage Crew: Stage Manager, Josh DeLia; Sound Board, Selena Kunsman and Paige Rock; Light Board, Kelsey Kovalsky; Spotlights, Maya Poziviak and Gabrielle Mejalli; Hair and Makeup, Natalie Makovics and Lotus Dechellis.

Run Crew: Michael Aland, Robbie Anitori, Carmela Capasso, Joe Crossen, Josh DeLia, Gabriela Fennell, Maria Goldstgein, Olivia Hussein, Elena Peiffer, Jacob Rock, Olivia Thatcher, Harrison Potts and Trey Wilson.

Set Artists: Nathan Estocin, Faith Konieczka, and Ava Wos.

Production Staff: Jesse Bush, director; Cassie Fedor, choreographer; Tyler Gedman, art director; Mitch Bush, set construction; Alex Malandra, costumes; Red Baughman, sound/lighting; and Ann Salemi and Jimmy Fedor, stage crew.
Originally published April 20, 2021.
In other news:
"Emergency Help Paying…" || "Green Grocer Back in …"