To place your ad, email tubecitytiger@gmail.com. Ads start at $1 per day, minimum seven days.
Incumbent says his policies better reflect his Mon Valley constituents
By Siana Emery
The Tube City Almanac
April 28, 2021
Posted in: Politics & Elections

Editor's Note: Tube City Almanac contributor Siana Emery called Bob Macey on his home phone, cell phone and office phone, asking for an interview. She also sent email to Macey's office.
Macey did not respond to those requests.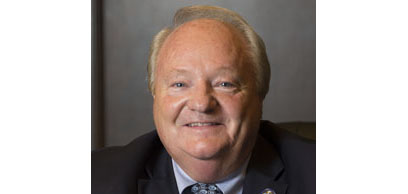 (Allegheny County photo)
---
---
For the first time since 2013, Allegheny County Councilor Bob Macey has an opponent in the Democratic Primary in the race for the District 9 seat.
Macey, who resides in West Mifflin, did not respond to requests from Tube City Almanac for comment. However, he told WESA-FM Radio that his policies are a better reflection of the Mon Valley community than those of his opponent, Steven Singer.

District 9 serves Dravosburg, Duquesne, Elizabeth, Forward, Glassport, Liberty, Lincoln, McKeesport, North Versailles Twp., Port Vue, South Versailles Twp., Versailles, West Mifflin and White Oak. Macey was appointed to the seat in 2006 and elected for a four-year term in 2009.

An article published by WESA on April 26 outlines some of Macey's voting record for local issues. Throughout his three terms on county council, Macey has established himself as a politician who leans further right than many others in his party, while still supporting some progressive legislation.
In the summer of 2020, Macey was against legislation to mandate COVID-19 testing in the Allegheny County Jail.
He also voted against a proposal to form a police review board in 2019, and on April 27, voted against the revised bill for the same issue. However, in 2020, Macey voted to ban conversion therapy for LGBTQ+ youth in the county. He also supported an attempt to enact paid sick leave at workplaces in Allegheny County.

Like his opponent, Steven Singer, Macey agrees that education and workforce development are high priorities for the Mon Valley.

Macey has been involved in public service from a young age. Upon graduating high school, he began working at U.S. Steel's Duquesne Plant, where he stayed for 15 years. When the mills began to close, Macey worked with his union to distribute food to laid off workers and their families. He also helped to establish vocational training and community revitalization projects.

Macey attended Penn State University and Community College of Allegheny County and has a degree in business management, as well as a commercial pilot's license. According to the Allegheny County website, Macey served as a board member for the Allegheny County Airport Authority before beginning his tenure on county council, and he currently serves on the Southwestern Pennsylvania Commission, as well as the board of directors for the Regional Trail Corp.
Originally published April 28, 2021.
In other news:
"White Oak Slates Upco…" || "County Council Distri…"