To place your ad, email tubecitytiger@gmail.com. Ads start at $1 per day, minimum seven days.
Former colleague remembers Washowich, mayor from 1980 to 1995
By Submitted Report
The Tube City Almanac
April 28, 2021
Posted in: Commentary-Editorial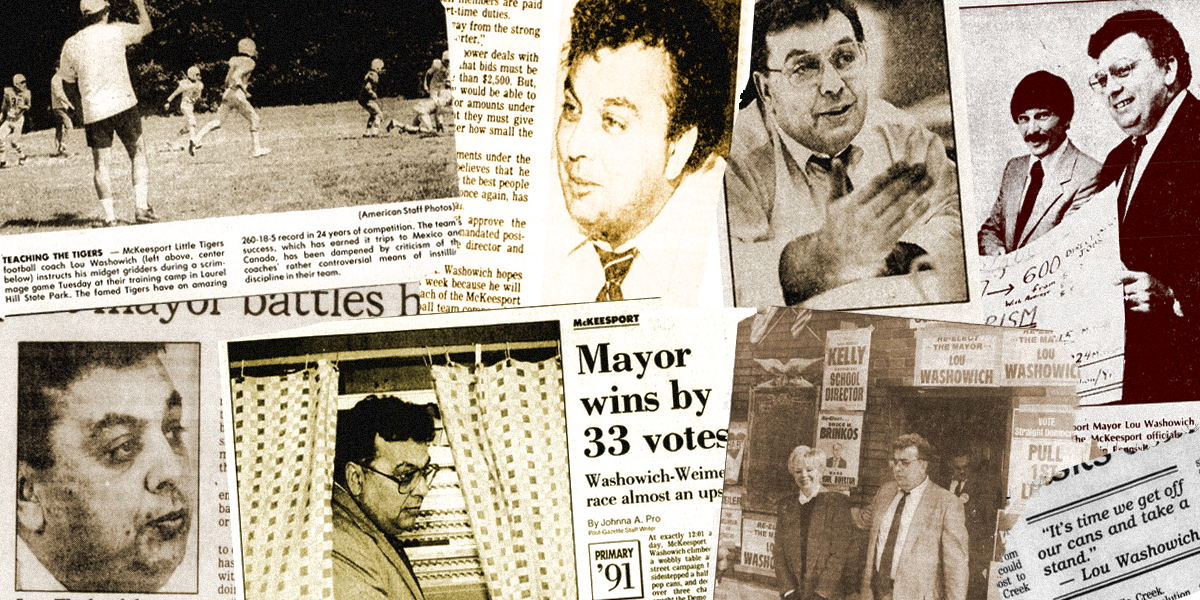 A collage of newspaper clippings from both local and national publications traces Lou Washowich's career from coach of the McKeesport Little Tigers to one of Allegheny County's only two full-time mayors. (Tube City Almanac illustration)
---
Dennis K.E. Pittman served as a community development consultant to McKeesport Mayor Lou Washowich from 1985 to 1989, and as the city's community development director from 1989 to 2000.
Washowich, who served as mayor from 1980 to 1995, died April 2 at age 81.
Pittman writes:
The measure of a person's life is often determined by his or her time and place. One's values may transcend the ages ... the "what-ifs" of what might have happened had one been in a particular situation and place. The bottom line is really, how did someone respond when their name is called?
Lou Washowich — only his beloved bride of 58 years, Jean, was allowed to call him "Louis"! — impacted so many lives in his 81 years that I am confident each and every one of those individuals Lou met could relate their own special remembrance. Hopefully, this will conjure up some memories for them to enjoy.
Lou's character was forged early in life, growing up poor in a tough industrial town without benefit of a standard nuclear family. He became rich, however, through his experiences and friendships with many days when he did not have a nickel in his pocket.
Rumor has it, he routinely rode the streetcar — I hope you all can remember them or at least heard about them — which ran down Fifth Avenue from Glassport past McKeesport Hospital by hanging on the back for lack of that nickel. For him, necessity was always the mother of invention.
---
Lou graduated from McKeesport High School despite his lack of enthusiasm for academics. After becoming the high school quarterback his senior year, he parlayed that experience into a "cup of coffee" at several colleges, none of which took him to the NFL, but which did get him to trade in his helmet for a different kind of uniform.
Instead of being drafted by the NFL, Lou was a draft choice for the U.S. Army, and ended up in Fort Knox, Ky., where he signed the best long-term contract of his life — he met and married his wife Jean.
After they moved back to his hometown — Lou and Jean were always a team — he sold insurance, operated a pizza shop in Grandview, worked for the Redevelopment Authority of the City of McKeesport (a harbinger of things to come), owned a sporting goods store, and became a coach of the McKeesport Little Tigers football program.
It was here where his skill sets with people and decision-making were honed, and the team went onto such successes that the program was recognized not only in Western Pennsylvania but throughout the country.
---
Everything changed when Lou defeated five opponents in the Democratic primary in 1979, and then upset incumbent Mayor Thomas J. Fullard.
He was not the darling of the business community's "movers and shakers," which included Bob Cox of Cox's Department Stores, Ron Angerman of R & J Furniture, Lester Herrup of Golden Rule, the Mansfield family, which owned The Daily News, and the senior management and board of directors of the hospital.
Additionally, the financial community from Equibank, Union National Bank, Pittsburgh National Bank and Mellon Bank — which did not even have a branch in the City of McKeesport — did not have a relationship with the new mayor. One exception may have been McKeesport National Bank — courtesy of Jim Taylor.
---
I'm not expressing an opinion on any of the aforementioned people — other than to provide context to help the reader create a frame of reference for time and place. Over time, all of them got to know "Mayor Lou," his personality and management style. Nevertheless, it did not make his maiden voyage as the mayor easy.
That maiden voyage was further complicated when it the city hit an economic iceberg. The employment base of U.S. Steel's National Works and the tax base that went with it all but disappeared in his first term.
During the years that followed, the management of city government services and safety would be challenged — and almost strained out of existence. It was then that Lou Washowich became a true leader.
He was faced with a nearly impossible task and had to make critical decisions to assure streets were cleared of snow, garbage was collected, and that fire and police would remain in place and have the equipment necessary to maintain safety for residents and business community alike. Moreover, there were to be no layoffs.
---
It was then that McKeesport needed the support of financial institutions and business leaders just as these entities needed to sustain a working relationship with the local government. One of the collective solutions was to collaborate on the task of identifying outside funding sources without the need to raise taxes.
That's when Lou made three of his most important decisions.
One was to leave the Allegheny County Community Development Program and receive federal grant monies directly from the U.S. Department of Housing & Urban Development.
While this was a good choice for the city, it made Lou no friends and cost him political capital in the region.
Necessity again became the mother of invention. With the help of those federal community development funds, garbage collection was privatized and its employees segued into community development jobs, police officers who were faced with layoffs started walking beats (a precursor to the later concept of "community policing"), and resources were redirected to update fire and police facilities and equipment to modern standards.
---
As things got worse, the "boss," as I was privileged to call him, partnered with the newly created Allegheny Regional Asset District.
With funding from RAD, Mayor Lou was able to support the operations of Renziehausen Park by establishing it as a regional destination point for a range of recreational pursuits including trails, sports (both youth and adult), pavilions for picnics, and the restoration of Lake Emilie as a fishing lake — all of this in a city that was broke!
Mayor Lou's time in office spawned a second park, named for one of his friends — teacher, coach and city councilman Richard Gergely. This riverfront park evolved into a site for concerts and ultimately a marina, which was built after he left office.
---
Lou's third decision was to pursue a visionary initiative that (sadly) never came into being. It was a plan to reinvent the mill site into an entertainment venue. Lou travelled to Tuskegee, Ala., to study that city's dog racing track, which opened in 1983.
He then developed a business plan; found an experienced, well-known local family to underwrite, own and operate a dog-racing facility; and organized a 15-bus caravan to present the model to then-Gov. Dick Thornburgh. Lou's plan would have supported new jobs and a tax base, and would have allowed the Sheraton Inn on Lysle Boulevard (now Senior Care Plaza) to remain a major hotel.
Lou's vision would have forever changed the whole valley, just as the Meadowlands and Southpointe have changed the face of Washington County with a business park, outlet stores and more.
Unfortunately, Mayor Washowich's visionary dream died on the political steps of the State Capitol, in return for a promise of governmental support to find adaptive reuses for the former National Works, now the RIDC industrial park.
Nevertheless, his leadership style and moxie as the head of the city established these legacies because he understood what he knew — and more importantly, knew what he didn't.
The latter was not a problem, because Lou's ability to judge people — which he developed back when he coached the Little Tigers — helped him find, trust and obtain the folks he needed to initiate and implement his goals and objectives. That is a sign of true leadership.
---
It would be inappropriate not to share an insight into Lou's heart. In my early days working with Lou, we would meet at G.C. Murphy Co.'s lunch counter for coffee. It was one of the ways in which he was always available to the public.
One day, while enjoying coffee with Police Chief Jim Lundie and Lou, the "boss" sent me to buy a daily lottery ticket. He gave me the money and asked me to play a triple number "in a box."
If you ever played the Daily Number (I didn't) you know how funny that is, and when the young lady running the lottery machine said "you can't do that," everyone got a good laugh — but not at my expense. It was just an example that we could always laugh together without embarrassing one another. We were family.
---
Lou also entertained requests from a street person named Bill who panhandled him for a buck or two everyday on the street — or in his office. The mayor always had $1 or $5 for Bill, and told him to "use it for a meal, not cigarettes or a beer." (Lou probably knew better but didn't ask.)
That was despite the fact that in those early years, Lou's salary was $22,000 per year, while he and Jean were trying to raise two growing young sons who loved to eat!
Through all the city's financial woes, Lou supported The Intersection soup kitchen on Seventh Avenue. It didn't matter than most of the people using the facility could or did vote for him. Regardless, they were his people and as McKeesporters, he felt responsible for them and would not forget them.
---
Those who worked with "Mayor Lou" will never forget him. Neither will those Little Tigers, who got a summer vacation to Camp Soles or who traveled with "Coach Lou" to play football games in Virginia Beach, Florida and even Mexico — and in the process, enhanced the reputation of McKeesport around the country and the world.
All of us will remember the positive impact he had on the lives of his city and his close friends — there are too many to name, but I would be remiss for not remembering Bill Lickert Sr. in particular. They coached the Little Tigers side-by-side, but in later years, fought loudly when Lou was the mayor and Bill was the president of Teamsters Union Local 205.
In the coming weeks and years, I hope everyone who knew Lou will share their stories. That will be Lou's real legacy. In the end, all McKeesporters — poor and rich, young and old, male and female, all races and religions — mattered to him. And none of them mattered more than any other one — except, perhaps, his family.
I will miss you, Boss, and hope to see you again someday — up there.
---
Dennis K.E. Pittman is a retired community development consultant who worked as McKeesport city administrator from 2004 to 2012. He currently lives in Mt. Lebanon.
Originally published April 28, 2021.
In other news:
"County Council Distri…" || "Police: Woman's Death…"