To place your ad, email tubecitytiger@gmail.com. Ads start at $1 per day, minimum seven days.
By Jason Togyer
The Tube City Almanac
April 30, 2021
Posted in: McKeesport and Region News

---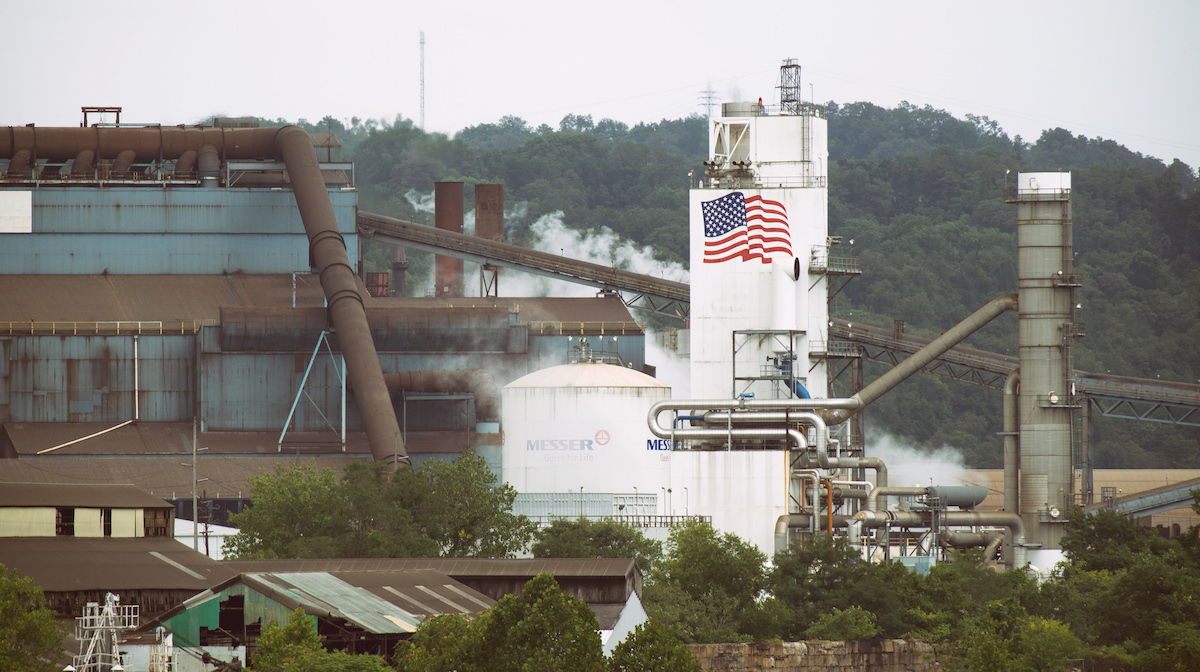 A planned "endless caster" will not be installed at Edgar Thomson Plant in Braddock, U.S. Steel said Friday, but the plant remains the corporation's lowest-cost producer of flat-rolled steel. (David Kent photo via Flickr, licensed under Creative Commons)
---
U.S. Steel's three Mon Valley Works facilities remain competitive and highly profitable, the corporation told Wall Street analysts on Friday.
The decision not to add a so-called "endless caster" to the Edgar Thomson Plant in Braddock and North Braddock is not a reflection on the facility's future, said Kevin Lewis, vice president of investor relations for U.S. Steel.
"We're highly confident in the existing facilities at the Mon Valley (Works)," he said. "We believe it will generate strong earnings and strong cash flow for the business."
In fact, one of the blast furnaces at Edgar Thomson was shut down on Friday for 25 days of repairs and upgrades, Lewis said. "We remain committed to that facility going forward and we will continue to allocate capital toward it," he said.
Currently, raw steel slabs from ET are transported by trains to Irvin Plant in West Mifflin to be rolled into coils and strips that can be shipped to end users in the appliance and construction industries.
Two years ago, in announcing the endless caster, U.S. Steel officials said the production line at Irvin cannot produce newer, thinner and higher-strength steels that customers are demanding.
"When we discussed this project two years ago, we were taking a very good facility and increasing its capablities," Lewis said. "That very good facility that was serving as the foundation for this investment remains in place."
But three months ago, U.S. Steel completed its acquisition of Big River Steel, a facility in Arkansas described as a "super mini mill" that produces — among other products — high-strength, lightweight steels.
"It was just two short years ago when U.S. Steel touted the (Edgar Thomson) project and the dedicated workforce there as essential to the future of the Mon Valley Works and Pennsylvania steelmaking," said Tom Conway, president of the United Steelworkers international union.
"The company then moved its attention to Arkansas when a shiny new object caught its attention," he said.
Lewis said the planned investments in Edgar Thomson were about "transitioning into new markets," not giving up existing businesses.
"We remain very confident that our existing capabilities at the Mon Valley will allow us to compete in the end markets that the Mon Valley (Works) has always served ... at high levels of profitability," Lewis said.
"We're highly confident in the existing operations of the Mon Valley," he said, calling them U.S. Steel's "most-efficient, lowest-cost, most-profitable" facilities making flat-rolled steel.
"I don't think going forward this will have a material impact on our Mon Valley facility," he said.
State Rep. Austin Davis of McKeesport, who criticized U.S. Steel's decision not to move forward with the expanded capability at Edgar Thomson and an energy co-generation facility at Clairton, said he remains committed to seeing industry thrive in the region.
"I believe that we can create family-sustaining jobs and a clean environment," Davis said Friday. "I remain committed to working with our region's businesses, communities and elected leaders to continue to improve our region's long-term economic future and bring sustainable investment and development into our communities."
Stefani Pashman, chief executive officer of the non-profit Allegheny Conference on Community Development, said that despite the disappointing news, she was heartened that U.S. Steel "has emphasized its commitment to continue steelmaking in the Mon Valley."
"It promises future investments will support its goal to achieve zero carbon emissions by 2050," she said. "As disheartening as today's news is, we know the Pittsburgh region has a strong future in advanced manufacturing. We stand at the ready to help propel our region's growth and opportunity as a maker of materials that build the world."
---
Jason Togyer is editor of Tube City Almanac and volunteer executive director of Tube City Community Media Inc. Conflict of interest note: The writer is a U.S. Steel shareholder.
Originally published April 30, 2021.
In other news:
"Officials, Union Blas…" || "Duquesne Council OK's…"