To place your ad, email tubecitytiger@gmail.com. Ads start at $1 per day, minimum seven days.
Company announces it will cancel planned $1.5B investment in Mon Valley plants
By Jason Togyer
The Tube City Almanac
April 30, 2021
Posted in: McKeesport and Region News

---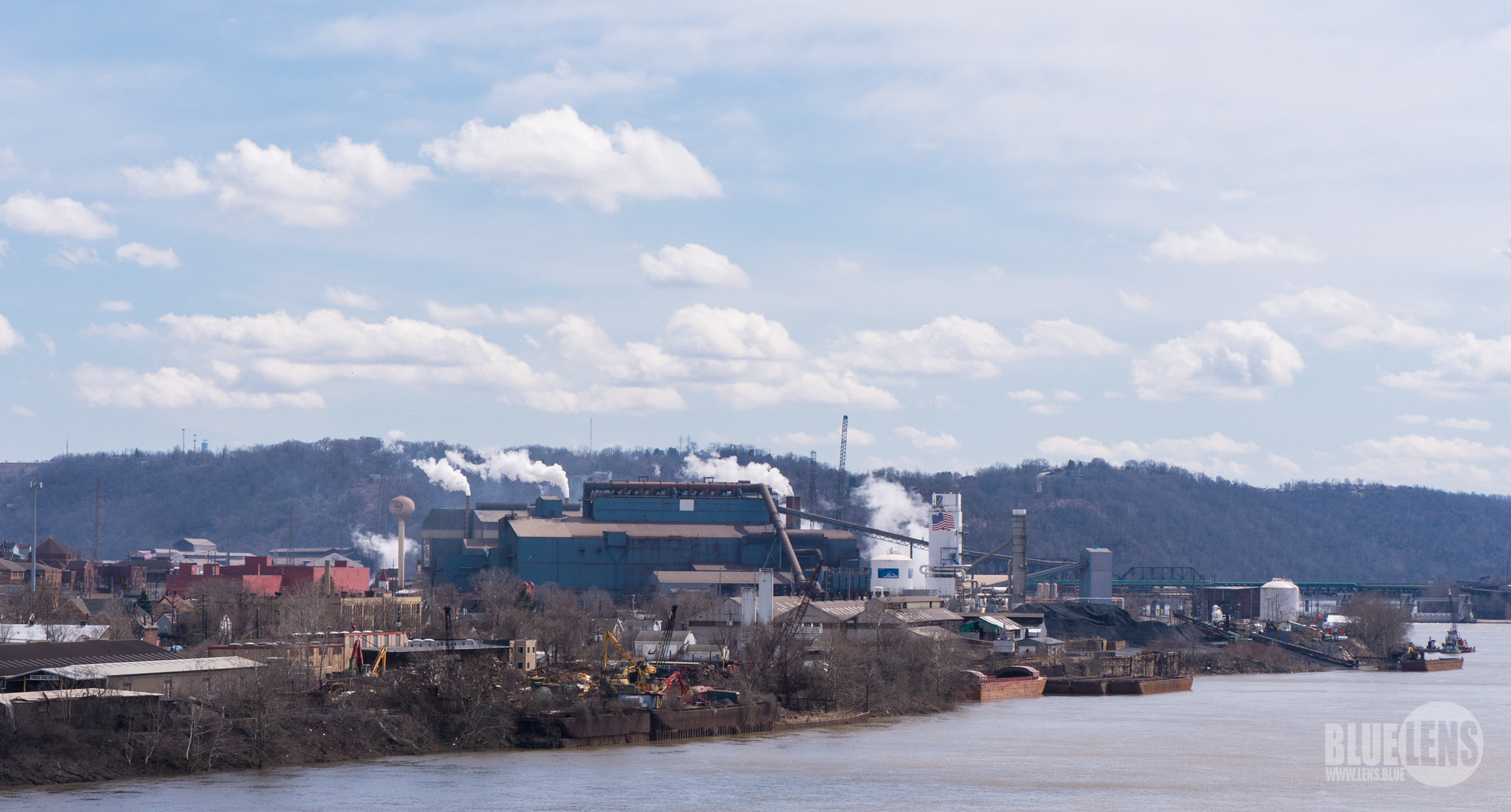 U.S. Steel has canceled plans to invest $1.5 billion in its three Mon Valley Works facilities, including Edgar Thomson Plant, shown here, saying that conditions have changed. (Mark Dixon photo via Flickr, licensed under Creative Commons)
---
Local officials and the United Steelworkers union are blasting an announcement by U.S. Steel Corp. that it will cancel more than $1.5 billion worth of investment in its three Mon Valley Works facilities.
The corporation also will idle three out of nine coke oven batteries at the Clairton Plant.
The decisions were announced Friday morning during a call with investors and stock market analysts.
"To be very clear, this is not the end of Mon Valley Works," said David Burritt, U.S. Steel president and chief executive officer. "This highly competitive mill will continue to serve strategic customers today and into the future."
Mon Valley Works includes Clairton Plant, which produces coke and other chemical byproducts from coal; Edgar Thomson Plant, a basic steelmaking faciity in Braddock and North Braddock; and Irvin Plant, which produces coils of finished steel in West Mifflin.
---
Those facilities are a "structurally important asset" to U.S. Steel, Burritt said, and together comprise the company's "lowest-cost steelmaking facility" in the flat-rolled segment.
The plants produce steel for appliances and construction customers.
However, Burritt said, the events of the past year — including delays in the permitting process, caused by COVID-19, as well as the company's goal of becoming "carbon-neutral" by 2050 — are forcing it to redirect its investments.
"When facts change, we must change," Burritt said Friday. "We must set aside the Mon Valley endless casting and rolling and cogeneration project."
---
State Rep. Austin Davis of McKeesport described himself as "deeply disappointed."
"I have always supported U.S. Steel's reinvestment project in the Mon Valley Works, which is why I am deeply disappointed that the company has broken its promise to the Mon Valley and its own workers," Davis said.
U.S. Steel's decision scraps a project, he said, "that would have made the Mon Valley Works the first project of its kind (and) provided cleaner air for our community and good jobs that would have helped this area prosper for decades."
---
Stefani Pashman, chief executive officer of the Allegheny Conference on Community Development said the group was "greatly disappointed" by the decision.
Pashman was among local leaders who helped U.S. Steel celebrate the project's announcement two years ago.
"It is a blow to the citizens of the Mon Valley who were counting on the planned upgrades to provide a brighter future, just as many others throughout our region rely on our robust manufacturing and energy industries for their livelihoods," she said.
"This will negatively impact our region, as the project represented $1.5 billion in capital investment and 1,500 jobs," she said. "To grow our population and economy and to remain competitive with other regions, the Pittsburgh region needs the level of job impact and investment the Mon Valley Works project was to create."
---
Clairton Plant is capable of producing about 4.3 million tons of coke, a blast-furnace fuel, annually, said Kevin Lewis, vice president of investor relations for U.S. Steel.
The three coke batteries being shut down account for only 17 percent of the facility's output, he said.
The batteries will be idled by 2023, Burritt said. Workforce reductions will be limited to "regular attrition," he said.
Two years ago, U.S. Steel promised to invest in an "endless caster and roller" at Edgar Thomson that would go from raw materials to finished steel without the need for transporting and rolling steel slabs at Irvin Plant, as well as a "co-generation" facility in Clairton that would produce electricity, in part from coke gas that would otherwise be wasted.
---
The corporation has already spent $170 million on equipment for the endless caster, Burritt said, but it will remain in storage and can "be repositioned elsewhere" besides Edgar Thomson.
Where the equipment will finally be installed is being studied, he said.
"This is not a decision we took lightly, but the events of the last year gave us the opportunity to reevaluate our capital allocation priorities," he said. "We know that this difficult decision is the right one for the business."
---
A spokeswoman for the United Steelworkers union, which represents production workers at the plants, said it learned of the decisions via a text message only minutes before Burritt talked to the Wall Street analysts.
Tom Conway, president of the international union — which had championed the planned investments in the Mon Valley — called the move "a betrayal."
"These broken promises don't go forgotten," he said. "Our contract with U.S. Steel requires a minimum amount of capital to be spent in our plants. The USW intends to enforce that."
At the very least, Conway said, the corporation should move forward with the co-generation project in Clairton.
The union accused the corporation of diverting investment from the Mon Valley Works into new purchases, such as its recent $774 million acquisition of Big River Steel LLC, a so-called "super mini mill" in Arkansas.
---
Meanwhile, the Allegheny County Health Department bristled at suggestions that U.S. Steel's decision to scrap the Mon Valley investments was related in any way to the permitting process for the new equipment in Clairton and at Edgar Thomson.
"We worked closely with U.S. Steel for an extensive period of time on this project, starting in May 2019," said Jim Kelly, deputy director of environmental health for the health department. "Certainly, COVID-19 had an impact on how all organizations operated. Neither the ACHD nor U.S. Steel were an exception. But I can verify that we continued to work proactively to move this project along."
Kelly said that in January, the permit for the Clairton co-generation plant was submitted for a public hearing that was held March 15.
The timeline of events, he said, "shows clearly our diligence and dedication to this process."
The health department noted that the media and stock market analysts have been questioning U.S. Steel's commitment to the Mon Valley investments since October 2020.
---
Not everyone was upset by Friday's news.
The clean air and water advocacy group PennEnvironment, which has named Clairton Plant one of Allegheny County's "Toxic Ten" air polluters, noted that the three coke oven batteries that are being shut down are also the oldest ones.
"Permanently closing the three worst-polluting coke batteries at U.S. Steel's Clairton Plant will come as a huge breath of fresh air to residents in the Mon Valley and across the region," said Zachary Barber, clean air advocate for the PennEnvironment Research & Policy Center.
"The Clairton coke works churns out toxic pollution linked to cancer, asthma and neurological problems," Barber said. "Some of the worst pollution comes from these nearly 70-year-old batteries which, because of existing air pollution regulations, have been allowed to run under unsafe, outdated environmental standards."
---
Jason Togyer is editor of Tube City Almanac and volunteer executive director of Tube City Community Media Inc. Conflict of interest note: The writer is a U.S. Steel shareholder.
Originally published April 30, 2021.
In other news:
"City Man Held in Conn…" || "U.S. Steel: Mon Valle…"