(Advertisement)
Tube City Community Media Inc. is seeking freelance writers to help cover city council, news and feature stories in McKeesport, Duquesne, White Oak and the neighboring communities. High school and college students seeking work experience are encouraged to apply; we are willing to work with students who need credit toward class assignments. Please send cover letter, resume, two writing samples and the name of a reference (an employer, supervisor, teacher, etc. -- not a relative) to tubecitytiger@gmail.com. (4-11-2023 to 4-30-2023)
To place your ad, email tubecitytiger@gmail.com.
Ads start at $1 per day, minimum seven days.
Group explores diversity of opinions, culture
By Vickie Babyak
The Tube City Almanac
May 09, 2021
Posted in: McKeesport and Region News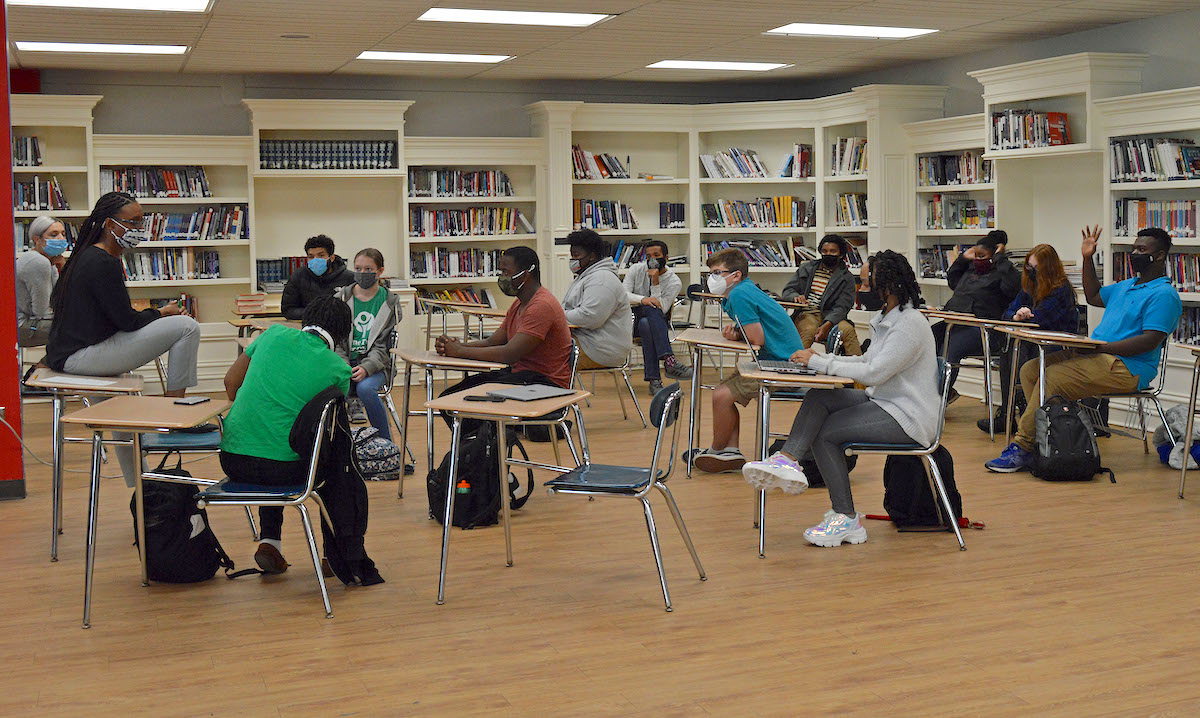 Brandy Daye, assistant principal of Twin Rivers Elementary School, discusses summer employment opportunities for the high school students during "The Voices of Change" meeting. (Vickie Babyak photo for Tube City Almanac)
---
A growing group of McKeesport Area High School students are learning about their cultural differences — and finding out that more unites them than separates them.

"The Voices of Change" includes students and faculty facilitators, who are focused on discipline, diversity and academics, said the organizers. Since their first meeting in March, which attracted about a dozen students, the group has continued to expand.

In the past few weeks, the group's popularity has grown and membership continues to increase for the upcoming new school year.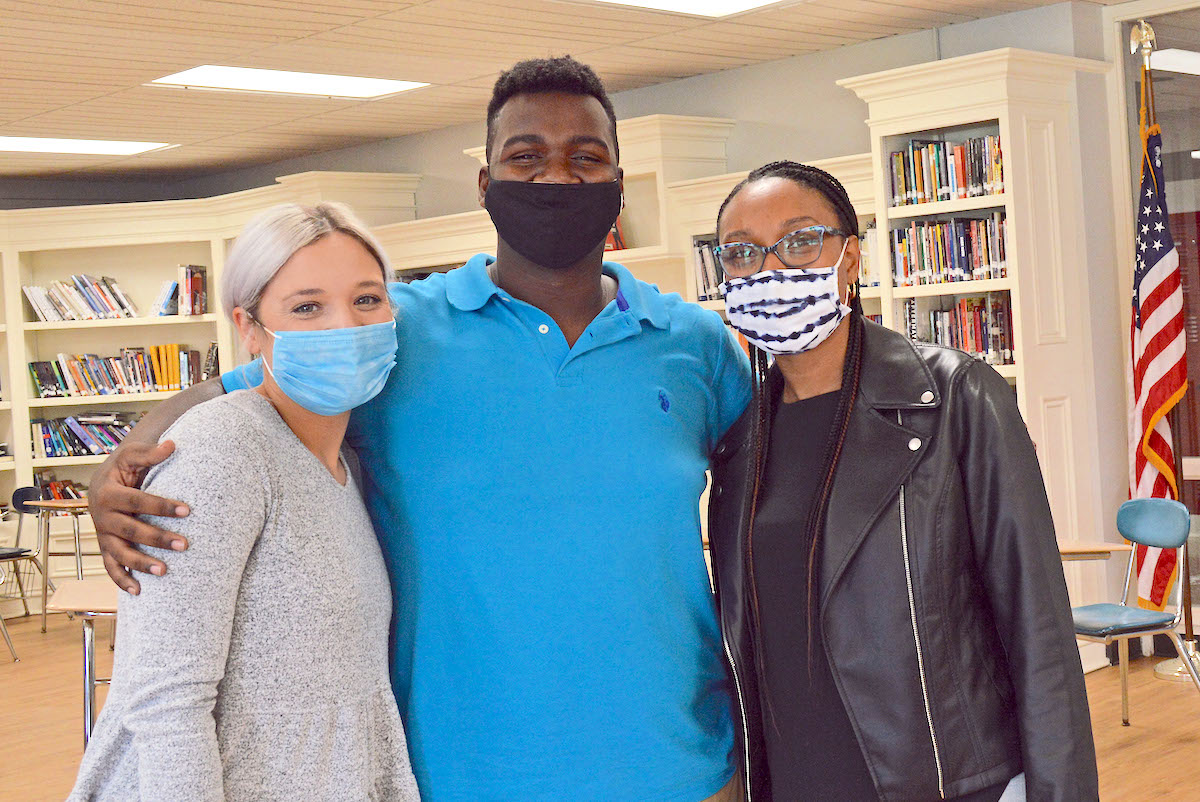 Sophomore Luciano Lanz appreciates the encouragement and support of English teacher Jah-Chant Robinson, left, and Twin Rivers Assistant Principal Brandy Daye, right. (Vickie Babyak photo for Tube City Almanac)
---
Katlyn Majewski, a sophomore, became interested in The Voices of Change when she heard friends discussing the important issues addressed during meetings. Majewski said, "For me personally, I feel most passionate about the representation of arts in school. I hope to create more opportunities for students to foster their artistic abilities and use those abilities to create beautiful change in the community."
Senior Bolivar Campusano said, "Everyone in our group wants positive change in the high school and to let every voice be heard. I would like to see more student initiative."
Previous to the initial "The Voices of Change" meeting, Superintendent Mark Holtzman Jr., Assistant Superintendent Tia Wanzo, school board member Mindy Sturgess, a Penn State Greater Allegheny representative, and English teacher Jah-Chant Robinson met to discuss the importance of students' voices.
Wanzo asked Ms. Robinson to manage The Voices of Change, a subgroup of the school board's diversity committee. The Voices of Change is designed to give students an opportunity for their voices to be heard, they said.
Students are engaged in a variety of activities, including educational enrichment, community service and ongoing communication between student body, administrators and the school board.
Robinson believes it's important to hear the views of young people. "I'm amazed with my students' ideas and they are learning the important skill of self-advocacy. Every day is a new experience," said Robinson.
Group members have a variety of economic and cultural backgrounds, and interests that include athletics, academics and art. Collectively, students said their common goal is to improve educational and social structure within the school system.
"I joined The Voices of Change because my teacher Ms. Robinson told me she thinks I have a powerful and passionate voice that needs to be heard. I want my school to be more involved in African American culture and the LGBTQ+ community," said sophomore Luciano Lanz. "Changing the school for the better is the main objective of The Voices of Change. I want to help other kids like me to find people who appreciate them for who they are, and create a family for those who feel alone."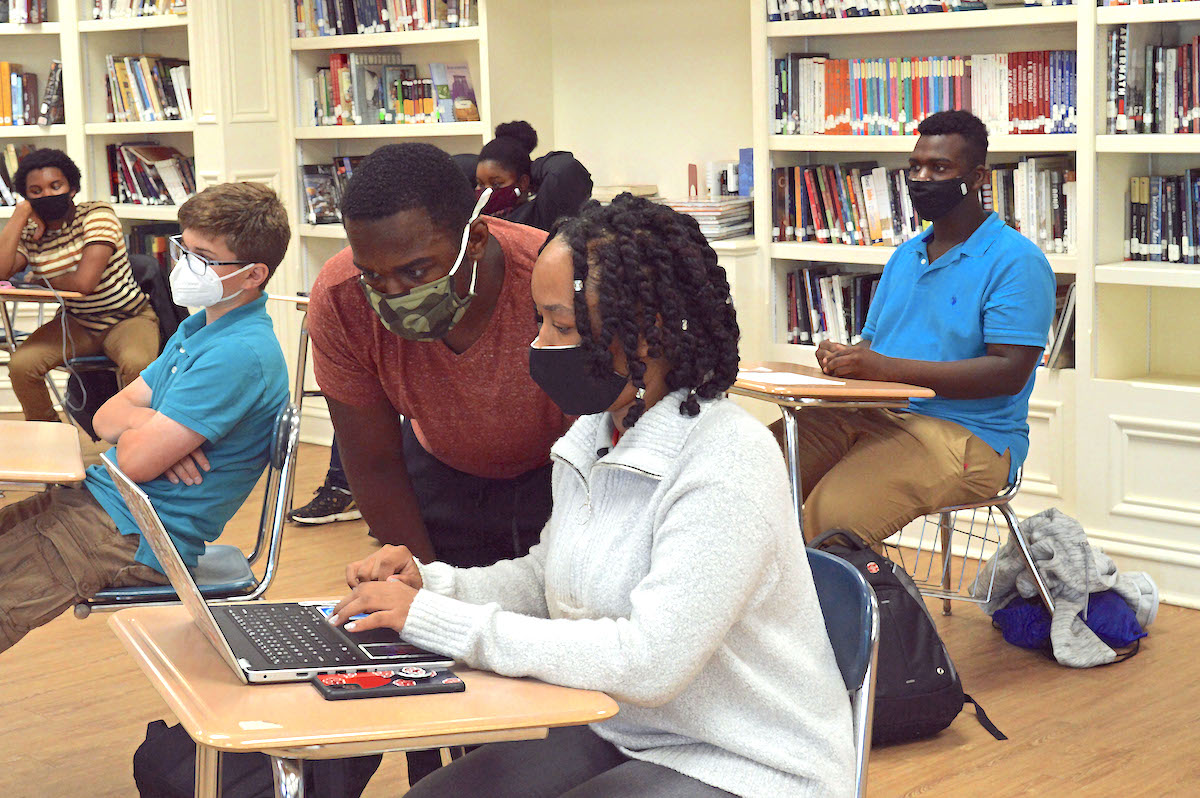 Group Ambassador Bolivar Campusano and Group Secretary Sydney Campusano are proofreading minutes to make sure all the meeting information has been included.
---
Vickie Babyak is a photographer and freelance writer from Dravosburg. She may be reached at vbabyak@yahoo.com.
Originally published May 09, 2021.
In other news:
"Heritage Center Slate…" || "AFL-CIO Leaders Quest…"