(Advertisement)
Tube City Community Media Inc. is seeking freelance writers to help cover city council, news and feature stories in McKeesport, Duquesne, White Oak and the neighboring communities. High school and college students seeking work experience are encouraged to apply; we are willing to work with students who need credit toward class assignments. Please send cover letter, resume, two writing samples and the name of a reference (an employer, supervisor, teacher, etc. -- not a relative) to tubecitytiger@gmail.com. (4-11-2023 to 4-30-2023)
To place your ad, email tubecitytiger@gmail.com.
Ads start at $1 per day, minimum seven days.
Program examines 'Out of This Furnace,' landmark look at Mon Valley immigrant life
By Staff Reports
The Tube City Almanac
May 09, 2021
Posted in: Announcements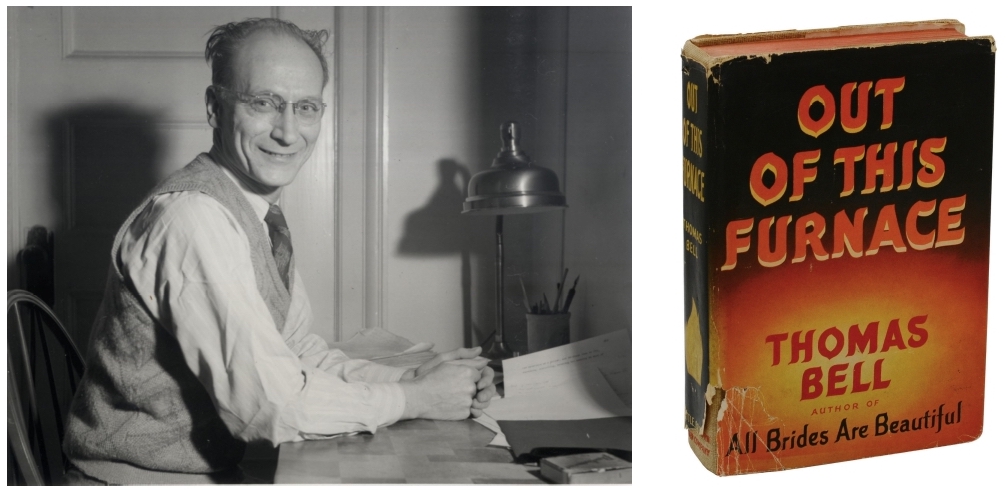 Thomas Bell, born Adalbert Thomas Belejcak in Braddock, worked in Carnegie Steel's Edgar Thomson Works and at various industrial jobs before becoming a full-time writer. He died of cancer in 1961. (Images courtesy Carnegie Mellon University Libraries)
---
An upcoming program at McKeesport Regional History & Heritage Center will discuss a landmark novel set in Braddock in the period between the Civil War and World War II.
Dr. Kirsten Paine, a visiting lecturer for the English Department of the University of Pittsburgh, will discuss "Out of This Furnace" by Thomas Bell during an online presentation at 7 p.m. May 19. The program is free but pre-registration is required.
Bell's novel, first published in 1941, examines the struggles of three generations of Eastern European immigrants who came to the Mon Valley to work in the local steel mills. Bell, who was born in Braddock in 1903 to immigrant parents from Slovakia, himself worked in the mill beginning at the age of 15 as an apprentice electrician.
He later moved to New York City and worked variously as a mechanic, a merchant seaman and a bookstore clerk before becoming a full-time writer.
During his lifetime, Bell published six novels, but after his death in 1961, his work was largely forgotten until a professor at Carnegie Mellon University, David Demarest, rediscovered "Out of This Furnace" and encouraged the University of Pittsburgh Press to re-publish it.
The novel has since gone into multiple printings and is often used on college campuses to examine the lives of Eastern European immigrants, American industrialization and the trade union movement.
"Out of This Furnace" shows the struggles of the immigrant populations in the new world, including steelworkers' attempts to unionize, strikes and two world wars.
Paine is a docent for Rivers of Steel in Homestead and her research focuses on Pittsburgh's industrial history, 19th century diaries and writings of women during the American Civil War era. A heritage center spokesman said her program will focus on not only Bell's narrative, but also will compare and contrast what Bell presents in his novel with the realities of life in the mills.
The program also will explore the impact 19th century industry has had on 21st century Pittsburgh.
McKeesport Regional History & Heritage Center is a local, non-profit museum located in Renziehausen Park. For more information, call (412) 678-1832 or visit www.mckeesportheritage.org/
Originally published May 09, 2021.
In other news:
"Brewster to Speak at …" || "MAHS Students Make Th…"