(Advertisement)
McKeesport Housing Authority is opening the Section 8 waiting list
Housing Choice Voucher Program
The McKeesport Housing Authority will be accepting applications for the Housing Choice Voucher Program (Section 8) Waiting List.
When?
April 10, 2023, 8:30 AM @ 2901 Brownlee Ave. McKeesport, PA 15132.
NO APPLICATIONS WILL BE ACCEPTED BEFORE THE ABOVE POSTED TIMES.

APPLICATIONS WILL BE DATE AND TIME STAMPED UPON RECEIPT. APPLICATIONS CAN BE SUBMITTED IN PERSON, FAX 412-673-1706, EMAIL TO BBRAY@MCKHA.ORG.
You can download a blank copy of the application from www.mckha.org.
Where?
At www.mckha.org or any of the rental offices at Crawford Village, Harrison Village & McKeesport Towers

MULTIPLE APPLICATIONS WILL NOT BE ACCEPTED. PLEASE DO NOT CALL FOR YOUR STATUS —- NO INFORMATION WILL BE GIVEN OVER THE TELEPHONE. YOU WILL BE NOTIFIED VIA THE US MAIL. IT IS CRITICAL TO KEEP YOUR INFORMATION UPDATED WITH OUR OFFICE IF IT CHANGES. IF WE ARE UNABLE TO CONTACT YOU, YOU MAY BE REMOVED FROM THE WAITING LIST.
To place your ad, email tubecitytiger@gmail.com.
Ads start at $1 per day, minimum seven days.
By Vickie Babyak
The Tube City Almanac
June 17, 2021
Posted in: McKeesport and Region News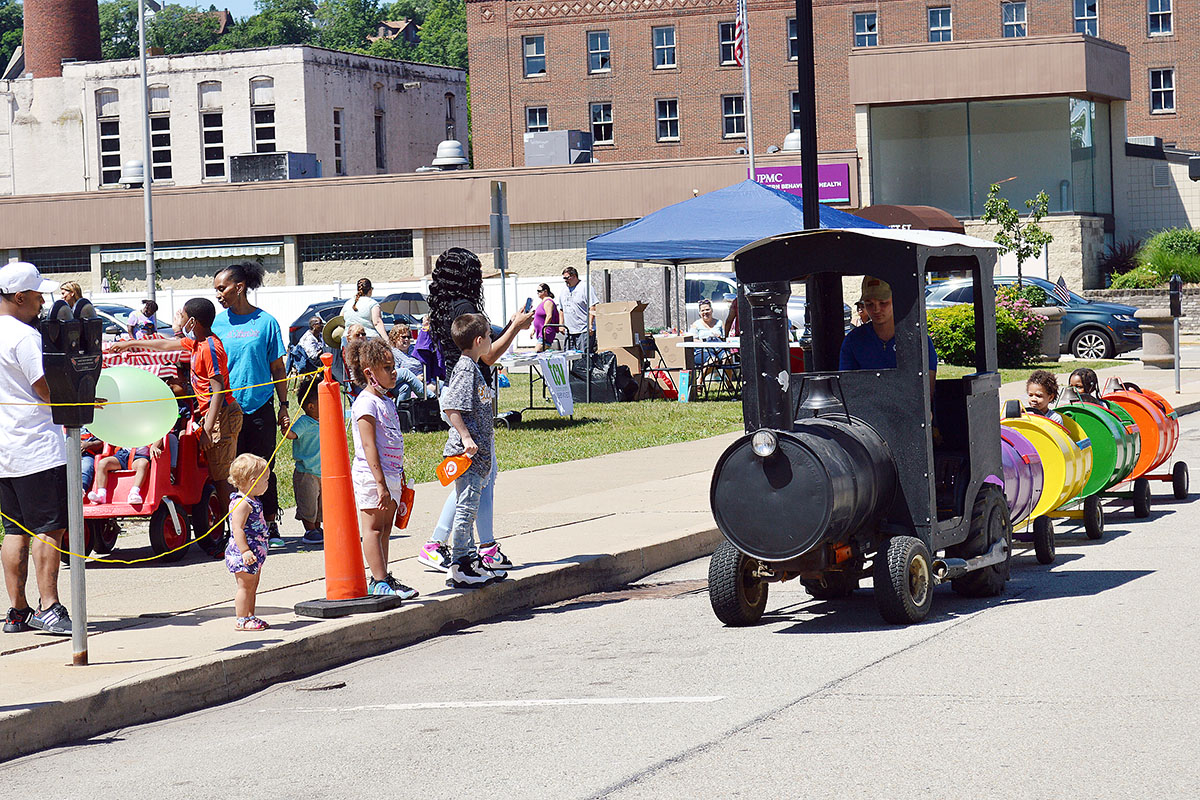 Children wait to take a ride on the kiddie train at McKeesport's Good Neighbor Day. (Vickie Babyak photo for Tube City Almanac)
---
Approximately 40 organizations participated in McKeesport Good Neighbor Day along Fifth Avenue between Market and Locust streets on Wednesday.
McKeesport residents and their neighbors from surrounding communities came together to enjoy the festivities. Events started at 10 a.m. and lasted until 4 p.m. Admission was free.
Agencies provided information about women's health, family support systems, well-being of children, and local businesses promoted their products. Food vendors sold drinks, snacks and complete meals. Children enjoyed feeding farm animals at the petting zoo, took rides on a kiddie train, and jumped in a bouncing house.
The annual event, sponsored by the City of McKeesport, was cancelled in 2020 due to the COVID-19 pandemic.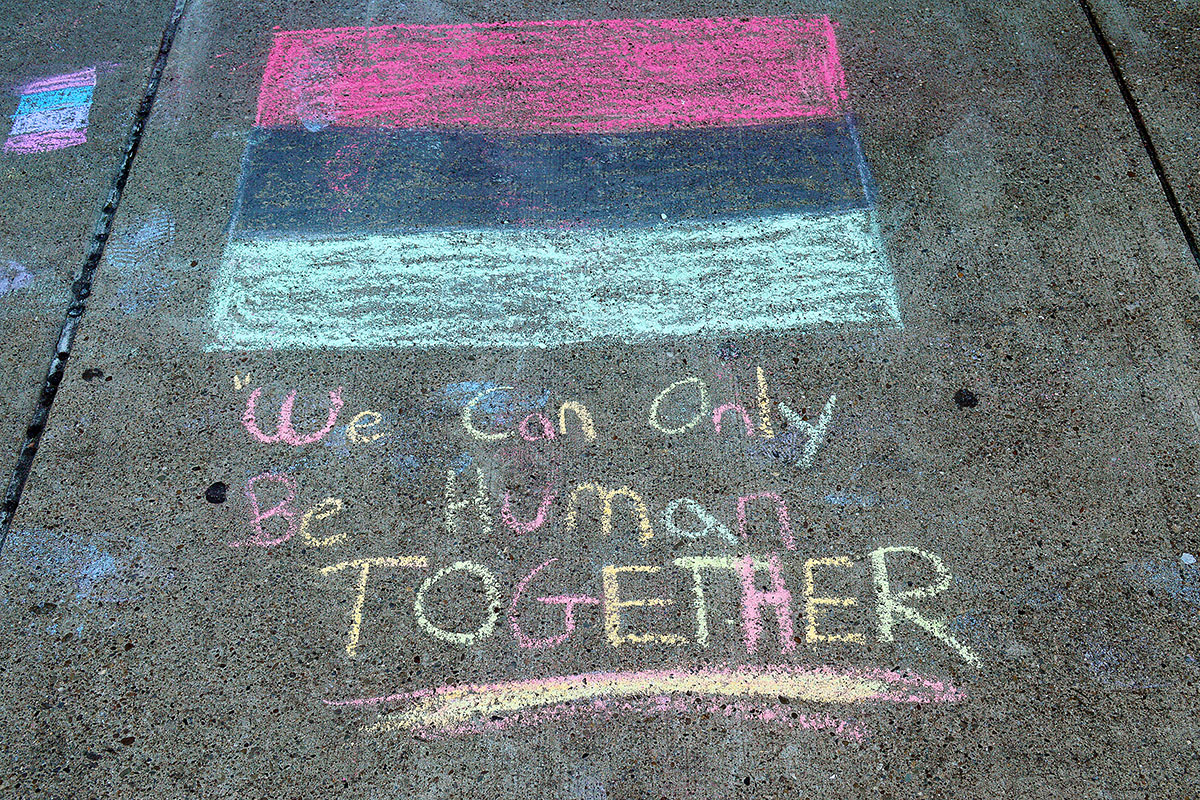 (Vickie Babyak photo for Tube City Almanac)
---
Participants this year included Carnegie Library of McKeesport, Allegheny Intermediate Unit, King's Table Church, Allegheny County Health Department, Women for a Healthy Environment, UPMC Latterman Health Center, Auberle, Guilty Pleasures Nutrition, McKeesport Little Theater, Point Park University's Tube City Writers workshop and McKeesport Regional History & Heritage Center.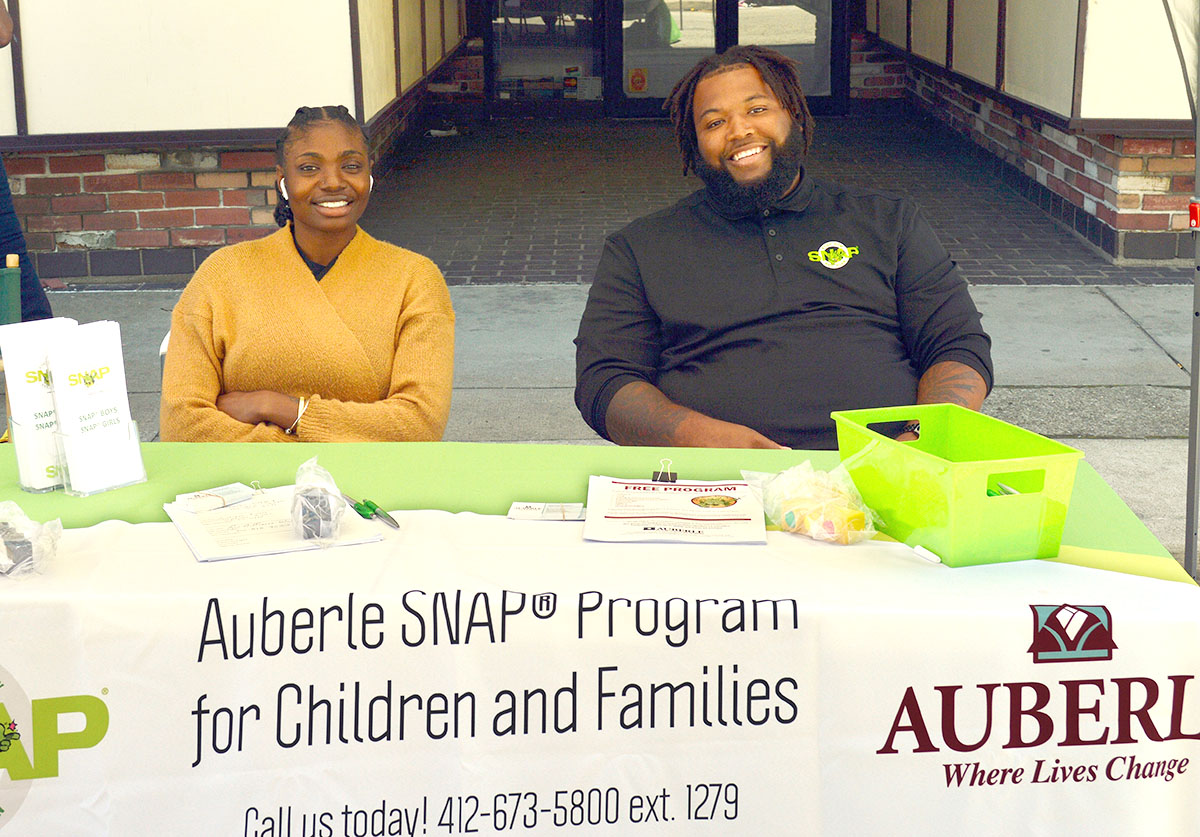 On behalf of Auberle, Shantell Bryant, child worker (above left), and Alex Beasley, senior worker (above right) were on hand to discuss the SNAP program. SNAP stands for Stop Now And Plan.
"We teach problem solving, emotional management and self control," Beasley said. "We have a preventive program so kids can work through problems before they get in the system. We want to help kids learn how to express themselves."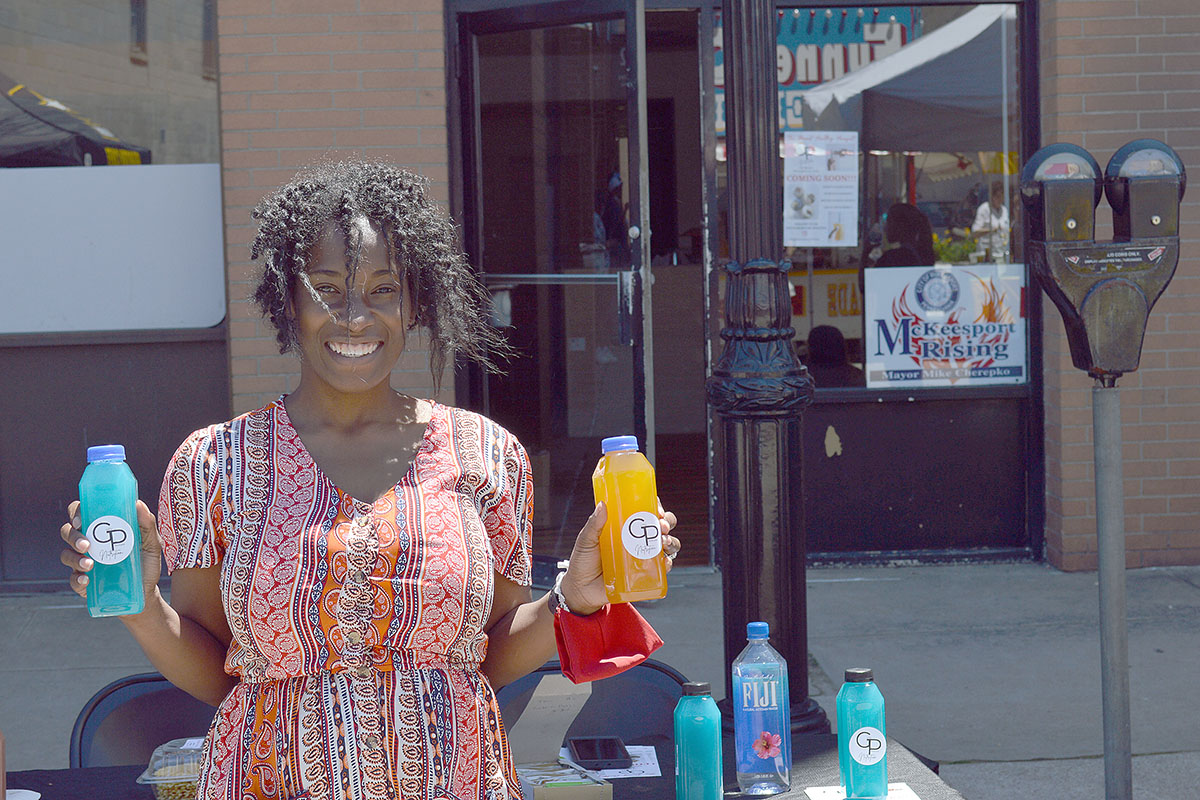 Ebony Levy was promoting her new McKeesport business, Guilty Pleasures Nutrition, which will be located in the Executive Building. She is planning a grand opening for the first week of July. Patterson said she will serve energy packed teas, nutritious shakes, coffee and protein-packed snacks, with specials each week.
Levy, who was attending her first Good Neighbor Day, said it was a great way for her to meet other business owners and promote her own shop.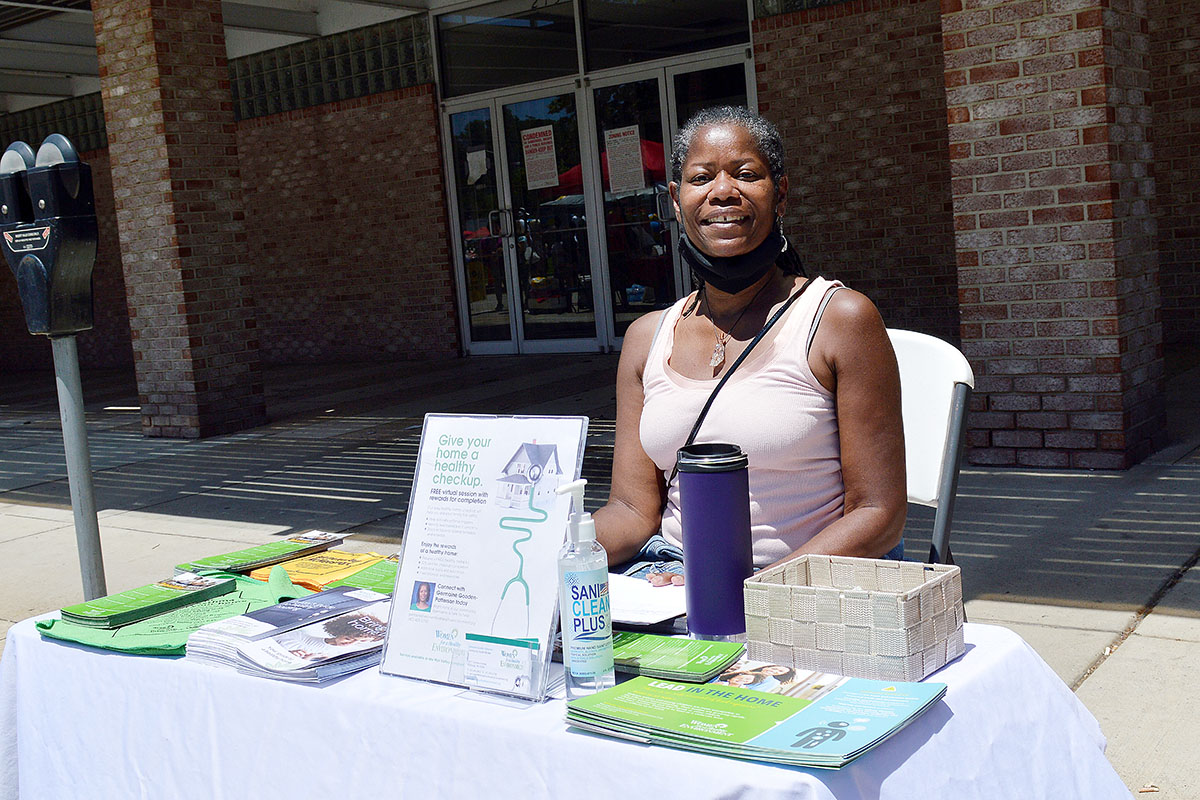 Germaine Patterson (above) is a community health worker for Women for a Healthy Environment. The group is doing outreeach to Mon Valley communities such as McKeesport, Duquesne and Clairton.
Patterson said her job is to inform people about the hazards caused by lead paint and pipes in homes built before 1978, and explain what actions they can take.
"Family health is important and all people deserve to be healthy," Patterson said. "People aren't always aware (of lead hazards) and Good Neighbor Day gives me opportunity to educate residents about toxins. Knowledge is a way for people to make better choices."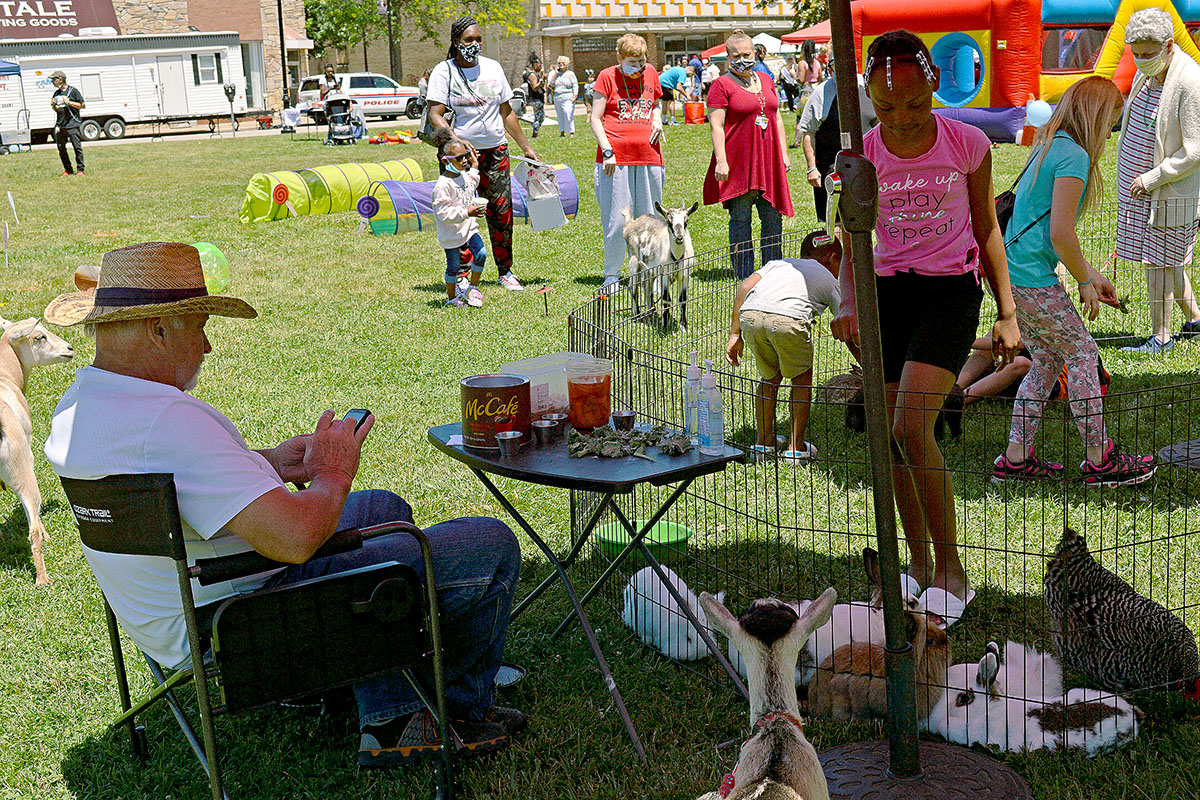 Young and old alike loved feeding and patting the farm animals in the mobile petting zoo. Keith Timmins of Lowellville, Ohio, owns and operates Pony Time Ranch. His ranch is located on more than five acres and he has 80 animals.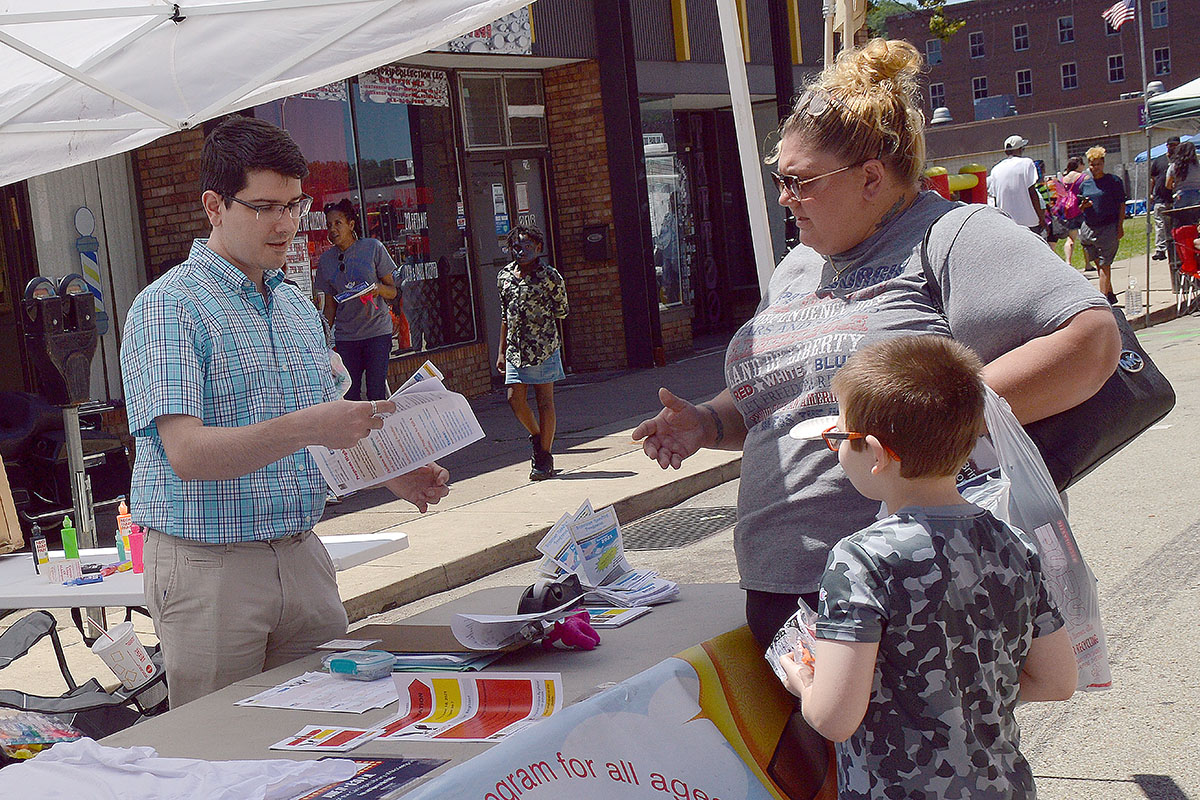 Vince D'Alesio, director of the Carnegie Library of McKeesport, was passing out information to promote the library's summer reading program. "The reading program is for all age groups but I'd like to encourage and motivate the kids," he said.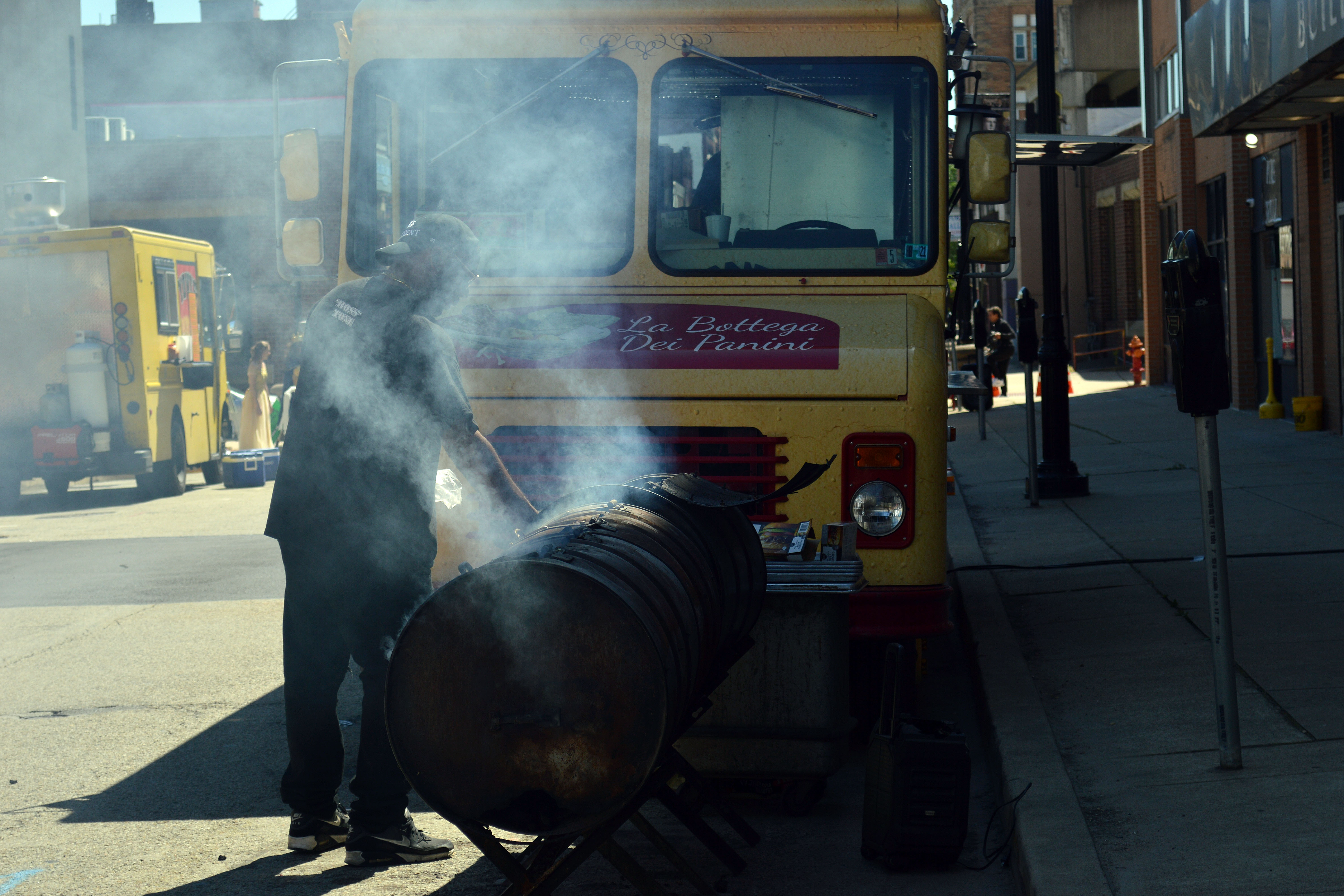 ---
Vickie Babyak is a photographer and freelance writer from Dravosburg. She may be reached at vbabyak@yahoo.com.
Originally published June 17, 2021.
In other news:
"Crafts, Live Music Ma…" || "3 Hurt as Bus Collide…"