(Advertisement)
Tube City Community Media Inc. is seeking freelance writers to help cover city council, news and feature stories in McKeesport, Duquesne, White Oak and the neighboring communities. High school and college students seeking work experience are encouraged to apply; we are willing to work with students who need credit toward class assignments. Please send cover letter, resume, two writing samples and the name of a reference (an employer, supervisor, teacher, etc. -- not a relative) to tubecitytiger@gmail.com. (4-11-2023 to 4-30-2023)
To place your ad, email tubecitytiger@gmail.com.
Ads start at $1 per day, minimum seven days.
'Massacre Academy' features cast, crew largely from the region
By Siana Emery
The Tube City Almanac
July 05, 2021
Posted in: Entertainment, McKeesport and Region News

Scenes from the "Massacre Academy" trailer.
---
A horror film that pays tribute to classic slasher movies of the 1980s — and which was produced by a largely Mon Valley cast and crew — will get its big screen debut this month.
"Massacre Academy" will premiere July 31 at the Lamp Theatre in Irwin. A feature-length slasher-comedy, the film was created by Mark Cantu, a San Antonio, Texas, native turned McKeesport resident.
Much of "Massacre Academy" was shot in and around McKeesport, with city officials happy to provide access to numerous locations, including the former site of the McKeesport Daily News.
"From industrial and modern to vintage, urban architecture, McKeesport truly does have everything you're looking for as a filmmaker and I am proud to call it my home," Cantu said.
Cast and crew on the final day of filming. (Via Instagram)
---
The film follows Kris McNeil and her sister Maggie, who are trying to move on with their lives following a series of brutal murders two years before by an infamous spree killer known as "Carnie." However, when a new killing spree begins, Kris realizes it is up to her to take him down.
Cantu took advantage of the talent of the local community, hiring a largely local cast and crew, including actors Felissa Rose, Dave Sheridan, Jess Uhler, Sierra Mitchell, Christina Krakowski and Brian Ceponis.

"Being a part of this production was the best thing I could have possibly done," said Mitchell, a recent graduate of Elizabeth Forward High School. "It made me absolutely fall in love with film making, so much so that I am now going to college to further my education in order to better myself as an actor. I've been a part of musical theatre my whole life and while I still enjoy being on the stage, Massacre Academy has shown me that being in front of a screen is my true passion."

"Massacre Academy" is Cantu's fifth feature film. Born in 1978, he grew up in a world where horror movies were becoming huge business. In the 1980s, horror films moved from cult favorites to box-office hits after films like "The Shining" and "Poltergeist" took the world by storm.
The genre was an early adopter of special visual effects, and Cantu recalls that "the horror films we did watch had some of the greatest practical effects work in the history of cinema."

"As I was first developing Massacre Academy, I asked myself a basic question: What do I love, and what speaks to me?" Cantu said. "The first answer was the '80s and the second answer was practical effects. So I built my film off that: an '80s homage that would feature a ton of practical effects. The '80s were the heyday of slasher films, so that felt like the perfect jumping-off point."

Cantu began making short films at a young age, spending summers with his brothers creating short, homemade horror movies.
While in college studying to become a theater teacher, Cantu turned to writing screenplays and directing his own short films. His first short, shot with a home-video camera, no lights, and a "terrible" monster suit, was a horror comedy about a theatre building invaded by a mutant rat. In 2003, he created his own production company, LWF Films, now called Cineworx.

"The itch to do film is something that called to me for years," said Cantu. "I've always been a person that finds the boundary of what's possible and I like to push it beyond that. Film gives you chances to creatively solve problems like that all the time."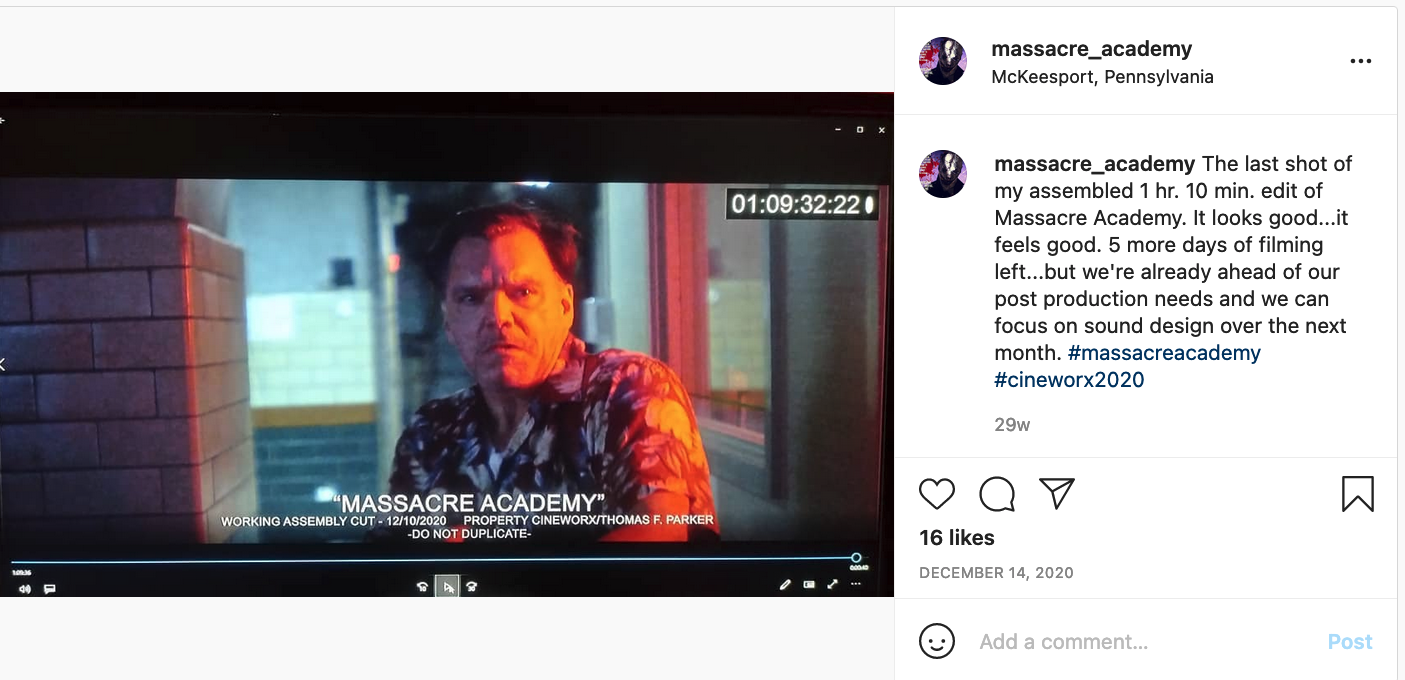 (Via Instagram)
---
Cantu first began directing feature films in 2007, with the production of a thriller called "Echo," which he also co-wrote. While the film was not received as well as he had hoped, Cantu was not deterred.

"That initial experience taught me what to look for in this industry," he said. "From superhero comedies to military action thrillers, I've tried to push myself with each and every project I've done, and learn from the previous projects."

Since then, Cantu and his productions have received several awards, including Best Feature Film at the 2016 Rails to Reels Film Festival and Best Comedy Feature FIlm at the 2015 iFilm Festival in Marbella, Spain.

Cantu and his wife moved to McKeesport in 2016. He said he soon decided it was a filmmaker's playground. Cantu's cast and crew agreed.

"Pittsburgh is a great city for indie films, and we are so excited to show 'Massacre Academy' to everyone," said Jess Uhler, who played the character of Kris. Uhler calls it a "love letter" to 1980s slasher films.
Mitchell said the finished film is "like a rollercoaster" — full of "excitement and also fear," but at the end, she thinks viewers will "want to just hop right back in line to ride it again."
The film was shot amid the COVID-19 pandemic, when "it seemed like the world was grinding to a halt," Cantu said.
Despite the challenges, production continued. "It is a testament to McKeesport's resilience and toughness that we were able to band together and make a great film through some of the toughest conditions imaginable."
---
Siana Emery is a freelance writer living in Pittsburgh's South Hilltop. She has also written for The Mennonite World Review, Goshen College Communications and Marketing and The Goshen College Record.
Originally published July 05, 2021.
In other news:
"W.O. Safe Haven Holds…" || "Lack of Quality Housi…"