(Advertisement)
Tube City Community Media Inc. is seeking freelance writers to help cover city council, news and feature stories in McKeesport, Duquesne, White Oak and the neighboring communities. High school and college students seeking work experience are encouraged to apply; we are willing to work with students who need credit toward class assignments. Please send cover letter, resume, two writing samples and the name of a reference (an employer, supervisor, teacher, etc. -- not a relative) to tubecitytiger@gmail.com. (4-11-2023 to 4-30-2023)
To place your ad, email tubecitytiger@gmail.com.
Ads start at $1 per day, minimum seven days.
Davis: Suitability and affordability are both problems
By Nichole Faina
The Tube City Almanac
July 06, 2021
Posted in: Duquesne News, McKeesport and Region News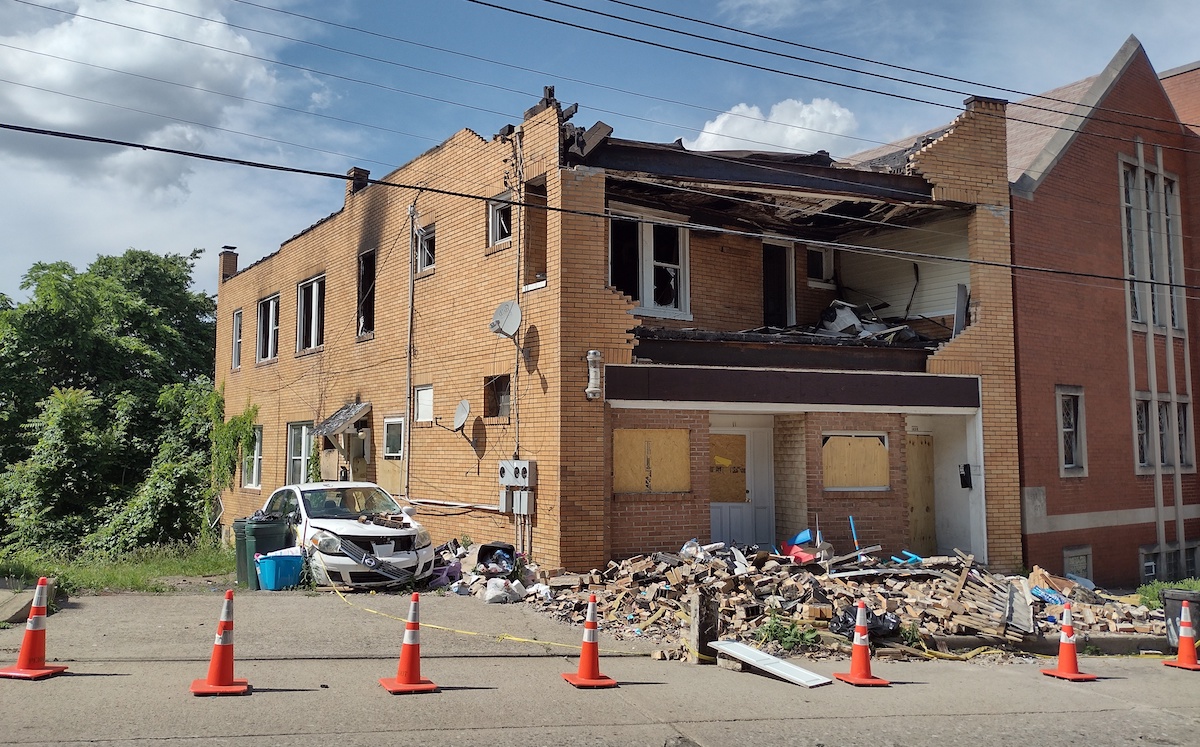 A fire May 12 rendered this Duquesne building uninhabitable. The demand for affordable housing in the Mon Valley outstrips the supply, say housing advocates and state Rep. Austin Davis. (Tube City Almanac photo)
---
On the night of May 12, Lakeya Wilson entrusted her four children, all under age 5, to her family members to babysit at her Duquesne home. Forty-five minutes later, Wilson received a call that her apartment building was on fire.
Thankfully, her family escaped unharmed, but the apartment where they had lived for two and a half years is now uninhabitable.

Wilson has a federal housing choice voucher — the program commonly called "Section 8" — and like many people in the Mon Valley is in search of a better apartment.
Wilson and her children are currently staying with family. She says she's contacted more than 10 landlords to see if they have any vacancies for a Section 8 holder. So far, she says, all she's heard is "no."
Although the Mon Valley is full of inexpensive housing, quality housing that's affordable is harder to come by, as Wilson and others have found out.
"From what I see in the Mon Valley, specifically, it's not necessarily that there's a need for affordable housing — there's a need for quality housing," says state Rep. Austin Davis of McKeesport.
"Our houses are still very affordable in the Mon Valley area," he says. "The problem is, as our communities lost population size, and as they've aged, many homes have become blighted. Many homes have been torn down. And so it's created a need for quality housing — for safe, secure, well-built, well-constructed homes."
The problem isn't affordablity, Davis says, it's suitability.
"We need an influx of quality housing that is suitable for folks to live in," he says.
---
According to the U.S. Census Bureau, the Mon Valley's housing stock is significantly older than the average home in the United States.
Out of 8,930 estimated housing units in McKeesport, 72 percent were built before 1960. In Duquesne, 71 percent of the houses were built before 1960.
In Glassport and Port Vue, 78 percent of the houses were built before 1960, according to the Census Bureau.
Nationally, according to the U.S. Census Bureau, only 27.4 percent of the housing predates 1960.
There is also an enormous pent-up need for affordable housing — a problem that became especially acute in the Mon Valley since neighborhoods in the City of Pittsburgh, such as East Liberty, have been redeveloped. Landlords in those areas have either torn down older buildings or raised rents to attract higher-paying tenants.
That's pushed longtime residents of Pittsburgh neighborhoods out into communities such as East Pittsburgh, Turtle Creek, McKeesport and Clairton.
---
Bob Gabbianelli is associate director of Allegheny County's Housing Choice Voucher Program, the program that distributes Section 8 vouchers that recipients use to rent privately owned housing.
He estimates that there are 25,046 people utilizing housing vouchers in the Mon Valley region from West Homestead down to Elizabeth.
Recently, the county's voucher program opened its waiting list. Over the course of a few days, 5,600 people signed up. Frank Aggazio, executive director of the Allegheny County Housing Authority, says a waiting list that long is common, and that it can take years to for the housing office to issue vouchers to wait-listers.
In May, Davis hosted a hearing to discuss what he and fellow Democrats in the state House and Senate called the "Pennsylvania Rescue Plan" — a proposal to distribute funds from the federal COVID-19 stimulus package to support homeowners and renters.
"We have proposed over $510 million dollars of federal money to deal with housing issues across the commonwealth, but what we haven't done is divided that $510 million into specific programs yet," Davis says.
"What we're saying is, housing is an issue across the commonwealth," he says, but funds could be tailored to specific needs in specific communities. "If you're in the City of Pittsburgh, affordability is a big issue, and we could earmark some of those funds for affordability. In my area (the 35th District) the funds could be used to incentivize developers to build (new) homes."
---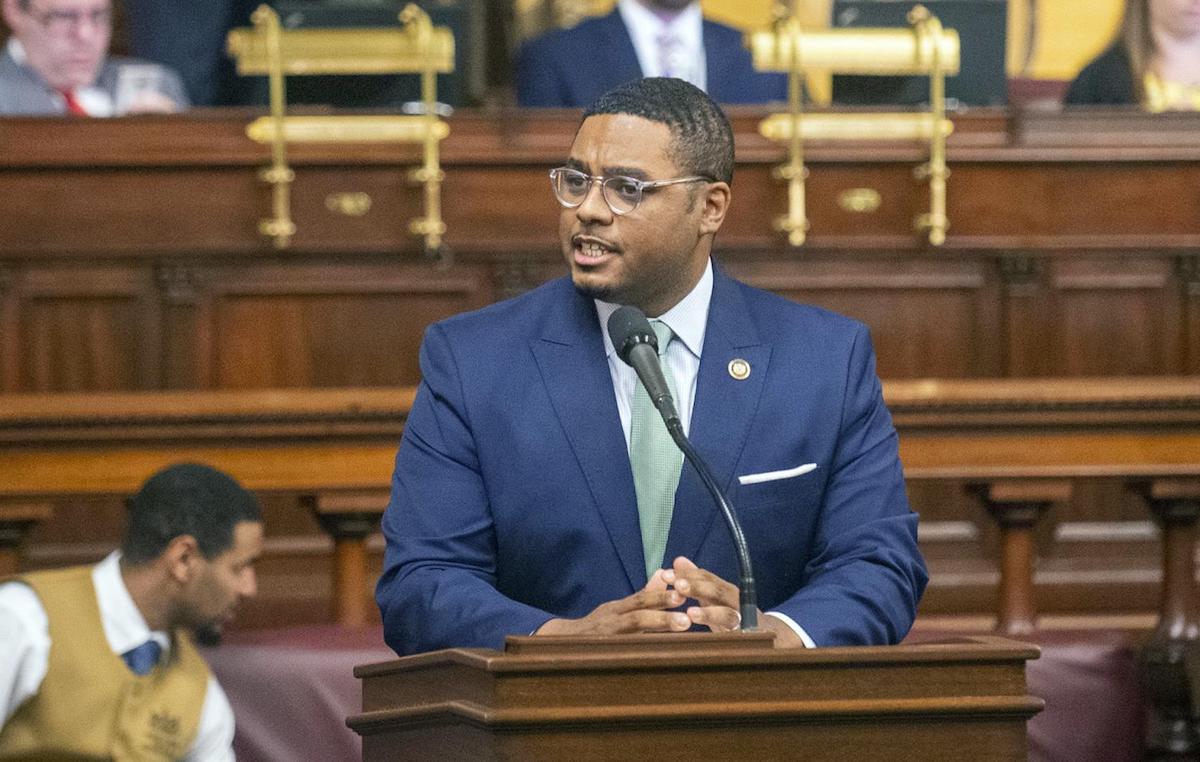 State Rep. Austin Davis: "We need an influx of quality housing that is suitable for folks to live in" (Pennsylvania General Assembly photo)
---
Among other provisions, the proposed Pennsylvania Rescue Plan would allocate $200 million to support construction of affordable housing, but 75 percent of the housing would have to be built in one of the state's opportunity zones.
Another $50 million would provide up to 100,000 first-time homebuyers with grants toward down-payments on a house.
Any such help would come too late to help people like Lakeya Wilson, whose sister created a GoFundMe campaign for the family.
And the state's budget, passed last month, redirected $5 billion of federal COVID-19 aid into the state's reserve fund, not into an affordable housing rescue plan.
House Republicans rejected the Pennsylvania Rescue Plan, with a spokesperson for state Rep. Kerry Benninghoff, the majority leader, calling it "wishful thinking not based in reality or the law."
But the problem of a lack of affordable, quality housing isn't going to be wished away, Davis said.
"Democrats don't control the majority in either chamber of General Assembly," he said. "Ultimately, we're going to have to push and price everything we can with our colleagues on the Republican side of the aisle."
---
Nichole Faina is a freelance journalist in Pittsburgh. She can be reached at n.faina.writer@gmail.com. Tube City Almanac editor Jason Togyer contributed to this story.
Originally published July 06, 2021.
In other news:
"Local Slasher Film to…" || "Crash Claims City Wom…"