(Advertisement)
Tube City Community Media Inc. is seeking freelance writers to help cover city council, news and feature stories in McKeesport, Duquesne, White Oak and the neighboring communities. High school and college students seeking work experience are encouraged to apply; we are willing to work with students who need credit toward class assignments. Please send cover letter, resume, two writing samples and the name of a reference (an employer, supervisor, teacher, etc. -- not a relative) to tubecitytiger@gmail.com. (4-11-2023 to 4-30-2023)
To place your ad, email tubecitytiger@gmail.com.
Ads start at $1 per day, minimum seven days.
Tap water is OK only for 'flushing toilets,' remediation underway
By Jason Togyer
The Tube City Almanac
July 17, 2021
Posted in: McKeesport and Region News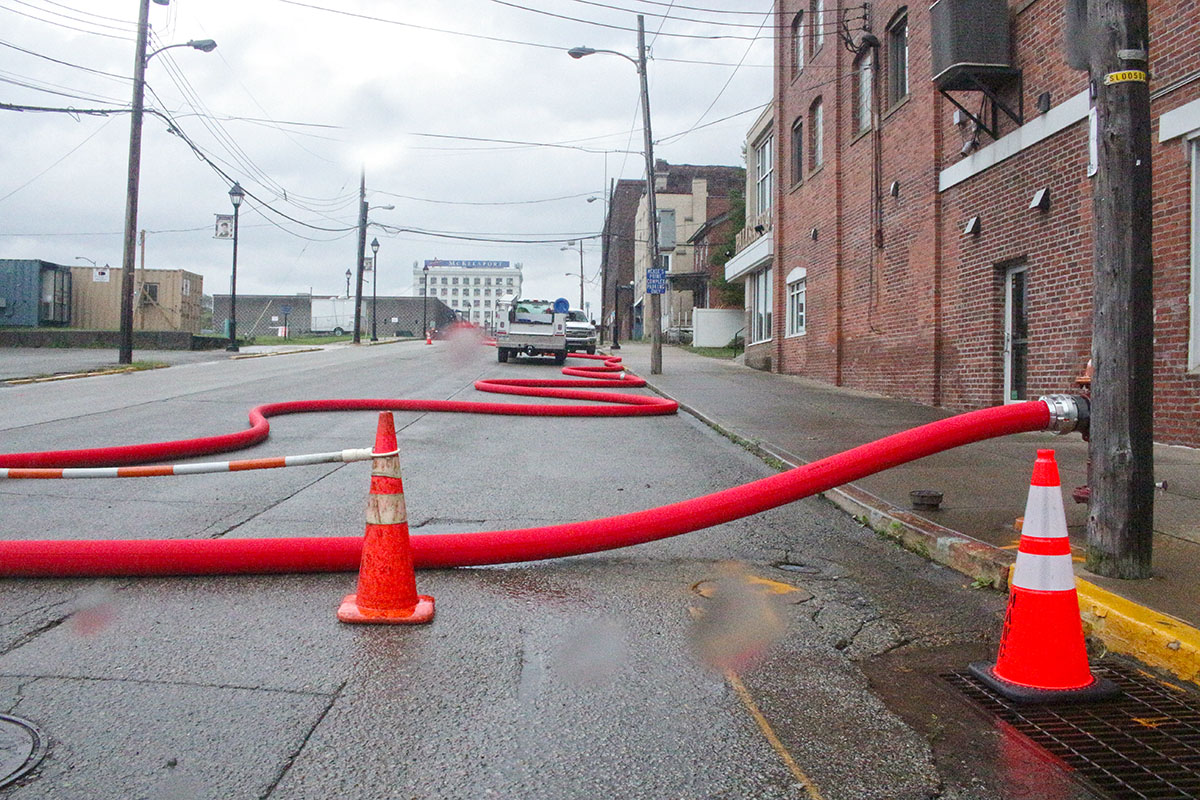 Hoses snaked down Fifth Avenue near the McKees Point Marina on Saturday as crews from Municipal Authority of Westmoreland County flushed water lines on the opposite side of the Youghiogheny River in Lower 10th Ward. (Tube City Almanac photo)
---
Residents of McKeesport's Lower 10th Ward should use their tap water for flushing toilets — and nothing else — until further notice.
Municipal Authority of Westmoreland County, which provides water to McKeesport, Port Vue, White Oak and part of North Versailles Twp., warned residents that firefighting chemicals used to put out a fire on Rebecca Street on Friday night may have been accidentally sucked into the water supply through a hydrant.
The water should not be used for cooking, brushing teeth, washing dishes, bathing or showering, or even washing clothes, said Matt Junker, authority spokesman.
Efforts to flush the water lines were paused Saturday night while crews replaced an older piece of water line that was restricting water flow, he said.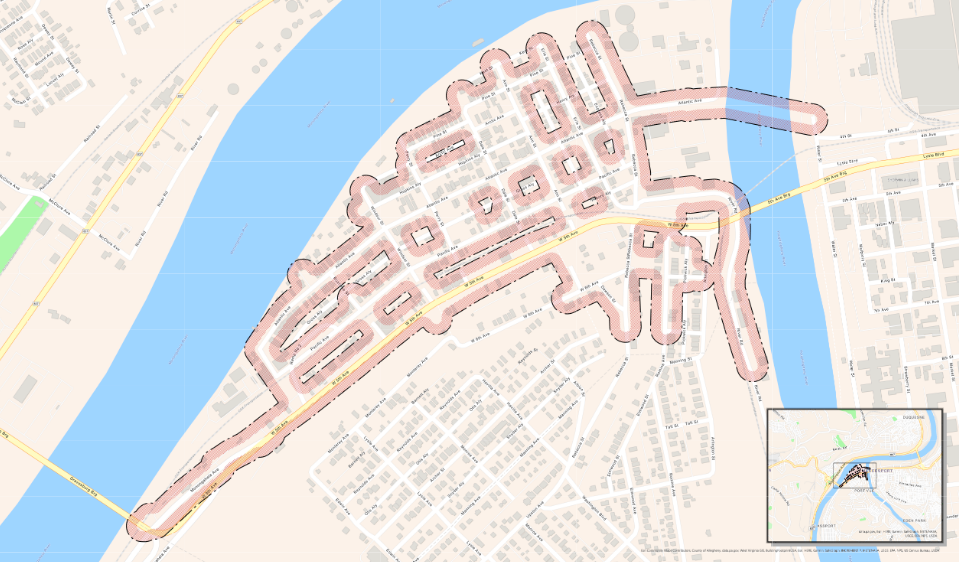 Affected streets are outlined in red and include most of the neighborhood between the Monongahela River and the CSX Railroad tracks, as well as some blocks south of the tracks. (Courtesy Municipal Authority of Westmoreland County)
---
Water tankers were placed at each end of Atlantic Avenue for residents, and pallets of bottled water were available on a trailer outside the Public Safety Building on Lysle Boulevard.
The chemicals in question are glycol and PFAS — perfluoroalkyl and polyfluoroalkyl substances.
The authority was awaiting test results to see if any PFAS were found in the water supply, but decided to begin flushing the lines in Lower 10th Ward as "a precaution," said Michael F. Kukura, resident manager.
"There's no reason to wait for test results to flush," he said.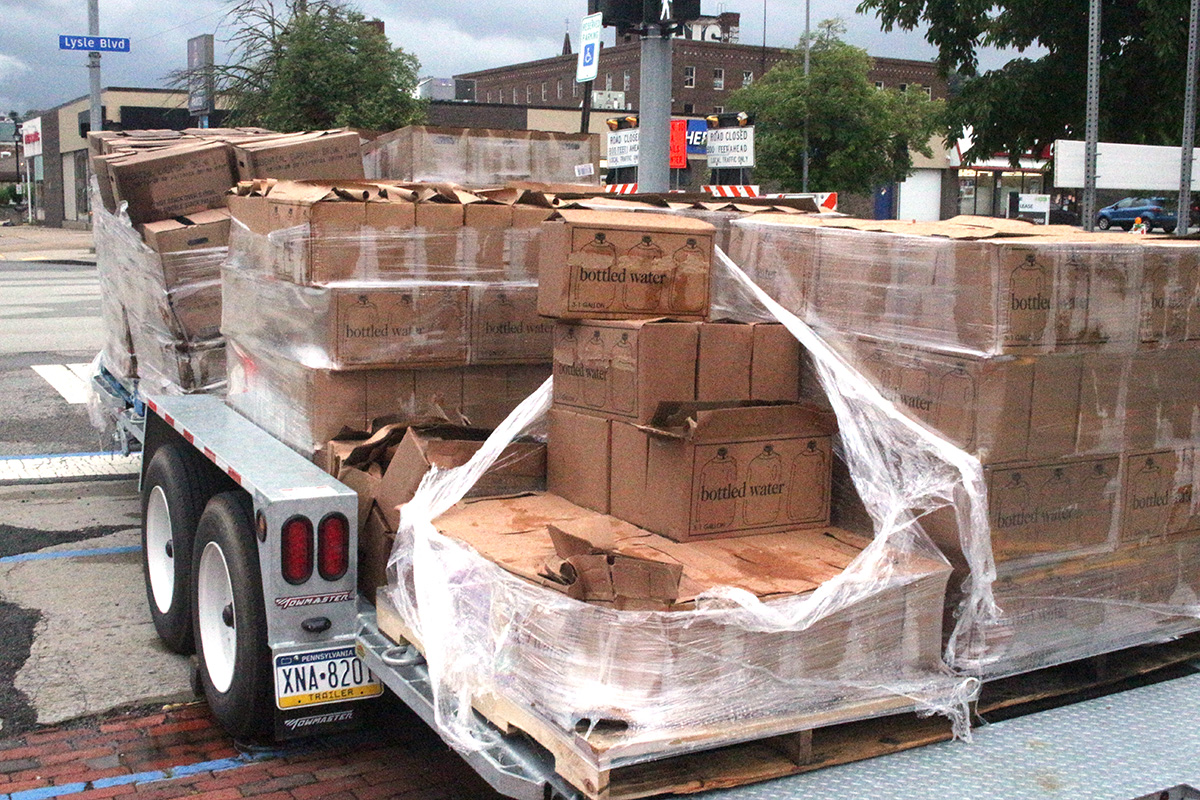 Pallets of bottled water were stationed at the Public Safety Building on Saturday for use by Lower 10th Ward residents. (Tube City Almanac photo)
---
About 500 homes and businesses, mainly those between the Monongahela River and the CSX railroad tracks, were affected, as well as The Elbow Room restaurant.
Water problems plagued firefighting efforts on Friday night. Firefighters drew water from hydrants as well as portable water tanks — so-called "porta-ponds" — that were set up near the fire scene and refilled throughout the evening by tanker trucks that cycled to and from hydrants in Port Vue and Glassport.
Junker said an investigation of how chemicals might have contaminated the water "and a breakdown of issues surrounding the fire is a discussion for another day."
According to the U.S. Environmental Protection Agency, PFAS are found in a variety of consumer products, including cookware, food packaging and stain repellents. They are used in firefighting foam to smother blazes that cannot easily be extinguished with water alone.
However, PFAS also have been linked to health problems, including low infant birth weights, immune and thyroid disorders and cancers.
On Saturday, a large pump near the intersection of Fifth Avenue and Strawberry Way, Downtown, was flushing clean water from one side of the Youghiogheny River into the 10th Ward lines.
On Saturday night, crews reported that a section of water line on the Downtown side of the river was restricted and needed to be replaced.
"We have encountered an older bit of small pipe ... that is restricting flow to 10th Ward from our external pump at Fifth and Water streets, and that's prevented effective flushing," Junker said. "So we are going to replace that piece of pipe overnight and commence with the phased flushing at 9 a.m. tomorrow."
---
Jason Togyer is editor of Tube City Almanac and volunteer executive director of Tube City Community Media Inc. He may be reached at jtogyer@gmail.com.
Originally published July 17, 2021.
In other news:
"Live Power Lines Hamp…" || "Cash's Visit Caps K-8…"