(Advertisement)
Tube City Community Media Inc. is seeking freelance writers to help cover city council, news and feature stories in McKeesport, Duquesne, White Oak and the neighboring communities. High school and college students seeking work experience are encouraged to apply; we are willing to work with students who need credit toward class assignments. Please send cover letter, resume, two writing samples and the name of a reference (an employer, supervisor, teacher, etc. -- not a relative) to tubecitytiger@gmail.com. (4-11-2023 to 4-30-2023)
To place your ad, email tubecitytiger@gmail.com.
Ads start at $1 per day, minimum seven days.
Hundreds remain without drinking water; flushing process underway
By Jason Togyer
The Tube City Almanac
July 17, 2021
Posted in: Announcements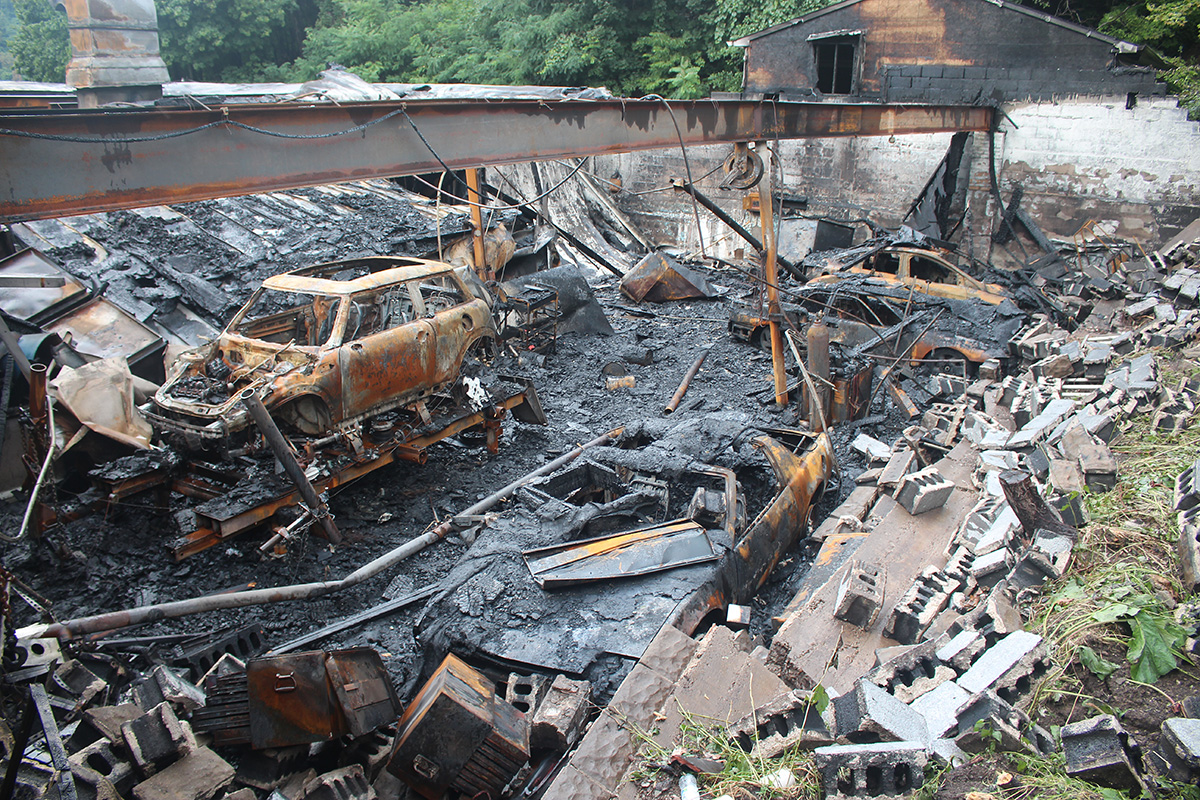 A massive fire on Friday night left behind ruined equipment and cars at a 10th Ward auto repair shop. (Tube City Almanac photo)
---
From her living room on Rebecca Street in the city's 10th Ward, Annette Slivka heard the noise and saw the sparks.
Her son, John Slivka III, who lives next door, was getting ready to order dinner when "all of a sudden, there was an explosion." In the wake of a thunderstorm Friday evening, power lines had fallen onto the roof of McKeesport Auto Body Inc., next to Annette Slivka's home.
The lines were sparking and snapping, John Slivka III said. Eventually, the building was set ablaze — yet firefighting efforts could not begin until the power was shut off, a process that the Slivkas and other sources said took more than 45 minutes.
The resulting fire sent a pillar of black smoke into the air that could be seen for miles, and was battled for hours by firefighters from throughout Allegheny and Westmoreland counties. A Dravosburg volunteer firefighter was treated for heat-related injuries, said Matt Brown, chief of Allegheny County Emergency Services.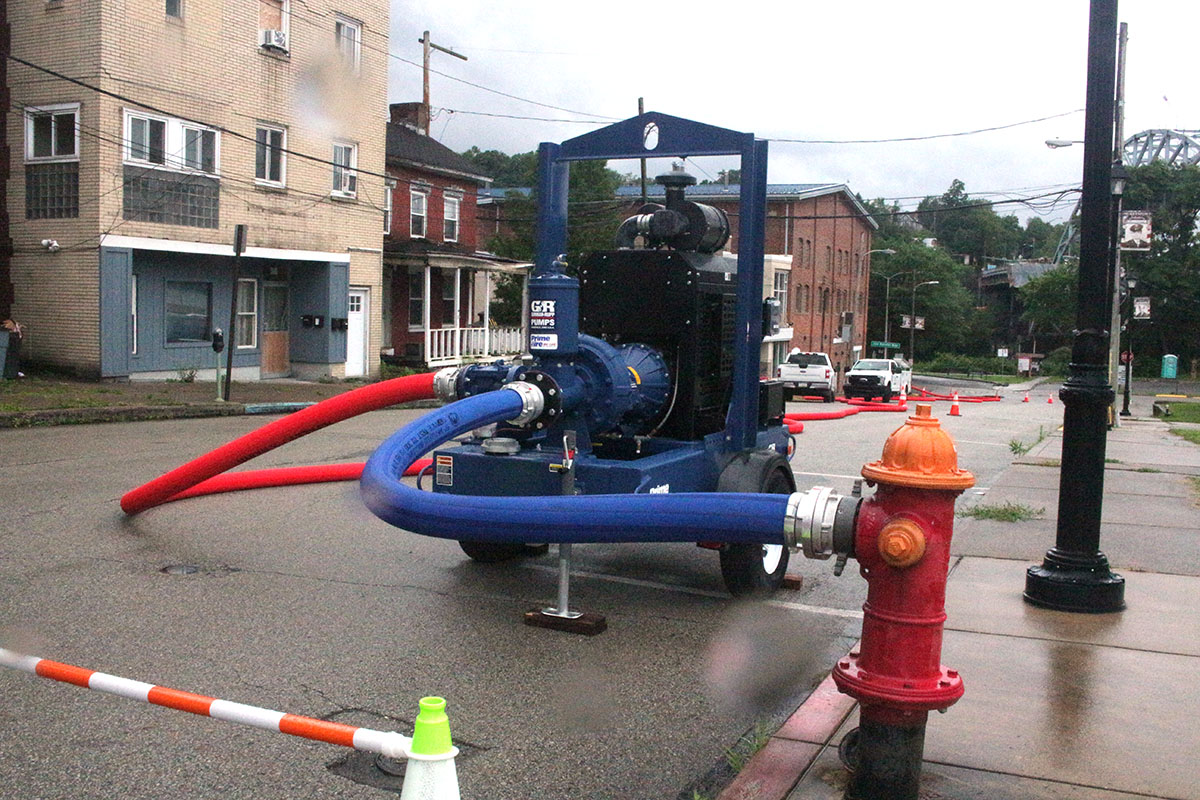 This pump, stationed near the Jerome Avenue Bridge, worked throughout Saturday to flush water lines in Lower 10th Ward. A spokesman for the Westmoreland water authority said the measure was taken as a precaution. (Tube City Almanac photo)
---
Meanwhile, hundreds of residents of 10th Ward were left without drinking water after emergency officials reported that firefighting chemicals might have entered water lines. Water authority crews worked Saturday to flush the system. (See related story.)
The Slivkas and others on Saturday questioned why it took so long for Duquesne Light Co. crews to turn off the power.
"It wasn't the McKeesport Fire Department's fault," Annette Slivka said. "They were here within five minutes. I don't know how they got here — from Renzie Park or (Lysle) Boulevard."
An investigation by the fire marshal's office concluded that a tree branch fell onto pole-mounted power lines that remained energized and contacted the garage roof, Brown said. The fire has been ruled accidental.
"The energized power lines did cause a delay in applying water due to safety," Brown said, but added that McKeesport firefighters would have to confirm how long their efforts were delayed.
McKeesport fire Chief Jeff Tomovcsik was out of town and a fire department spokesman was not immediately available Saturday for comment.
In a statement to Tube City Almanac, Duquesne Light spokeswoman Hollie Geitner said the company was notified about the fire at "approximately 5:30 p.m."
"When DLC first responders arrived, it was discovered that a fallen tree had brought down one of our power lines and a building fire ensued," she said. "DLC de-energized the power line upon arriving so that firefighters could fight the fire."
Geitner did not respond when asked how long it took Duquesne Light crews to arrive at the scene, or whether the fire might have been less severe if those crews had arrived earlier.
Annette Slivka said she called 911 first, then called Tom Borucki Jr., whose late father founded McKeesport Auto Body in 1979. The Slivkas were evacuated from their home a short time later.
Slivka said the family took their dogs and headed to her daughter's house in Pitcairn, but changed their minds and eventually turned around.
"We had gotten as far as Christy Park," John Slivka III said. "By the time we turned around, we could see there was a lot more smoke, and the neighborhood was filling up with black smoke."
Annette Slivka said her home suffered smoke damage, and had heat damage to its exterior siding. She and her husband remained without electricity and water on Saturday and were staying in a hotel while they waited for an electrician to determine if it was safe to return home.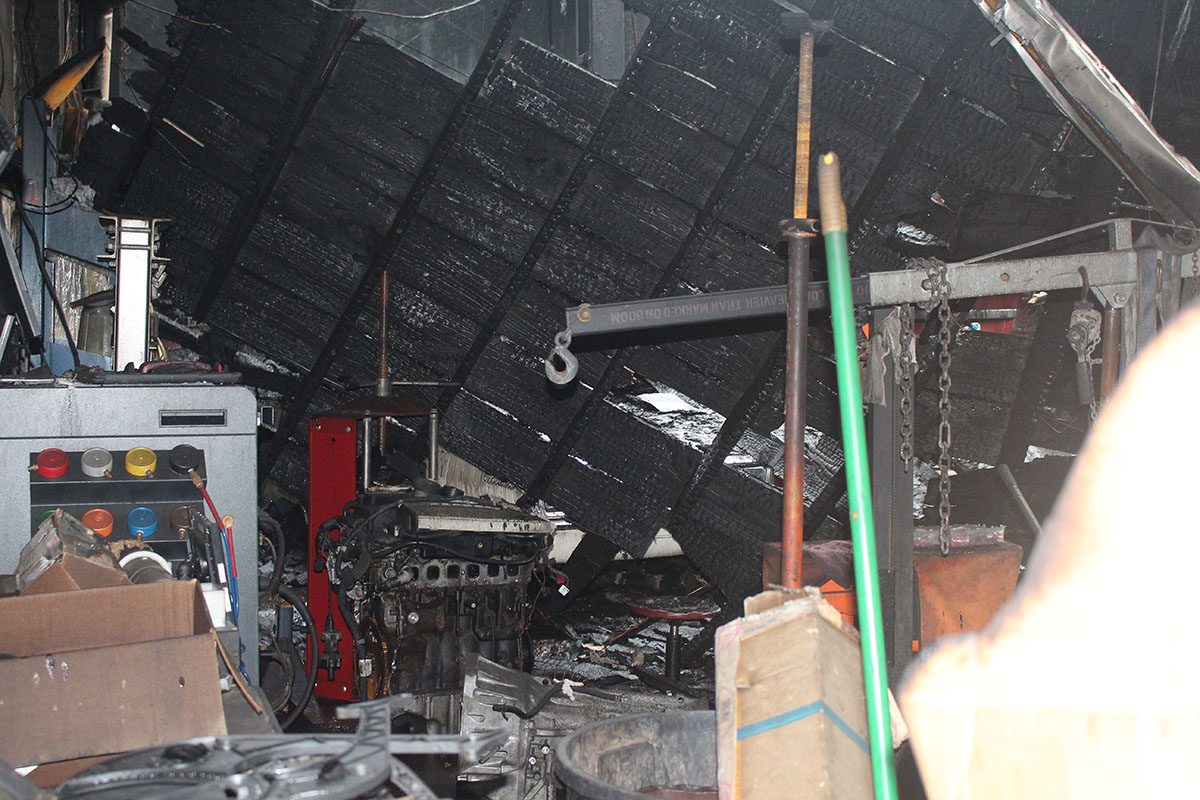 (Tube City Almanac photo)
---
Although three exterior walls of the auto repair shop remained standing on Saturday, most of its roof was gone and the interior contents — including several cars — appeared to be destroyed. Borucki could not be reached for comment on Saturday.
Annette Slivka said the neighborhood had been visited by "rubberneckers" all morning.
The combination of highly combustible materials used in auto repair — paints, greases, solvents and oils — made fighting the fire particularly challenging.
In addition to firefighters from throughout the Mon-Yough area, three of the county's four emergency services divisions responded to the scene, Brown said, including the Emergency Management Division, which monitored the air quality in the neighborhood and water running off from the fire scene.
"Only carbon monoxide was detected at high levels for the early portions of the response," Brown said. "For the most part, smoke conditions were greatly improved once water operations began, and most smoke travelled straight up with light to no wind."
The state Department of Environmental Protection has been notified and will investigate whether any runoff from the fire is a concern, he said.
Annette Slivka said she was left to wonder if things might have been worse if she hadn't been home to call 911 when she did. "It could have taken this whole block out," she said.
---
Jason Togyer is editor of Tube City Almanac and volunteer executive director of Tube City Community Media Inc. He may be reached at jtogyer@gmail.com.
Originally published July 17, 2021.
In other news:
"Water Warning for Low…" || "Water Still Off-Limit…"