(Advertisement)
Tube City Community Media Inc. is seeking freelance writers to help cover city council, news and feature stories in McKeesport, Duquesne, White Oak and the neighboring communities. High school and college students seeking work experience are encouraged to apply; we are willing to work with students who need credit toward class assignments. Please send cover letter, resume, two writing samples and the name of a reference (an employer, supervisor, teacher, etc. -- not a relative) to tubecitytiger@gmail.com. (4-11-2023 to 4-30-2023)
To place your ad, email tubecitytiger@gmail.com.
Ads start at $1 per day, minimum seven days.
City among top 5 locations in county with highest rates; West Mifflin at No. 7
By Jason Togyer
The Tube City Almanac
July 21, 2021
Posted in: McKeesport and Region News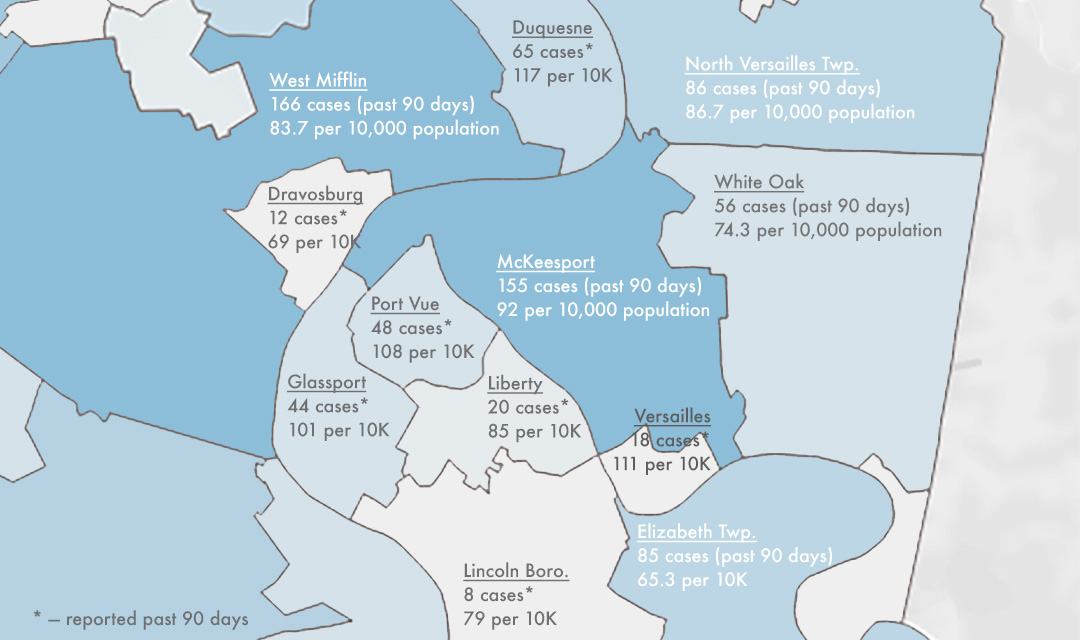 Areas of darker colors show a higher number of positive COVID-19 tests over the past 90 days. Over the past three months, McKeesport has had the fifth-highest number of COVID-19 cases in Allegheny County. (Data courtesy Allegheny County Health Department)
---
As COVID-19 cases begin to rise again in Allegheny County, the health department has warned residents that although we may be done with the pandemic, the pandemic is not done with us.
Seventy new cases of COVID-19 were reported Monday and 55 on Tuesday, said Dr. Debra Bogen, director of the Allegheny County Health Department.
Health department data also indicates that over the past 90 days, McKeesport has had the fifth-highest number of COVID-19 cases in Allegheny County. West Mifflin is No. 7.
"Although these numbers remain significantly lower than during the spring surge, it is a notable increase from the 10 to 15 daily cases in June and early July, and a stark reminder that this virus is not done with us," Bogen said Wednesday.
---
Bogen blamed the uptick in new cases on the so-called "Delta variant" of the SARS-CoV-2 coronavirus that causes COVID-19.
The Delta variant, first detected in India in December 2020, is much more contagious that previous strains of the virus, health experts have said.
The Delta variant is also being blamed for a new wave of COVID-19 cases that is currently overwhelming hospitals in Florida, which is now seeing more infections — 6,500 per day — than it has in months.
One in five of the nation's new COVID-19 infections is in Florida, according to published reports, and virtually all of the hospitalizations and deaths are among people who have not been fully vaccinated against COVID-19.
---
Bogen said evidence so far suggests that existing COVID-19 vaccines do offer protection against the Delta strain of SARS-CoV-2.
Although fully vaccinated people can still get sick from the Delta variant, she said, so far, their cases of COVID-19 are less severe than those in people who are unvaccinated.
In Florida, according to data from that state, only 6 percent of all new COVID-19 cases are among people who have been vaccinated.
Bogen urged all county residents to take advantage of one of the free COVID-19 vaccines currently being offered. The Allegheny County Health Department is currently offering the Janssen/Johnson & Johnson vaccine and Moderna vaccines for people age 18 and older, and the Pfizer vaccine for people ages 12 and older.
---
Meanwhile, county data continues to indicate that communities with higher percentages of poorer and older residents continue to be harder hit by COVID-19 than wealthier municipalities.
Over the past three months, McKeesport has had the fifth-highest number of new COVID-19 cases in the county, according to health department data. West Mifflin is No. 7.
The top four communities are Penn Hills, Monroeville, Bethel Park and Plum.
North Versailles Twp. is No. 24, Duquesne is No. 34 and White Oak is No. 42.
When ranked by the number of cases per 10,000 population, McKeesport fares better — No. 38 — but many Mon Valley communities are in the top 20, including Braddock (No. 3), East Pittsburgh (No. 8), Homestead (No. 16), Duquesne (No. 18) and Wilmerding (No. 19).
Versailles is No. 23 in the number of cases per 10,000 population, and Port Vue is No. 25.
McKeesport is eighth overall in the number of COVID-19 deaths since the pandemic began, the health department said. Fifty-five deaths of city residents have been attributed to the disease.
---
People who are not vaccinated and also are not taking precautions are helping the Delta variant to spread, Bogen said.
"Give the virus an opening, and it will enter," she said. "Unfortunately, we are giving it an opening, not only here, but across the country."
New cases have been traced to indoor gatherings where people were not wearing masks or social-distancing, Bogen said, including a private charter plane flight, a crowded boat cruise, a public game of bingo, sporting events, Fourth of July parties and a music recording session.
---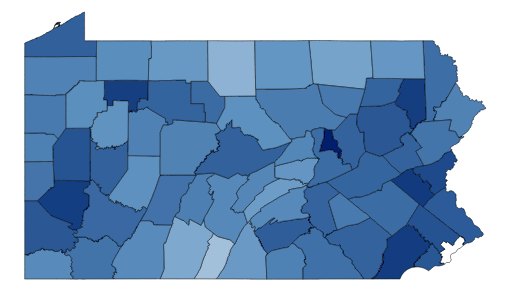 Allegheny is among the top four counties in Pennsylvania for the percentage of residents vaccinated against COVID-19. The top 3 are Montour, Chester and Lehigh, all in the eastern part of the state. (Pennsylvania Department of Health map.)
---
There is some good news to report on the vaccination front.
Allegheny County is in the top four counties for the percentage of vaccinated residents, according to the Pennsylvania Department of Health. About 61 percent of Allegheny County residents are now fully vaccinated, as are 49 percent of Westmoreland County residents; 67 percent of Allegheny County residents have received at least one dose of a vaccine.
But there continues to be a racial divide. Among Black residents of Allegheny County, only 34 percent have been fully vaccinated, state data indicates, compared to 54 percent of white residents.
Allegheny County has "ample vaccine, as do our healthcare partners," said Bogen, who urged all residents who are able to get a COVID-19 vaccination to do so.
Vaccinations can be scheduled online at https://vax4.alleghenycounty.us/, or by calling the United Way at 2-1-1.
---
Jason Togyer is editor of Tube City Almanac and volunteer executive director of Tube City Community Media Inc. He may be reached at jtogyer@gmail.com.
Originally published July 21, 2021.
In other news:
"Former City Man Indic…" || "Make-Up Business Day …"