(Advertisement)
Tube City Community Media Inc. is seeking freelance writers to help cover city council, news and feature stories in McKeesport, Duquesne, White Oak and the neighboring communities. High school and college students seeking work experience are encouraged to apply; we are willing to work with students who need credit toward class assignments. Please send cover letter, resume, two writing samples and the name of a reference (an employer, supervisor, teacher, etc. -- not a relative) to tubecitytiger@gmail.com. (4-11-2023 to 4-30-2023)
To place your ad, email tubecitytiger@gmail.com.
Ads start at $1 per day, minimum seven days.
By Submitted Report
The Tube City Almanac
July 23, 2021
Posted in: Announcements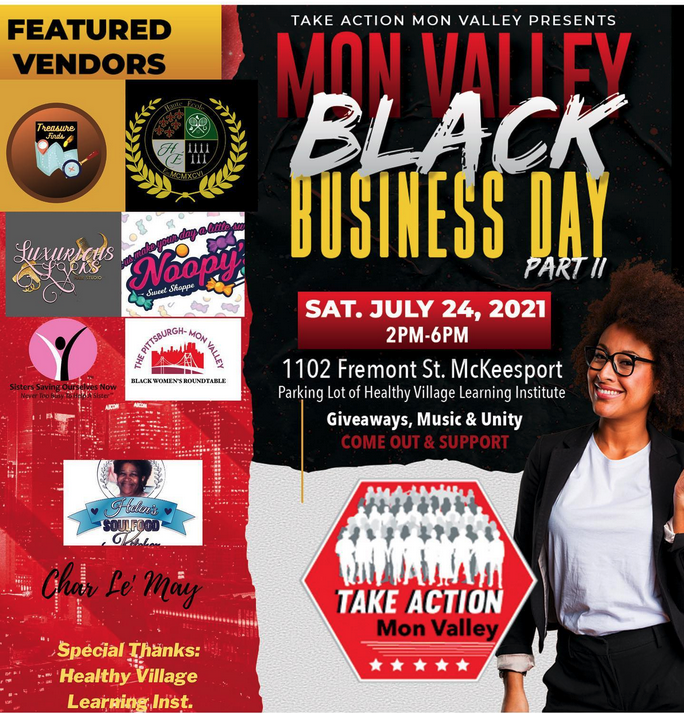 Due to inclement weather, last Saturday's Black Business Day in McKeesport was cut short, so organizers are holding a second event tomorrow (July 24).
The event is scheduled from 2 to 6 p.m. in the parking lot of the Healthy Village Learning Institute, 1102 Fremont St., just off Versailles Avenue.
A limited number of spots are available for exhibitors. For details, visit Take Action Mon Valley on Facebook.
Originally published July 23, 2021.
In other news:
"COVID Cases Up, Healt…" || "Water Advisory Lifted…"