(Advertisement)
Tube City Community Media Inc. is seeking freelance writers to help cover city council, news and feature stories in McKeesport, Duquesne, White Oak and the neighboring communities. High school and college students seeking work experience are encouraged to apply; we are willing to work with students who need credit toward class assignments. Please send cover letter, resume, two writing samples and the name of a reference (an employer, supervisor, teacher, etc. -- not a relative) to tubecitytiger@gmail.com. (4-11-2023 to 4-30-2023)
To place your ad, email tubecitytiger@gmail.com.
Ads start at $1 per day, minimum seven days.
Environmental group questions use of 'class B' firefighting foam, blamed for contamination
By Jason Togyer
The Tube City Almanac
July 23, 2021
Posted in: McKeesport and Region News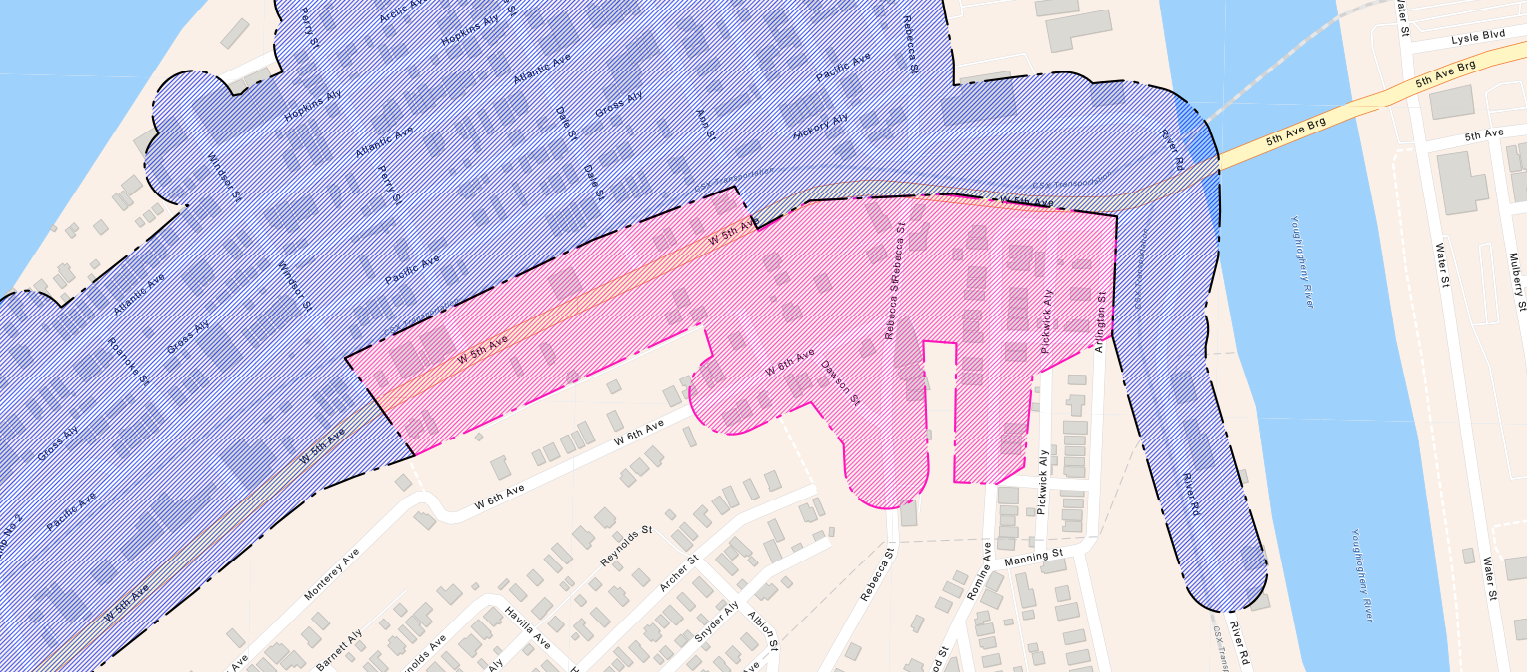 Residents in the affected area (see red area on map) have been advised to continue not to use the tap water for any purpose other than flushing toilets. Residents in the purple area have been told they can resume water use as normal. (Municipal Authority of Westmoreland County map)
---
A "do not drink" water advisory remains in effect for some residents of the city's 10th Ward after traces of firefighting foam were found in water samples there. About 30 homes and businesses are affected.
However, the advisory has been lifted for most of the neighborhood, said Matt Junker, spokesman for the Municipal Authority of Westmoreland County.
Meanwhile, an environmental group that has collaborated with McKeesport residents to test soil for lead contamination on Friday questioned why fire departments continue to use foams containing so-called PFAS — chemicals linked to low birth weight, nervous system and thyroid disorders and some types of cancers.
On Friday afternoon, Junker said further water line flushing and testing will be needed for a small section of 10th Ward near the scene of a large fire July 16.
During that fire, which involved an auto repair shop and a variety of chemicals and paints, emergency personnel believe that firefighting suppressant foam was accidentally sucked into a hydrant, contaminating part of the water supply.
"Results from a round of flushing and testing Wednesday indicate that constituents from fire fighting foam did enter the water system," Junker said. "Evidence of these contaminants was detected in the area that continues under the Do Not Use notice."
MAWC has said the water should only be used for flushing toilets — not for drinking, cooking, bathing or showering, washing dishes or washing clothes. Boiling the water or letting it "settle" does not remove the chemicals, the authority has said.
Junker said it may be necessary to enter customers' homes to continue flushing the water system. MAWC has said that if someone wants to enter a residents' home, residents should ask to see their official ID from the water authority.
"We will continue to drive samples to an accredited lab in Lancaster to speed testing and receipt of results, but these tests can take days," Junker said. "We would like to thank residents for their patience as we work to safely resolve this situation as quickly as possible.
The foam used at the July 16 fire at McKeesport Auto Body on Rebecca Street was supplied by a truck from Pittsburgh International Airport and is so-called "Class B foam," which contains chemicals that smother fires that are not easily put out by water.
On Friday, Michelle Naccarati-Chapkis, executive director for Women for a Healthy Environment, based in Pittsburgh's East End, suggested that fire departments should reconsider their use of Class B foam, which contains perfluoroalkyl and polyfluoroalkyl substances, or PFAS.
According to the U.S. Environmental Protection Agency, "both chemicals are very persistent in the environment and in the human body — meaning they don't break down and they can accumulate over time."
PFAS also are used in commercial household products, including stain- and water-repellent fabrics, non-stick cookware, some polishes, waxes and paints, and cleaning products, according to the EPA.
"PFAS are linked to cancer, high cholesterol, thyroid hormone disruption, low birth weights and many other health issues," Naccarati-Chapkis said. "How long must we put our communities at risk until we ban this foam?"
Class B foam is popular for extinguishing fires caused by gasoline, oil and jet fuel, said Abdul Alobireed, who studied water treatment at the University of Pittsburgh's Graduate School of Public Health.
But Alobireed, who is serving as an environmental health fellow for Women for a Healthy Environment, said Friday that "safer, reliable alternatives exist" to Class B foams, also called aqueous-film forming foams, or A-FFF.
"With safer alternatives in hand, regulatory protections must be enacted to ban the use of A-FFF foams and protect local drinking water sources," he said.
WHE has called on state regulators to ban the use of Class B foams, said Stacy Skiavo, a group spokesperson.
Four states — Connecticut, California, Washington and New York — already ban firefighting foams containing PFAS, she said. This week, the U.S. House of Representatives passed legislation that would require stricter federal regulation of the use of PFAS and their presence in drinking water.
The bill, the PFAS Action Act of 2021, was supported by all Democrats and 23 Republicans. U.S. Rep. Guy Reschenthaler, Republican from Jefferson Hills, voted against it, while U.S. Rep. Mike Doyle, Democrat from Forest Hills, did not vote. The bill now goes to the U.S. Senate.
Skiavo said WHE is recommending that fire training academies and fire stations "immediately find safer alternatives and voluntarily halt the use of Class B Foam in training exercises to prevent occupational exposure and in fire suppression to protect the public's health."
Junker said the water authority is working closely with state regulators to determine the next steps in flushing and testing the water supply for the affected homes and businesses.
A tanker supplying drinking water and bottled water have been moved to the parking lot of The Elbow Room restaurant at the corner of West Fifth Avenue and Rebecca Street, Junker said.
Water deliveries for shut-ins and disabled can be arranged by calling the McKeesport Fire Department at (412) 675-5021.
Showers for residents of the affected area are available at McKeesport Area High School, 1960 Eden Park Blvd., between 6 a.m. and 8 p.m. In cooperation with the City of McKeesport, shuttle buses to those showers are running daily between 9 a.m. and 12 noon, and between 3 and 7 p.m.
Buses will make pickups at the corner of West Fifth and Rebecca at 9 a.m., 10 a.m., 11 a.m., 3 p.m., 4 p.m., 5, p.m., and 6 p.m. Any children must be accompanied by an adult, Junker said.
---
Jason Togyer is editor of Tube City Almanac and volunteer executive director of Tube City Community Media Inc. He may be reached at jtogyer@gmail.com.
Originally published July 23, 2021.
In other news:
"Make-Up Business Day …" || "Second Teen Charged i…"