(Advertisement)
Tube City Community Media Inc. is seeking freelance writers to help cover city council, news and feature stories in McKeesport, Duquesne, White Oak and the neighboring communities. High school and college students seeking work experience are encouraged to apply; we are willing to work with students who need credit toward class assignments. Please send cover letter, resume, two writing samples and the name of a reference (an employer, supervisor, teacher, etc. -- not a relative) to tubecitytiger@gmail.com. (4-11-2023 to 4-30-2023)
To place your ad, email tubecitytiger@gmail.com.
Ads start at $1 per day, minimum seven days.
White Oak's Rainbow company wraps up recruiting week
By Sarah Turnbull
The Tube City Almanac
August 12, 2021
Posted in: White Oak News

Members of Rainbow Volunteer Fire Co. relax after a parade in Pitcairn in 2018. (Rainbow Volunteer Fire Co. via Facebook)
---
After 19 years as a firefighter, Brandon Schmidt knows how volunteering can strengthen the bonds between neighbors.

"My dad has been here for over 40 years. The satisfaction you gain can't be put into words or a dollar value," said Schmidt, chief of White Oak's Rainbow Volunteer Fire Co.
One of two volunteer fire departments in the borough, Rainbow recently wrapped up its recruitment week.
Schmidt leads a team of 42 active volunteers from ages 19 to 89, along with eight to 10 associates. The volunteers handle everything from fighting fires to raising funds.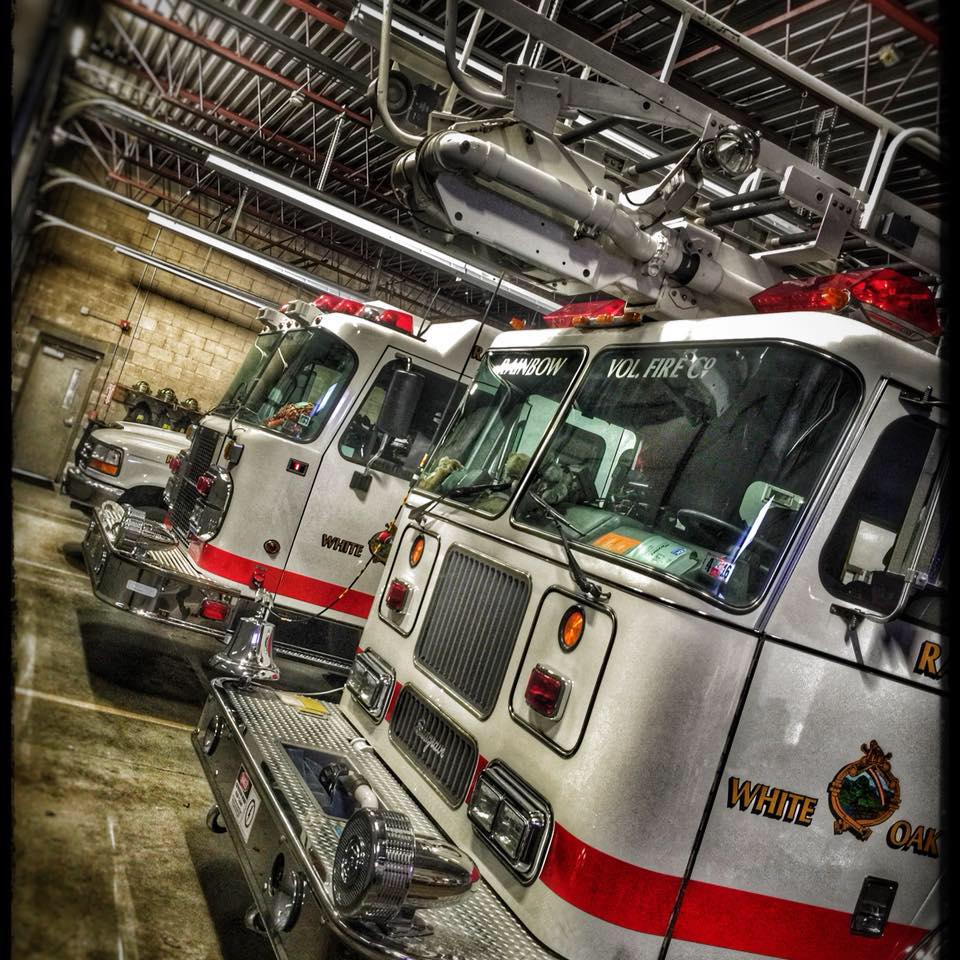 (Rainbow Volunteer Fire Co. via Facebook)
---
Unlike paid fire companies, the members of the Rainbow Volunteer Fire Co. are not at the station 24/7. Volunteers are alerted to emergencies via pager or through an app.
Assistant chief Rick Worrall believes this need for vigilance helps to instill high standards in the team.
"You can never tell what's going to happen. We're pretty busy all year, and there's always a level of uncertainty. You have to have a greater level of professionalism because of that," Worrall said.
Worrall has worked as a firefighter for 47 years. Before joining Rainbow in 2006, he served at a fire station in North Versailles Twp. He says the fire service, and volunteering in general, has changed over time.
"The fire service is always changing with the times. In 1975, North Versailles had 120 volunteers. When I left, they had 30. It's challenging to find good people because volunteering across the board is down."
But Schmidt remains optimistic.
"We do a lot for our volunteers. We take an interest in their personal lives. I would like to see more people join the company and get the feelings of pride and accomplishment that I did."
Worrall agreed: "It adds a personal touch to the town."
Wanting to give back to the community is a popular motivation for joining the fire service. Line officer Thomas Manges has been with Rainbow for nine years. He was inspired to join the fire service after seeing his older brother and his friends' work.
"I liked the social aspect of it. We have a diverse group, and there's a lot of opportunities to network. And I love the idea of serving. There's only a few degrees of separation between me and the people I'm helping," Manges said.
To join a volunteer fire department such as Rainbow, applicants must submit a background check and child abuse clearance, along with completing a required number of firefighting courses offered by the state. And the benefits of joining the service last a lifetime.
"Joining the fire service is a good option for someone who doesn't want to do a four-year program. We have contacts with guidance counselors at the local high school, and Allegheny County offers scholarships through CCAC. A lot of our volunteers have moved into paid firefighting, law enforcement, nursing, or EMS. We have a good crop of people," Schmidt said.
A trauma nurse by day, Tina Salopek joined the fire service because she wanted to help the town where she was born and raised. After eight years as an interior firefighter, she is working towards her certification in Heavy Rescue. She says the bonds between firefighters have no gender.
"The people kept me here," Salopek said. "You form a brother/sisterhood that just can't be described. And we do everything the guys do. Even if I moved out of this town, I would never leave this people."
Both Schmidt and Worrall agree that the fire service has evolved over the years — but, they admit, the changing times have proved challenging.
Worrall said, "In the old days, you would get a lot of shift workers coming in from the mill. If you lived in a small community, you felt that you had to help. I can see a trend coming, and I want to stop it."
Schmidt agreed. "Whatever the fire service looks like in 10 or 20 years, those intangible feelings of pride and accomplishment will still be there. I owe it to the next generation to pass that on."
What advice do these veteran firefighters have for potential volunteers?
"You can get something from this. It's not just us asking things of you. The satisfaction you gain from volunteering can't be measured or put into words," Schmidt said.
Manges said, "Being in the fire service has taught me how to use the proper tools for a job, and how to apply critical thinking to real life. I would say do it — there's always something you can do, no matter what."
Volunteer firefighting taught Salopek to "attack your fears. Don't let anyone underestimate you just because you're a woman. There will always be people to support you."
---
For more information about volunteering with White Oak's Rainbow Volunteer Fire Co., call (412) 664-9523 or email rainbowvfc@comcast.net. Sarah Turnbull is a freelance writer in Irwin. She can be reached at sarahturnbull323@gmail.com.
Originally published August 12, 2021.
In other news:
"ICYMI: International …" || "Authority Lifts Water…"