(Advertisement)
Tube City Community Media Inc. is seeking freelance writers to help cover city council, news and feature stories in McKeesport, Duquesne, White Oak and the neighboring communities. High school and college students seeking work experience are encouraged to apply; we are willing to work with students who need credit toward class assignments. Please send cover letter, resume, two writing samples and the name of a reference (an employer, supervisor, teacher, etc. -- not a relative) to tubecitytiger@gmail.com. (4-11-2023 to 4-30-2023)
To place your ad, email tubecitytiger@gmail.com.
Ads start at $1 per day, minimum seven days.
MAWC has spent 'six figures' on recovery, but won't say who's to blame
By Jason Togyer
The Tube City Almanac
August 13, 2021
Posted in: McKeesport and Region News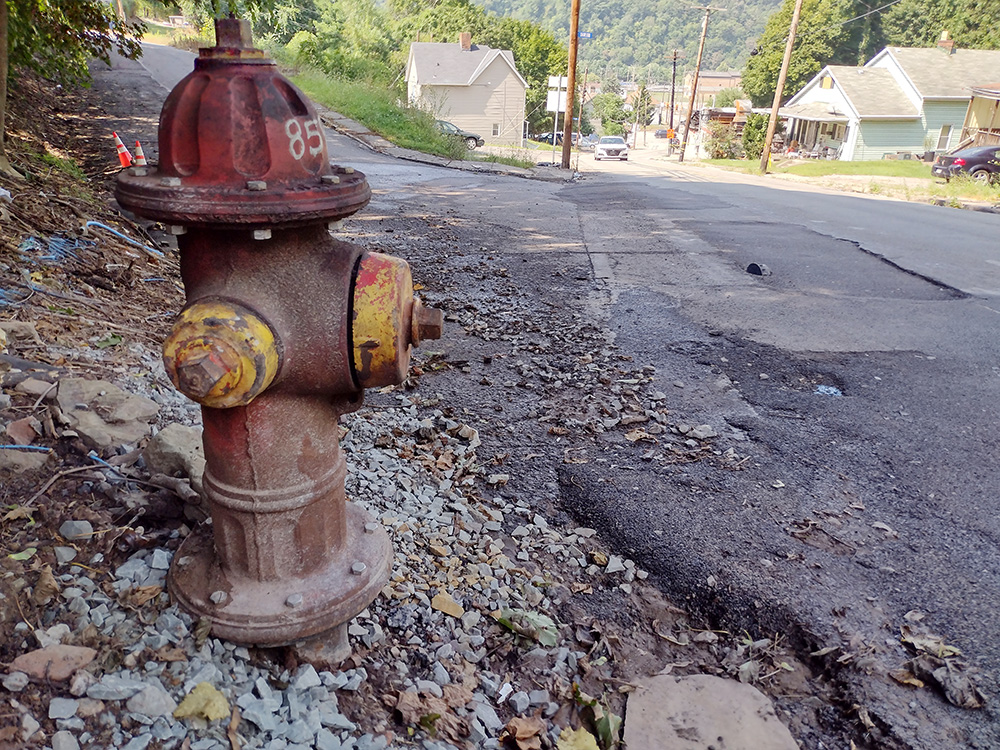 Despite three recently repaired holes in Rebecca Street and shiny new bolts on this fire hydrant near McKeesport Auto Body — site of a massive fire on July 16 — officials of the Municipal Authority of Westmoreland County will not confirm or deny they have done any work in the area. (Tube City Almanac photo)
---
Almost a month after a massive fire destroyed a McKeesport car-repair shop, the water authority serving the city has lifted the final restrictions on drinking water in the area.
In giving five homeowners the "all clear" on Thursday to resume using their water, the Municipal Authority of Westmoreland County also hinted that it will take legal action to recover what it called the "excessive" costs of dealing with the contamination of the water supply in parts of the lower 10th Ward.
But when pressed on who or what the authority wants to hold responsible, a spokesman refused to answer questions.
"I have told you all I have to say on this issue today," Matt Junker, authority spokesman, told Tube City Almanac on Thursday afternoon.
---
In a statement issued Thursday, the water authority's resident manager, Michael F. Kukura, said the contamination of the drinking water supply with chemicals from firefighting foam "didn't need to happen."
"Our customers should not have been subjected to this level of inconvenience and concern, and the cost in time and money to resolve this issue was excessive," Kukura said.
On July 17, emergency personnel alerted the water authority that chemicals from firefighting foam may have inadvertently mixed with water at one of the fire hydrants near the blaze. The chemicals, known as PFAS, have been linked to low birth weight, nervous system and thyroid disorders and some types of cancers.
A "do not use" advisory was issued for more than 200 homes. Following multiple rounds of tests and weeks of flushing the water system, the advisory was reduced to just five homes.
That remaining advisory was lifted on Thursday.
---
When asked whether Kukura was faulting the dozens of fire companies and hundreds of firefighters who responded to the July 16 blaze, Junker would answer with only one word: "No."
Kukura's statement left McKeesport officials puzzled.
McKeesport Mayor Michael Cherepko said Allegheny County officials recommended the use of firefighting foam — brought in from Pittsburgh International Airport with a county police escort — after fire hydrants near the blaze produced little to no water.
"Obviously, the situation was a very unfortunate one," Cherepko said Thursday. "Being that the hydrants did not have enough water to fight the fire, the local and county authorities thought that, without question, the best route to get the fire under control was the foam."
---
The blaze at McKeesport Auto Body on Rebecca Street broke out after a storm brought high-voltage power lines down onto the roof of the building. Fire investigators said it took nearly an hour for the power to be shut off.
Water tankers from fire companies throughout Allegheny and Westmoreland counties shuttled to and from the scene as firefighters worked to bring the blaze under control.
---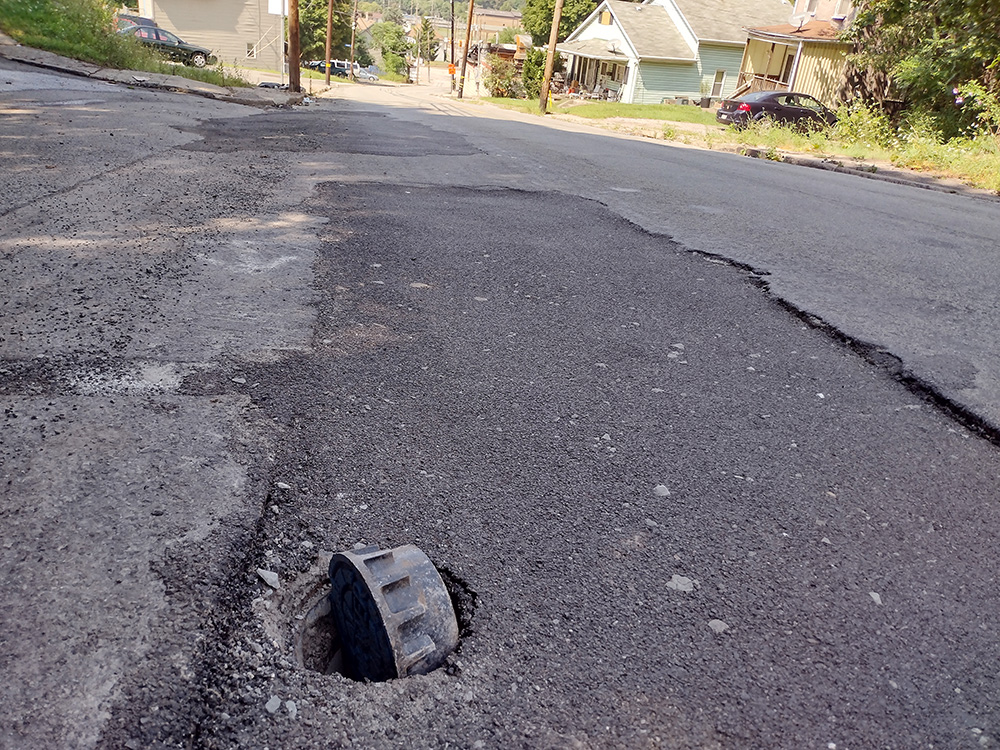 Evidence of three recent street-openings — and a loose fitting over a water authority shut off valve — are visible in Rebecca Street. Part of West Sixth Avenue also was dug up, though it was unclear whether that work was done by the water authority. (Tube City Almanac photo)
---
Since the fire, MAWC crews have been seen working in the area and have dug up parts of Rebecca Street, including around the fire hydrant nearest to McKeesport Auto Body.
On Thursday, Junker would not confirm or deny the authority has made any repairs to the water lines or the hydrants.
In addition, a water line in the Portsmouth Drive area of Port Vue reportedly broke on July 16, apparently as fire departments were filling tankers from a hydrant in the area.
But the water authority has refused to confirm or deny the water line broke, or say what might have caused it.
---
In an emailed statement Thursday, Junker said the water authority is totalling up the cost of "staff time, equipment, power, bottled water purchases and other expenses" and implied that the agency would be seeking redress.
He would not answer whether the authority is planning legal action against the makers of the firefighting foam, Duquesne Light or some other party, but said it was not accurate to infer that the authority was blaming firefighters.
"I can say that tests alone have cost more than six figures. And there are still lab services rendered that have yet to be billed to us," Junker said in an email to Tube City Almanac. "We are not yet in a position to say how a failure occurred, but our solicitor is advising us of next steps."
---
McKeesport fire officials have complained for years that the water authority's hydrants throughout the city are inadequate. Tanker trucks from fire departments in Lincoln Borough, Rostraver Twp. and other communities are routinely dispatched to structure fires in parts of the city.
In 2018, the Westmoreland water authority spent a reported $843,000 to install 3,300 feet — more than a half-mile — of new 12-inch water line in the Grandview neighborhood of the city to feed fire hydrants.
But the authority has repeatedly refused to answer questions about whether they are even aware of complaints made by McKeesport officials over fire hydrants in the city.
In response to a right-to-know act request filed by Tube City Community Media in 2018, the authority claimed it had no record of any emails, faxes, phone calls or letters between the authority and the McKeesport Fire Department or McKeesport city officials regarding fire hydrants.
Neither Junker nor Kukera responded to a follow-up message from the Almanac on Friday seeking clarification.
---
Jason Togyer is editor of Tube City Almanac and volunteer executive director of Tube City Community Media Inc. He may be reached at jtogyer@gmail.com.
Originally published August 13, 2021.
In other news:
"Volunteer Firefighter…" || "Attendees Delighted a…"