To place your ad, email tubecitytiger@gmail.com. Ads start at $1 per day, minimum seven days.
By Kristen Keleschenyi
The Tube City Almanac
August 25, 2021
Posted in: North Versailles Twp. News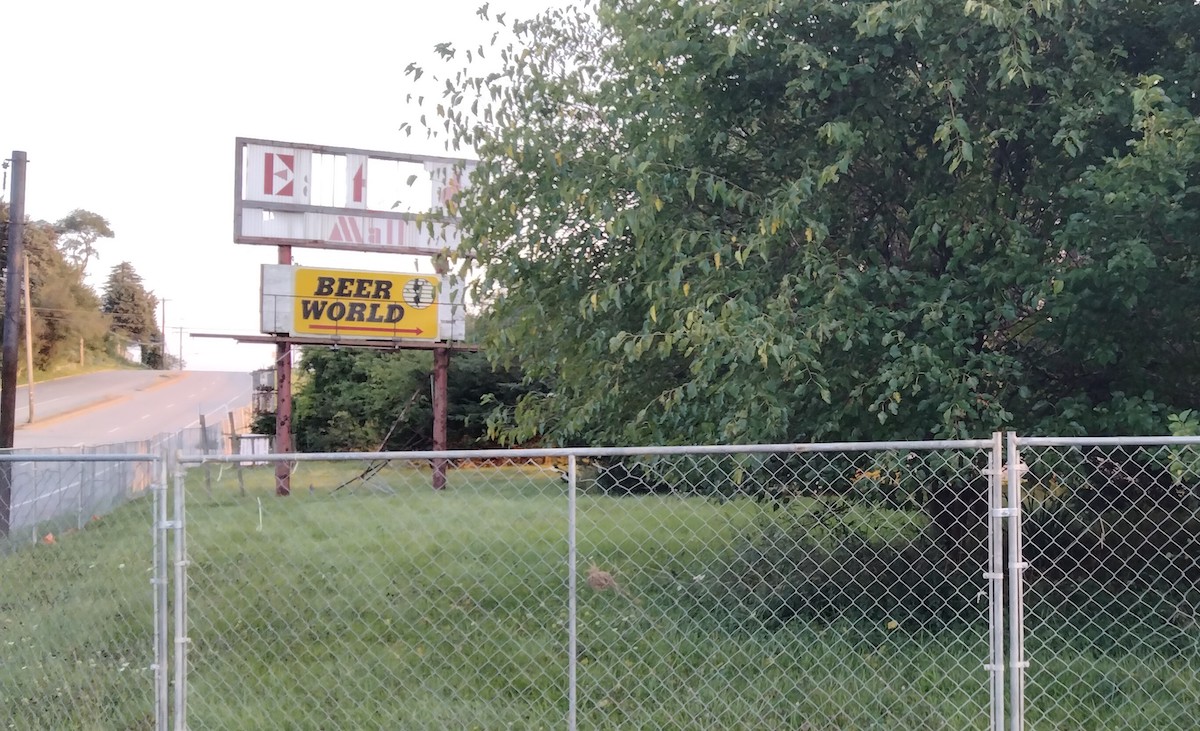 Safety fencing has gone up around the former site of Eastland Mall in North Versailles Twp. (Kristen Keleschenyi photo for Tube City Almanac)
---
Work has begun on an Amazon.com, Inc., warehouse facility at the former Eastland Mall site in North Versailles Twp.
Fences have gone up around the site on East Pittsburgh-McKeesport Boulevard where the one-time shopping mall stood from 1963 to 2007.
Although Trammell Crow Co., the real estate developers working on the site, have declined to confirm that Amazon will be the new tenant, North Versailles commissioners referred to Amazon by name during their recent meeting.
One commissioner, asked whether it was OK to report that Amazon was coming to the township, replied, "Absolutely. Dig Amazon dig!"
The project was supposed to begin this past spring, but there were delays acquiring the necessary permits. Township Solicitor Greg Evashavik told commissioners that an agreement has been reached with the local developer, TC Pittsburgh Development Associates LLC.

"I've been dealing with the developer's attorney and we've come to an agreement on the terms of the developer's agreement, which is necessary for the development of the site location," Evashavik said.
For the past few weeks, heavy equipment could be seen coming to and from the site. Crews also have begun clearing weeds and growth that have taken over the shopping center parcel.
James Murray-Coleman, senior vice president for Trammell Crow Co., said the site is being fenced off for everyone's protection.
With the property being vacant for so long, some local residents had began using the site as a makeshift green space for recreational activities, while others used the space as a dumping ground.
"The site is a dangerous place to walk, run or bike, and for the security of the project and the safety of others, we have erected the fence you see today," Murray-Coleman said.

When the warehouse project was first proposed back in December of 2020, the project was expected to be complete in early 2022.
It is unclear how the permit delays have affected this timeline, but construction is expected to take 12 to 14 months, with an opening possibly toward the late summer or fall of 2022.
Township officials said the facility is expected to create approximately 500 jobs, paying $15 an hour with benefits.
Originally published August 25, 2021.
In other news:
"NAMI McKeesport Sets …" || "COVID-19 Vaccination …"