To place your ad, email tubecitytiger@gmail.com. Ads start at $1 per day, minimum seven days.
Homes in city, NV Twp., White Oak among targets
By Staff Reports
The Tube City Almanac
September 07, 2021
Posted in: McKeesport and Region News, North Versailles Twp. News, White Oak News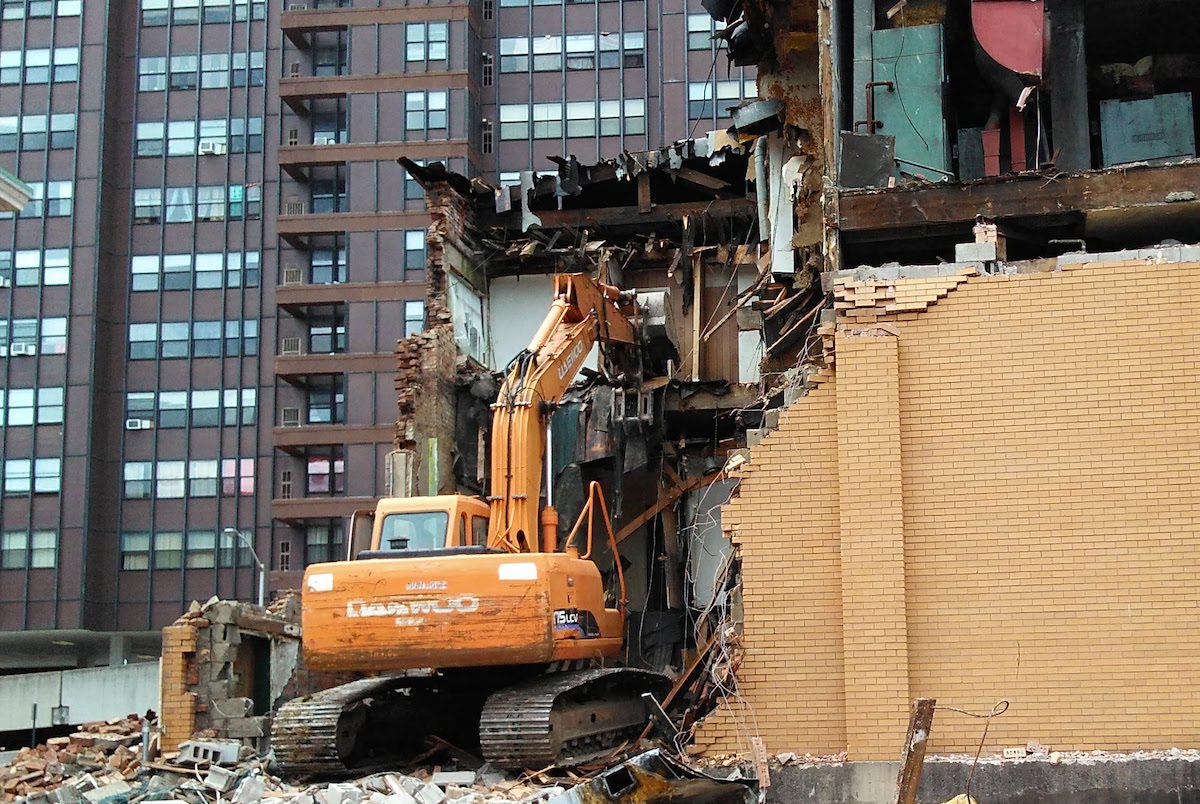 Demolition crews made short work of this abandoned building in Downtown McKeesport in 2018. (Tube City Almanac file photo for illustration only)
---
More than $1.9 million in economic development funding has been awarded across Allegheny County to demolish blighted, abandoned and unsafe structures, a county spokeswoman said, including 10 in the city and two each in White Oak and North Versailles Twp.
The grants, averaging $62,000, were awarded both to municipal governments as well as councils of government, county officials said.
Emphasis was placed on neighborhoods where clusters of vacant properties were in close proximity.
The funds are provided under Act 152, a 2016 state law that allows each Pennsylvania county to collect a fee for "blight removal" each time a deed or mortgage is recorded at the courthouse.
In the Mon-Yough area, grants have been provided to demolish the following properties:
City of McKeesport: 1612, 1614, 1618, 1704, 1706, 1712, 1714, 1900, 1911 A & B Beaver St., 1730 Willow St.
Glassport: 725 Ohio Ave., 743 Vermont Ave., 403 Erie St.
North Versailles Twp.: 118 and 224 James St.
Steel Rivers Council of Governments: Eight properties (Homestead, 4; Munhall, 2; West Homestead, 2)
White Oak: 2717 and 2736 Laurel Lane
Wilmerding: 428 Airbrake Ave., 126 and 128 Middle Ave.
County officials said 60 applications were received by Allegheny County Economic Development in response to the Act 152 Demolition Fund notice that was issued in March of this year.
The applications, from 59 municipalities, requested $7,660,255 to demolish 375 structures.
Applications also included requests for funding for a study (awarded in Wilkinsburg), one multi-municipal application, and four applications for large single-building demolitions. The total awards account for 86 percent of the fund balance, with the remaining funds being dedicated for emergency applications or, if unneeded, future funding rounds.
County Executive Rich Fitzgerald said Allegheny County Councilman Bob Macey, District 9, has been "championing" communities in his Mon Valley district to use Act 152 funding.
Act 152 allows counties to assess a fee not to exceed $15 on each deed or mortgage that is recorded at the courthouse. The law will expire in 2027.
"There has been a tremendous need for blight remediation throughout the county, and this program has allowed us to support the work of our local municipalities and others to improve neighborhood conditions," said Lance Chimka, director or Allegheny County Economic Development.
"I'm thrilled that we were able to support those efforts through Act 152 funding and to bring other resources to bear to assist other communities in fighting blight," Chimka said.
After reviewing all applications, 28 municipalities did not receive any Act 152 funding, county officials said, but of those, 15 were awarded other Allegheny County funding totalling an additional $1.2 million, enabling demolition of another 87 structures.

Macey, of West Mifflin, said it's "important that communities have the ability to address blight and other needs in their municipality" to help them attract and retain businesses and residents.
"Providing this tool to address blight brings that goal closer," he said.
County officials said all contractors demolishing residential structures under this program will be responsible for using lead-safe practices, and will be required to notify adjacent neighbors before demolition begins.
The next applications for Act 152 demolition funding will be accepted in Spring 2022. For more information, including a complete list of all demolitions being funded this year under Act 152, visit the county's website.
Originally published September 07, 2021.
In other news:
"NV Twp. Crash Claims …" || "Library Welcomes Boil…"