Three tons of debris, 21 old tires removed from Federal St. site
By Sarah Turnbull
The Tube City Almanac
September 16, 2021
Posted in: McKeesport and Region News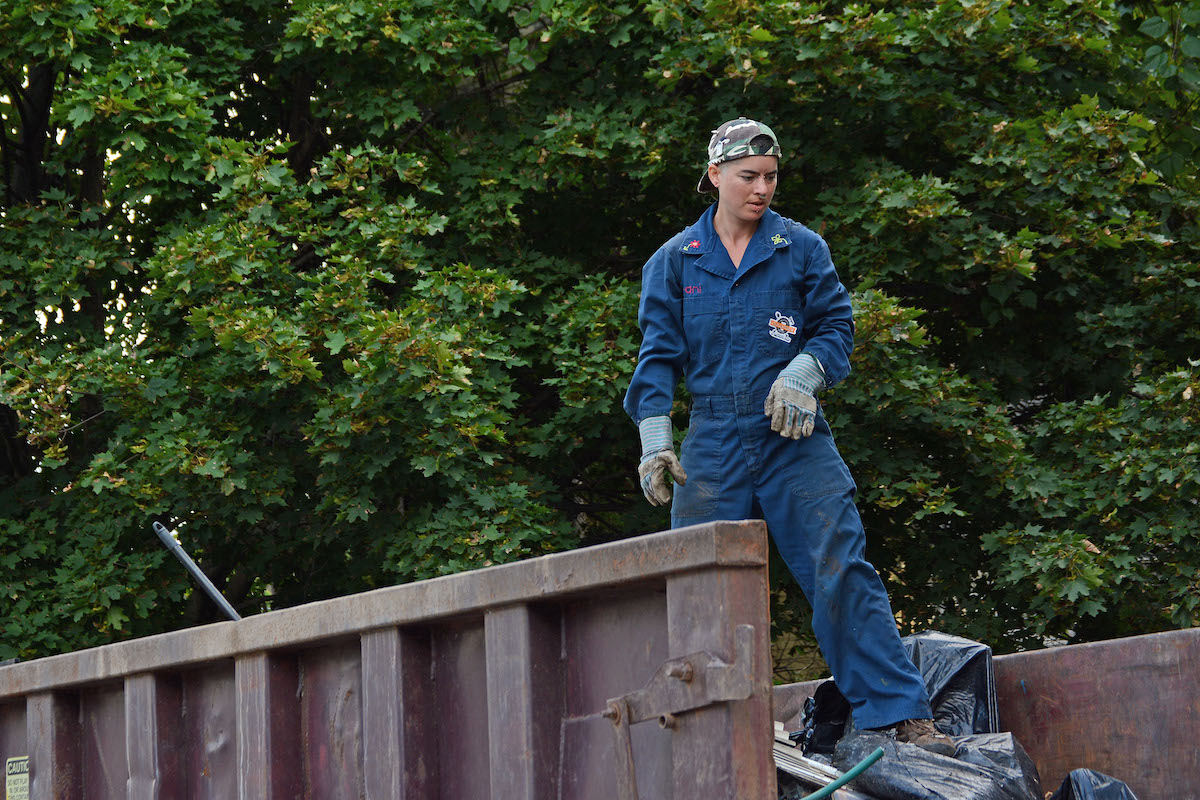 Dani Kramer, land-based program coordinator for Allegheny CleanWays, gives direction to a crew of "DumpBusters" cleaning up illegally dumped trash along Federal Street in the city. (Vickie Babyak photo for Tube City Almanac)
---
In just three hours last week, a team of "DumpBusters" removed more than 7,000 pounds of junk and 21 old tires from an abandoned home on Federal Street in McKeesport.
How did the team — including 13 volunteers from Compass AmeriCorps — keep from getting overwhelmed when confronted with all of that trash on Sept. 10?
Lexi Garcia, a native of Ann Arbor, Mich., said it helped to remember they were changing a community, a little bit at a time.
"It's easy to feel hopeless about how one person can make a difference," Garcia said. "But you have to keep that passion going."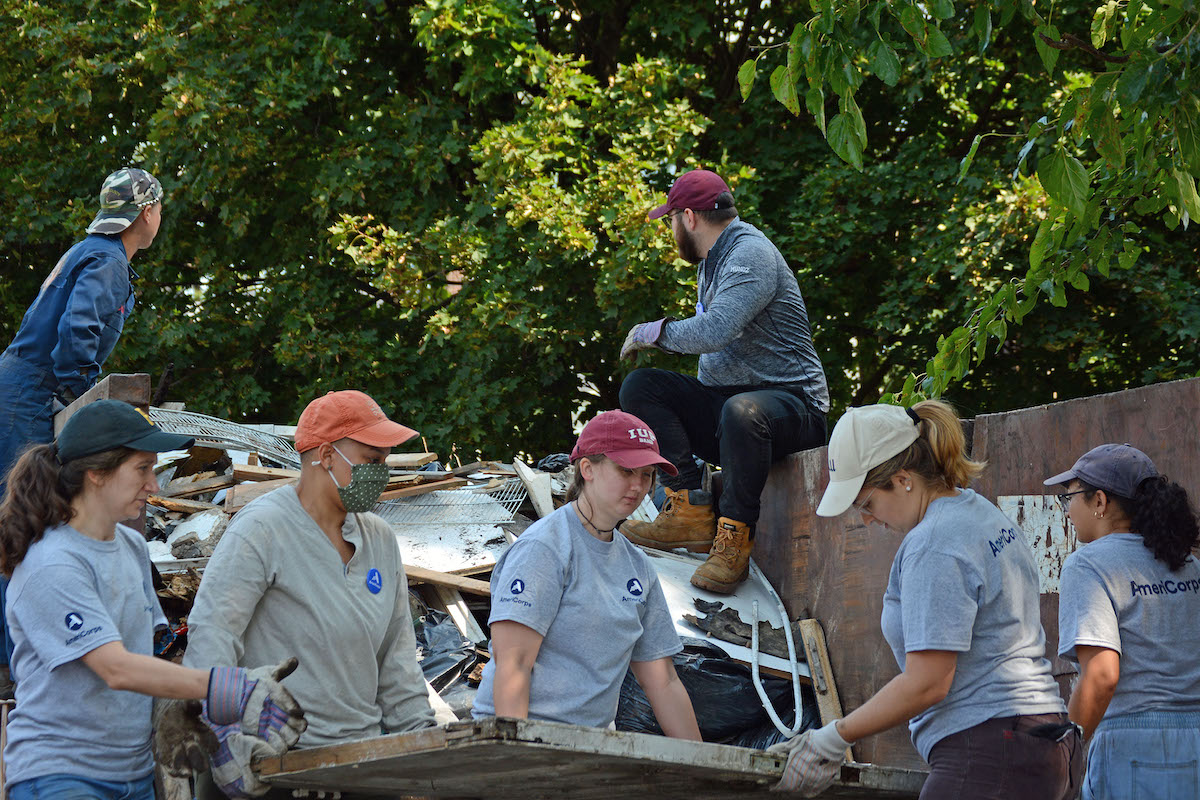 Crew members of Allegheny CleanWays and AmeriCorps volunteers team up to toss a wooden door into a dumpster. (Vickie Babyak photo for Tube City Almanac)
---
"DumpBusters" is a project of Allegheny CleanWays, a non-profit that has removed 5.4 million pounds of debris, including 36,000 tires, from Pittsburgh area riverfronts and vacant lots since 2000.
Along with its cleanup work, the nonprofit hosts cleanup workshops and advocates for better environmental legislation.
Dani Kramer, who started volunteering with Allegheny CleanWays in 2016, now serves as program coordinator for land-based cleanups. When she started volunteering with the group, Kramer said, she knew she wanted to build cooperation between the land-based and river-based cleanup programs.
Cleaning-up trash is about more than aesthetics, she said.
"Our mission is to engage people to stop littering, and to eliminate illegal dumping," Kramer said. "Our challenges include what to actually do with the trash, since disposing of trash properly can be expensive and difficult."
Allegheny CleanWays has partnered with McKeesport and other communities to help pick up illegally dumped trash in vacant lots, storm sewers and public properties.
Working with municipal officials and residents, the organization has created a map of illegal dumpsites in Allegheny County, including sites in the process of being cleaned up and those yet to be attacked by the DumpBusters. There are literally hundreds of sites remaining to be cleared, many of them near recreation areas or waterways.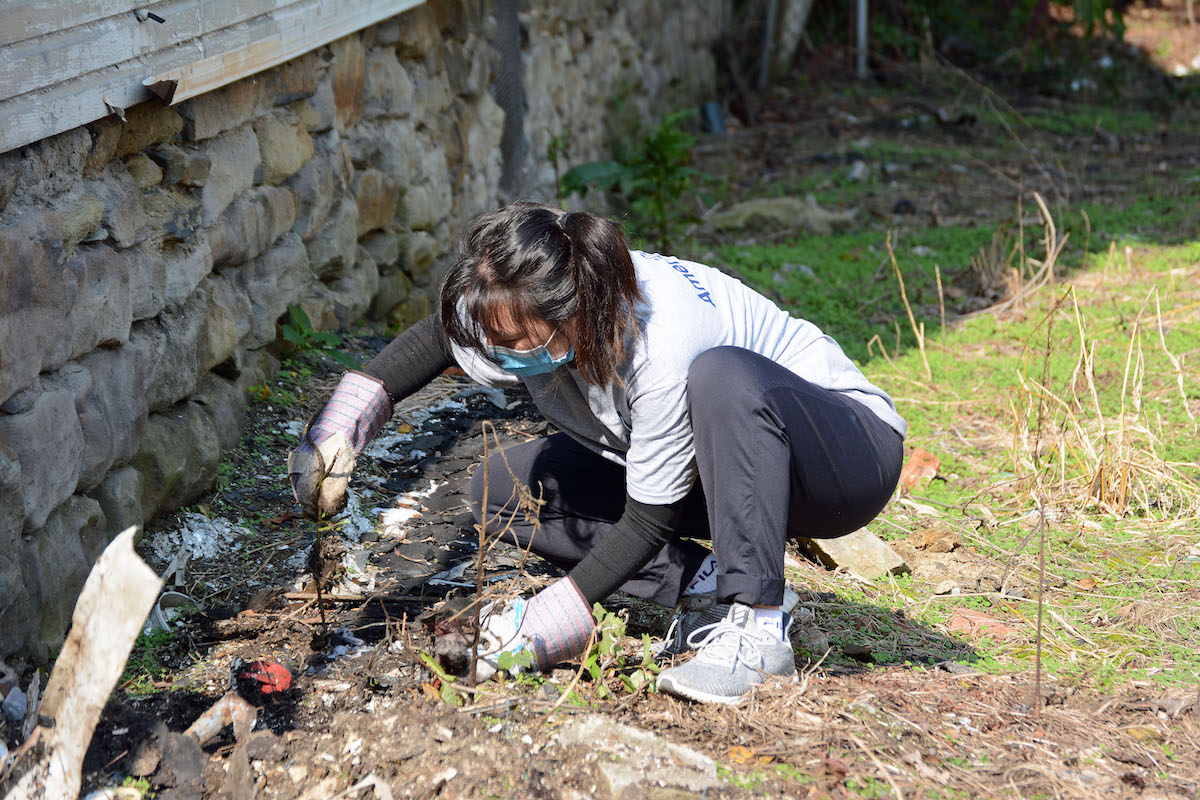 Compass AmeriCorps volunteer Lauren Yu pulls up weeds and garbage imbedded in the ground. (Vickie Babyak photo for Tube City Almanac)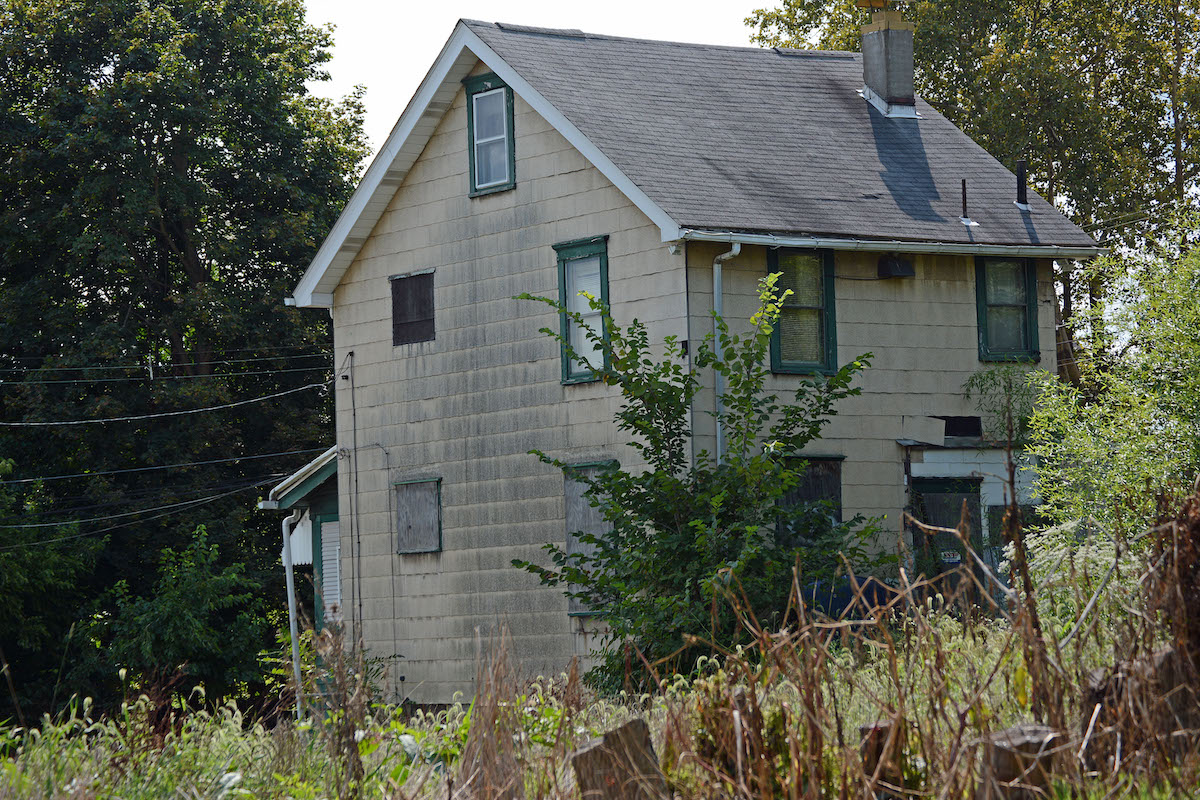 An empty lot with an abandoned house located at the Federal Street area of McKeesport. (Vickie Babyak photo for Tube City Almanac)

---
Like all Mon Valley communities hit hard by the decline of the steel industry in the 1970s and 1980s, McKeesport has lost population since its heyday during World War II — from 55,355 residents in the 1940 census to about 19,000 today.
As a result, hundreds of houses in McKeesport were abandoned, and many of them condemned and awaiting demolition.
"So they're popular places to illegally dump trash," Kramer said. "Our goal is to remove all evidence of dumping in order to prevent future dumping."
Kara Travers was one of the "DumpBusters" working on Federal Street last week. Originally from Philadelphia, Travers joined Compass AmeriCorps after graduating from college out of a desire to help other people and make a difference.

"I had always wanted to do it, and I got my chance after I graduated from college last year. I joined because I wanted to make a difference, and I felt there was meaning behind it," Travers said.
Many of volunteers cited a passion for activism as their reason for getting involved with Compass AmeriCorps and Allegheny CleanWays. Jared Munoz, a recent graduate of Trinity University with a degree in political science and history, said he felt he could do some good in the program.

"I wanted to get into politics and activism, so I thought this would be a good, productive way to spend the year," Munoz said. "I've always loved traveling and meeting different people. And I was super excited to do something fulfilling — it's challenging to find that in life."

Garcia credited AmeriCorps with bringing people together during the pandemic.

"You really don't know what you have until it's gone," Garcia said. "My favorite part of joining AmeriCorps was the in-person connection, the opportunity to build a new community. It helps you stay optimistic about how an individual can impact their community."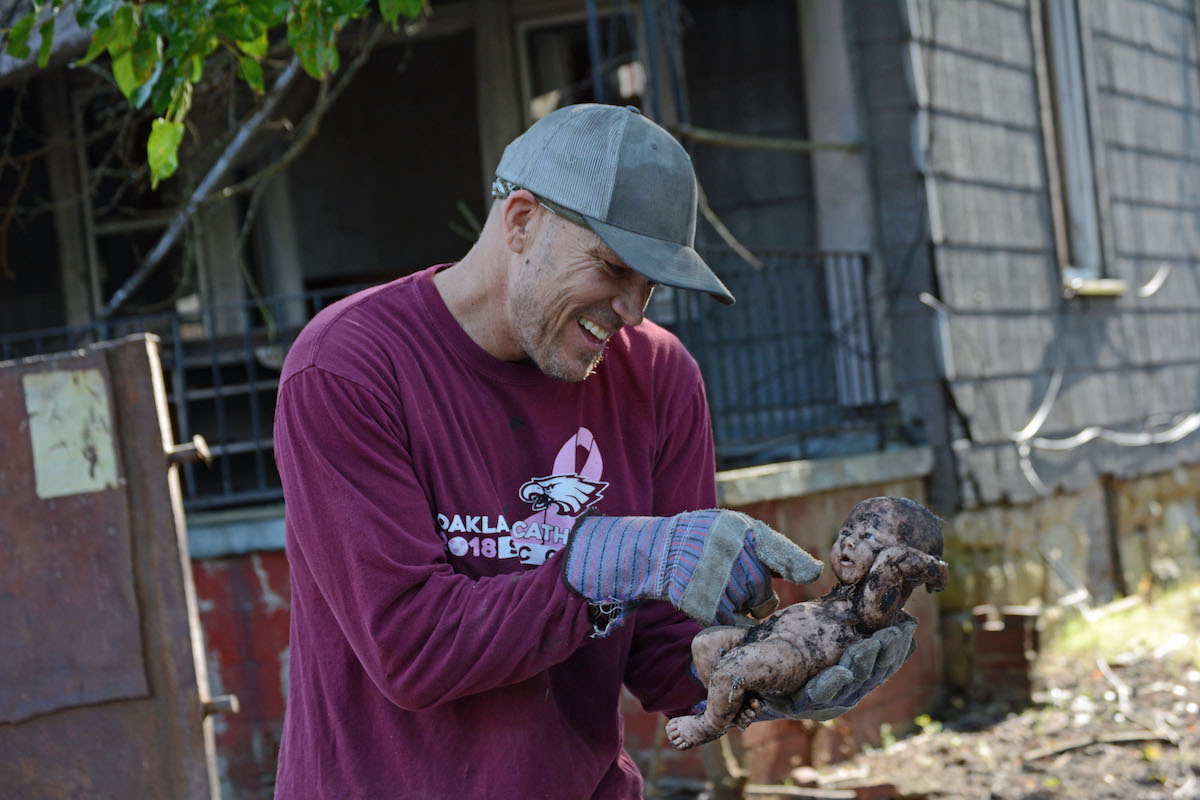 DumpBusters crew member John Bagley finds humor in discovering an old beat-up doll during the Sept. 10 cleanup. (Vickie Babyak photo for Tube City Almanac)
---
Munoz said any community confronted with vacant lots and illegal dumping can organize similar cleanups.

"If you're able to, give it a shot," Munoz said. "It's great regardless of what you're doing."
Kramer concurred: "Start with your own neighborhood. Everyone has the ability to make a difference. We also lobby manufacturers to take responsibility for their products. If we all do what we can, it will change."

To learn more about volunteering with Allegheny CleanWays, visit www.alleghenycleanways.org or call (412) 381-1301.
---
Sarah Turnbull is a freelance writer in Irwin. She can be reached at sarahturnbull323@gmail.com. Vickie Babyak is a photographer and freelance writer from Dravosburg. She may be reached at vbabyak@yahoo.com.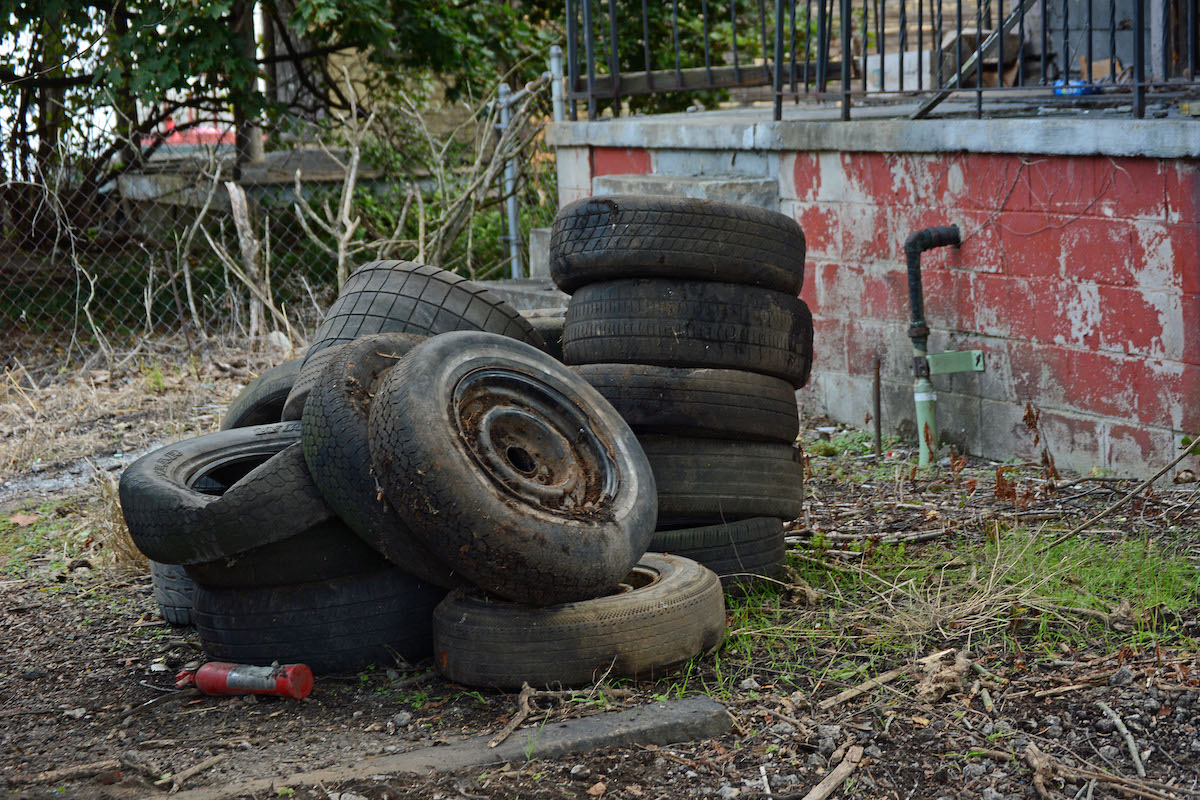 Almost two dozen old tires were gathered up by the clean-up crew on the morning of Sept. 10. (Vickie Babyak photo for Tube City Almanac)

Originally published September 16, 2021.
In other news:
"Judicial Candidates F…" || "'Tour de Mon' Returns…"