(Advertisement)
Tube City Community Media Inc. is seeking freelance writers to help cover city council, news and feature stories in McKeesport, Duquesne, White Oak and the neighboring communities. High school and college students seeking work experience are encouraged to apply; we are willing to work with students who need credit toward class assignments. Please send cover letter, resume, two writing samples and the name of a reference (an employer, supervisor, teacher, etc. -- not a relative) to tubecitytiger@gmail.com. (4-11-2023 to 4-30-2023)
To place your ad, email tubecitytiger@gmail.com.
Ads start at $1 per day, minimum seven days.
Mother calls on shooter in North Versailles incident to 'come forward'
By Jason A. Mignanelli
The Tube City Almanac
October 02, 2021
Posted in: Crime and Police News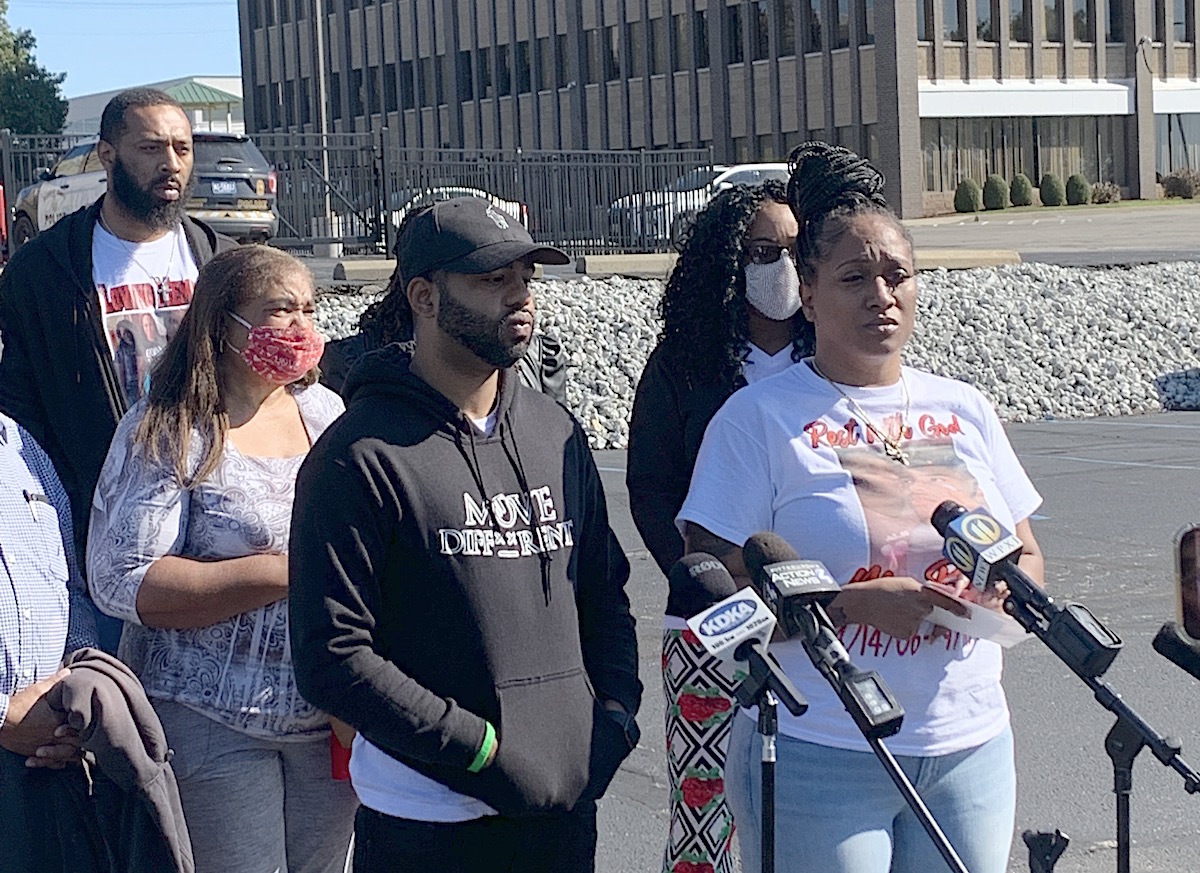 Shantel Pizaro, mother of Steven Eason Jr., speaks to the media on Friday outside Allegheny County police headquarters. Eason was shot twice on Sept. 11 outside the Haunted Hills Hayride in North Versailles Twp. (Jason A. Mignanelli photo for Tube City Almanac)

---
"I can't sleep. I can't rest. I can't even start healing, knowing that the person who killed my son is walking around," said Shantel Pizaro on Friday.
Pizaro's son, 15-year-old Steven Eason of Penn Hills, was shot Sept. 11 outside the Haunted Hills Hayride in North Versailles Twp. and died a short time later. Another teen-ager was wounded.
"We need to be leaders," Pizaro said during a press conference at Allegheny County Police headquarters in Green Tree. "We need to instill good morals in our children. Someone knows something and this could be causing trauma to those young kids who know what happened. They need to let the truth come out."
Investigators believe Eason was trying to de-escalate a confrontation between two other teen-agers when police said he was shot twice in the chest at close range.
"Steven was always the type of person to try and calm things down," said Pizaro.
Although as many as 100 people were in the area when the shooting took place, police said no one has yet come forward with any useful information about the killer.
"What makes this case so difficult is that there were a lot of people around — but who was actually paying attention and waiting to see gun shots?" said Allegheny County police Lt. Venerando Costa.
The press conference was initiated by the family of Eason in hopes of generating some new leads.
Eason was a student at Central Catholic High School.
His father, Steven Eason Sr., and other family members and friends also spoke on Friday morning.
"I love my baby. He was brilliant. He was the sweetest boy I know," Steven Eason Sr. said.
Pizaro said her son loved sports, and was looking forward to getting his driver's license soon and a job at Taco Bell in Penn Hills.
"Steven was special. He was full of so much joy," she said. "He had so much passion and so many dreams ... He had just gone on a college retreat to Slippery Rock University because he wanted to go to college someday. He was loved by so many people."
When other mothers talked about losing a child, "I would think how can they live through that? I can't imagine the pain. Now, I'm in that club," she said.
Pizaro also had a message for her son's killer.
"Come forward," she said. "Something like this has to be eating you alive. Nobody with a heart could do this and it not play in the back of their mind. You hurt a lot of people. You're on a path of destruction, You're destroying other people's lives. Come forward!"
Police described the shooter as a black male, 5'9" to 6'0" in height, slender build, between the ages of 15 and 17, and wearing dark clothing.
Anyone with information about the case is being asked to call the Allegheny County police tip line at 1-833-ALL-TIPS (1-833-255-8477). Callers may remain anonymous.
County police also may be reached via Twitter and Facebook.
---
Jason A. Mignanelli is a freelance writer from Pittsburgh's North Hills and a student at Duquesne University. He may be reached at mignanellij@duq.edu.
Originally published October 02, 2021.
In other news:
"Locust Street Fire Un…" || "Duquesne Man Charged …"