(Advertisement)
Tube City Community Media Inc. is seeking freelance writers to help cover city council, news and feature stories in McKeesport, Duquesne, White Oak and the neighboring communities. High school and college students seeking work experience are encouraged to apply; we are willing to work with students who need credit toward class assignments. Please send cover letter, resume, two writing samples and the name of a reference (an employer, supervisor, teacher, etc. -- not a relative) to tubecitytiger@gmail.com. (4-11-2023 to 4-30-2023)
To place your ad, email tubecitytiger@gmail.com.
Ads start at $1 per day, minimum seven days.
Mural was created by YouthCAST, McKeesport Community Newsroom
By Vickie Babyak
The Tube City Almanac
October 04, 2021
Posted in: McKeesport and Region News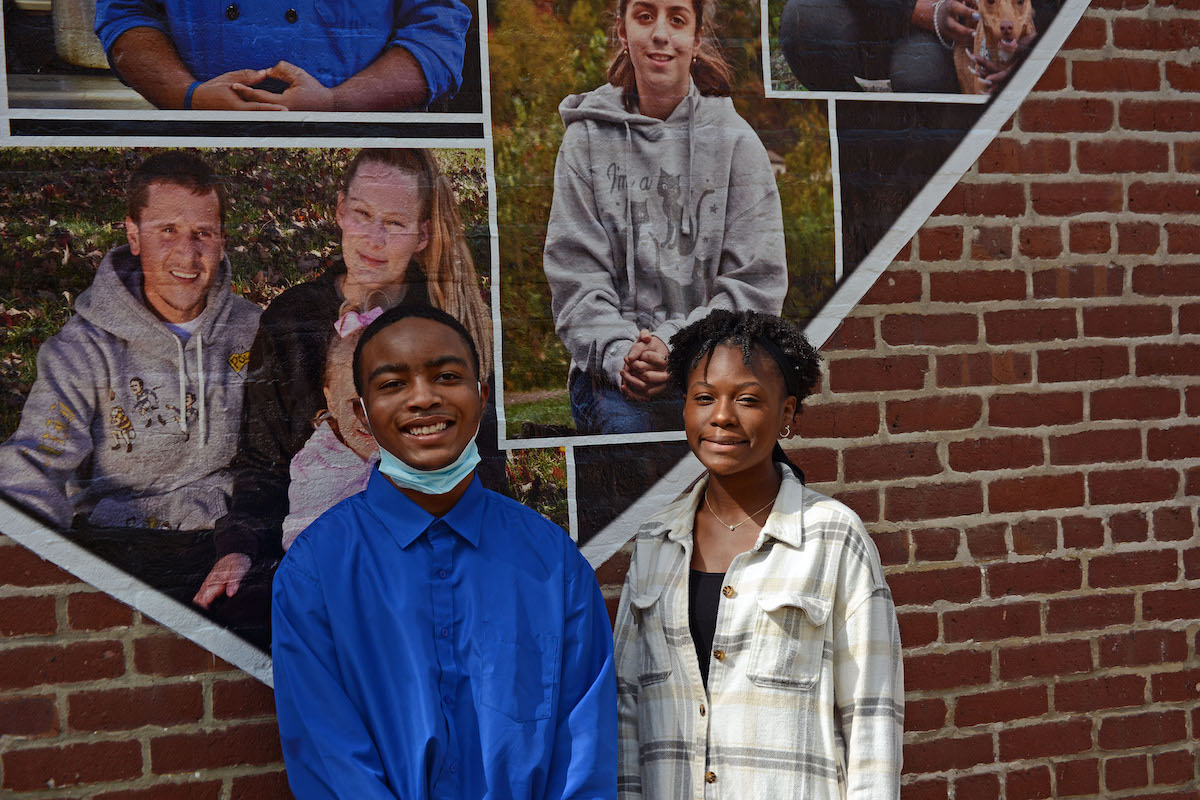 Tristian Banks and Calise Johnson, two of the YouthCast photographers, stand in front of the mural unveiled on Saturday. (Vickie Babyak photo for Tube City Almanac)
---
A new mural decorating McKeesport City Hall features the faces of ordinary residents, as captured by youth photographers.
The mural, unveiled at 12 noon Saturday, is a collage of photos captured over the past two years by teen-agers from McKeesport's YouthCAST program with guidance from Martha Rial, a Pulitzer Prize-winning photographer who oversees Point Park University's McKeesport Community Newsroom.
YouthCAST members have been talking with residents, giving elderly people roses and learning about photography as they made portraits of McKeesport residents from different backgrounds and of different ages.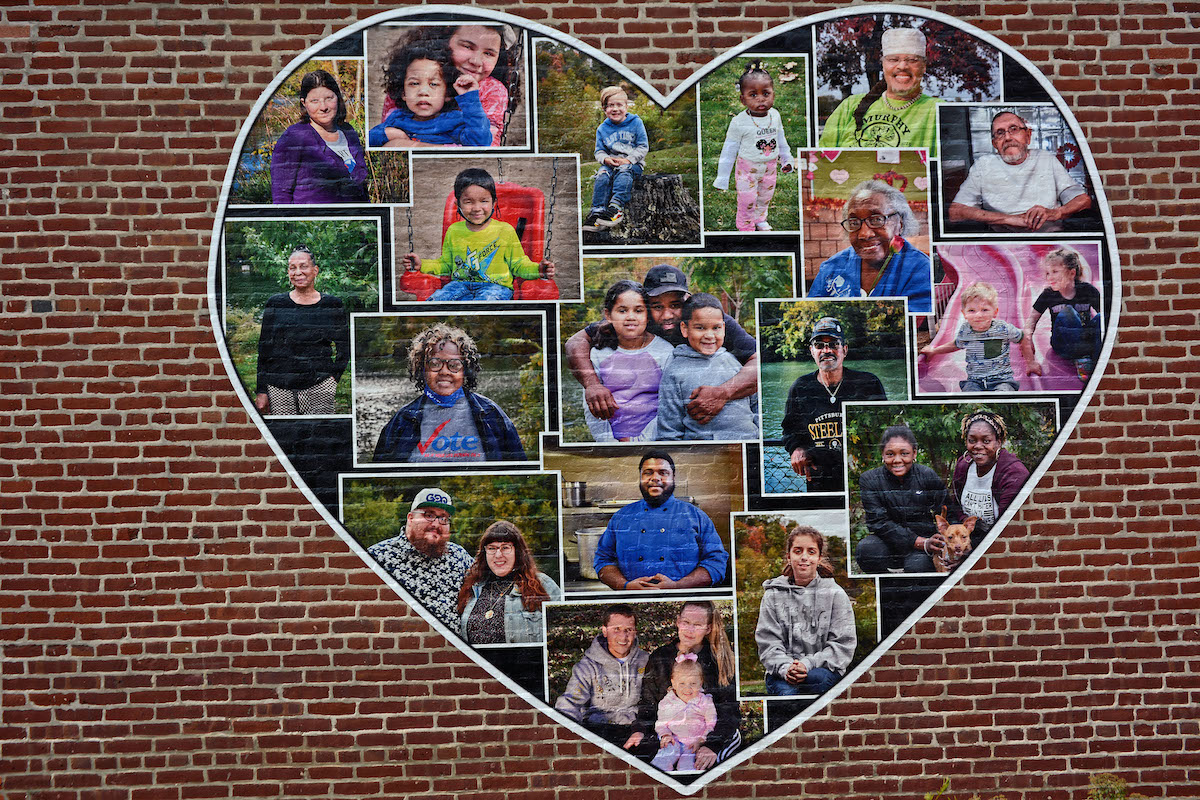 (Vickie Babyak photo for Tube City Almanac)
---
"I think it's a great (addition) to the community," said Calise Johnson, one of the YouthCAST photographers.
Rial and McKeesport Mayor Michael Cherepko helped the students unveil the mural, along with state Sen. Jim Brewster and state Rep. Austin Davis.
Brewster said the students have made a permanent addition to the local landscape that will be seen for years.
"When people ride down the street, come to pay bills or taxes, and employees come in, they're going to see your work," he said.
Visitors who stop to look at the mural can scan a QR code with their smart phone to learn more about the people depicted in the photos.
"This mural stands for a renewal of community and a symbol of the young people who are going to lead us into the future," State Rep. Austin Davis said.
Student photographers included Safiya Allen-Crane, Tristian Banks, Marcus Burkley Jr., Dahnayl Champine, Calise Johnson, Isaiah Johnson, Lorenzo Lewis, Nya O'Neal and Anthony Solano.
Funding for the mural was provided by The Cicerella Fund, the Einar and Lois Rygg Fund, the Jack and Tally McKee Memorial Fund, the Quentin and Evelyn T. Cunningham Fund, the Lewis Fund, the Sachs Family Fund and the W. Howard Larkins Fund of The Pittsburgh Foundation.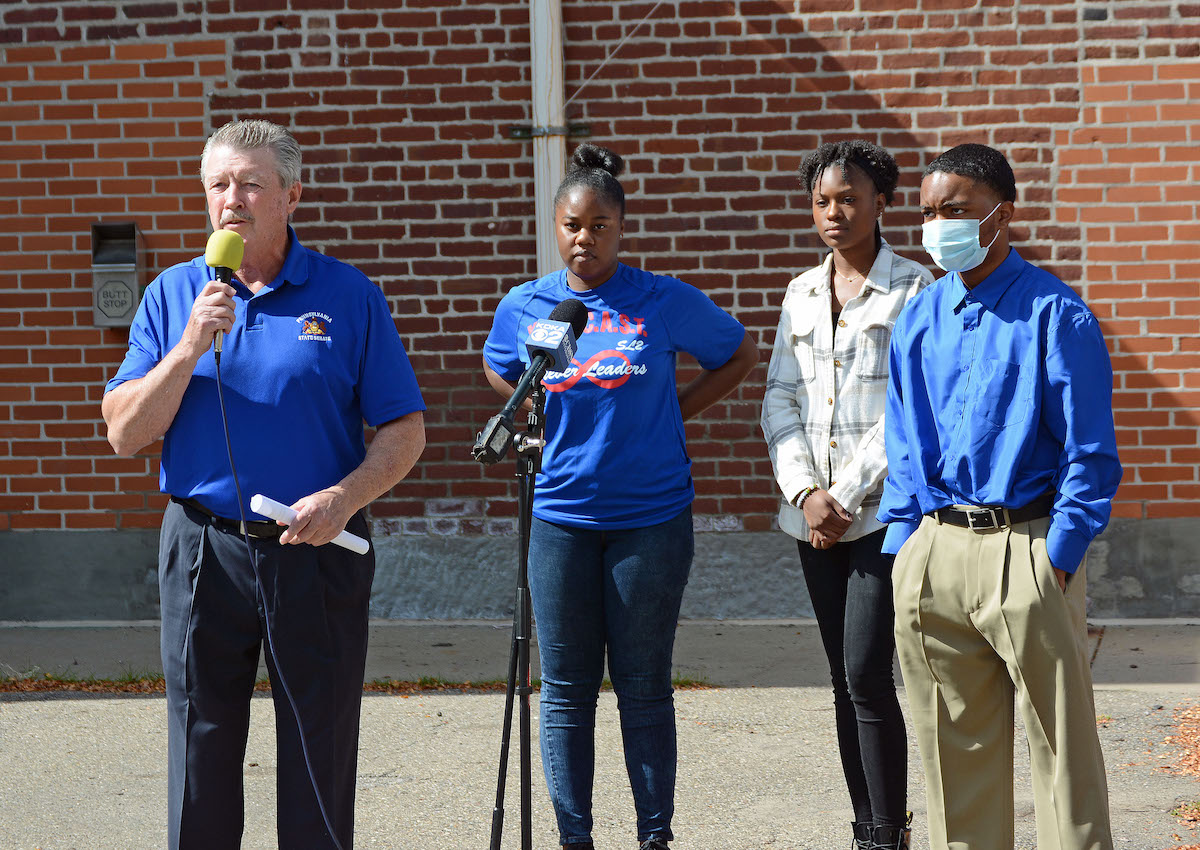 State Sen. Jim Brewster congratulates YouthCAST participants at the unveiling of the new city hall mural. (Vickie Babyak photo for Tube City Almanac)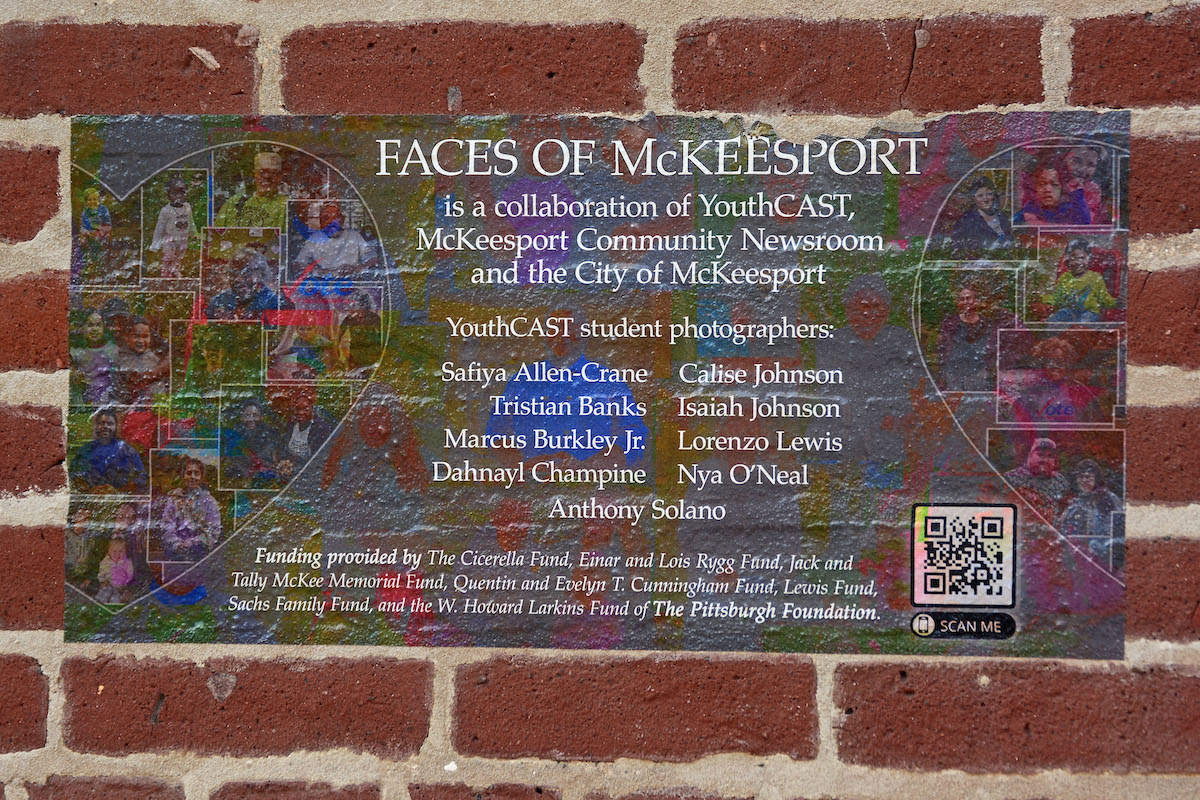 ---
Vickie Babyak is a photographer and freelance writer from Dravosburg. She may be reached at vbabyak@yahoo.com. Editor Jason Togyer contributed to this story. He can be reached at jtogyer@gmail.com.
Originally published October 04, 2021.
In other news:
"HELP WANTED Tube Cit…" || "Marijuana Firm Commit…"