(Advertisement)
Tube City Community Media Inc. is seeking freelance writers to help cover city council, news and feature stories in McKeesport, Duquesne, White Oak and the neighboring communities. High school and college students seeking work experience are encouraged to apply; we are willing to work with students who need credit toward class assignments. Please send cover letter, resume, two writing samples and the name of a reference (an employer, supervisor, teacher, etc. -- not a relative) to tubecitytiger@gmail.com. (4-11-2023 to 4-30-2023)
To place your ad, email tubecitytiger@gmail.com.
Ads start at $1 per day, minimum seven days.
PurePenn successor purchases three buildings, 37 acres in RIDC park
By Jason Togyer
The Tube City Almanac
October 05, 2021
Posted in: McKeesport and Region News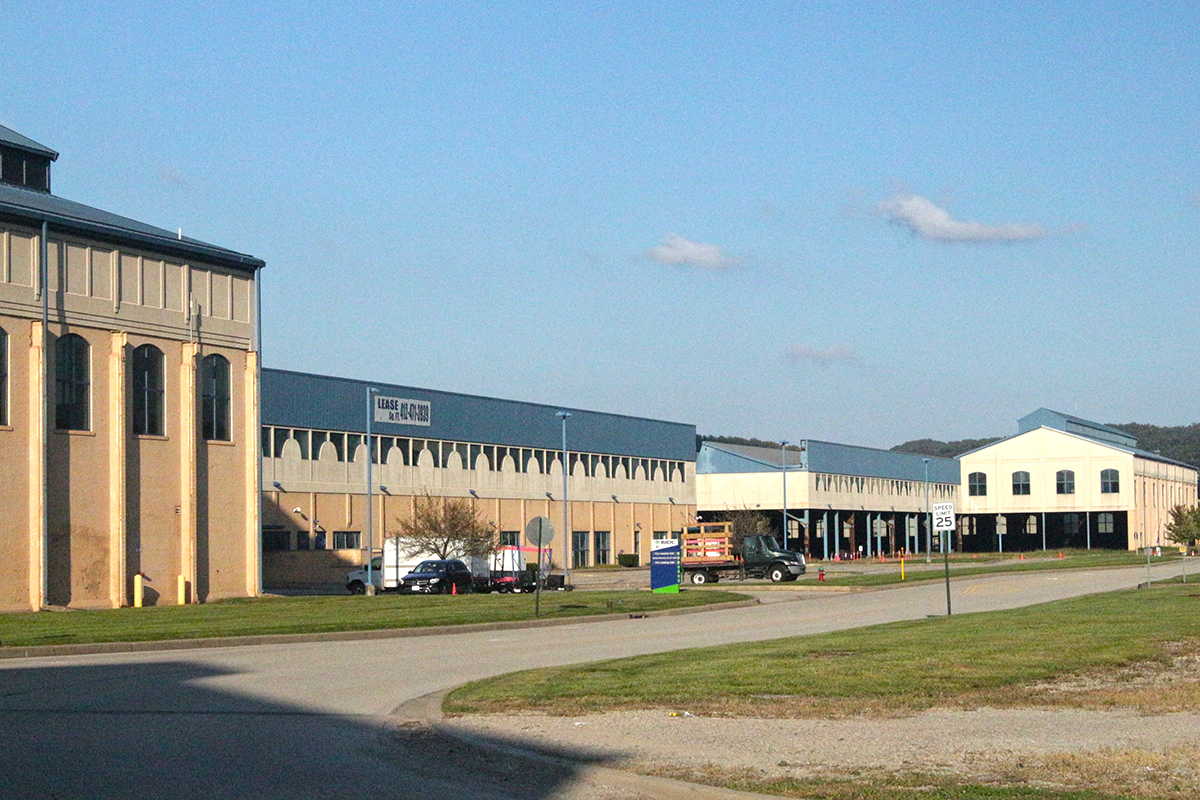 Trulieve Cannabis Corp., which acquired McKeesport-based PurePenn in 2020, is purchasing three buildings and approximately 37 acres of property in the city's industrial park, RIDC announced Tuesday. (Tube City Almanac photo)
---
A medical-marijuana producer has committed $10.4 million toward expanding its operations in the city's industrial park, with the possibility of adding 800 jobs.
Trulieve Cannabis Corp., which purchased McKeesport-based PurePenn in 2020, is acquiring approximately 37 acres of property and three buildings, Regional Industrial Development Corp. announced Tuesday.
The purchase includes McKeesport Commons I — the former EchoStar call center — and McKeesport Commons II, a vacant building next door. Trulieve also is acquiring the guard shack located at the Locust Street railroad crossing, RIDC said.
Discussions about selling the two McKeesport Commons buildings have been ongoing "ever since the acquisition of PurePenn by Trulieve," said Timothy White, senior vice president for development at RIDC. "They've obviously had some aggressive expansion plans and they've been looking at McKeesport as a place to expand and grow."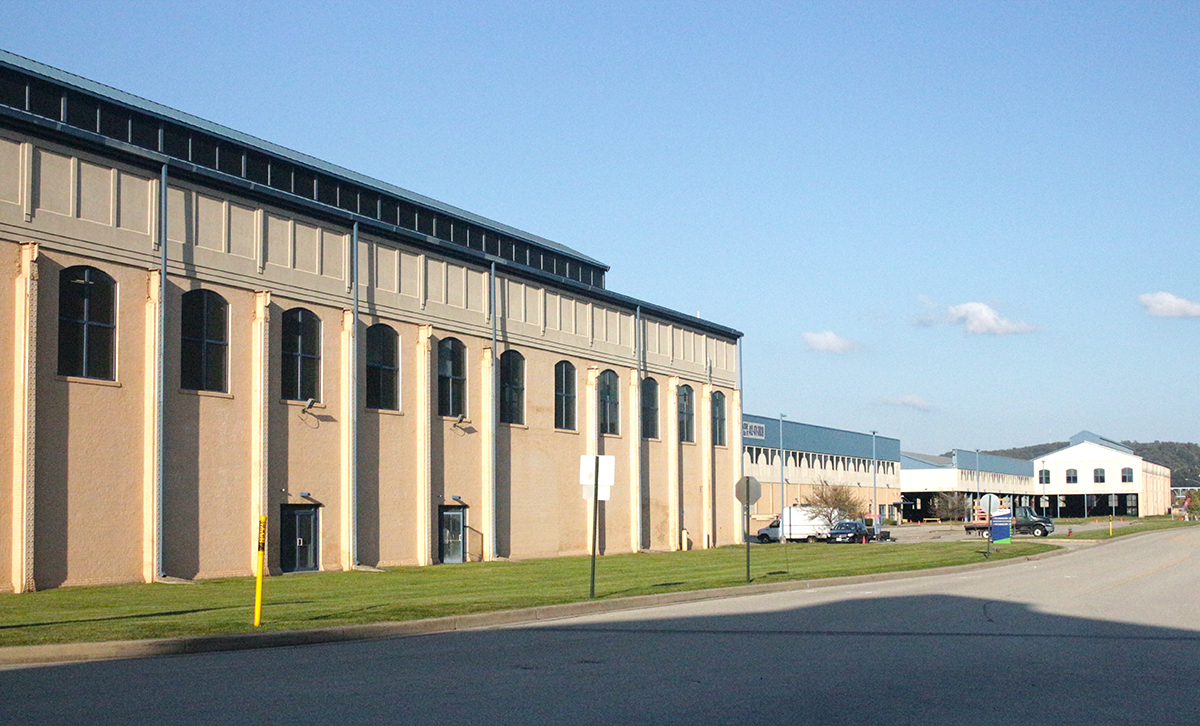 McKeesport Commons I and II. (Tube City Almanac photo)
---
In an emailed statement, McKeesport Mayor Michael Cherepko said he was "ecstatic" about the news.
"Trulieve's decision to expand its presence here truly exemplifies the vision we had when PurePenn first broke ground," Cherepko said. "This tremendous investment will translate to several hundred more jobs coming to our community."
Trulieve recently added a 90,000-square-foot production facility to PurePenn's existing laboratory and offices. That facility, near the intersection of Center Street and Industry Drive, is adjacent to the property just acquired.
PurePenn received a $2 million grant from the state Redevelopment Assistance Capital Program to help finance that expansion.
Trulieve executives did not return messages left by Tube City Almanac on Tuesday afternoon.
But White said the company intends to retain its existing facilities. "This is an expansion, not a replacement," he said.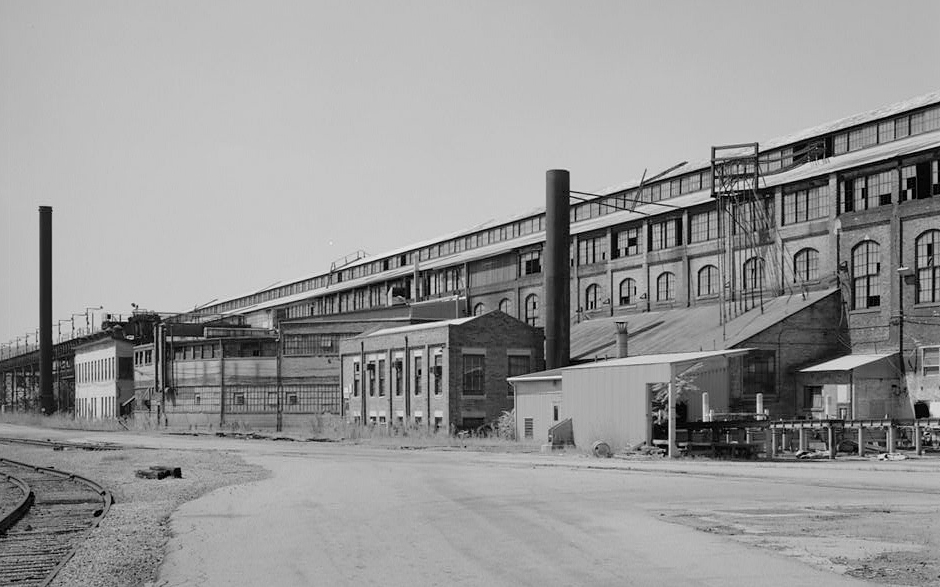 McKeesport Commons I and II were created from a portion of the former main pipe mill building at U.S. Steel's National Works. The building is shown here in 1989, shortly after it closed. (Martin Stupich photo for Historic American Engineering Record, courtesy Library of Congress)
---
Trulieve, which grows cannabis plants and extracts chemicals from them for medicinal purposes, also operates medical marijuana dispensaries in six states. A publicly traded company listed on the Canadian securities exchange, its headquarters are in Tallahassee, Fla.
Trulieve shares closed at $29.51 (U.S.), up 4 percent, on Tuesday.
Earlier this week, the company announced plans to purchase Harvest Health & Recreation, Inc., a former competitor, for $2.1 billion. The transaction will make Trulieve the largest cannabis retailer in the United States, according to published reports.
A statement released by RIDC quoted Jim Wernick, Trulieve's director of state expansion: "We look forward to building lasting partnerships with communities, and benefiting from the strong talent pool that exists in McKeesport and the surrounding areas."
The McKeesport industrial park, which spans 133 acres along the Monongahela River between the McKeesport-Duquesne Bridge and the Youghiogheny River, was the site of U.S. Steel's National Works until 1987, when the facility closed. The McKeesport Commons buildings were created from the old main pipe mill building.

A panoramic photo shows the scope of the buildings being acquired by Trulieve. (Tube City Almanac photo illustration)
---
With the acquisition, Trulieve will control all of the riverfront land in the industrial park between Center and Locust streets.
The expansion will not affect plans to re-route the Great Allegheny Passage hiking and biking trail, said both White and state Sen. Jim Brewster.
"There are property assignments in place that will preserve the property for the bike trail re-alignment," White said.
The Trulieve sale means the last large parcels of land at National Works will finally be reused after sitting vacant since 1987.
River Materials, which in 2020 built an intermodal terminal under the McKeesport-Duquesne Bridge, is also expected to announce an expansion as early as this week.
RIDC also has begun asbestos and lead paint remediation in the former McKeesport Connecting Railroad roundhouse, near the intersection of Center Street and Industry Road, in hopes of finding a buyer, White said. There are some smaller parcels and buildings still for sale, he said.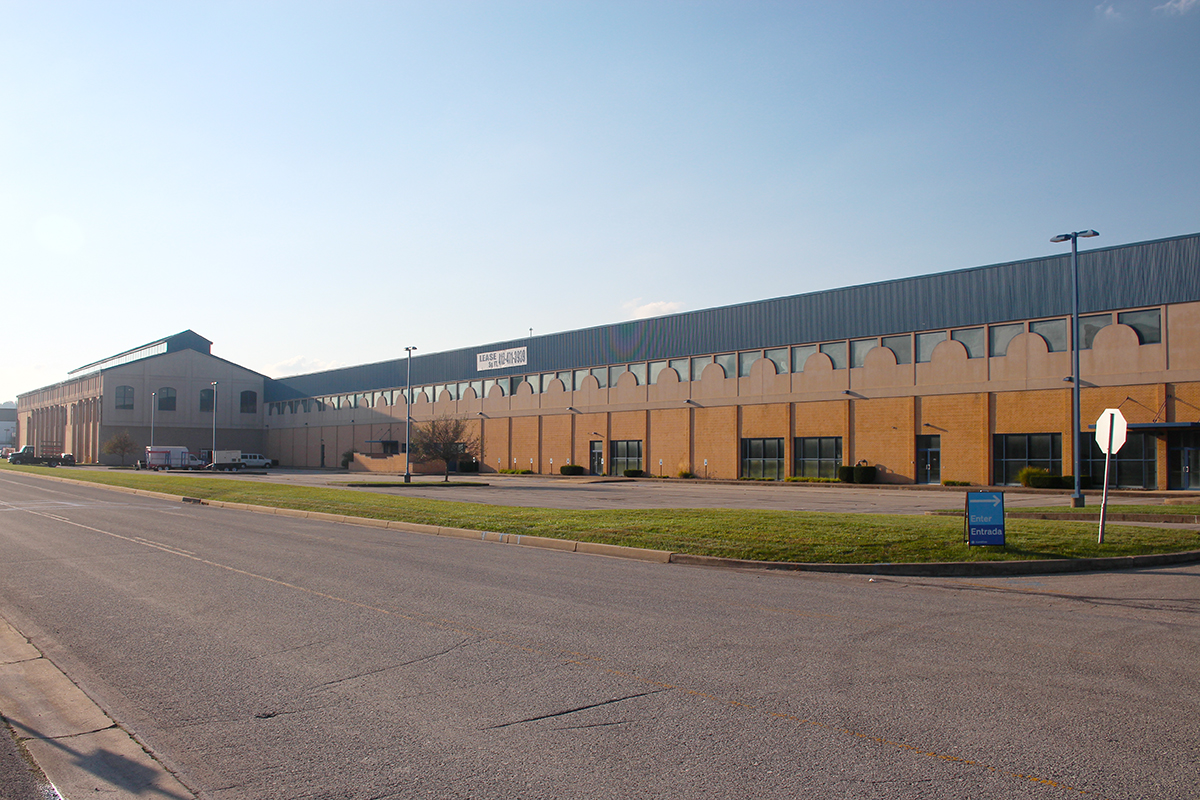 McKeesport Commons I (above) was formerly occupied by EchoStar, but has been largely vacant since 2009. McKeesport Commons II (below) has never been officially occupied, but was used for a pop-up COVID-19 testing site in 2020. (Tube City Almanac photos)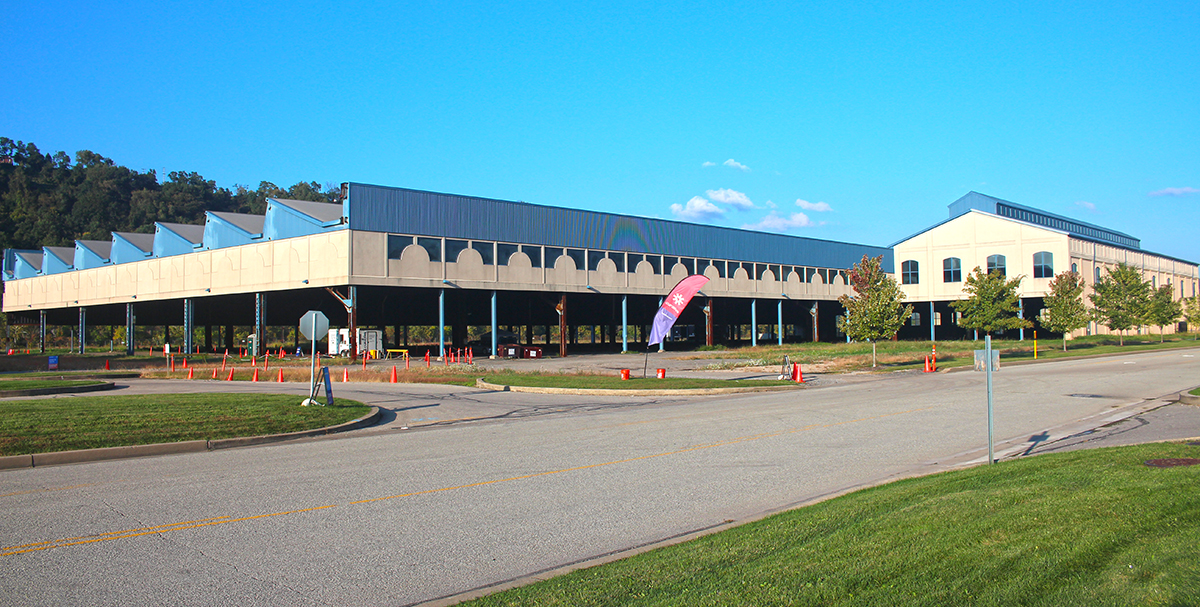 "This feels like the end of a long, 30-year grind," Brewster said Tuesday night. Brewster was elected to McKeesport city council in 1995, when some of the old mill buildings were still being demolished.
"We lost 3,000 or 4,000 jobs on that mill site," he said. "It was very rough-going, trying to market the site, remediate the site, and keep up public confidence."
McKeesport officials thought they'd scored a huge victory in 1998, when satellite TV provider EchoStar — later part of Dish Network — moved into McKeesport Commons I, employing 600 people at a call center. But when a 10-year tax abatement ended, Dish Network closed the facility, which has sat mostly vacant since then.
On Tuesday afternoon, workers were filling a construction-sized roll-off waste bin with material from the old EchoStar offices.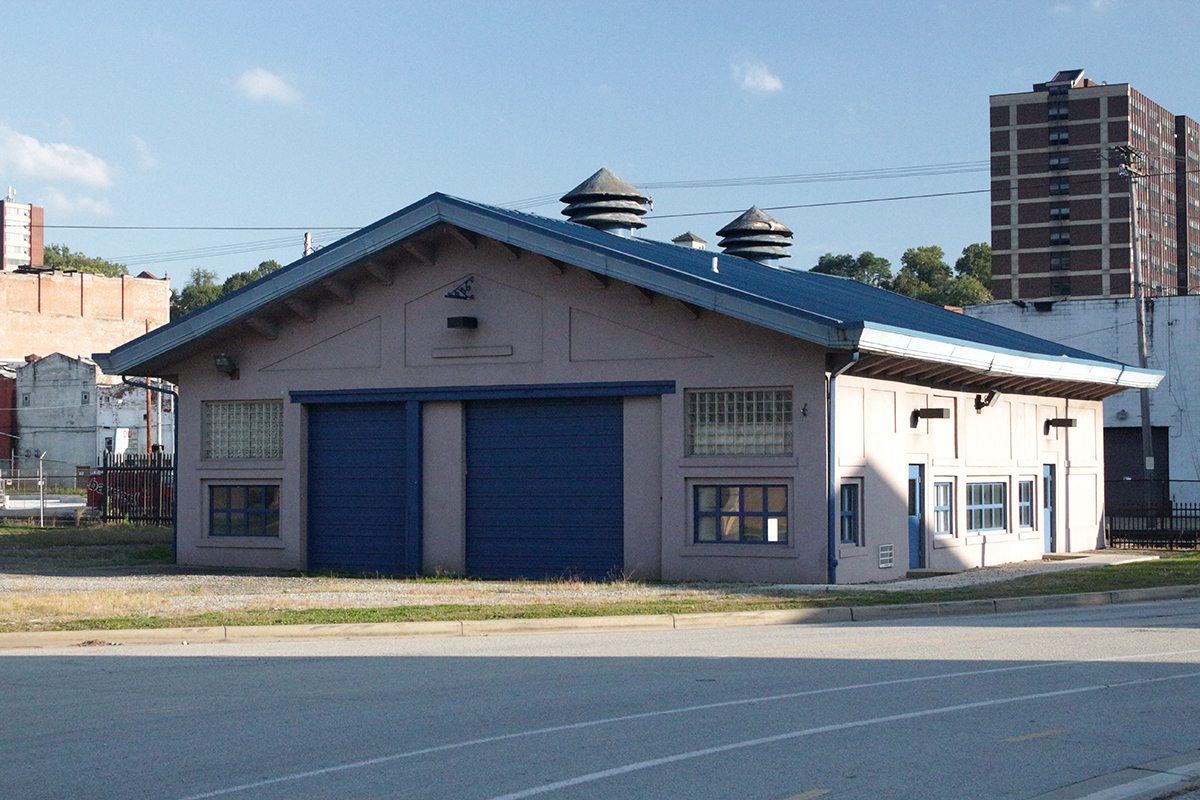 This former guard house near the CSX Railroad crossing at Locust Street is also part of the Trulieve sale, RIDC officials said. (Tube City Almanac photo)
---
Brewster said that back in 2016, he was skeptical of the benefits of medical marijuana, and had to be persuaded before he would vote for legislation to legalize its use in Pennsylvania.
A skeptic no longer, Brewster on Tuesday said he was "proud" that Trulieve was expanding in McKeesport.
"If recreational marijuana becomes a reality (in Pennsylvania), and it looks like it could be, they're prepared for it," he said. "I'm just thrilled for the site and for the people in the neighboring communities — Clairton, Duquesne, West Mifflin, Port Vue — all of them will benefit from this."
White said the Trulieve expansion would not have happened without the 2010 construction of a "flyover" ramp between the industrial park and Lysle Boulevard. Previously, the only access into the site was via railroad crossings at Locust and Center streets.
"It was absolutely critical," White said. "Without the leadership of then-mayor, now senator, Brewster and Congressman Mike Doyle, we would have been crossed off of the list."
He praised the cooperation that RIDC has received from Cherepko, Brewster, state Rep. Austin Davis and Allegheny County officials in their efforts to redevelop the McKeesport site.
"It's been a long haul with some of these steel mill sites, but we're seeing the fruits of the collaboration between RIDC, the county and the city," White said.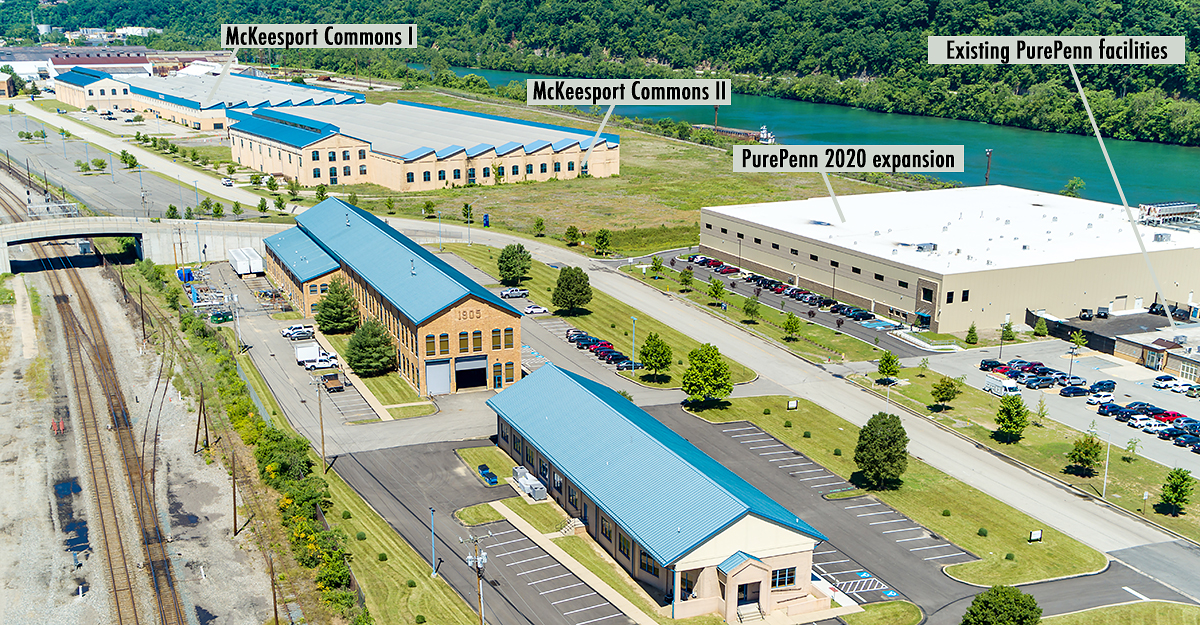 (RIDC photo/Tube City Almanac illustration)
---
Jason Togyer is editor of Tube City Almanac and volunteer executive director of Tube City Community Media Inc. He may be reached at jtogyer@gmail.com.
Originally published October 05, 2021.
In other news:
"Photo Collage of Loca…" || "Penn State Series to …"